Charlene Ray is a Licensed Clinical Social Worker in Langley, WA who specializes in loss and grief, life transitions, anxiety, end-of-life issues, and depression. Charlene frequently utilizes Cognitive Behavioral Therapy (CBT), mindfulness, and self-compassion practices to help clients learn how to sit with their emotions and develop healthy coping strategies.
We asked Charlene about her work with clients and her guiding philosophies on therapy.
Charlene's background and personal life
1. How did you decide to become a therapist?
My father died when I was thirteen, and I had no one to talk to. I held my grief inside for many years. I knew that I did not want others to have to go through that experience. I wanted to create a safe space for people to have their feelings and receive support during times of grief and transition. I made my decision in high school that I was going to become a therapist. It is my soul calling.
2. What was your previous work before going into private practice?
Before my time in private practice, I was the mental health supervisor for Island County. I helped create a school-based mental health program, an early childhood mental health program, and an outreach mental health program for the youth and families of Island County.
3. What do you enjoy doing in your free time?
In my free time I enjoy reading, walking in the forest, writing, gardening, bird watching, practicing wild wonder mindfulness, cooking, and spending time with my partner and animals. I love visiting my son who is in college in New York, and I enjoy traveling to Ireland.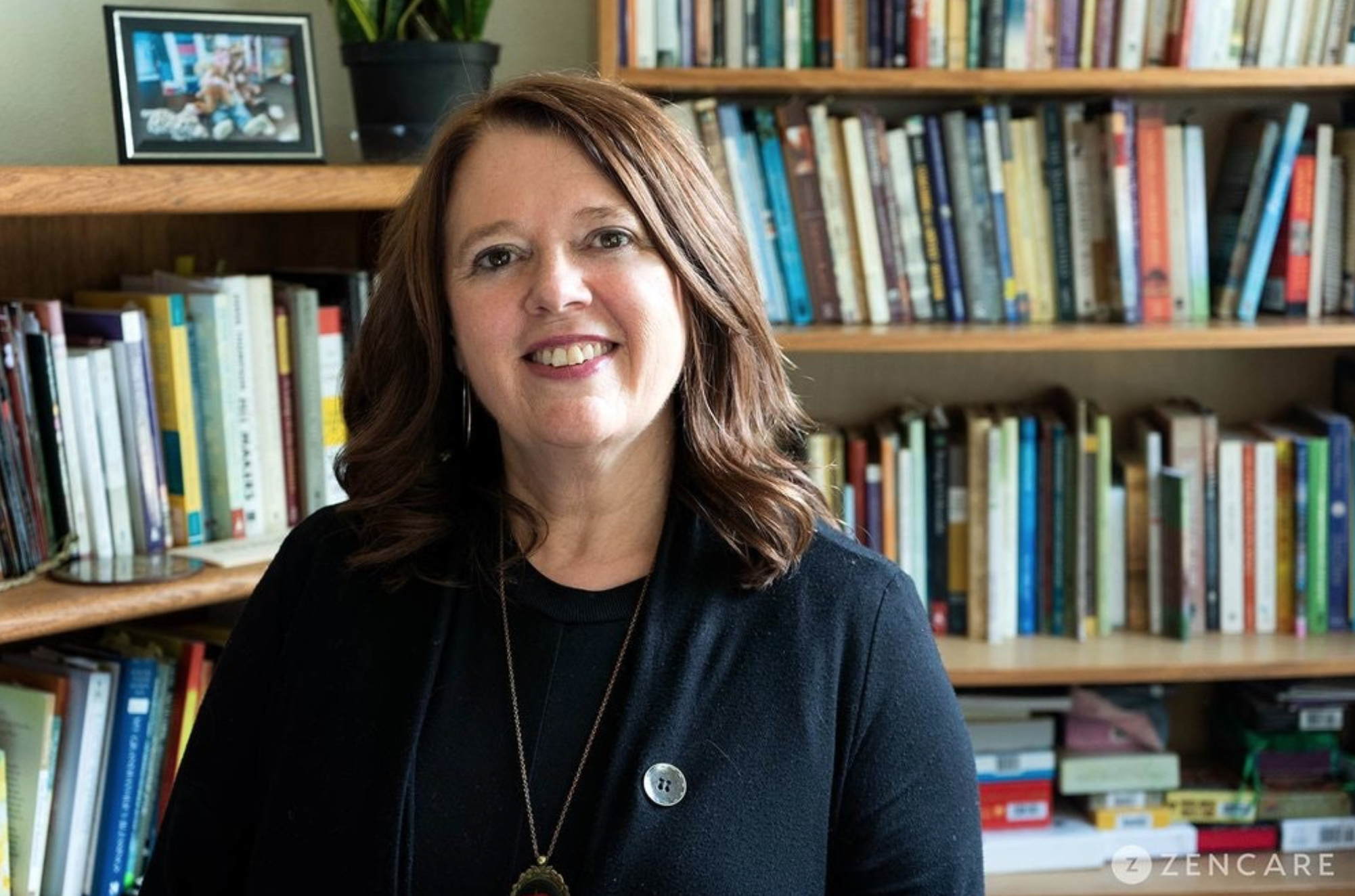 Charlene's specialties and therapy philosophies
4. What guiding principles inform your work?
I believe that my clients contain within them the power to heal. With guidance, support, and a safe space to express their feelings, they can heal and transform to live the life they dream of living. I believe that being willing to sit with clients through their pain while deeply listening to them is nothing short of miraculous what we all deserve: genuine support and compassion. I also believe that in a few sessions you can learn tools and practices that will change your life and bring more peace and happiness to your days.
5. What clientele do you work with most frequently?
I work most frequently with clients of all ages and backgrounds who are grieving. I also work with highly sensitive individuals and women navigating life transitions. I create a safe space for my LGBTQIA clients to share their story and transform their lives, and I am drawn to work with people from groups that are often marginalized and misunderstood.
5. What do you find most rewarding about your work?
I am honored to do the work that I do. I love when a client has the opportunity to share their story, get to the depth of their feelings, and have a moment of clarity. When clients begin to love and believe in themselves and their ability to change and create the life they want, I feel grateful and like I am truly living my life with purpose.
6. Are there any books you often recommend to clients?
I am always recommending books to clients! For my grief clients I most often recommend, Understanding Your Grief by Alan Wolfelt or It's Okay to Not Be Okay, by Megan Divine. I frequently recommend books by Brene Brown, Jack Kornfield, Christopher Germer, Kirsten Neff, Tara Brach and Thich Nhat Hanh. I also recommend lots of poetry!
7. Can you tell us more about your specialty in grief and loss?
Grief is a journey. It is one that everyone will take at one time or another. I work with people who have experienced intense grief after a traumatic loss, people who have lost a pet and are grieving, and people who have a lifetime of grief never expressed. Clients are invited to tell their grief story. The feelings that come up are treated with great compassion. I then provide helpful grief education and serve as a companion on the journey to healing and transformation.
8. Can you tell us more about your specialty in life transitions?
I work with many people who are at significant periods of life change and transition, including relationship changes, job loss and change, relocation, divorce, and developmental rites of passage. People often describe feeling stuck or unstable during these times, so I help clients create a self-care plan and a vision for moving forward with more grace and ease. Clients leave feeling empowered to take the next steps in their life.
9. Can you tell us more about your specialty in anxiety?
Many of my clients come to therapy for relief from the intense and often debilitating anxiety they are experiencing. I work with clients to recognize patterns of thinking and behavior that may contribute to their anxiety and use mindfulness, meditation, and cognitive reframing to help them learn skills and coping techniques. Clients with more severe anxiety and panic also learn to manage their symptoms and their life circumstances with coping practices and other tools for healing.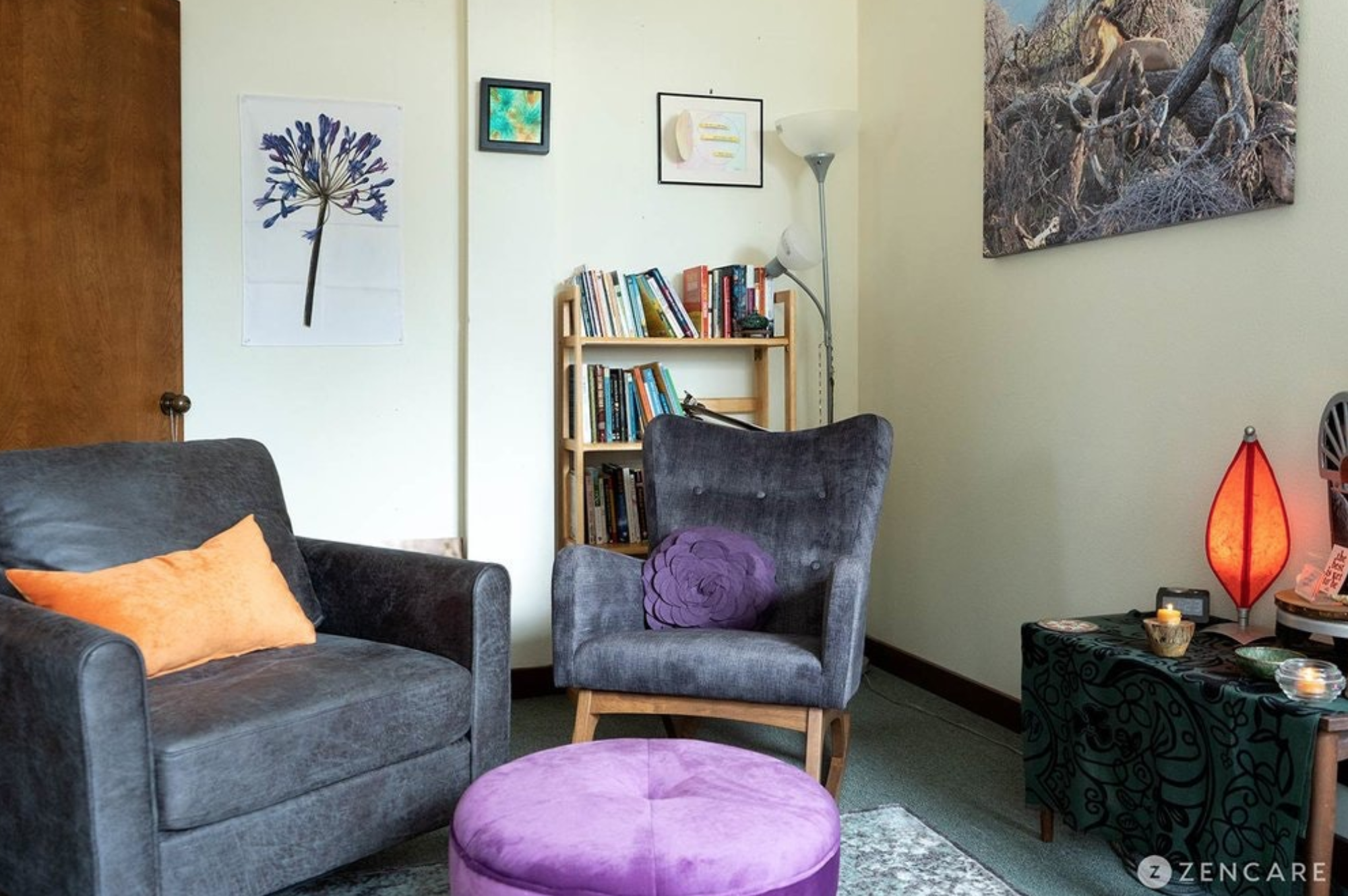 Therapy sessions with Charlene
10. What would our first session together be like? What happens in ongoing sessions?
In our first session I give you the opportunity to tell your story. We begin to establish trust right from the start. I start where you are and only go at a pace that feels comfortable for you. In ongoing sessions, we will practice skills and make plans for "homework" between sessions. Sessions may also include guided imagery, deep relaxation, expressive arts, and divination.
11. How can I prepare for our first session?
I think a walk in nature reflecting on why you are coming therapy, some time in quiet meditation, or writing in your journal can all be excellent preparation. It is also perfectly fine to walk through the door with no preparation at all.
12. Do you assign "homework" between sessions?
Yes, we usually come to a mutual decision about the best plan for "homework." It mostly consists of journaling, walks in nature, or practicing skills (such as mindful breathing).
13. How do you help ensure I'm making progress in therapy?
I ensure you are making progress by talking about it! We are often discussing what progress looks like so we recognize it when we see it. I will direct practices to help create progress, and I ask a lot of questions that get you thinking about how therapy is working for you and what else is needed.
14. How long do clients typically see you for?
The average is about 3 months.
15. How will I know it's time to end my time in therapy with you, or reduce session frequency?
You will know because you will feel like you can better handle the ups and downs of life with new skills and practices. You will have an easier time accessing your inner wisdom and feel able to act on it. We will talk about how to know when therapy is complete as we go along, and I will encourage you to try less frequent sessions when I see your ability to use resources and be compassionate with yourself has increased. Grief is a little different and often takes a little longer, but there will still come a time when you feel ready to end therapy and trust your healing and new skills.
16. How do I know that it's time to start seeking therapy?
I say that if anything big has happened in life, it is a good time to seek the support of a therapist to guide you through. Also, if you feel overwhelmed, not yourself, or stuck is a good time to get support.
17. Why should I seek therapy, rather than turning to my partner, friends, or other loved ones?
Although it is very important to have loved ones that can support you, often they are too emotionally invested to provide truly neutral support. Therapists are trained to hold space for big emotions and have a wide variety of skills and tools that they know work and can share with you.
18. What advice would you share with therapy seekers?
Make the call, walk through the door; it may be one of the best things you ever do for yourself.