Brittney France is a Licensed Marriage and Family Therapist in San Diego, CA specializing in the treatment eating disorders. With over 14 years of experience in the eating disorder field, Brittney has great expertise in helping clients navigate a variety of issues pertaining to food, body image, body dysmorphia, and emotional eating. Brittney's outlook on sessions is rooted strengths-based approaches and Acceptance and Commitment Therapy (ACT), the combination of which she uses to help clients identity, connect, and move toward their values while also drawing on their own unique strengths to create meaningful change.
We asked Brittney more about her work with clients and her guiding philosophies on therapy.
Brittney's background and personal life
How did you decide to become a therapist?
I first thought about becoming a therapist after having a positive experience in therapy as an adolescent. Finding a safe space to talk and reflect was a really powerful experience for me.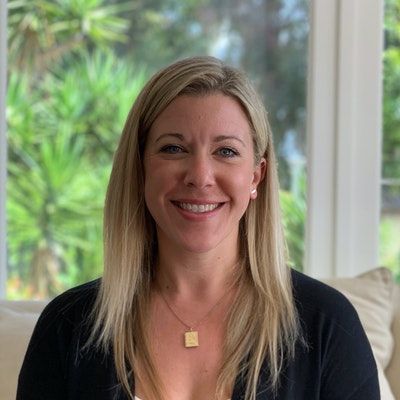 What was your previous work before going into private practice?
My first job out of undergrad was at an inpatient eating disorder program in Pittsburgh, PA. From there, I did a research internship at the Duke University Eating Disorder Program. Throughout graduate school, I taught undergraduate, medical students, and graduate students while also working in PHP and IOP level eating disorder programs. During my last two years of my PhD program, I transitioned into private practice.
On a fun note, I also dog sat during my Masters program because I love dogs, and I could not have one of my own at the time!
What do you enjoy doing in your free time?
Most of the time when I am not in the office you can find me at one of my favorite parks or spending the day in my neighborhood's shops and cafes with my husband and our dogs Lola and Dusty. I also love to travel and explore new places and cultures, and I have a goal to visit every continent.
I also try to foster through The Animal Pad, a dog rescue in San Diego, CA as much as I can. Cooking and spending time with friends and family is also always top of the list!
Brittney's specialties and therapy philosophies
What guiding principles inform your work?
I find my work as a therapist mirrors a lot of my views as a person. I believe that people already possess many strengths and answers.
The relationship between client and therapist matters in order to create an open and genuine environment. If this environment can be created, I think it leaves room for clients to tap into their own values and strengths and work in collaboration with their therapist to find solutions. I always work from a bio-psycho-social and systemic lens to try and think about the whole person when working towards these solutions.
What clientele do you work with most frequently?
I work with individuals struggling with eating disorders or with disordered eating patterns. Eating disorders often develop as a way of coping and, for a brief moment, they "work." My job is to help the client figure out how these behaviors are trying to work. I enjoy working with this community to help people reconnect to themselves, discover their values, and find other coping tools to get their needs met so that the ED is no longer needed to cope. All people have basic emotional needs and tapping into those needs is just as important for an early teenager as it is to someone later in life.
Can you tell us more about your specialty in eating disorder recovery?
I believe that when a client takes care of themself and works to live a life close to their values, they often tap into their own strengths and connect with healthy coping skills. I always work from a systemic and relational lens.
What do you find most rewarding about your work?
I feel so honored that people trust me with their stories, dreams, and goals. Although ending a therapeutic relationship is always hard, I think the best moment is when a client and I both realize they are finished with therapy for the time being; they have reached their goals and, better yet, have a set of tools to deal with the challenges life will throw at the them in the future.
Therapy sessions with Brittney
What will our first session together be like? What happens in ongoing sessions?
During a first session I try to get to know the client and let them get to know me. I often start with the question of "Why now?" As in, why did you choose to seek out therapy at this time versus other times in your life.
Overall, I try to be validating that the things clients are wanting to change most likely developed for a reason and probably make sense in the context of their experiences. It will be our job in sessions to not just to remove the unhealthy coping skills, but to replace them with others that fit more into a client's value system and help them reach their goals.
How long do clients typically see you for?
This really varies between clients. I have some clients that complete their therapy goals but will still contact me episodically during times of high stress or transition to make sure they are staying connected to the coping skills and balance they had established while we were working more regularly together.
Are there any books you often recommend to clients?
The Mindful Path to Self Compassion by Christopher Germer is one of my all time favorites, as well as the Food and Feelings Workbook by Karen Koenig.
Do you assign "homework" between sessions?
There is always some type of homework in between sessions. I typically tell clients our session together is important, but it's what's happening in between that really shows how we are doing. Homework can range from a formal assignment to mindfulness practices that ask clients to observe and be curious in their day to day life.
How do you help ensure I'm making progress in therapy?
Clients and I continuously check-in on their goals and how they feel they are doing. Again, I think it's the time between sessions and how people are feeling in their day to day lives that is the most telling.
How do I know that it's time to start seeking therapy?
I encourage people to have a session if they have experienced a prolonged period of stress, feel like things are just off, or if they are just considering therapy
Having a session to check-in can't hurt. Whenever possible, I encourage clients not to wait until things feel like they are in crisis. However, if thats where life has lead us, therapy is still the right answer.
How can I prepare for our first session?
Starting with a new therapist can be a stressful process. I think just coming to the first session is enough. One step at a time : )
How will I know it's time to end my time in therapy with you or reduce session frequency?
Clients are the expert in themselves, and I am an expert in my speciality. Over the years, I have found through check-ins with clients that we both typically feel when it is time to step-down session frequency or end.
Why should I seek therapy, rather than turning to my partner, friends, or other loved ones?
I very much take a relational lens when working with clients. This means I actually do think its important to identify who in your life can be supportive and how. I think a therapist can help you identify what your needs are so that you can let the people in your life know how to better support you.
What advice would you share with therapy seekers?
Call a few providers. Listen to your gut reaction. Do you feel more connected with one provider or another? If you don't connect with your provider that's ok, speak up for your needs and don't let a bad experience stop you from seeking therapy all together.
Visit Brittney's profile to read more about her and contact her to schedule an initial consultation!