Ariel Sank is a Licensed Clinical Social Worker in Midtown Manhattan who works with adults across the lifespan. She specializes in the treatment of obsessive compulsive disorder (OCD), trauma, life transitions, stress management, anxiety, and depression. With extensive training in trauma recovery and OCD, Ariel uses a variety of treatment modalities (including DBT, ERP, and CBT) to help clients make behavioral changes and become happier and healthier.
We asked Ariel about her work with clients and her guiding philosophies on therapy.
Ariel's background and personal life
1. How did you decide to become a therapist?
I knew I wanted to be a therapist from a very young age. My mom is a therapist, so I naturally wanted to follow in her footsteps. Aside from that, I have always been the person that friends and family come to when they are going through something or need someone to confide in. I volunteered at a psychiatric hospital in CT while in college and that was where I really developed my passion for helping others in a professional setting. I saw how therapy can truly impact and bring meaning to someone's life.
2. What was your previous work before going into private practice?
I first worked in an outpatient mental health clinic with children, adolescents, and adults, and for the past three years I have worked in a psychiatric hospital in both the inpatient psychiatric unit and emergency department.
3. What do you find most rewarding about your work?
I love being able to create a safe space for clients, many of whom do not have that in their lives already. As cliche as this sounds, I genuinely love helping people, and I find it so rewarding when either a client or myself notice a change that is helping them live a happier and more fulfilling life.
4. What do you enjoy doing in your free time?
I love spending time with my family and friends. They are the most important people in my life, so, even if we are just sitting on the couch watching reality TV together, it's the best. I also enjoy exercising and cooking. Those tend to be my self-care activities, so I make sure to fit those into my busy days as much as possible.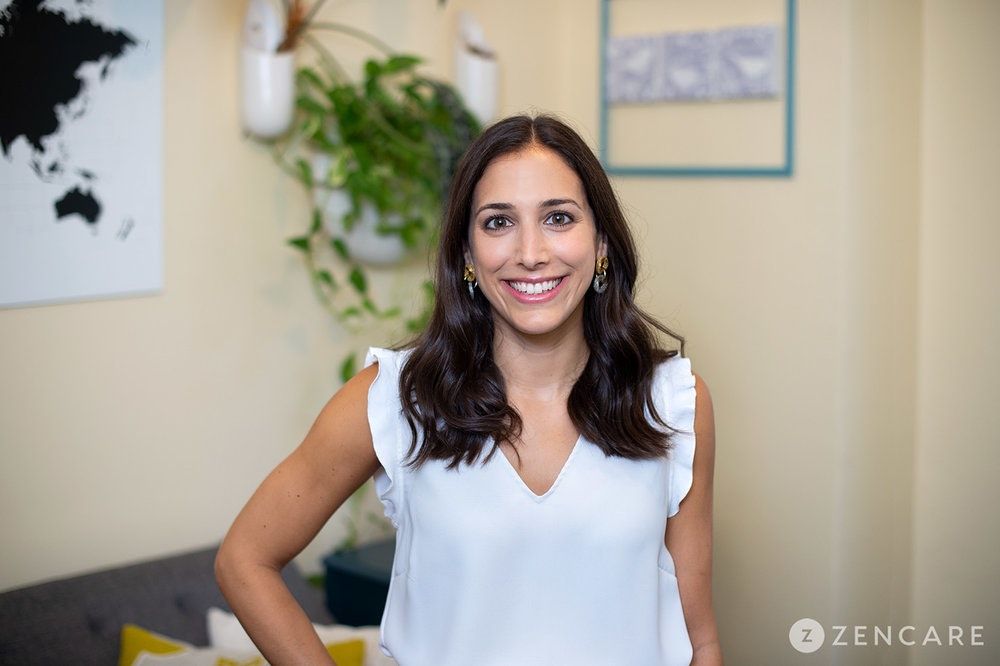 Ariel's specialties and therapy philosophies
5. What guiding principles inform your work?
I believe that it is important to create a non-judgmental and collaborative space. Clients are the experts in their own lives, so I want to empower them to explore thought patterns and behaviors that are impacting them and work together to help them come to realizations about themselves. I also believe that there is not a "one size fits all" treatment in therapy. Each person is unique and brings in a different set of things they want to work on. For this reason, I really tailor my approach and techniques to what the client I am working with needs at the time.
6. What clientele do you work with most frequently?
I work with adults of all ages, but I specifically really enjoy working with the young adult population. There is something about this time in your life that people are going through so many changes and really taking a step back to think about their future, and I love being able to be a part of that process with them.
7. Can you tell us more about your specialty in anxiety?
Anxiety is something that many of us experience at different points in our lives but for some people it can be a daily occurrence. When working with people who are dealing with anxiety, I help them explore some of the root causes of their anxiety, identify triggers, and help them come up with strategies to manage it on their own. I tend to incorporate some cognitive behavioral techniques as well.
8. Can you tell us more about your specialty in obsessive compulsive disorder (OCD)?
Obsessive compulsive disorder is a lot more common than we think. Many of us experience intrusive thoughts throughout our day, but for people who have OCD, these intrusive thoughts are extremely distressing and cause them to resort to a neutralizing strategy to help the thought become more tolerable in the moment. The problem with neutralizing strategies is while they might help momentarily, they don't allow the person to learn to tolerate the discomfort that the intrusive thoughts cause and, therefore, our brain continues this pattern. I use Exposure and Response Prevention (ERP) which teaches you to reduce ineffective worrying, intrusive thoughts, and time-consuming compulsions by replacing them with healthy coping skills.
9. Can you tell us more about your specialty in trauma?
Trauma comes in so many different forms. Both the mind and body play a major role in how we respond to trauma and how it manifests in our present life. I use mindfulness-based approaches when working with clients who have experienced trauma to help them learn coping strategies and self-soothing skills. I help clients feel empowered to live the life that they want in a happier and healthier way.
Therapy sessions with Ariel
10. What would our first session together be like? What happens in ongoing sessions?
Our first session is a chance for us to get to know each other and for clients to have the space to discuss what they hope to get out of therapy. We discuss what brings you to therapy in the first place.
11. Do you assign "homework" between sessions?
It depends. When I work with clients who are dealing with OCD, it is important that they incorporate some of the strategies we work on in session into their own lives because many of their triggers happen outside of the therapy room. With other clients, it really depends on what their goals are and what would be most beneficial for them.
12. How do you help ensure I'm making progress in therapy?
I create a collaborative environment with my clients. I tend to check in periodically with my clients to see how they feel like therapy has been going for them and if there is anything that we could do differently to help them further achieve their goals. Progress can be measured in so many different ways and at different times throughout their lives and in therapy, so it is something that I continue to explore with each person I work with.
13. Are there any books you often recommend to clients?
I'm currently reading "Maybe You Should Talk to Someone" by Lori Gottlieb and once I finish it, I will definitely recommend it to clients.