Anna Gray is a Licensed Clinical Social Worker in Dunwoody, GA, offering remote therapy sessions to clients throughout the states of Georgia and New York. Anna specializes in working with women in the process of navigating major life transitions, such as starting college, transitioning to "adulting," managing new relationships, changing careers, and/or navigating new parenthood. Anna takes a strengths-based approach to sessions, striving to empower her clients through self-esteem and confidence building. She also regularly utilizes CBT and mindfulness practices to help clients become more aware of their thoughts and feelings while also developing coping skills to better manage them.
We asked Anna more about her work with clients and her guiding philosophies on therapy.
Anna's background and personal life
How did you decide to become a therapist?
I knew that being a therapist was for me as soon as I had my first session with a client. I've definitely had times in my life when listening to an outside perspective was just the thing that I needed to get back on the right track. When we feel stuck in life, sometimes what helps the most is problem solving. At other times, it's simply a caring person's listening ear or words of encouragement that we need to feel better about our situation. Once I made the connection between how much much emotional support matters, and the fact that I could be the person to provide that support, the rest was history.
Anna's specialties and therapy philosophies
What guiding principles inform your work?
One of the most important foundational aspects of my practice is that I strive to create a safe space for my clients. I provide them with the respect and non-judgmental approach that they deserve. After all, they are sharing some of their most personal "stuff" with me in therapy.
As I primarily work with Gen Z and millennial women, I also like to incorporate a feminist perspective. Being a woman myself, and having navigated my own journey from youth into adulthood, I have a special appreciation for the strength that it takes for women to move through the world with their heads held up high.
What clientele do you work with most frequently?
Women of the Gen Z and millennial age range are my main focus; however, if the fit is right, gender is not a deal-breaker by any means. My ideal client is someone facing significant challenges or roadblocks when it comes to adjusting to certain changes in their life. For me, it was quite a shock going from high school into college, and the transition from college into the "real world" was even more of a shock! If I can be a reliable source of care and support to someone going through their own season of change, then I feel good about what I'm doing as a therapist.
Can you tell us more about your specialty in helping clients navigate major life transitions?
I've never met anyone, in my entire life, whose life remained stagnant indefinitely. This is simply not the nature of life. In my own life, I have often found that I am most stressed during times when lots of changes are happening, so I realized that surely others must have similar experiences. Since change is the only true constant, I love being the person to support my clients through their own times of adjustment to big changes.
Can you tell us more about your passion for working with women?
Through my experience, I have come to recognize that the experiences of women as they navigate the world are markedly unique in the particular challenges they may face. When I first started out as a therapist, I didn't have such a focus in terms of my ideal client. As my practice has evolved, however, I have found that my personal experiences have helped me foster even more empathy and compassion for working with this specific population.
Can you tell us more about your work with young adults transitioning to "adulting?"
I like the term "adulting," as it captures the experience of being an adult as an action to be taken. Adulting is something that many of us have a harder time embodying, particularly in a culture which places such a high value on youth. As an adult myself, I do appreciate the desire to remain youthful, while still tending to the very real responsibilities of adulthood. I strive to empower my clients by teaching them coping skills for facing the challenges of adulthood with poise and self-respect. The good news is that it is very possible to find a balance between being an adult and still enjoying some of the more desirable elements of one's younger years.
What do you find most rewarding about your work?
I fully recognize that there are countless reasons why someone might not seek therapy. Whether it's the stigma of seeking mental health treatment or anxiety related to sharing one's deepest thoughts and feelings with a stranger, it makes sense. The part of my job I find most rewarding is when someone comes to therapy with certain expectations, or worries, and leaves the session feeling not only relief, but also excitement about moving forward in their therapeutic journey.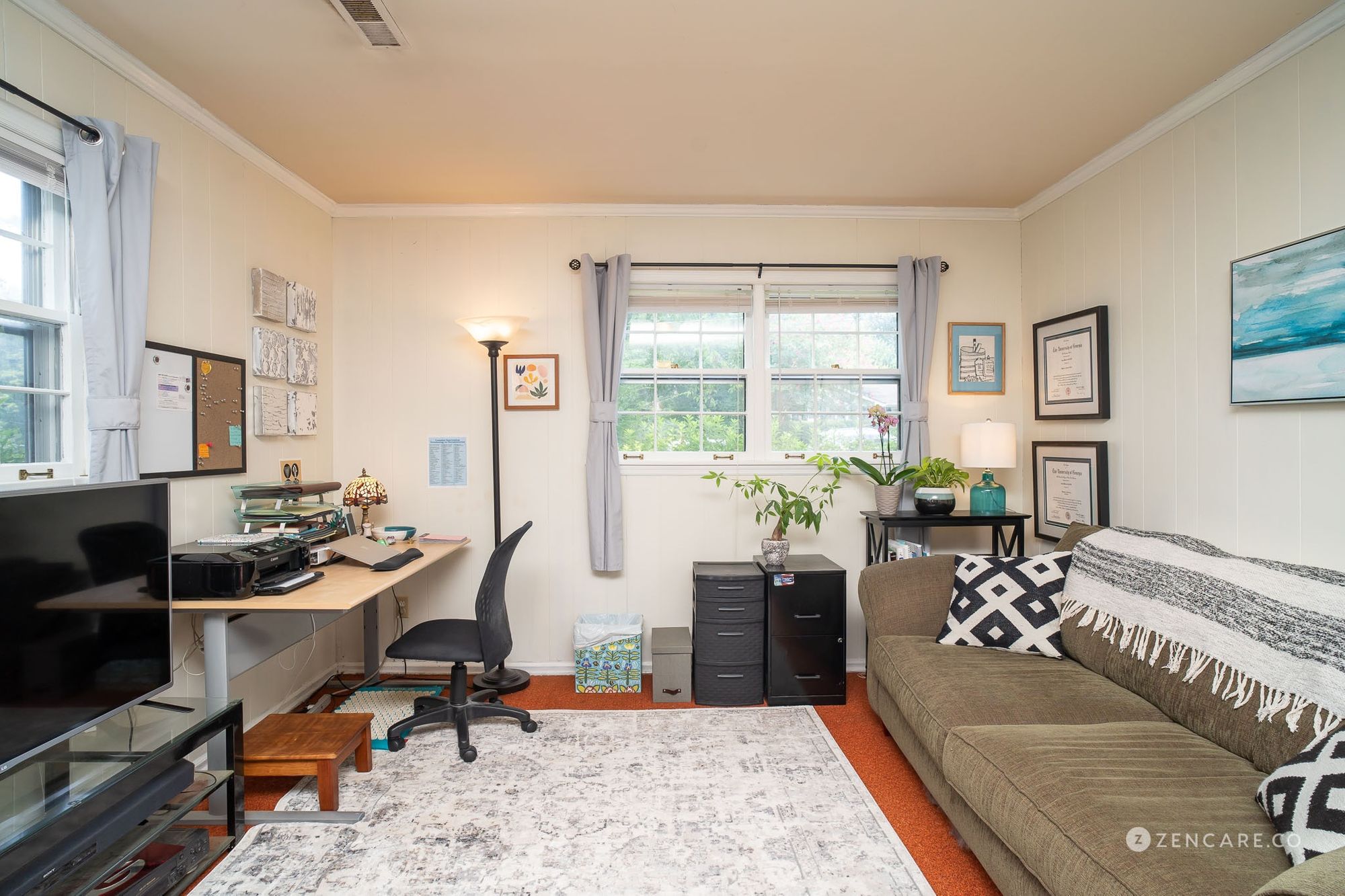 Therapy sessions with Anna
What will our first session together be like? What happens in ongoing sessions?
At the beginning of treatment, I do a comprehensive assessment where I'm getting to know lots of details about your life. I want to know the very basic details (where were you born, what's your age), all the way to the much more specific reasons you are seeking therapy. I also like to invite my clients to get to know me as well, so it doesn't seem so one-sided. I will gladly answer any question (within reason) that my clients ask me, and I feel that this adds value to the therapeutic relationship.
How long do clients typically see you for?
This is such a different answer for every client that I see! There have been some clients that I've seen for years, and some who start therapy already knowing that they only want to engage in treatment for a few months. Truly, I believe that the more that a person is willing to invest in therapy (not only financially, but also time-wise and the emotional/mental effort you are able to give), the more successful therapy will be.
For example, it's possible for one person to go to therapy weekly for five years and make very little progress if they are not doing the work outside of sessions. Likewise, it's not unrealistic for another person to be in therapy for a year, really apply what they learn in therapy in their own life, and see some significant improvements in their outlook.
Are there any books you often recommend to clients?
The Alchemist by Paulo Coelho is one of my most cherished books of all time. I have read it more than any other book, and each time I do so, I notice something that I never did before. To me, this book serves as a reminder to follow your dreams, trust your intuition, and never give up. I recommend this book to any client that feels "down" in the face of a perceived failure. To me, a failure can still be a success in the sense that we've at least tried. This reminds me, I'm about due to re-read The Alchemist and see what new insights I can gain this time around!
Do you assign "homework" between sessions?
Sometimes yes, sometimes no. For those clients I see who want a more structured approach, I might assign them a worksheet, a journaling prompt, or a mindfulness practice to do between sessions. And I also completely get that this is not for everyone! For the clients I work with that are more allergic to between-session homework, we do a more free-form approach to treatment. I like to meet my clients where they are, and let go of whatever does not seem to be serving them.
How do you help ensure I'm making progress in therapy?
I work with my clients to develop a personalized treatment plan that ensures we are on the right track together in treatment. Clients come up with their own personal goals or areas of focus in therapy, and I will definitely give my own feedback as needed.
After therapy has been moving forward from the initial assessment, I will check-in with my clients from time to time about their goals of therapy and to get feedback about whether they feel they are progressing. And if the answer is no, we may shake things up a bit and try on a different approach for size.
How do I know that it's time to start seeking therapy?
For some, therapy can be more of a preventative measure, to keep their lives on track even when there is not an immediate crisis at hand. For others, it's that immediate crisis that sparks the thought "hey, maybe I should start considering therapy." Sometimes it's a parent, spouse, or other loved one who plants the idea in our minds that perhaps therapy could be helpful. Whatever version of this rings true to you, it's valid. There is no shame in bettering your own life fulfillment, no matter what the initial reason is for doing so.
How can I prepare for our first session?
Bring your authentic self! I like to encourage my clients to brainstorm any questions or concerns that they may have about starting therapy, and we can talk about it in session. I am hopeful that you feel a sense of excitement and possibility at the prospect of getting the help and support that you need. As my sessions are currently all telehealth, the only items needed for therapy are a laptop or phone, reliable internet connection, a private space for our session to protect confidentiality, and yourself.
How will I know it's time to end my time in therapy with you or reduce session frequency?
This is definitely something worthwhile to bring up in therapy and explore. When I have a client who is making great progress, meeting their goals of treatment, and not regularly feeling "stuck" in their life, we may be moving toward reducing session frequency. Sometimes this is something that the client brings up themselves, and sometimes I might bring it up whenever it seems apparent that great strides are being made. Even when therapy is on track, and the person is making great progress, they might decide to stay in therapy for a longer time due to wanting the continued support and safe space that therapy provides. To each their own!
Why should I seek therapy, rather than turning to my partner, friends, or other loved ones?
While turning to loved ones for advice or support can often be helpful, it's also more complicated than that. Of course, loved ones may have your best interest at heart and truly want to help, but sometimes they may feel stuck themselves, or have their own "stuff" getting in the way of giving you the objective feedback that you might be needing.
If you are able to connect with a therapist to fully express how you are living within your situation, and what type of support you are seeking, you may have a better chance of getting to a more content place in your life. And as a side benefit, your therapist will not share what you talk about in session with your sister, mom, cousin, etc!
What advice would you share with therapy seekers?
Do it! I know how daunting it can be to try something new, and I give you so much credit for taking the first step on this journey. I appreciate the vulnerability that my clients bring to therapy, and I want to provide them with the utmost respect and safe space to process whatever their therapeutic needs might be.
Visit Anna's profile to watch her introductory video, read more about her, and contact her for more information!