Dr. Andy Santanello is a Clinical Psychologist in Towson, MD specializing in working with introverts and anxious individuals on navigating socially-induced stress and panic. Dr. Santanello also works with clients on a more broad range of challenges, including life transitions, general anxiety, depression, and trauma. Passionate about providing clients with evidence-based therapies and drawing on his work as a practicing Zen Buddhist, Dr. Santanello regularly incorporates aspects of ACT, CBT, and mindfulness-based approaches into his practice, always encouraging and helping clients improve their psychological flexibility in the face of life's various emotional challenges.
We asked Dr. Santanello more about his work with clients and his guiding philosophies on therapy.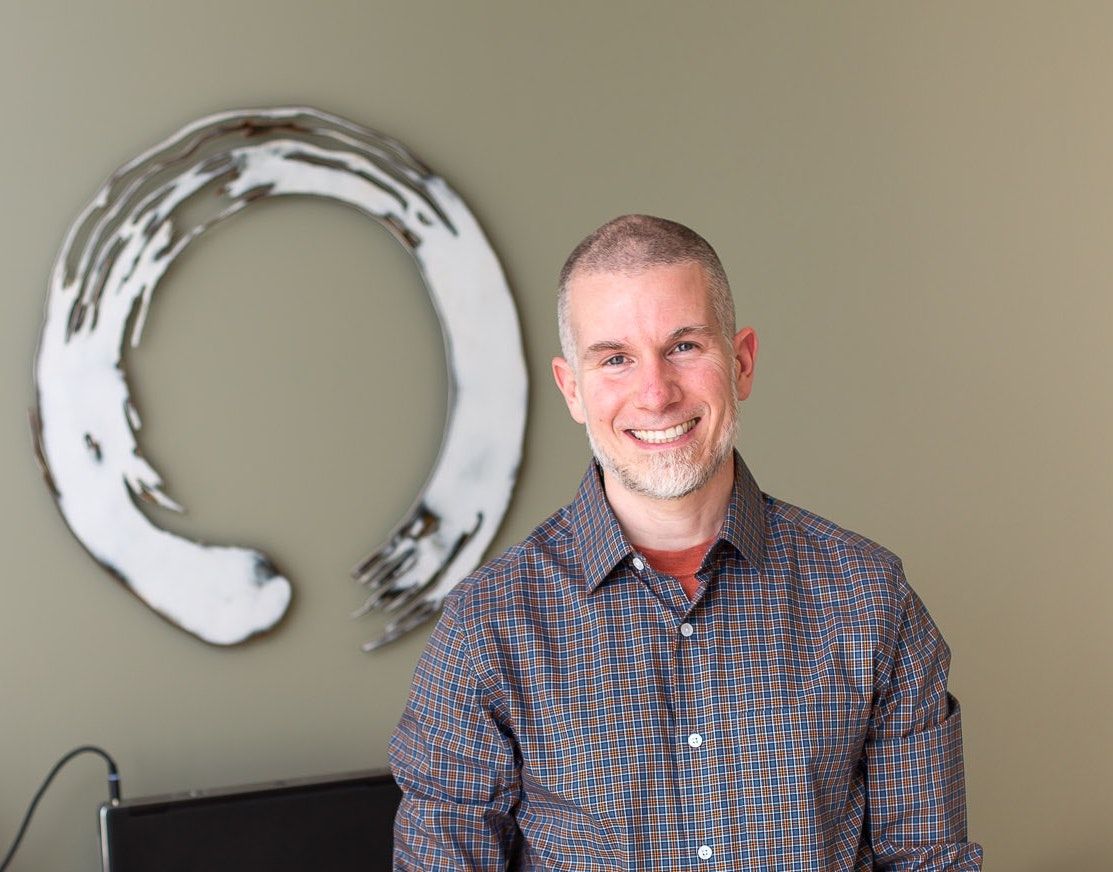 Dr. Santanello's background and personal life
How did you decide to become a therapist?
Honestly, I've wanted to be a therapist since I was 15. Even as a kid, there was something really special to me about having the chance to have deep, intimate conversations that would make a difference. When I met my first, real, live psychologist at a career fair in high school, that pretty much settled it for me.
What was your previous work before going into private practice?
I spent my first 10 years as a psychologist working as a Trauma Recovery Specialist in the Veterans Affairs Maryland Health Care System. During my time in the VA, I was fortunate to receive training and gain valuable experience in many evidence-based therapies for PTSD, depression, and anxiety, such as Cognitive Processing Therapy (CPT), Prolonged Exposure Therapy, Cognitive Behavioral Therapy (CBT), and Acceptance and Commitment Therapy (ACT). In addition to my clinical work, I have served as the director for a residential PTSD and substance use disorder program, a team leader for an outpatient clinic for returning veterans, and a national trainer in the CPT therapist training program. I still provide professional training in CPT and ACT to national and international audiences.
What do you enjoy doing in your free time?
Creativity, adventure, growth, humor, and connection are important values of mine. In the service of those values when I am not working, I enjoy spending time with friends and family (including my dog Clancy and cat Duncan), practicing zazen on my own and with my sangha, playing my ukulele poorly, playing video games, making homebrew beer, and generally doing my best to stay centered and to laugh whenever I can.
Dr. Santanello's specialties and therapy philosophies
What guiding principles inform your work?
There are a few basic assumptions that guide my work. First, everyone struggles. A defining characteristic of human life is that each and every one of us will have hard times and feel stuck. We aren't doing anything wrong or failing when we have those experiences. Second, most of the things that we are taught to do to "cope" really don't work very well in the long term. This is because they are based on the assumption that struggling is not normal, and, if we just try hard enough, we can live mostly discomfort-free lives. Lastly, I think everyone has the capacity to live a full, meaningful, and vital life WITH their struggles. To paraphrase Viktor Frankl, "we can deal with any HOW as long as we have a WHY."
What clientele do you work with most frequently?
I mostly work with adults (18+). I've noticed that a lot of my clients tend to struggle with worry, panic, anxiety, depression, confidence problems, social anxiety, and trauma histories/difficult past experiences. I have a real passion for working with those issues because, in part, I know what it's like to struggle with some of those things. It also seems like I tend to connect well with folks who tend to be more on the introverted side. This is not really a shock since I'm pretty introverted myself.
Can you tell us more about your specialty in anxiety?
Anxiety is a normal emotion, but experiences like panic and worry can be really uncomfortable. Trying to suppress or avoid anxiety tends to make things worse. The key with anxiety is to learn ways to face it and to not let it dictate what you do.
Can you tell us more about your specialty in depression?
Depression is now the leading cause of disability in the world. This is because it is so easy to fall into a style of life that is the equivalent of psychological hibernation when low-mood, decreased motivation, and the rest of the symptoms of depression show up. Then, we wait until the internal weather gets better to start living again. That is an unworkable strategy. Reconnecting with a sense of purpose and building motivation by doing is the way out of depression.
Can you tell us about your work with clients recovering from difficult experiences/trauma?
An often quoted statistic is that 50% of men and 60% of women in the general population will experience trauma during their lives. That doesn't take into account the other adverse experiences that people commonly face. Recovering from these experiences requires taking action to stop avoiding thoughts, feelings, physical sensations, and triggers that remind you of your bad experiences. Once you've stopped running, processing those reactions directly with someone who can handle hearing the whole, ugly truth and who genuinely cares is essential.
What do you find most rewarding about your work?
Without a doubt, the most rewarding part of my work is connecting with my therapy clients and seeing them take bold moves toward creating a life that is about flourishing. I'm continually inspired by my clients and in awe of their efforts to grow and change in the midst of some pretty difficult challenges.
Therapy sessions with Dr. Santanello
What will our first session together be like? What happens in ongoing sessions?
During our first session, you and I will get to know each other. I'll ask you about your current and past struggles and the ways they are affecting you in the domains of love, work, leisure, and health. By the end of session one, we will have an action plan. From there, we will work together to define and meet your unique goals by developing your skills in facing discomfort and pivoting your efforts toward flourishing.
How long do clients typically see you for?
Every client is different, and the duration of therapy varies accordingly. I've seen clients for one or two sessions and a few for years. Most of my clients work with me for 10-20 sessions.
Are there any books you often recommend to clients?
I have a bad habit of recommending TOO many books to my clients! However, there are a few that I think are essential:
Do you assign "homework" between sessions?
Yes! In my view, effective psychotherapy is not unlike effective physical therapy. You need to practice the exercises between training sessions for them to make a difference. Typically, you and I will develop an "action plan" at the end of every session which will involve practicing skills we learn together in session.
How do you help ensure I'm making progress in therapy?
Our work together will be defined by your unique goals. We are going to check in on a regular basis to see if the work we are doing is moving you in the right direction. At the end of every session, I will ask you to rate your confidence in your ability to practice your action plan and to rate how useful our session was. My overall goal is for you to make so much progress toward your goals (and to teach you all my tricks) that you won't need me anymore.
How do I know that it's time to start seeking therapy?
If you are wondering if it's time to start seeking therapy, it's probably not a bad idea to look into your options. Why wait until things get really bad?
How can I prepare for our first session?
I'll help you prepare by sending you a questionnaire about various areas of your life prior to our first session. Overall, I think the best way to prepare for our first session is to consider the possibility that something great can happen in our work together. We are going to go at your pace, so it's also important to remember that there isn't any pressure on you to "get it right." We are in this together now.
How will I know it's time to end my time in therapy with you or reduce session frequency?
The short answer is that you and I will decide together based on progress toward your goals. We will routinely check in about your progress and adjust the frequency of sessions accordingly. Usually, it's quite clear to me and my clients when therapy is winding down or it's time to take a break.
Why should I seek therapy, rather than turning to my partner, friends, or other loved ones?
Family and friends are invaluable sources of support. Unfortunately, they can't be objective because they are in intimate relationships with you. Therapists are wonderful resources for this reason. We can offer compassion and validation AND challenge you to make tough changes without the concern that it will affect aspects of a personal relationship. In fact, the entire purpose of a therapeutic relationship is to support your growth. Personal relationships are a two-way street.
What advice would you share with therapy seekers?
When I was seeking my own therapist, it was important to find someone who I liked being around and who was going to gently push me to grow. If you are looking for a therapist, I hope that you find someone with whom you feel a warm connection and who has good training and experience with evidence-based therapies.
Visit Dr. Santanello's profile to watch his introductory video, read more about him, and contact him for an initial consultation!