Ana Hinshaw is a California-based Licensed Clinical Social Worker providing remote therapy sessions to clients throughout the states of California, Florida, and Washington DC. Ana has experience working with clients of all ages across a variety of settings—including ​​nonprofits, group homes, and crisis centers. In her private practice, however, she most frequently works with young adults in their 20s and 30s, many of whom struggle with stress, anxiety, depression, trauma, and/or relationship concerns. In sessions, Ana is passionate about taking a client-centered approach that focuses on highlighting clients' existing strengths to better manage their own unique challenges.
We asked Ana more about her work with clients and her guiding philosophies on therapy.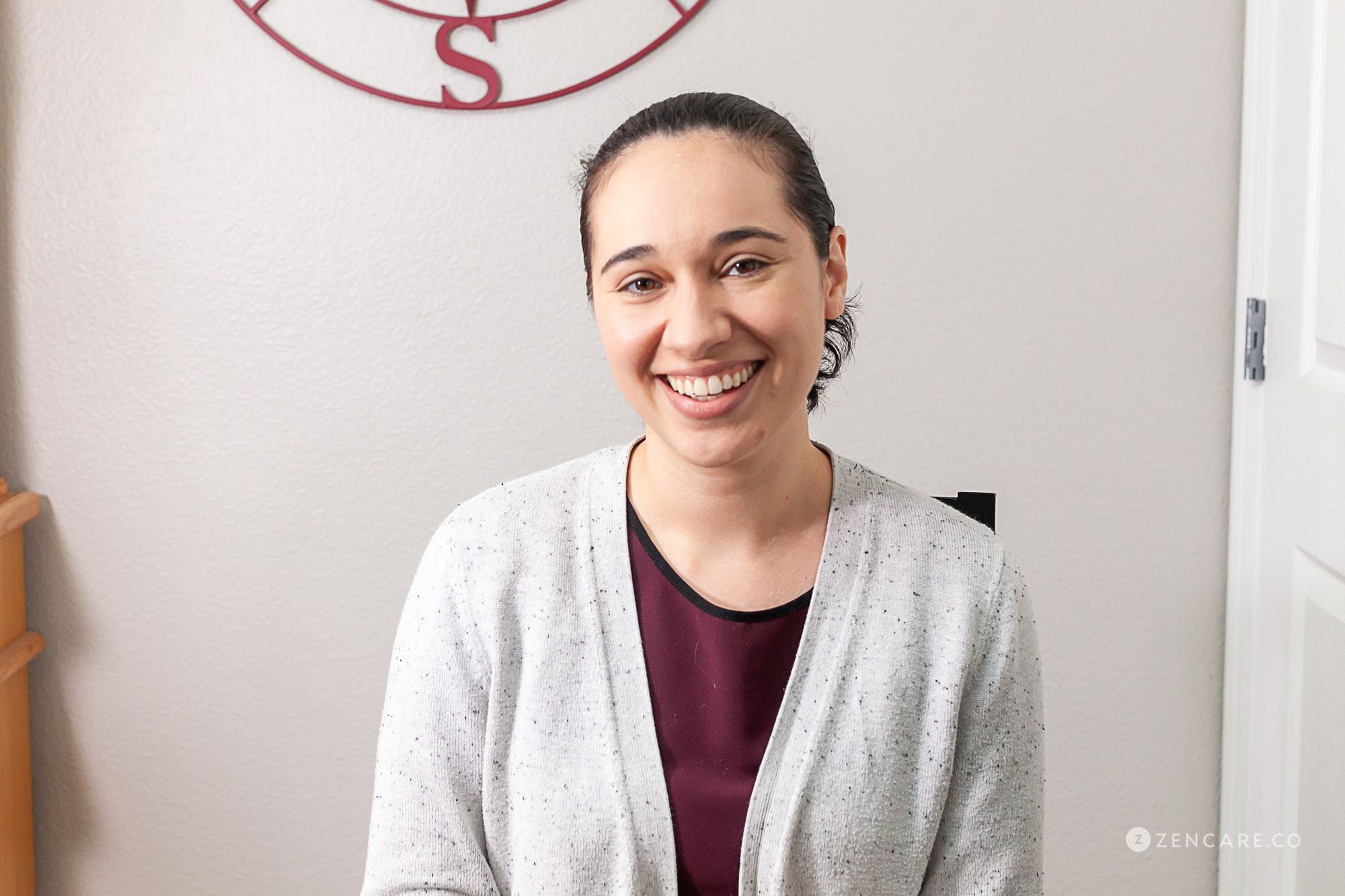 Ana's background and personal life
How did you decide to become a therapist?
I've been fascinated by human thoughts and emotions ever since taking a psychology class in high school. I learned about personality types, child development, self-esteem, and societal influences. I knew I wanted to work within the field, but I changed my mind so many times about what I wanted to do!
During college I started volunteering for the California Youth Crisis Line. When I saw just how much of a need there was for young people to have access to mental health resources, I decided to pursue mental health social work. It's been so rewarding to work with people on their own journey towards mental wellness, as well as to support them with getting linked to resources in their community.
What was your previous work before going into private practice?
I used to work as a clinician at a children's clinic in Sacramento, where I did therapy and case management. I also did quality assurance and health information management for the same organization. A few years after getting licensed, I started doing contract teletherapy to see if it was something that I would enjoy (and it was!). Since experiencing the freedom of remote therapy and having more control of my schedule, I haven't looked back!
What do you enjoy doing in your free time?
Being lazy is literally my favorite thing :) I enjoy drinking coffee and tea, reading, playing computer games, writing, and going down Youtube rabbit holes for hours. I also enjoy eating, cooking, and trying out new restaurants. I'm one of those weirdos who actually enjoys grocery shopping (it's like Disneyland for me!). I also really enjoy hiking and traveling with my partner and my friends.
Ana's specialties and therapy philosophies
What guiding principles inform your work?
Everyone's journey is different. I like to come from a place of nonjudgmental curiosity by first asking about what your life might be like if you could change things. I also like to explore your values and what's important to you. I'm still surprised by how many people out there are living a life that is out of alignment with their values! For example, I often have clients tell me that family is the most important thing to them, yet they are devoting much of their lives to work or other obligations.
I believe that when we create awareness as to what's working (and not working) in our lives, we can better identify steps towards living a life that is more in-line with what's important to us.
What clientele do you work with most frequently?
Right now, I mostly work with young adults in their 20s and 30s. The bulk of my career experience has been with teenagers, so a common theme I've noticed from young adults is the struggle of "adulting." This struggle can create a lot of stress, anxiety, and depression—especially among folks who have a tendency to put a great deal of pressure on themselves.
I also work with a lot of people who have a trauma history and present with post-trauma responses. Typically these clients are wanting to address relationship issues, self-care, healthy boundary-setting, and "feeling normal" again.
Can you tell us more about your work with clients struggling with overwhelming stress and/or anxiety?
In my experience, stress and anxiety are top reasons why many clients seek out therapy. A healthy amount of stress can be a good thing, but an overwhelming amount of stress puts someone in a tough position where they are no longer able to cope well in their circumstances.
A common challenge I hear from folks is having "too much on my plate." This might involve family commitments, work demands, health issues, financial stress, or other obligations. Something I've observed in folks who have a lot of anxiety is that they often focus too much on what is outside of their control. Part of the work we do in therapy is shifting the focus back to what is within their control. This might include focusing on internal things—such as their thoughts and attitude—or external things, such as communication, boundary setting, or even making big changes like a move or job switch.
Can you tell us more about your specialty in trauma?
It's interesting how some folks come to therapy knowing that they want to work on their trauma and address post-traumatic responses, while others don't uncover their own trauma issues until several sessions in. A major challenge when it comes to trauma is that we often don't see how the effects of it are impacting our own lives and those around us.
A favorite quote that I like to share with these clients is, "If you never heal from what hurt you, you'll bleed on people who didn't cut you." If you think you've kept your trauma in the past, but you're struggling in your relationships, coping with substances like alcohol, or having strong emotional reactions to small issues, then your trauma is certainly echoing in your present.
In therapy, we work on acknowledging that these are normal responses to abnormal events. We also work on healthy coping skills, effective communication techniques, and trauma processing when needed.
Can you tell us about your integration of personalized self-care strategies into your work with clients?
I recognize that self-care is such an overused term, but personalized self-care is so important! I often hear people voice how exhausted and overextended they're feeling, yet they struggle to meet their basic needs—like getting a decent night's rest! If we do not take care of ourselves, we cannot realistically be expected to take care of others or perform well at our jobs.
Personalized self-care involves identifying your specific needs and working on addressing them. I collaborate with clients on a variety of ways of boosting self-care: boundary-setting, setting aside time for oneself, or taking scary action steps like going to the dentist after years of not going! Therapy itself can be its own self-care, but I believe in reinforcing the work with daily acts of taking care of one's overall health.
What do you find most rewarding about your work?
There are so many rewarding things about working as a therapist. Perhaps the biggest thing for me is when clients report feeling more empowered in their lives, especially after practicing a skill outside of therapy. A favorite time of mine is when we work on boundary-setting and saying "no." When clients come back for a follow-up and tell me how much better they feel after setting boundaries with a partner, a boss, or a parent, that's huge!
Therapy sessions with Ana
What will our first session together be like? What happens in ongoing sessions?
Our first session is about getting to know each other. It gives us the time and space to ask each other questions, collaborate on goals, and set expectations for therapy. For folks who are brand-new to therapy, I make sure to take some extra time explaining what therapy involves. Us therapists love our nosy questions, but I assure people that we do not have to talk about anything that you are not yet ready to address.
In ongoing sessions, we often address issues related to your goals. I'm here to act as a sounding board, challenge thoughts that may be self-defeating, share recommendations on coping strategies that could help, and evaluate how you're progressing. I also welcome feedback on whether or not sessions are helpful to you. If something isn't helpful, then it's time to course correct!
How long do clients typically see you for?
It depends. We may meet for as short as a few sessions, while some clients prefer to have long-term therapy for months. On average, I see clients weekly or once every few weeks. I also have a few who I meet with monthly or every few months if they are progressing really well.
How will I know it's time to end my time in therapy with you or reduce session frequency?
When clients get to a point where they are reporting that they are feeling much better, that's usually the indicator that we can cut down on session frequency or work towards graduating from therapy. Transitioning out of therapy should be a collaborative process, and it's always okay to return in the future if needed.
Are there any books you often recommend to clients?
There are many books I recommend depending on the issues that we are working on, and I do love a good self-help book! Two amazing authors that come to mind are Brené Brown and Mel Robbins. I highly recommend Brown's The Gifts of Imperfection to anyone that needs a dose of calm bravery. I also sometimes incorporate Robbins' technique from her book The 5 Second Rule for anyone struggling with anxious thinking or procrastination.
Do you assign "homework" between sessions?
On occasion, I do assign therapy homework between sessions. This might involve a worksheet, a journaling activity, or a challenge to practice a certain skill that we worked on (such as assertive communication). At our follow-up, we evaluate how you did and address any challenges that may have come up.
How do you help ensure I'm making progress in therapy?
At the beginning of therapy sessions, I like to check-in to see how you're feeling and how things have been going since the previous session. At the end of sessions, I also like to check-in about how helpful the therapeutic process was. I often rely on client's self-reporting their progress in therapy.
When appropriate, I may request that you complete an assessment measure (for example, the Generalized Anxiety Disorder Assessment when treating anxiety) at the beginning of treatment and on an ongoing basis so we can measure progress at different points in time.
How can I prepare for our first session?
Come as you are! No need to bring anything, although some people find it helpful to bring a notebook if they want to take notes. I sometimes have clients who come prepared with an agenda of things to talk about, while others come in not knowing what to address. Both are totally fine!
Visit Ana's profile to watch her introductory video, read more about her, and contact her for an initial consultation!