Amie Dean is a Licensed Marriage and Family Therapist in California specializing in childhood trauma, anxiety, perfectionism, and life coaching. We asked Amie more about her work with clients and her guiding philosophies on therapy.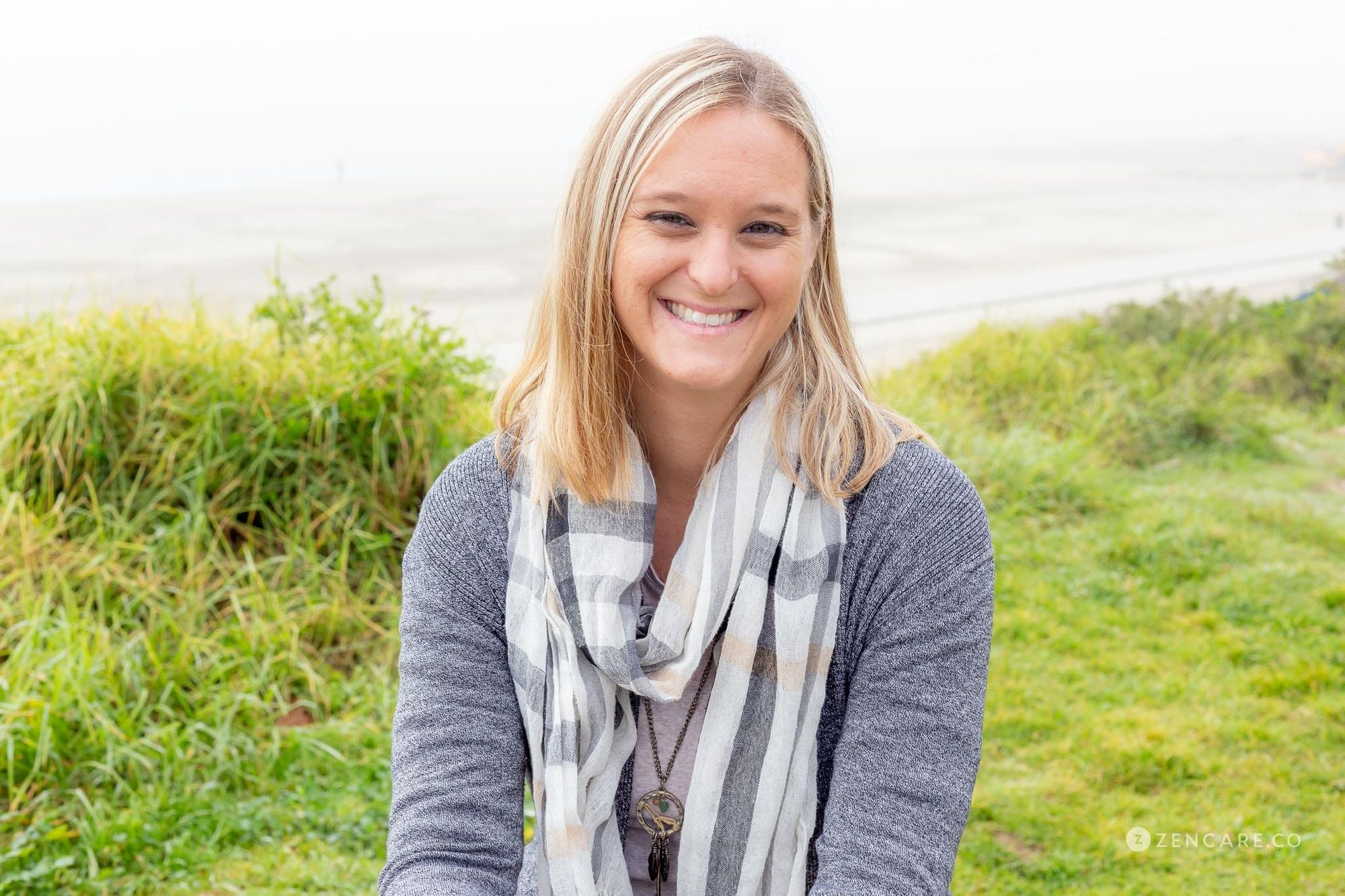 Amie's background and personal life
How did you decide to become a therapist?
I knew I wanted to become a therapist when I began EMDR to work through childhood trauma in my early twenties. I had such a wonderful, and supportive therapist who helped me tap into wisdom and healing within myself. Through this therapy journey I discovered a resilience that I didn't know was there before. I always wanted to help people and felt drawn to holistic psychology, so that was the determiner for me.
What was your previous work before going into private practice?
Before private practice I worked as a neurofeedback clinician which is a form of Biofeedback that helps change the brain towards healthier patterns using a small electromagnetic frequency.
I really enjoyed this work and recommend to anyone who feels stuck in their behavioral patterns despite ongoing therapy. I also worked as a holistic life coach, and still do today! I offer both coaching and therapy options.
What do you enjoy doing in your free time?
I am a lover of meditation, yoga, nature and travel - so you'll find me meditating and practicing yoga in nature, hiking, biking, kayaking and traveling from place to place full time in my RV with my husband and my two dogs. There's nothing like visiting National Parks, and enjoying the beautiful scenery of the great outdoors!
Amie's specialties and therapy philosophies
What guiding principles inform your work?
Compassion is at the heart of how I work, as well as integrating mind, body and spirit though energy work and meditative journeys for true self discovery. Within the nurturing and caring space in which we work together, I empower my clients to heal their deepest wounds so we transcend the root cause of their pain and suffering.
What clientele do you work with most frequently?
Most of my clientele are highly sensitive women, and/or empaths who tend to feel deeply and prefer a loving, compassionate approach to care. Often HSPs/empaths struggle with anxiety as a result of overstimulation of their nervous system, I help clients using somatic and energy-based tools to go well beyond the managing of anxiety and stress, and to tap into resilience deep within. Using Internal Family Systems (IFS) and Psychosynthesis, I help clients identify their childhood wounding and release it in a way that very safe and highly effective
I also enjoy working with professional ambitious women who struggle with people pleasing, imposter syndrome, perfectionism and have a strong inner critic. As a high achiever myself, I know the challenges that arise from pushing to do more and more- it creates issues in relationships and can even cause health issues. Using tools such as IFS, somatic experiencing, EMDR, and mindfulness based tools, I help to transform this aspect of self into one that is balanced, creating more ease and clarity.
What do you find most rewarding about your work?
There are so many things I find rewarding about my work with clients- the first is watching the transformation from a feeling of powerlessness to feeling deeply empowered to heal. Then it's witnessing what I can only call a magical experience as my client discovers their inner world from a new perspective. From there, they access their innate wisdom from which true healing occurs. It's truly an honor to be apart of.
Therapy sessions with Amie
What will our first session together be like? What happens in ongoing sessions?
The first session is an intake where we get to know one another, we discuss what has brought you to therapy and what your goals are for our work together. We paint a picture of what the journey will look like together, which is unique for everyone. In ongoing sessions we stay focused on our goals and pivot as needed, while using tools to track your progress.
How long do clients typically see you for?
Most often my clients commit to 6 months together to start, since I focus on working at the root cause of symptoms it takes time to get there. Many of my clients no longer need support after 6 months, and some continue together because they enjoy the depth work and ongoing insights into their Self.
Are there any books you often recommend to clients?
My favorites are:
Do you assign "homework" between sessions?
Yes I am a homework therapist! I find it's so important to continue the work we started in session for lasting change. The homework depends on the goal we set together, but it's always simple and never overwhelming
How do you help ensure I'm making progress in therapy?
We check in using a questionnaire tool every few months as well as ongoing check in sessions when we meet, you will be able to track your changes over time and we celebrate your progress along the way :)
How can I prepare for our first session?
Just make sure you're in a comfortable place where you won't be disturbed as we will be meeting online/video via a secure platform. Feel free to have tissues nearby if you need them, light a candle or burn some incense. Whatever creates a relaxing vibe :)
How will I know it's time to end my time in therapy with you or reduce session frequency?
Often you will know it's time to decrease frequency because the problem you came into therapy for has resolved or reduced- we will check in about this regularly as we track progress.
Visit Amie's profile to watch her introductory video, read more about her, and book an initial call!