The mental health field is full of terminology and credentials – that is, the licensure that a professional has – and psychologists and psychiatrists are no different. And it doesn't help that both types of therapists have "Dr." in front of their names!
Psychology and Psychiatry sound similar to the ear, however there are major differences between the two disciplines. To determine which provider type is right for you, we've broken down the main differences.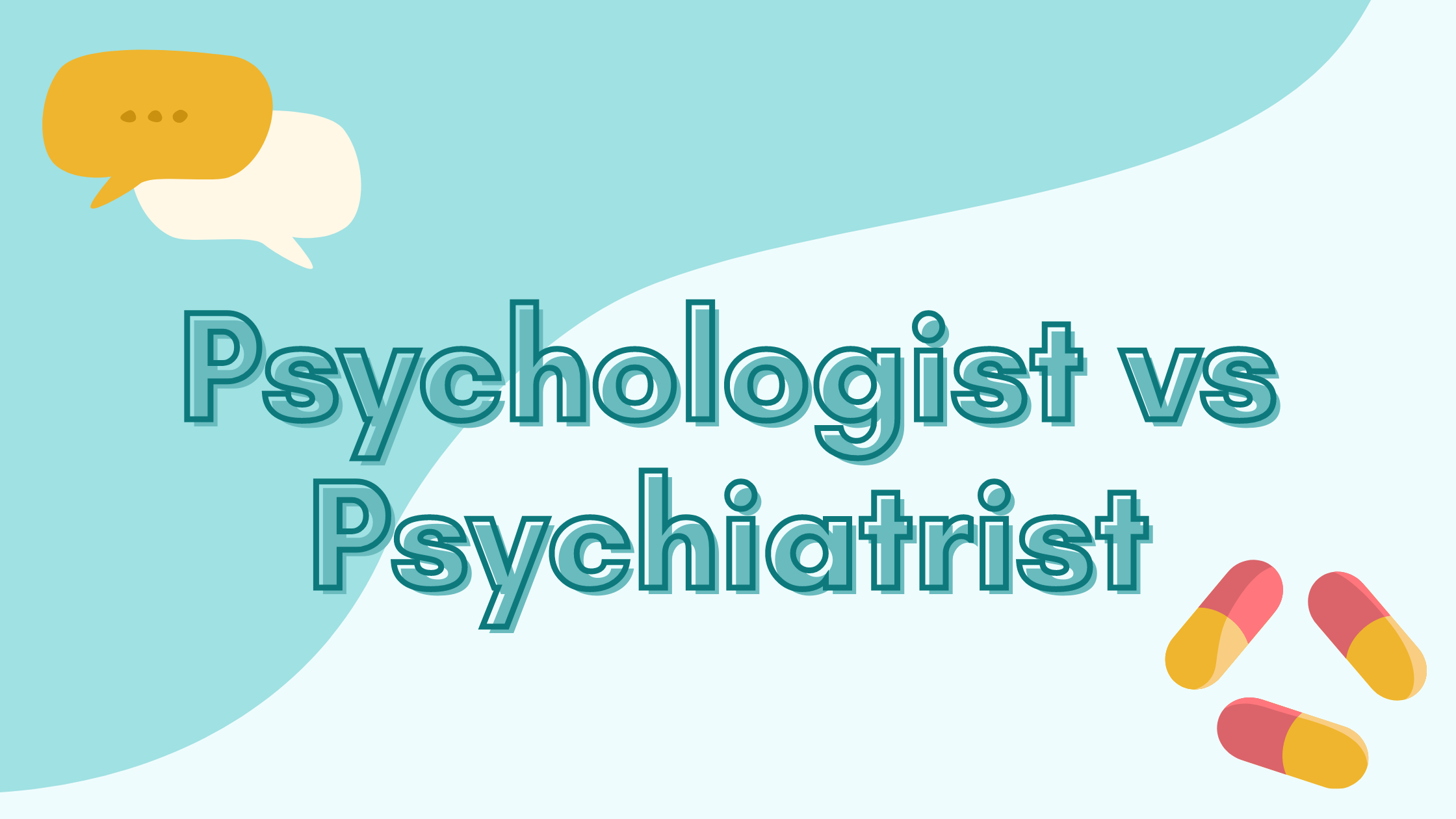 What is a psychologist?
A psychologist is a type of therapist with doctoral level training in psychology; they have either a PhD in Psychology or a Doctorate in Psychology (often denoted as PsyD). Psychologists are mental health clinicians that help clients by focusing on their emotions, behaviors, or thoughts. Often, psychologists help clients work towards a specific mental health goal. These goals can include growth around:
Progress towards these goals generally stems from frequent meetings between psychologist and client. When you think of traditional "talk therapy," you might be thinking of sessions with a psychologist.
What is a psychiatrist?
Psychiatrists are medical doctors, which means they went to medical school and completed a residency in Psychiatry. They have a full understanding of bodily systems, and use this knowledge to help clients suffering from acute mental health symptoms. These symptoms might include:
Recurrent depressive episodes
Mania
Self harm or suicidal ideation
Delusions or hallucinations
Psychiatrists help treat clients' symptoms, rather than enhance understanding of the origins of these symptoms. They generally manage mental health symptoms through the prescription of medication, such as psychopharmacology.
Psychologist vs Psychiatrist: Education
Being a psychologist or a psychiatrist takes an extensive amount of time in school and in training. This gives the provider the knowledge and experience they need to offer high-quality, comprehensive care for their clients.
To become a licensed psychologist, one must complete either a PhD in Psychology or a PsyD. These degrees take up to six years to complete and will often include elements of psychology research. All psychologists also must complete a certain number of hours of experience working with clients, though this specific number varies per state – but can be up to 6,000 hours of internship hours. After completion of the educational program and practice hours, a psychologist then must apply for licensure and sit for an exam before they can begin to work independently with clients.
To become a licensed psychiatrist, one has to complete medical school, residency, and specialist training – which can take around 11 years. Throughout this training, psychiatrists-in-training must pass several exams and accrue a certain number of hours working with clients.
Both psychologists and psychiatrists go through rigorous, comprehensive programs so that they can offer clients evidence-based treatment that is culturally appropriate and effective. Based on classroom study and practice experience, both professions leave their program equipped to help clients reach their mental health goals.
Psychologist vs Psychiatrist: Services
Because of the different educational paths that psychologists and psychiatrists take, their service offerings also vary – though both strive to help clients live comfortable, fulfilling lives.
The largest difference between the service offerings is that psychiatrists can prescribe medications. Psychiatrists prescribe medications to help clients with their diagnosed mental health conditions and debilitating symptomatology. Psychiatrists also tend to treat more severe mental health conditions, including those that may lead to hospitalization: for example, bipolar disorder, schizophrenia, or severe depression. Their medical training leads to a more biological or neurochemical approach to treatment.
While in a select few US states, psychologists can also prescribe medication, in general psychologists focus more on helping clients better understand and change their thought or behavioral patterns. Psychologists aim to treat their clients through "talk therapy," which can include a wide range of therapy modalities including Cognitive Behavioral Therapy (CBT), narrative therapy, Eye Movement Desensitization and Reprocessing (EMDR), yoga therapy, and more.
Should you see a psychologist or a psychiatrist first?
If you're trying to decide whether you should see a psychologist or a psychiatrist, ask yourself your goals for therapy. What's drawing you to the support of a mental health clinician at this time? Is there a sense of urgency to working with a mental health clinician?
If you find yourself deeply struggling with mental health symptoms, you might consider starting your mental health treatment by visiting a psychiatrist. If you're looking for someone to talk to for long term support, a psychologist might be the best choice for you.
It's very common for a client to work with both a psychologist and psychiatrist at the same time. The client may regularly meet with their psychologist to work towards making healthy changes, while also visiting their psychiatrist once a month to manage their medications. So, whether you start by seeing a psychologist or a psychiatrist, you can always engage both when necessary.
What can a psychiatrist do that a psychologist cannot?
While some psychiatrists offer talk therapy, the biggest distinguishing factor is that they can prescribe medications to help alleviate mental health symptoms, whereas psychologists generally cannot. Psychiatrists, who have training in medical treatment, have expertise in the use of psychopharmacology in mental health treatment. This could include mean incorporating the following types of medications into the treatment plan:
Antidepressants
Anti-anxiety medications
Anti-psychotics
Antimanic medications
When will a psychologist refer you to a psychiatrist?
When a client's mental health symptoms become overwhelming to the point where they inhibit daily routines or have the potential to lead to self-harm, a psychologist will refer their client to a psychiatrist. Clients can also request a referral to a psychiatrist at any point, especially if they're interested in learning more about medication.
Psychologists and psychiatrists often work on the same treatment team. This provides wraparound support for clients where they can receive both medication management and long term support as they work towards their mental health goals.
Does education matter when it comes to therapy?
Many clients wonder if education matters when it comes to picking the right therapist for them. There are many paths that someone can take to become a licensed therapist, but rest assured that both psychologists and psychiatrists are able to provide excellent therapy.
In some ways, background and education does matter when you're looking for a therapist: if you're looking for a therapist that offers a specific type of therapy (i.e. EMDR), it's vital that you check out whether the therapist is certified in offering that modality. However, you can find both psychiatrists and psychologists (and other types of therapists!) that have specialized training in a certain type of treatment.
In the end, one of the biggest factors when it comes to picking the right therapist is the rapport built between client and therapist. To test out this rapport, schedule a consultation call with several therapists through the Zencare therapist directory. If you feel comfortable with one therapist over another, their educational background isn't as important.