Zachary Pichler is a Licensed Professional Clinical Counselor (LPCC) in Cleveland, Ohio specializing in addiction, anxiety, problem gambling/gaming, and life transitions. He also has a particular specialty in topics related to gender identity and transgender health, as many of his clients identify as members of the LGBTQIA+ community. In sessions, Zack takes a client-centered and solution-focused approach to provide clients with a safe, non-judgemental space to make meaningful progress toward their therapeutic goals.
We asked Zack more about his work with clients and his guiding philosophies on therapy.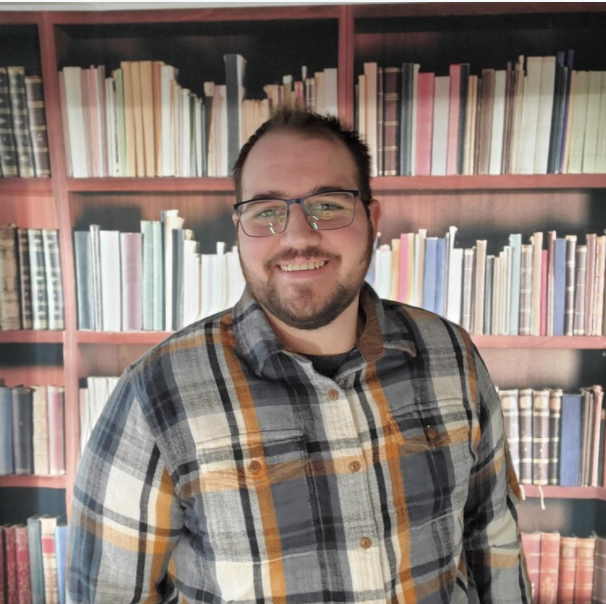 Zack's background and personal life
How did you decide to become a therapist?
I never knew that being a therapist was an option. My exposure to mental health treatment was incredibly limited until my dad had some issues that resulted in a hospitalization. Even after, no one really wanted to explain what was going on. A few years after that, I was watching a TV show that opened my eyes to what mental health treatment could be, and I went to college in hopes to be a psychiatrist. Shortly after starting, I realized that wasn't the best career plan for me. After some self reflection and research, I found out what a therapist could do and that felt so... right.
I realized that why I wanted to be a psychiatrist was because I wanted to help people navigate life's challenges. This was confirmed in my first day of graduate school for counseling. The first class had me captivated and I felt like I was home. It didn't click until that day what a calling really was.
What was your previous work before going into private practice?
I previously worked in community mental health where I saw clients from many different backgrounds and circumstances. I worked with clients who had legal issues, addiction, and severe mental health issues, as well as those who just needed some extra support while going through a difficult time.
What do you enjoy doing in your free time?
I often spend my free time playing video games, hiking, or spending time with my dog. My favorite games often involve missions that make the lives of other characters better or creating brand new worlds.
Zack's specialties and therapy philosophies
What guiding principles inform your work?
I want to create a safe, non-judgmental space for my clients. I understand that getting treatment for your mental health is a terrifying, but worthwhile, experience. I work hard to make sure my clients feel respected and that they feel I genuinely care about their growth.
What clientele do you work with most frequently?
I typically work with adults in the queer community and have found that my clients appreciate having someone who understands what it's like to exist as a queer person. My clients have told me that having someone who "gets it" is so freeing and helps them feel more comfortable exploring parts of themselves that others may not understand.
I also have a specialty in working with clients who have issues concerning addiction. I've worked with clients who struggle with alcohol, drug use, pornography, and problems with gambling/gaming.
Can you tell us more about your specialty in working with members of the LGBTQIA+ community?
For many in the LGBTQIA+ community, we face a lot of the same challenges. We want to be loved and accepted by those we love. We want to be able to exist in public spaces and not have lawmakers try to erase us from society. For transgender clients, it gets even more complicated. As a transgender male, I can understand some of the unique challenges we face when it comes to gender identity. There are medical professionals who believe we shouldn't receive life-saving care, lawmakers who want to force us into hiding who we are, and even family who would rather us be dead than live authentically.
I help with these issues by creating a space to explore what a client needs and being someone that they don't have to explain basic terms to.
Can you tell us more about your specialties problem gambling/gaming?
Problem gambling is something that has been around for a long time and with the recent push for sports betting to be legalized, I have seen an increase in the number of clients struggling with the emotional and financial burden this can have on them. When it comes to problem gaming, it's understandable to want to live in a world that doesn't have as much pain or one that at least you can do something to help.
I help with these issues by working with clients to lessen the impact of these hobbies. Sometimes this looks like working with clients to stop entirely. Other times, it's working with them to understand why it became an issue.
Can you tell us about your work with clients in recovery from addictions?
Addictions is a broad field. We may think of addictions as strictly related to alcohol or drugs, but it goes deeper than that. Sometimes addictions look more like escaping pain, exploring fantasies, or trying to find a connection with others. I help people take some of the first steps into recovery and really dive into what drove them to this point. I've seen many people who didn't care for alcohol, but really found pornography to be the best way for them to find connection or even explore their own identity. Some clients slip into old habits, and I help them get back to where they want to be.
What do you find most rewarding about your work?
I find that hearing about my client's triumphs when it comes to healing is the most rewarding. Clients sharing that they have been able to communicate their needs better than before, find a new job, and do things they never dreamed of are some of my favorite parts about the work I do.
Therapy sessions with Zack
What will our first session together be like? What happens in ongoing sessions?
A first session with me is where I ask you more questions than you may have ever been asked before to understand who you are and what you need from therapy. We then come up with a plan to meet your needs.
This plan is the framework for our future sessions, and those sessions are usually led by you. I want to focus on what's most important to you in that moment—sometimes you just need to have someone hear you and acknowledge your needs. No matter what, I'm here to create the space for you to explore what you need.
How long do clients typically see you for?
Many of my clients see me for 2-6 months, but I've had a few that saw me for longer because they needed more support. My end goal is to work with you so you no longer need me to thrive.
Are there any books you often recommend to clients?
My favorite book so far to recommend is Adult Children of Emotionally Immature Parents by Lindsay Gibson. Many of my clients end up realizing that their parents may have been distant or rejected them outright. This book has been helpful to explore that more with them.
Do you assign "homework" between sessions?
I often do assign homework! It really depends on what you need and what your goals are. I may assign a worksheet that helps you explore your values, or I might assign you a task that you were struggling to complete. Sometimes all you need is a gentle push to send an email or for someone to hold you accountable for doing the dishes. The homework assigned is always related to whatever was most important for you in the session.
How do you help ensure I'm making progress in therapy?
I check-in each session and observe changes you've made. I also make sure that we review your goals every 6 sessions or so just in case we need to make any changes or celebrate if a goal has been completed.
How do I know that it's time to start seeking therapy?
You might want to start seeking therapy if you find you can't handle things on your own anymore or when the thought of dealing with anything is so overwhelming that you can't function.
How can I prepare for our first session?
All I ask for our first session is to come with a willingness to try therapy. I'll have communicated with you before the session if there's any paperwork that needs to be done.
How will I know it's time to end my time in therapy with you or reduce session frequency?
A way you might know is if you no longer feel as anxious or uncomfortable going longer between sessions. Others might know when they feel like they have nothing else to talk about or their main goal was achieved. It's hard to explain when you will know to end therapy or reduce sessions—it looks so different for each client. That's why I make check-ins with you so frequently.
Why should I seek therapy, rather than turning to my partner, friends, or other loved ones?
You may find that after talking with a partner, friend, or family member you don't feel heard, or you may find that the focus of the talk turned toward their issues instead of yours.
Your therapist doesn't have any emotional connection to what you may have going on, and this makes it easier to help you see things that might be missed when talking to others. Therapists are trained to help you untangle your emotions and help you make sense of what's going on.
What advice would you share with therapy seekers?
My best advice is that you don't have to settle for the first therapist you see. You can always look for someone who is a better fit for what you need. Therapy is an extremely personal journey, and you want the person who is taking that journey with you to be someone you trust, someone that hears you, and someone who wants to help you thrive.
Visit Zack's profile to read more about him and book an initial call!