Dr. Whitley Lassen is a Clinical Psychologist in Denver, CO specializing in anxiety, panic disorder, phobias/fears, excessive stress/worry, and chronic pain. Utilizing a combination of evidence-based therapies—including Cognitive Behavioral Therapy (CBT) and Exposure and Response Prevention (ERP)—Dr. Lassen works with clients to better understand the connection between their thoughts, feelings, and behaviors. In sessions, Dr. Lassen's approach is collaborative, nonjudgmental, and focused on meeting clients where they are at in order to make lasting changes. As a member of PSYPACT, Dr. Lassen is licensed to provide psychotherapy to clients in 21+ states, including California, Illinois, and Washington DC, among others.
We asked Dr. Lassen more about her work with clients and her guiding philosophies on therapy.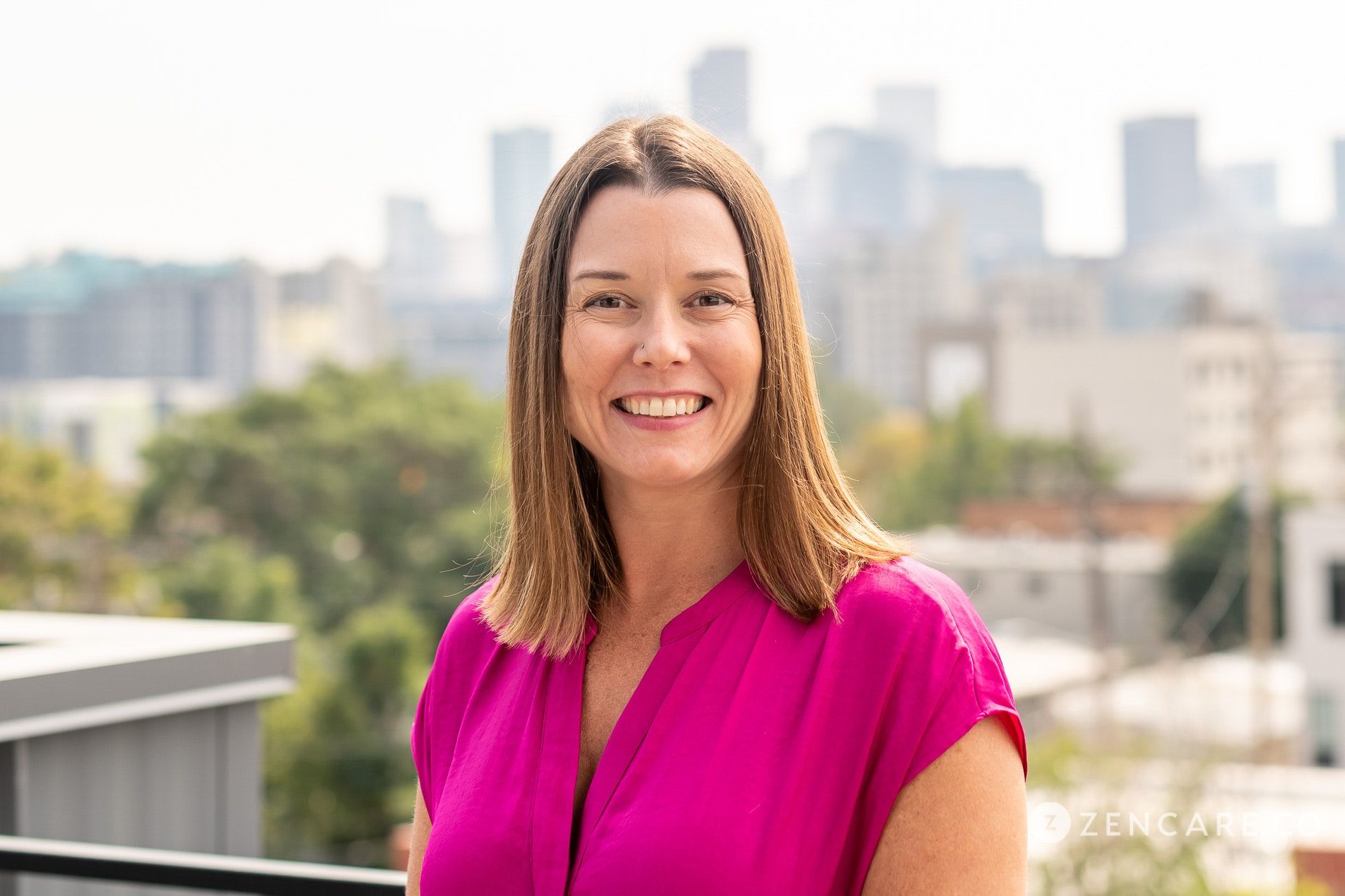 Dr. Lassen's background and personal life
How did you decide to become a therapist?
I always knew that I had a passion for helping people. During my time as an elementary school teacher, I saw the potential to have a greater impact on the children, families, and communities I served by helping everyone with their mental health. That passion for having a significant impact has stuck with me throughout my career, and I'm constantly thinking about improving the mental health of communities and innovating in the mental health field. I couldn't imagine doing anything else as than practicing as a psychologist and providing evidence-based mental healthcare.
What was your previous work before going into private practice?
Prior to starting my private practice in 2018, I worked at Kaiser Permanente in a crisis intervention setting, at Centura Health in a chronic pain clinic, and at Palo Alto Therapy in an outpatient anxiety clinic. Having worked in a variety of settings has allowed me the opportunity to help clients with a diverse set of backgrounds, mental health issues, and life stressors. These experiences have enhanced my skills and perspectives as a private practice therapist.
What do you enjoy doing in your free time?
I try to practice what I preach and make sure to focus on self-care on a regular basis. In my free time, I'm often running or lifting weights, reading, meditating, or spending time in nature.
Dr. Lassen's specialties and therapy philosophies
What guiding principles inform your work?
Therapy is a collaborative process between client and therapist, which is most effective if there's a good fit. I believe creating a non-judgmental space with openness to feedback is essential to ensure the client's therapy goals can be reached. Sometimes, this might mean I adjust my approach based on feedback from the client, because everyone's therapy preferences are individual and unique.
What clientele do you work with most frequently?
I typically work with adults, often women, seeking help with panic attacks, phobias, anxiety, and worry. I enjoy helping clients with these mental health concerns because they often see results quickly and leave therapy with skills they can use to manage on their own. After a brief time in therapy with me, my clients often feel relief from their anxiety and no longer need a therapist!
Can you tell us more about your specialty in treating panic disorder?
Panic attacks can involve both physical sensations and thoughts about fear and danger. Dealing with panic attacks is often hard work because they can be scary and overwhelming, sometimes seeming to occur out of nowhere. People often come to therapy when the panic attacks feel out of control, but the good news is that even learning more about them can be relieving. I help clients learn to take control of their panic attacks by changing how they think and what they do when a panic attack happens. While I can't guarantee clients will never have another panic attack, we can make sure they have the tools to cope if it happens!
Can you tell us more about your specialty in helping clients overcome specific phobias?
Specific phobias—like the fear of spiders, heights, needles, germs, driving, leaving the house, etc—are much more common than people often think. It's typical with phobias that fear and anxiety magnify and exaggerate the scariness of the feared situation. Clients often feel conflicted about their phobia, feeling extremely terrified on the one hand and logically knowing that the level of terror doesn't match the situation on the other. I help clients gradually face their fears, which teaches the anxious part of their brain to not be so terrified. Through this process, clients are able to overcome their fears and do things that may have seemed unimaginable and terrifying prior to therapy.
Can you tell us about your work with clients struggling with excessive worrying?
Worry is one way anxiety can show up, and worrying can be exhausting. Worry thoughts often overestimate the likelihood of something bad happening and can be very convincing! Normal worry is a part of everyday life, but worrying too much is something therapy can help with. I help clients learn skills and strategies to manage their worry thoughts and control the impact worry has on their daily lives.
Therapy sessions with Dr. Lassen
What will our first session together be like? What happens in ongoing sessions?
In the first session, clients can expect me to ask a lot of questions about everything in their life, not only the mental health concern they are seeking help with. Typically at the end of the first session we'll talk about some goals for therapy.
In ongoing sessions, we'll talk about specific problems, ways to cope with these problems, homework assignments, and how therapy is going overall. Therapy with me usually focuses on what's going on in the here and now.
How long do clients typically see you for?
Everyone is different, but typically clients will start out seeing me weekly for a few months and decrease the frequency of sessions over time until they graduate to a monthly check-in or a therapy break.
Are there any books you often recommend to clients?
The book I recommend most often to clients is The Worry Cure by Robert Leahy because it offers practical information that normalizes worrying alongside specific tools and techniques clients can use on their own to manage their worry.
Do you assign "homework" between sessions?
Therapy homework is an integral part of the style of therapy I practice, CBT. We'll work together collaboratively to identify reasonable homework each week, which usually means practicing different techniques or strategies we discussed in the session. Homework can have an impact on how quickly you see results in therapy.
How do you help ensure I'm making progress in therapy?
In order to ensure therapy is helpful, I'll ask you to rate your level of distress (anxiety or depression) at most sessions, so we can track the pattern over time. We'll also talk about if you think you're making progress in therapy and can adjust the approach at any time to keep you moving towards your goals.
How will I know it's time to end my time in therapy with you or reduce session frequency?
It might be time to decrease the frequency of sessions or take a therapy break when you are effectively using the tools and techniques you learned in therapy on your own. Another good indication that you're ready for a therapy break is if you've met the goals you set at the initial session and don't have new goals to work on.
Visit Dr. Lassen's profile to watch her introductory video, read more about her, and contact her for an initial consultation!