Tatyana Mestechkina is a Psychologist in the Flatiron District of Manhattan specializing in the treatment of obsessive compulsive disorder (OCD) and anxiety. Dr. Mestechkina has extensive training in Exposure and Response Prevention (ERP), the gold-standard of treatment for OCD and related conditions. She also sees clients struggling with other concerns, including perfectionism, body-image challenges, and depression, where she integrates aspects of ACT, CBT, and DBT into her work as well. Regardless of the reason clients present to her office, Dr. Mestechkina strives to create an individualized treatment plan tailored to the needs and goals of each client.
We asked Dr. Mestechkina more about her work with clients and her guiding philosophies on therapy.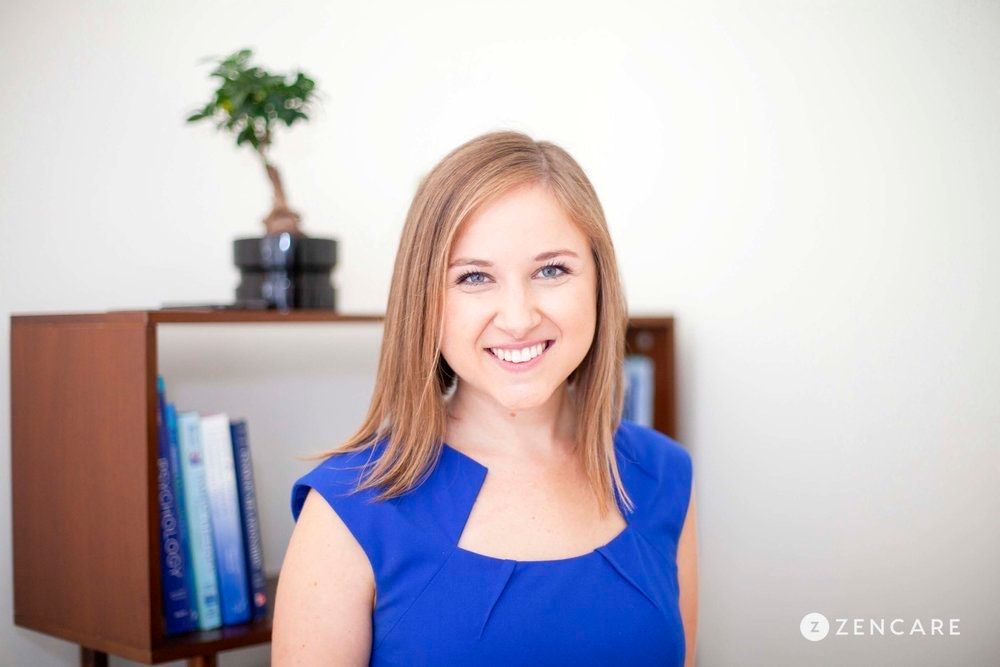 Dr. Mestechkina's specialties and therapy philosophy
What guiding principles inform your work?
I find it important to create a supportive, collaborative, and nonjudgmental space to guide patients in living a fuller life. In therapy, we will work on identifying your values, which are the things that are most important to us and what we want to be the guiding principles in our life. We then create a roadmap for how to make more choices that bring us closer to those values. In order to do that, we have to identify barriers–such as intrusive thoughts and feelings–and develop strategies for how to better manage them. I also often work with patients on identifying, highlighting and enhancing strengths that they may already possess.
While developing insight can be helpful, our sessions tend to focus on developing skills that people can bring-in outside of the session in order to live better.
What clientele do you work with most frequently?
I often work with adults, young adults, college students, and adolescents who experience OCD and other presentations of anxiety. I also enjoy working with new parents navigating postpartum challenges, particularly those who experience intrusive thoughts or anxiety that is either exacerbated or develops around this time in their lives.
Can you tell us more about your specialty in treating OCD?
Working with patients to help them gain an understanding of how their OCD symptoms manifest, what reinforces them, and what approach would allow them to live more freely is a great area of passion for me. By utilizing what is considered the "gold standard" of OCD treatment, exposure and response prevention therapy (ERP/ExRP) supplemented with acceptance and commitment therapy (ACT), I have had great success in guiding patients to treat their intrusive thoughts, feelings and urges as irrelevant. This gives them the space to live their lives freely from OCD.
Can you tell us more about your work with clients struggling with anxiety?
I work with people with various anxiety disorders (i.e.,generalized anxiety, panic, social anxiety, phobias, health anxiety, etc.) to help them better understand triggers, thoughts, and behaviors that contribute to and fuel their anxiety. We then develop techniques to create more awareness of and separation from unhelpful thoughts, which often involves changing their relationship with their feelings and refocusing on the here and now of their lives.
I often integrate mindfulness techniques into our sessions. We also will often do exposures to decrease any escape or avoidance behaviors in order to retrain the minds by weakening unhelpful connections and building new ones.
What do you find most rewarding about your work?
Seeing patients take steps to move forward, live more meaningful lives and accomplish therapeutic goals is incredibly rewarding for me. Particularly, I find joy and pride when patients let go of the struggle with things that are not in their control and are able to refocus on the here and now of their lives. I also really enjoy building relationships with people I work with and providing them space to feel heard, understood, and not judged.
Therapy sessions with Dr. Mestechkina
What will our first session together be like? What happens in ongoing sessions?
I start the session asking about what brings you here. During the first few sessions, I see the goal as us getting to know each other. I ask questions and gather information in order to get a clear picture of your presenting concerns, your background, and your relevant life experiences that may be contributing to your life challenges. We identify goals to work on. I often provide psycho-education about the presenting concern, provide feedback, and describe what treatment could look like.
I have a direct and transparent approach and encourage patients to ask questions that may help them better understand what their challenges are and what my therapeutic approach is, to assess whether this is a good therapeutic fit for them. Subsequent sessions are then tailored to the patient's goals and often involve working on building up and practicing effective strategies to get closer to those goals.
Are there any books you often recommend to clients?
I often recommend:
Do you assign "homework" between sessions?
In order to make the most of our weekly session, I often encourage patients to take an active role in our work and practice concepts and strategies discussed in sessions. Examples can be self-monitoring to help build awareness and accountability, practicing exposures, completing mindfulness exercises, or planning specific steps they can take towards their stated goals.
How do you help ensure I'm making progress in therapy?
I take a collaborative approach and work hard to meet patients where they are. I will often check in with the patient to make sure we are going in the direction they see valuable and at the pace they are willing to work.
I often share the metaphor that I see therapy as us being in a car together, where you are in the driver's seat and I am in the passenger's seat. You have come to me letting me know where you are now and where you want to go. We work together to create a map for how to get there, and my job is to guide you through that journey, using my training, experience, and expertise. You are always the one with your hands on the wheel and foot on the gas or break, ultimately making the choices and deciding the pace we move forward. While I greatly enjoy my work with people and the relationships we build, the goal is not to grow old together but to empower people to live better lives outside of our sessions.
Why should I seek therapy, rather than turning to my partner, friends, or other loved ones?
While it can be helpful to feel heard and supported by a loved one, therapy can provide a confidential place to be able to share concerns with a nonjudgmental trained professional who does not have connections to other parts of your life. Additionally, the type of therapy I do is based on current, research-supported, and tends to be more goal-oriented and skills-based.
What advice would you share with therapy seekers?
Starting therapy can take a lot of courage. It can be helpful to do research to better determine what kind of approach (i.e., cognitive-behavioral, psychodynamic, acceptance and commitment therapy, exposure and response prevention, etc.) and what kind of therapist (i.e., psychologist, psychiatrist, social worker, etc.) may be a good fit.
I also often encourage patients to schedule a 10-15 minute phone consultation with prospective therapists to get a better sense of their approach and to "therapist shop" until they find someone who they feel comfortable working with. Effective therapy can often entail hard work, and it is crucial to take that journey with someone you trust. With the right fit, therapy can be an incredibly empowering and rewarding process.
Visit Dr. Mestechkina's profile to watch her introductory video, read more, and book an initial call!