Stephanie Wang is a Licensed Professional Counselor offering remote counseling sessions to clients in Colorado, Texas, and Washington. Stephanie specializes in anxiety, obsessive-compulsive disorder, social anxiety, perfectionism, depression, low self-esteem, and stress management. She also has a special focus in working with clients on topics related to Asian American identity. Stephanie values being both respectful and honest with clients, and she aims to foster authenticity while also helping clients push for the changes they want to see in their lives.
We asked Stephanie more about her work with clients and her guiding philosophies on therapy.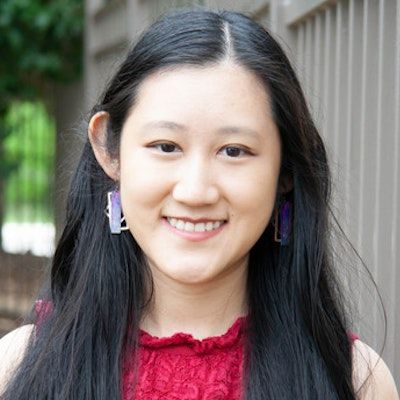 Stephanie's background and personal life
How did you decide to become a therapist?
The happiness and peace of other people matter to me, and I found that being a therapist allowed me to help others work toward their values. The skills that a therapist can offer are valuable, and I want to share those skills.
What was your previous work before going into private practice?
I worked in agencies that treated obsessive compulsive disorder and eating disorders. Both places have influenced the approaches that I use in my private practice.
What do you enjoy doing in your free time?
I enjoy traveling, collecting trinkets, and going to performing and visual arts shows.
Stephanie's specialties and therapy philosophies
What guiding principles inform your work?
My philosophy in my work is to promote acceptance and non-judgment so that the client can feel safe. Establishing rapport is one of the most important things in my practice, and I use humor and relatability when appropriate. I work with clients to first get a sense of what their goals are, what their values are, and how we can learn skills and enact change to move closer to their ideal life. I am comfortable in taking directive and less directive approaches when necessary.
What clientele do you work with most frequently?
I work mostly with young adults, working professionals, Asian American folks, and people who seek treatment with anxiety, obsessive compulsive disorder, work stress, interpersonal relationships, and cultural issues. I find these populations most relatable and am passionate about these topics.
Can you tell us more about your specialty in anxiety?
I focus on various spectrums of anxiety, including general anxiety, phobias, obsessive compulsive disorder, and social anxiety. Common challenges tend to be practicing avoidance in important areas of a person's life. I help by working with my client to expose them to what they avoid so that it becomes less distressing over time.
Can you tell us more about your experience supporting working professionals?
Working professionals are adults who tend to struggle with work boundaries, burnout symptoms, or identity uncertainty outside of work. My method to helping working professionals is to identify their life values, boundary struggles, and communication skills for how to assert their needs if needed.
Can you tell us about your work with clients navigating challenges related to interpersonal relationships?
Interpersonal relationships affect clients who struggle in some way with the people in their lives, such as coworkers, friends, family, or anyone in their social network. Some challenges tend to include maintaining boundaries with others, communicating opinions and needs, and self-esteem issues. I usually help clients by increasing self-esteem, identifying their boundaries, and helping them improve their communication.
What do you find most rewarding about your work?
I find it very satisfying to see progress that a client made over time. Sometimes change starts subtilely yet builds into something impactful, and when it is finally noticed, it is a great moment!
Therapy sessions with Stephanie
What will our first session together be like? What happens in ongoing sessions?
Our first few sessions focus on getting to know more about clients and their backgrounds so that I can have a better picture of the context of their lives. I also then create a treatment plan that includes a client's goals and objectives on how to reach those goals.
How long do clients typically see you for?
Client time frames vary depending on the client and their presenting issue, so about 12 sessions is a general time frame. Again, it widely varies between each client.
Are there any books you often recommend to clients?
I usually recommend The Happiness Trap by Russ Harris to clients who are interested in reading. It gives easy and understandable explanations for Acceptance and Commitment Therapy, which emphasizes what we want out of life and how to get there by using mindfulness skills and behavior change.
Do you assign "homework" between sessions?
Yes, I believe tasks between sessions allow the client to make more progress and try out what we learned in therapy. They can range from writing, doing self-care, or exposures, but they are very personalized and agreed on by client and therapist.
How do you help ensure I'm making progress in therapy?
We will refer to the treatment plan on a consistent basis and will check in each session about the homework.
How do I know that it's time to start seeking therapy?
It is time to seek therapy when you feel like the current ways that you've tried to solve situations aren't working, or when you need more support for the struggles you feel.
How can I prepare for our first session?
Bring an open mind and know that this is a safe space! Therapy is about the well-being of the client, so let yourself give you priority.
How will I know it's time to end my time in therapy with you or reduce session frequency?
You can get a sense of when to decrease sessions when you feel more confident about using skills you've learned in therapy, even when you have challenges. I usually do a maintenance period of decreasing session frequency until we decide on a date to discharge. I will also share my observations when I notice marked improvement, and we can both agree on when to reduce sessions or end therapy.
Why should I seek therapy, rather than turning to my partner, friends, or other loved ones?
Loved ones make a great support system and are assets to treatment; however, they will not always have the training or resources meant to make consistent changes or insight as a licensed professional.
What advice would you share with therapy seekers?
Seek out a therapist that you vibe well with and can provide you the help you need. For first timers, it can feel vulnerable to be so open with a stranger; know that we get that and will provide acceptance consistently.
Visit Stephanie's profile to watch her introductory video, read more about her, and book an initial call!