Sasha Grossman is a Licensed Clinical Social Worker in Brooklyn, NY specializing in LGBTQIA, gender, and sexuality topics. While many of Sasha's clients identify with the non-monogamy/poly, kink/BDSM, queer/LGB, and trans/GNC communities, she also welcomes adults of all backgrounds into her practice, often supporting them on challenges related to anxiety, depression, trauma, or loss. Sasha's approach to sessions is process-oriented and client-centered, and she often uses mindfulness and somatic therapy-based modalities to help clients feel more present and trusting of themselves and others.
We asked Sasha more about her work with clients and her guiding philosophies on therapy.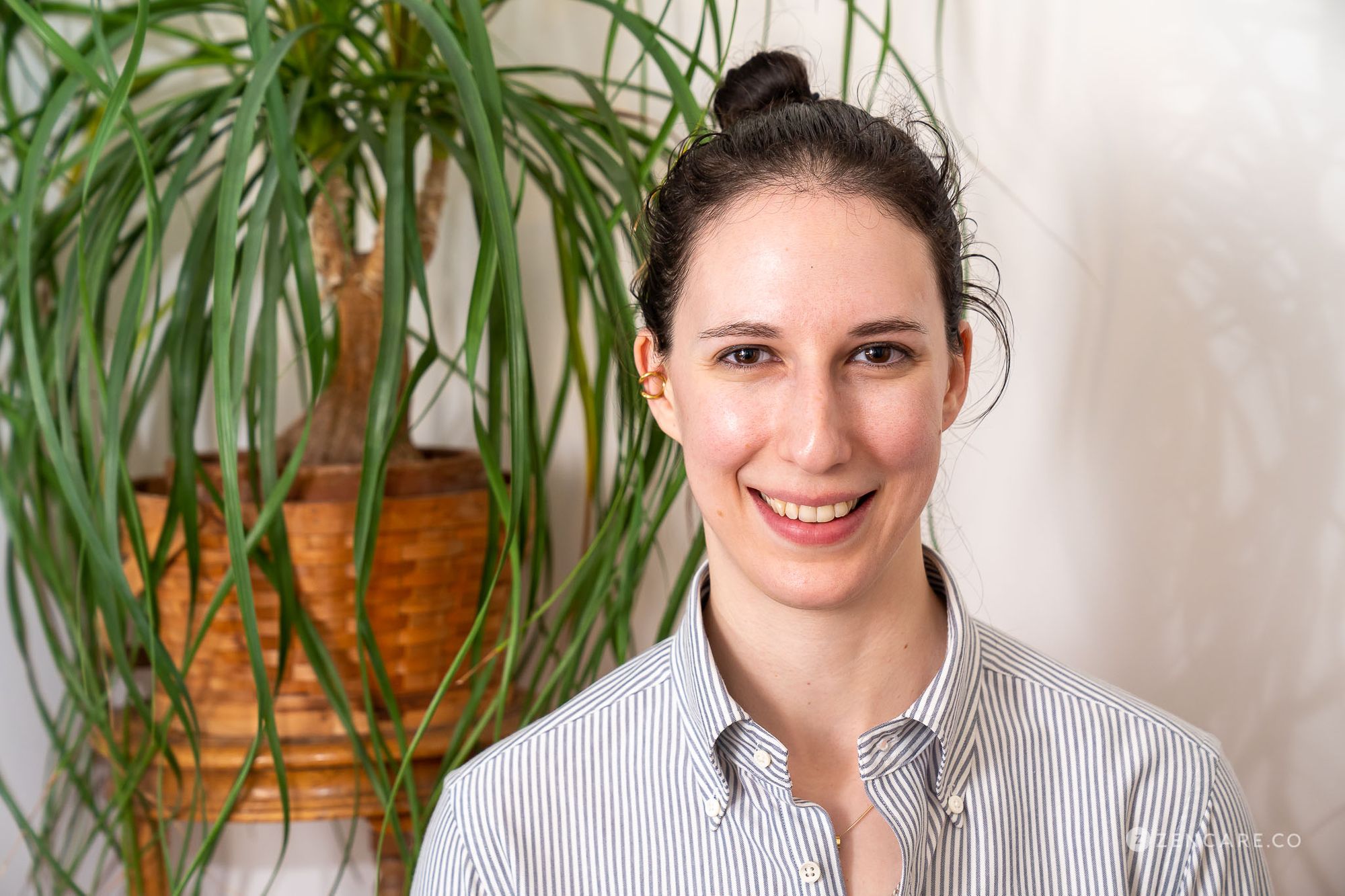 Sasha's background and personal life
How did you decide to become a therapist?
I don't think my decision to become a therapist was always a fully conscious choice. I spent much of my childhood and early twenties in a deep freeze state. I wasn't very in tune with my own desires. In high school, I knew I'd need to pick a major in college, so I followed the one spark that I could find—my interest in psychology and how brains work. From there, I drifted towards social work because it was broad enough to give me wiggle room in case I didn't enjoy direct clinical work.
As I've continued working with clients and expanding my practice, I've realized that following my initial spark was the right decision for me. Not only do I love the work I do, I have also learned so much about my own mental health by applying the theories and modalities that I've learned over the years.
What was your previous work before going into private practice?
I conducted research at the Walter Reed Army Institute of Research in Maryland for about two years after college, surveying soldiers about their mental health. During social work school, I interned at the LGBT Center in New York City before going into private practice. I was also an auditor for home care agencies in NYC for many years.
What do you enjoy doing in your free time?
I'm an avid media consumer—shows, movies, and books take up most of my free time. Eating delicious food with friends is another one of my favorite activities. I also lift weights at the gym, write, play with my puppy, and listen to music whenever I can.
Sasha's specialties and therapy philosophies
What guiding principles inform your work?
I am most interested in helping people find the tools they need in order to get in touch with their own bodies. I believe that our collective disembodiment has led to so many of the global crises that we are witnessing right now. By helping people return to their bodies in individualized, safe, and trauma-informed ways, I believe that we are creating ripples of healing that expand further than we can even imagine.
What clientele do you work with most frequently?
I am passionate about working with adults in the LGBTQIA+ community, as well as BDSM/kink, poly/non-monogamy, and sex worker communities. As a member of these communities, I want to provide informed care rooted in the tools that most resonate with me.
Can you tell us more about your specialty in anxiety/depression?
I see anxiety and depression as one focus area because they so often show up together, and I believe they stem from a similar origin—an inability to access safety in our own bodies.
Can you tell us more about your specialty in working with clients on relationships and/or attachment issues?
Finding ways to be present with ourselves, our bodies, and with the people around us goes a long way in improving our relationships and finding secure attachment.
Can you tell us about your work with clients navigating grief and loss?
Learning to live with grief can be incredibly challenging. So often, we want to push the grief aside, dismiss it, and ignore it. Sometimes, we have difficulty even recognizing grief when it shows up. I believe that allowing ourselves to grieve can be a step towards shifting our patterns.
What do you find most rewarding about your work?
The depth of trust and connection that I have built with my clients and witnessing their growth and healing over time has been more rewarding than I ever could have imagined.
Therapy sessions with Sasha
What will our first session together be like? What happens in ongoing sessions?
I usually start every session with a few minutes of mindfulness to ground us into our shared space. The first few sessions involve a lot of question-asking from me so that I can get a holistic view of how we can best work together and what you might need.
Over time, as we build trust and tools together, we may spend more time sitting with your body's sensations and learning about the stories you tell yourself and what might need shifting. I also do regular check-ins with you to assess whether this relationship and our conversations are working for you.
How long do clients typically see you for?
I have been working with many of my current clients for about two to four years.
Are there any books you often recommend to clients?
Do you assign "homework" between sessions?
In the beginning of our work together, I usually suggest developing a practice of finding a few moments of mindfulness every day, and this can look different for everyone.
How do you help ensure I'm making progress in therapy?
I regularly check-in to make sure that you are getting what you want out of therapy. Some people want to see progress in a few months, others are seeking long-term support and relationships. I believe that progress is subjective—you know better than I do whether you are getting what you want.
How do I know that it's time to start seeking therapy?
It can be time to start seeking therapy when you recognize that you need support.
How can I prepare for our first session?
Preparation can look different for everyone. It is helpful for me to know why you are seeking therapy at this time and what attracted you to me as a therapist. I want to know what I can offer you, specifically. I welcome messiness, uncertainty, and confusion—sometimes all we know is that we need support, and that is enough.
How will I know it's time to end my time in therapy with you or reduce session frequency?
You'll know when to end or reduce our sessions when you feel as though our relationship is no longer serving a purpose for you or when you have found enough internal balance and outside community that you can rely on.
Why should I seek therapy, rather than turning to my partner, friends, or other loved ones?
Therapy can offer a non-judgmental, compassionate space to step away from the patterns you've developed with your loved ones and gain a different perspective.
Visit Sasha's profile to watch her introductory video, read more about her, and book an initial call!