Rodman Walsh is a Licensed Marriage and Family Therapist in California specializing in relationship challenges, anxiety, and trauma. We asked Rodman more about his work with clients and his guiding philosophies on therapy.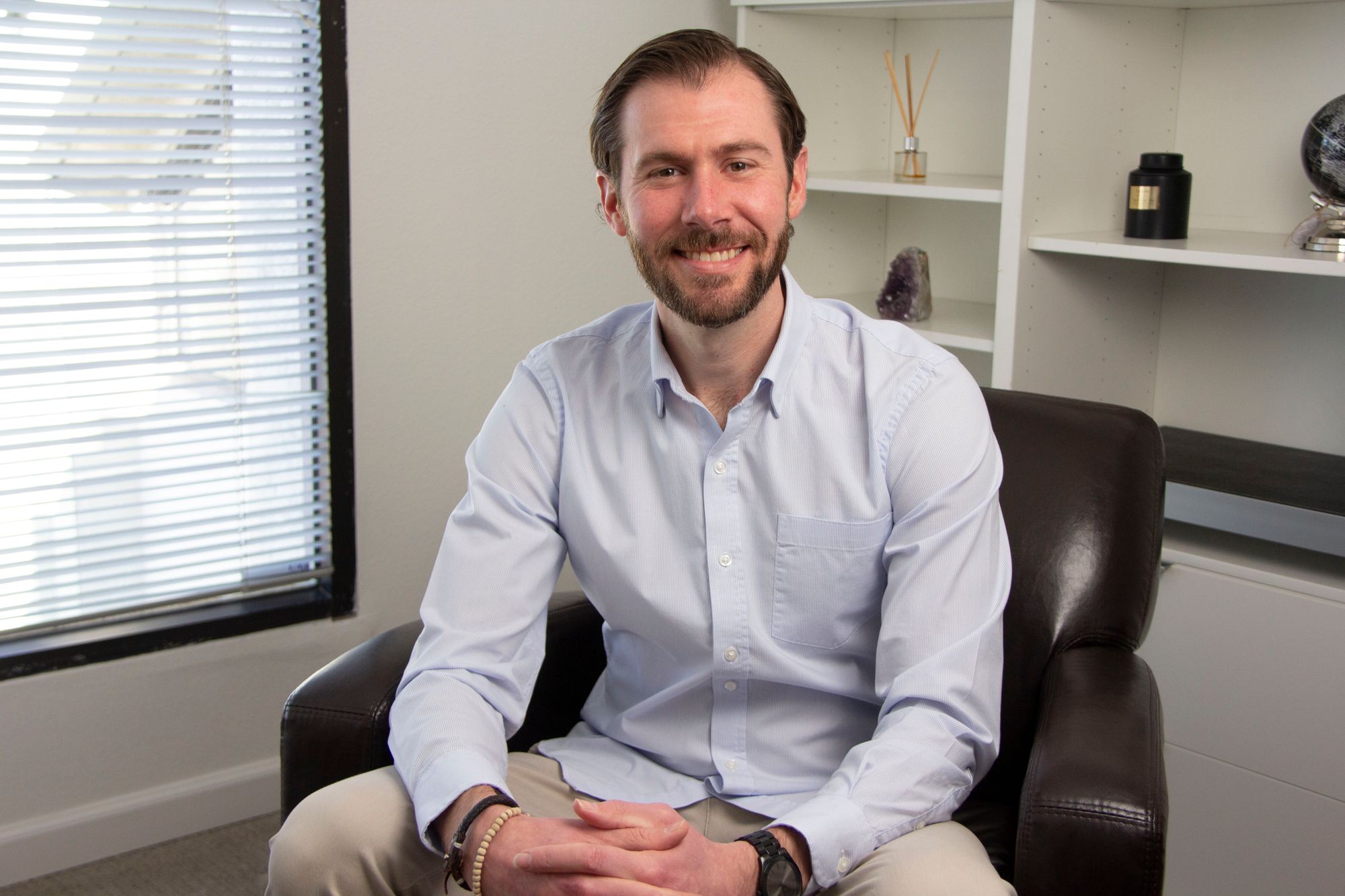 Rodman's background and personal life
How did you decide to become a therapist?
I decided to become a therapist because of beneficial and support I received in my own therapy. I was at a crossroads and transition in my personal and professional life and my experience in therapy inspired me to apply all of the things I valued and wanted for myself into being of service to others.
Being a therapist has provided me a renewed sense of passion, purpose and meaning in my own life. I feel so grateful for the opportunities I have been given and the people that came into my life at the right time. Becoming a therapist was in many senses a leap of faith and required me to take a chance and make major changes professional and it has been such a rewarding and enriching process.
What was your previous work before going into private practice?
I had completed my undergraduate degree in marketing and international business and worked in hospitality for many years. I worked at the executive level as a General Manager in hotels and restaurants before deciding that the work was taking more than it was fulfilling me.
I have, however, been able to take and utilize skills that translate to my private practice and therapy work such as working in diverse work cultures and settings, problem solving, managing a business as well as gaining a better understanding of peoples needs and wants. Supporting my team, advocating for them, and realizing that my passion was in wanting to help others and see them grow led and guided me to the work I do today.
Rodman's specialties and therapy philosophies
Can you tell us more about your specialty in working with clients on issues related to relationships attachment
Attachment theory is better way to gain insight and understanding as to how early childhood and developmental experiences impact our patterns, traits, and behaviors into adulthood. I often work individually with clients to unpack this experience so clients can notice relational dynamics across all of their relationships and their emotional responses as a result.
I find this work to be tremendously helpful and healing for clients. These clients often have a trauma history and issues stemming from their family of origin.
Can you tell us more about your specialty in anxiety?
Anxiety affects people in so many different ways. Severe anxiety can also cause depression and depressive symptoms. I help clients find better coping tools and skills as well as strategies to best work through anxiety while also recognizing the difference between stress. I incorporate Mindful Self-compassion as a key tool to help work through other emotions that arise such as shame, self-doubt and fear.
Can you tell us about your work with clients on trauma?
Trauma is not just one event although it can be. However, many people suffer and struggle with complex trauma which can be a residual impact stemming from childhood and other adverse experiences. Many clients carry shame around their trauma that also needs to be healed. This can be more intensive and deliberate work that takes time but is a real shift for clients when they can work through and shift the perspective of themselves. I use trauma resourcing, grounding and self-soothing techniques and EMDR to help clients process their trauma.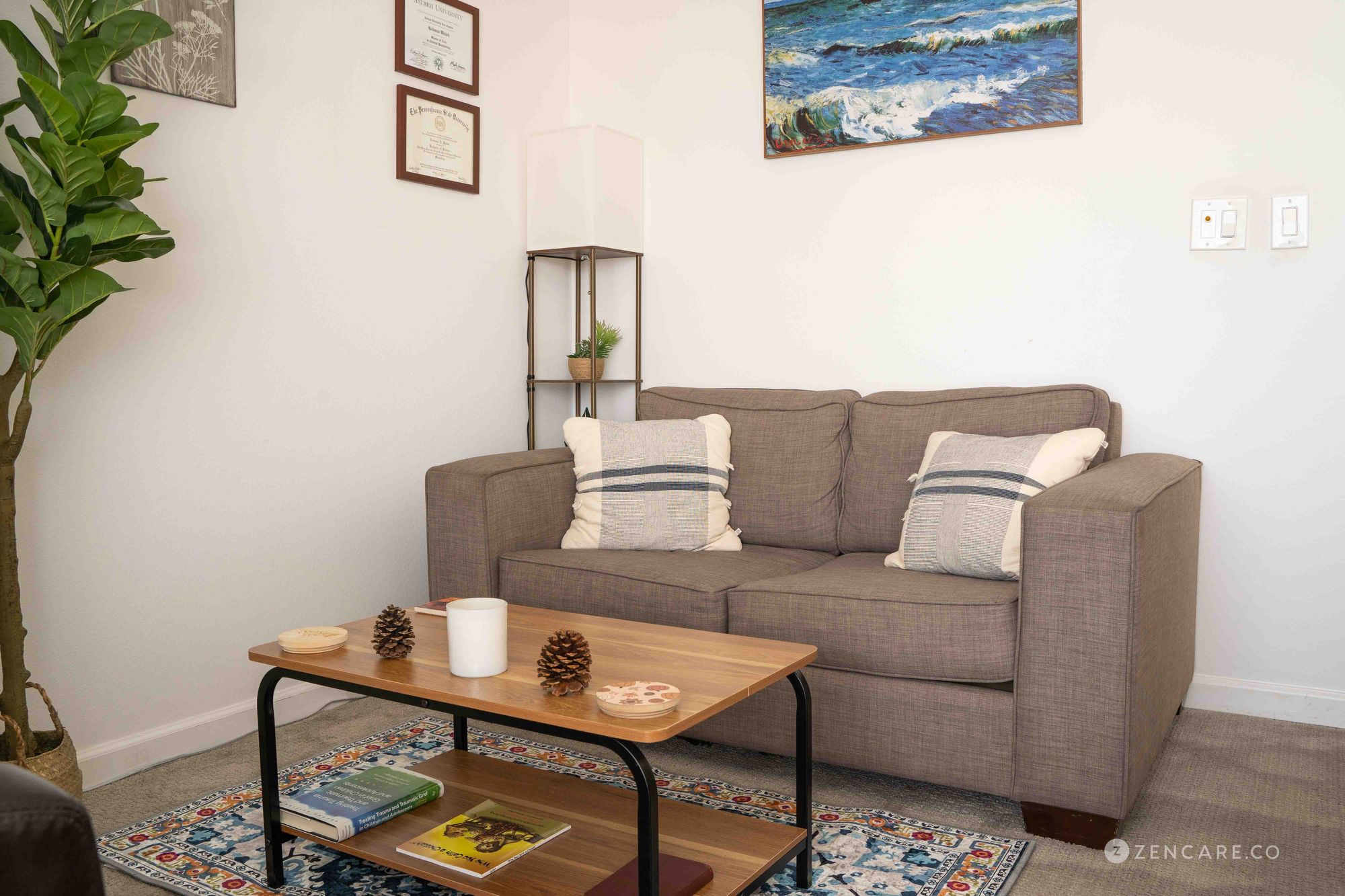 Therapy sessions with Rodman
What will our first session together be like? What happens in ongoing sessions?
Prior to our first session I send some intake forms that provide basic information that is important in our first session as well as a consult call to answer questions before the onset of therapy. Our first session is typically identifying and discuss a precipitating event that brought you into therapy. I then try to get a better conceptualization of you as a person where I ask about areas of struggle or concern, and find out what is important to you and what you'd like to work on.
I have a more relaxed organic approach because of my belief in establishing rapport and the value of the therapeutic relationship. In ongoing sessions we will identify themes and unpack your patterns while finding the necessary tools and skills to help you grow, heal and move forward.
Are there any books you often recommend to clients?
There are some great books I recommend to clients!
A couple book related to trauma:
Books on relationships that I recommend are:
For those struggling with addiction, I recommend:
Do you assign "homework" between sessions?
I will assign homework and provide helpful resources from time to time. I have Digital library of helpful resources I share with clients. I will often recommend books and workbooks that will be beneficial based on the need of the individual. I believe that each client is unique with unique needs and there is not a one size fits all approach. I view myself as a collaborator in the therapeutic process and often discuss with clients their style and how the best learn.
How do I know that it's time to start seeking therapy?
Anytime someone feels like they need extra support or a space that is completely their own to address challenges or difficulties, I will encourage them to explore therapy. If they feel like they have exhausted other options and are not seeing improving in their relationships or life and feel like the are regressing or deteriorating, I will also recommend therapy to process.
How can I prepare for our first session?
There is nothing you need to bring to our first session other than yourself. I encourage clients to do their best to just show up as themselves. Therapy is a safe space and one of non-judgment and compassion. Therapy is not a job interview so I encourage clients to try and remove pressure form themselves. It is however very common to be nervous, apprehensive and not feeling like the best version of yourself coming into therapy. I encourage clients to be aware of self-judgment and simply acknowledge that. We will work through that together.
What advice would you share with therapy seekers?
Therapy is really an opportunity. It is an opportunity to grow, heal, change and learn more about yourself. It can be a chance to get "unstuck" and thrive rather than simply surviving. Therapy gives you the chance to improve yourself which in turn helps improve relationships.
Visit Rodman's profile to watch his introductory video, read more about him, and contact him for an initial consultation!