Rob Martin is a Licensed Marriage and Family Therapist in California specializing in ADHD, anxiety, depression, and men's issues. We asked Rob more about his work with clients and his guiding philosophies on therapy.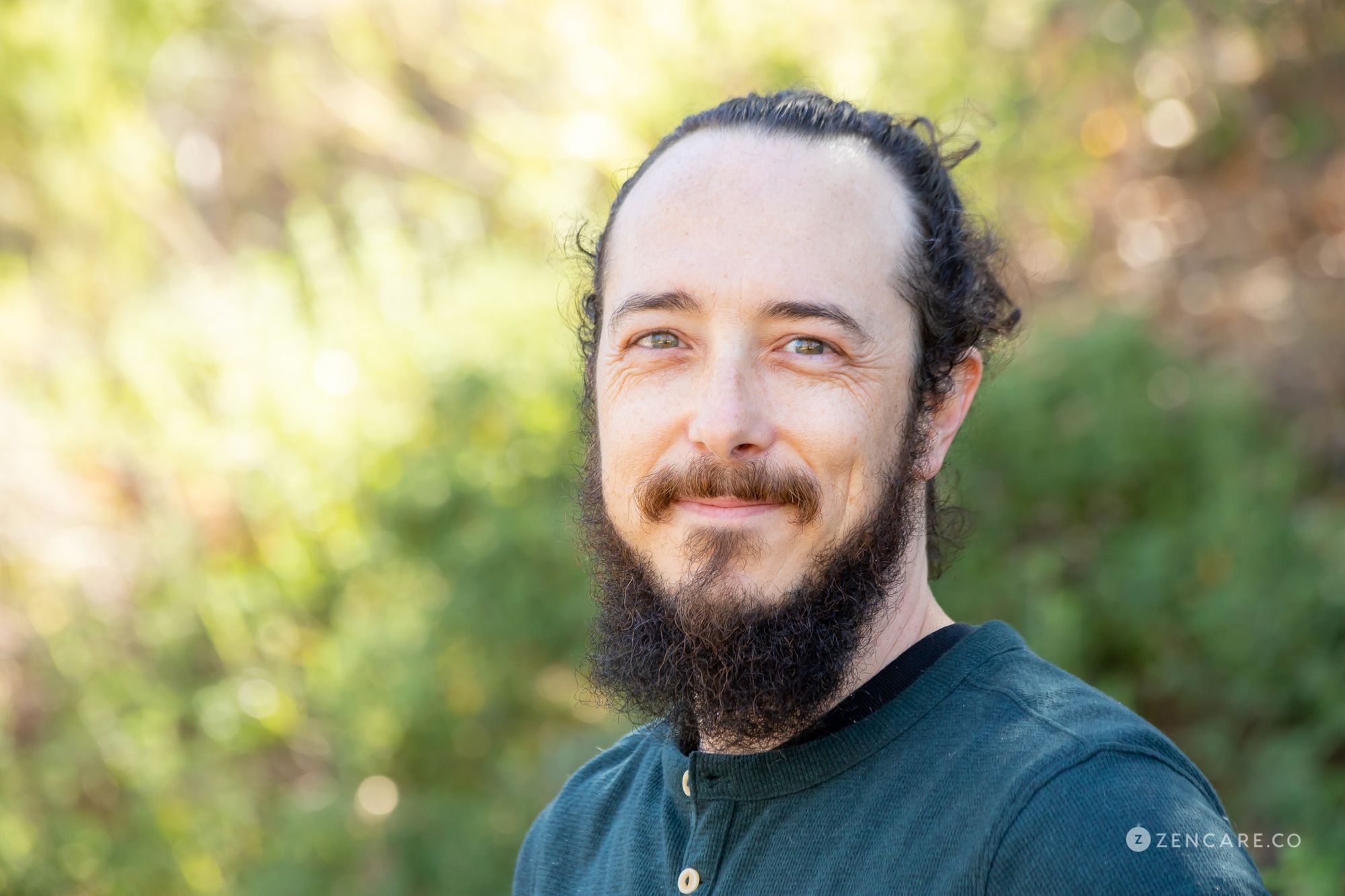 Rob's background and personal life
How did you decide to become a therapist?
I knew that I wanted to become a therapist when I was in high school, after I got the chance to be a peer mediator. Even though none of our peers called upon our services, I really enjoyed learning about these psychological and relational concepts to learn about mediation.
My mom also motivated me a great deal. She was in 12 step and therapy when I was growing up. She shared what she learned and we had many great conversations about the human mind and growth. The catalyzed my interest and it took off from there.
What was your previous work before going into private practice?
I was a carpenter making custom windows and doors. I also had my own handyman business while I went through college. I loved the work. My dad is an amazing carpenter and instilled the love of wood and appreciation for skilled craftsmanship.
Rob's specialties and therapy philosophies
What guiding principles inform your work?
I like to create a comfortable and non-threatening space to talk about things openly and respectfully. I try to help everyone build their awareness of their thoughts, feelings, and actions while giving them tools to experiment with in their lives. The path looks different for everyone; trial and error is a part of it for everyone.
What clientele do you work with most frequently?
I have worked with a lot of people in their teens and 20's, as they navigate their way into adulthood. Because of this, I also have a great deal of experience helping parents with parenting and other areas of growth they are tackling. I also work with men and find great meaning in helping fellow men find balance in themselves and in this wacky world we find ourselves in. My clinical areas of specialty are: school/work stress, attention/focus issues, anxiety, depression, grief. trauma, autistic spectrum, anger, and substance/porn addiction.
Can you tell us more about your specialty in ADHD?
I was diagnosed with ADHD when I was 18 and I struggled with learning in a school environment. As a result, I have some intimate experience with what it takes to harness that powerful brain and focus it on just one thing until it is done. I went to therapy and took many workshops to learn study skills or productivity tricks. None of those programs worked on their own, but bits and pieces all worked together when I found the right balance. I find that most of my clients have been similar.
I aim to empower clients by teaching them the management and organizational skills along with the emotional, relationship, and self-care skills required for each person to find their own balance.
Can you tell us more about your work with clients struggling with anxiety and/or depression?
Anxiety and depression are pretty major factors in our culture. There is a lot to balance and it is often a matter of time before we become overwhelmed or some outside force comes in to break us down. They can take over our thoughts and ability to stay up on the important things in life. Learning to work with our mind and emotions through education, mindfulness, and compassion can help as we surf the ups and downs of life. I can help turn these noble, but vague, notions into practical actions and knowledge.
Can you tell us about your specialty in men's issues?
Many men, including me, did not grow up learning about their emotions or how to communicate empathically, yet we want to be healthy and balanced people with good relationships and a good life. Many of us also learned about sexuality and relationships through movies, music, and porn. Now we realize that those methods of training didn't prepare us, as well as we hoped, for the world we live in today.
In our sessions together, we can rework some of the old ideas we created when we were younger through education and practical exercises, then build new perspectives based on up to date information.
Therapy sessions with Rob
What will our first session together be like? What happens in ongoing sessions?
In our first session, I like to give you a chance to talk about the main issue(s) that brought you into to counseling while we also take some time to get to know each other. I will present relevant psychological concepts and explain how to practice with them in your life. As we continue to work together, this model will repeat. I leave space for the most pressing issues of the day as we look at the concepts that will help or how it went when you practiced with a new skill or approach to your problem.
How long do clients typically see you for?
We usually meet weekly for about 6 months and then every-other week for another 6 months. After that clients will occasionally pop in and out for a tune-up or to get help dealing with a new stage of life or life event.
Are there any books you often recommend to clients?
I always recommend books, articles, lectures and videos to clients. I feel that we learn things best when we hear them several times from various perspectives. A big part of therapy is learning, so I effort to make this as easy to digest and maybe even as enjoyable as possible.
Some of my favorite authors are Lisa Feldman Barret, Daniel Seigal, Gabor Mate, Kelly McGonigal, Carl Rogers, Martin Seligman, Jon Kabat-Zinn, etc...
Do you assign "homework" between sessions?
Absolutely, I believe that the real work happens with the "homework." I will give videos, articles, or books (for those interested), but mostly my homework is to focus on a particular concept and notice how it pops up in your life. Sometimes the only directive is to notice specific things with more awareness. Sometimes the directive will be to try to do something different and notice what happens.
How do you help ensure I'm making progress in therapy?
We set specific goals and work towards them. We will regularly check in about your progress and look at what specific growth edge is best to work on each session.
How can I prepare for our first session?
Get a good night sleep and have a decent meal. Slow down and take some breaths deep into your belly, then write down some important topics that you'd like to discuss. Bring a pen and paper for any notes you might want to take.
How will I know it's time to end my time in therapy with you or reduce session frequency?
We will regularly check in about that original goal you set. When you have met your goal, we will talk about reducing or ending therapy.
What advice would you share with therapy seekers?
Find a therapist that you trust and feel some sort of connection to. The research overwhelmingly shows that these are often the most important factors in whether or not therapy will be successful. Check out a few people. Don't be afraid to acknowledge that it isn't a good fit.
Visit Rob's profile to read more about him and book an initial call!