Rima Jomaa is a Licensed Marriage and Family Therapist in California specializing in anxiety, depression, self-esteem, and relationship issues. We asked Rima more about her work with clients and her guiding philosophies on therapy.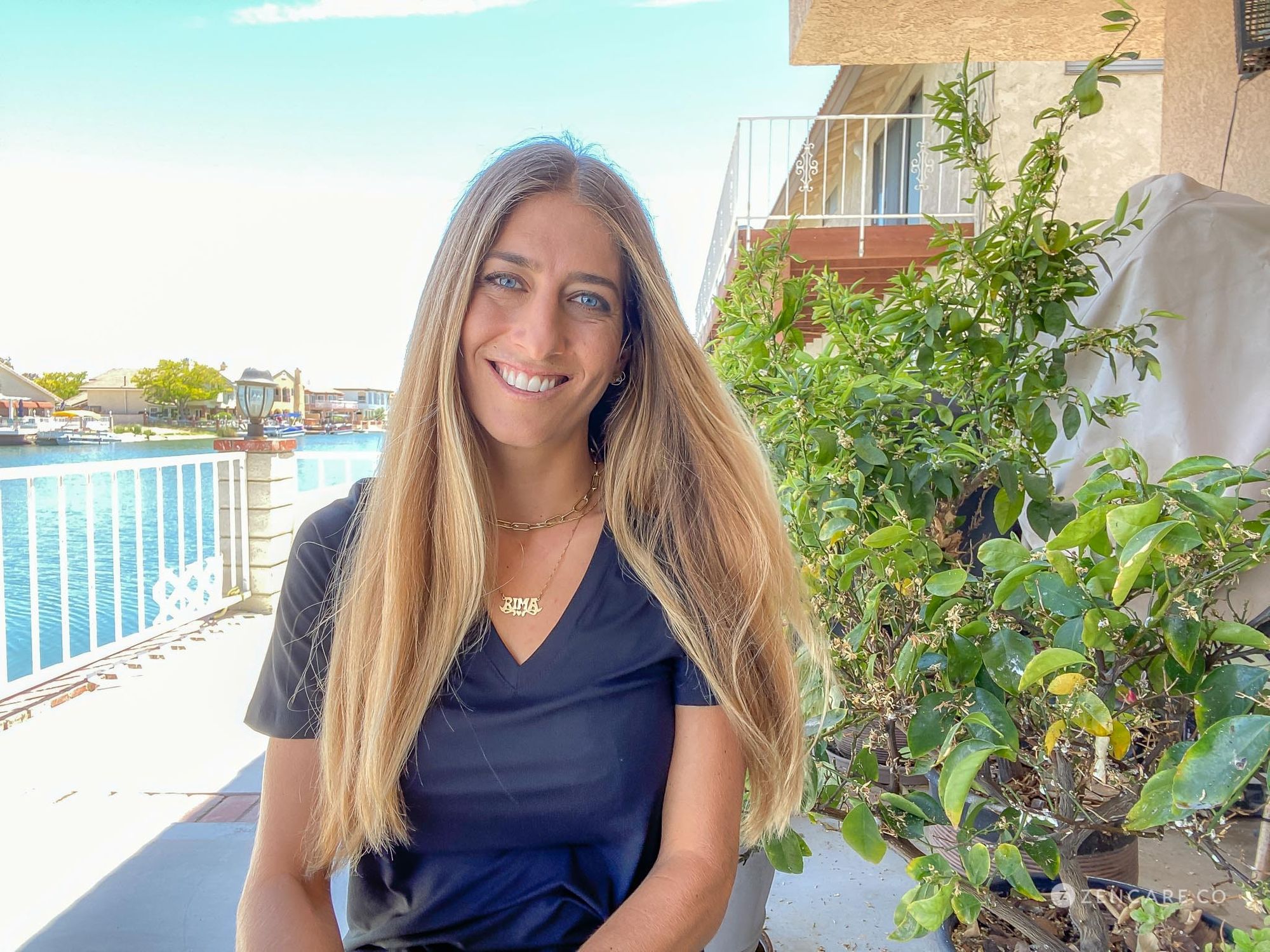 Rima's background and personal life
How did you decide to become a therapist?
I've always had a passion for psychology and a fascination of the mind, since I was a young child. I read books like Sybil and knew I wanted to study psychology, which I started doing in high school by taking psychology courses at my school and the local college until I entered into university as a psychology major. I have always loved to be of service and to help others and have an intuitive understanding of people's personalities and their shadows.
I went into my Master's program right after undergrad and was on track to get licensed right away. It's the only career I've ever considered and I feel so blessed that I get to work my dream job every day and that I was able to achieve the goals that I had set out for myself at a young age.
What was your previous work before going into private practice?
I worked in the service industry in various roles while in school/as an intern. I'm also a yoga teacher/retreat leader in Costa Rica, among other things.
What do you enjoy doing in your free time?
When I'm not fulfilling my dreams through work and service, I'm surfing, playing with my dogs, cooking organic, vegan food, enjoying nature, playing guitar, singing, dancing, or laughing with friends about something.
Rima's specialties and therapy philosophies
What guiding principles inform your work?
Guiding clients to health, happiness, love & freedom; people are their own experts on themselves and empowering them to be their own healer; giving clients practical tools and skills to use; releasing/letting go/making space to create the life you want; creating a safe, designated, confidential space in your week for you to explore the right solutions to these problems; approaching each client from a unique perspective as each client is unique.
Can you tell us about your specialties in anxiety and depression?
The majority of the clients I meet with struggle with some form of anxiety and/or depression. I approach each client from a unique perspective as each client is unique. I collaborate with them to understand their needs and goals, and from there I create a treatment plan that is special for them. I believe that each client has a story that can be retold in a new way, and a story that is still being written, so the middle and ending can change as the client transforms.
I help clients tap into their own power and become their best versions of themselves. I teach them about their strengths, especially the ones they think are weaknesses (like being overly sensitive, for example). I help clients build community and find depth, meaning and purpose in their lives.
What do you find most rewarding about your work?
The ability to enter into such an intimate and vulnerable healing relationships with people and to have the opportunity to hold space for them, support them, and help them. It's a very unique relationship and people tell their therapists things they've never said out loud before and those experiences to open up in life is unique and special and I'm honored to be able to provide that space for people.
Therapy sessions with Rima
What will our first session together be like? What happens in ongoing sessions?
During the first session, I get to know all about you! I take lots of notes on different areas of your life from basic information to why you're in therapy now. From there, we develop a tentative plan for the next few sessions and I fill you in on what I think will be useful and how we can approach the various things you've brought up during the session.
After that, we have a sense of continuity between sessions and focus on the plan/big themes and rotating in different techniques like hypnosis, inner child work, shadow work, forgiveness work and more.
How long do clients typically see you for?
It depends. Some clients come short term for 3 months or so whereas some clients are seeking a long-term therapeutic relationship to manage severe anxiety/depression. I have clients that I see for a few months and others that I've seen off and on as needed. The average length is about 4 months.
Are there any books you often recommend to clients?
I often recommend The Four Agreements.
Do you assign "homework" between sessions?
It depends on the client. I never give "homework" but I give a lot of resources and things we can review and build on but the client is not expected to check them out/use them unless they want to. Sometimes they choose to go through the material in session together instead but I like to give the option since everyone is different!
How do you help ensure I'm making progress in therapy?
I take very detailed notes on client's intentions/goals and what's working or not and then we check in often on your progress. I ask direct questions on mood, progress, etc. and we re-evaluate as we continue through our sessions. If a client responds well to hypnosis, for example, we will incorporate more hypnosis versus if they didn't find it helpful, we will explore other techniques instead.
How do I know that it's time to start seeking therapy?
When you feel stuck in life, like you can't switch gears, you're on auto-pilot, or you're repeating the same patterns and habits you always have that don't serve you. You don't feel fulfilled in the way you thought you would at this point in your life.
Perhaps you're struggling with daily anxiety that is overwhelming, self-comparison, trauma, abuse or addiction and you're ready to move on, managing/navigating your family or personal relationships, setting boundaries in your life with family, friends, partners & coworkers, communicating effectively in your various relationships to the point where you feel hopeless or simply feeling happy in general.
How can I prepare for our first session?
Have a sense of what it is that you'd like to accomplish through therapy or what you'd like your life to ideally look like and we will go from there!
How will I know it's time to end my time in therapy with you or reduce session frequency?
When you've reached a lot of your short term therapy goals, it's a good time to decrease frequency of sessions or to consider phasing out. As we go through our sessions, we reevaluate your goals as appropriate so you may choose to update them and continue working through them or you may decide to phase out instead as you reach your initial therapy goals. It's up to you in terms of budget and self-work goals.
Why should I seek therapy, rather than turning to my partner, friends, or other loved ones?
Working with a mental health professional creates a safe, designated, confidential space in your week for you to explore the right solutions to your problems, something that the untrained supporter in your life can't provide. Even if your partner, friend or loved one IS a mental health professional, it wouldn't be appropriate to turn to them for therapeutic work.
A therapist is someone who's spent 1000s of hours dedicated to understanding problems like yours and the solutions that will help you understand and solve those problems in your life and who can objectively understand your problems in a way that you may not be able to.
What advice would you share with therapy seekers?
Take time finding the right therapist and don't give up. You may have to "fire" a few along the way and that's a totally normal part of the process. Some clients see their therapists on and off for many years and so it's a deeply intimate relationship, one that takes time and thoughtfulness to create and nurture, so don't be afraid to try a few out until you really feel comfortable and heard by the person who you ultimately choose.
Visit Rima's profile to watch her introductory video, read more about her, and book an initial call!