Rachael Alba is a Licensed Mental Health Counselor in Rhode Island specializing in reproductive mental health, trauma, and parenting, We asked Rachael more about her work with clients and her guiding philosophies on therapy.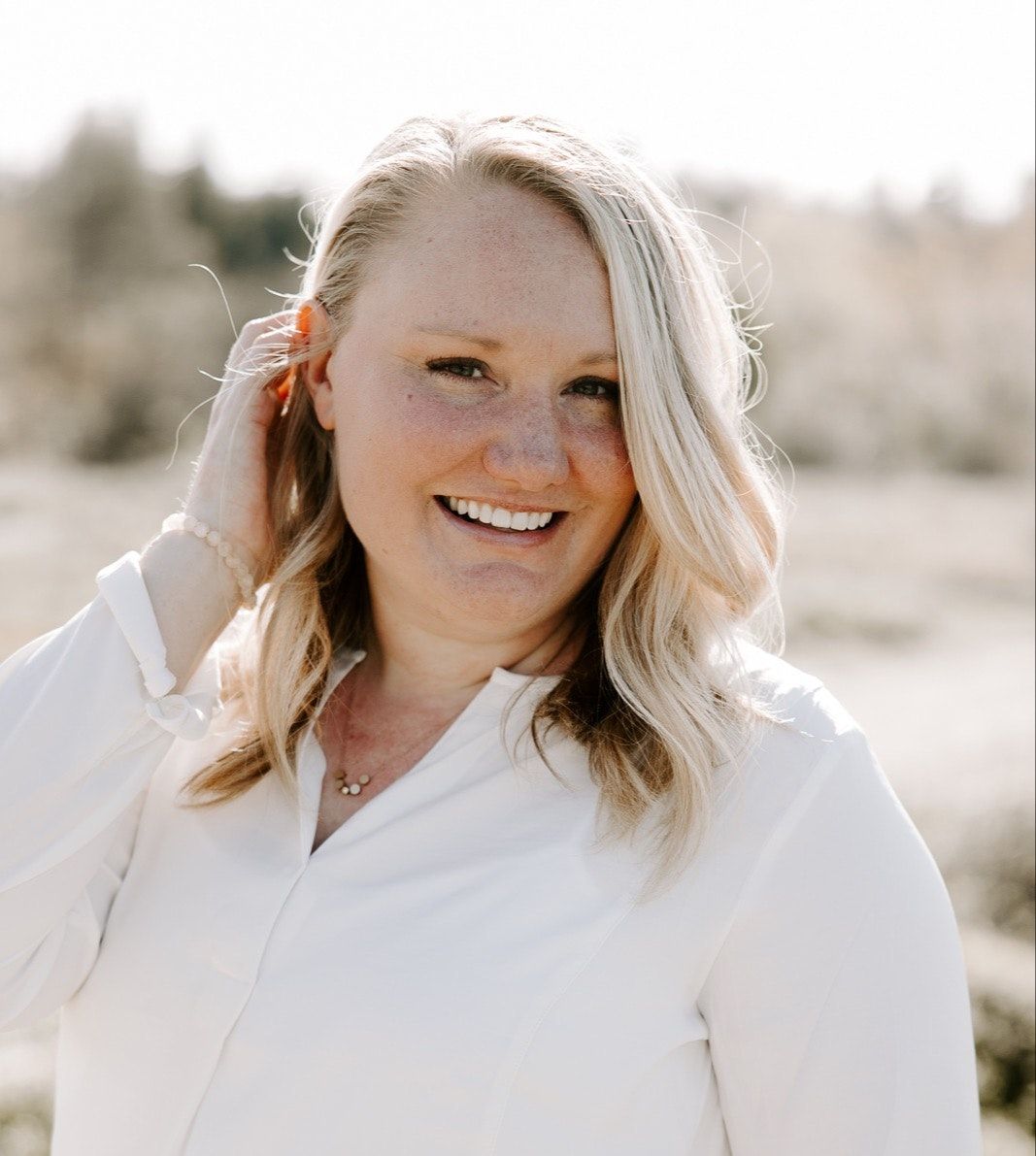 Rachael's background and personal life
How did you decide to become a therapist?
I have had an insatiable curiosity about the human condition for as long as I can remember. Starting in childhood, I was attracted to the study of psychology, the inner workings of humans, and the dynamics of relationships. I am introspective and reflective by nature and knew I would utilize my emotional strength in some way in my long term career work.
However, emotional intelligence wasn't prioritized in my upbringing, so it took me a little while into adulthood before really owning my place in this field of work but I am so glad I did. It is exactly the right job for me and I am so grateful to have the privilege of navigating life alongside those who entrust me with their unique realities.
What was your previous work before going into private practice?
I have primarily worked in private practice over the past decade. I also spent two years working at a group practice, offering parenting support to people who identify and/or have children who identify as gifted or twice exceptional, as a special needs population. I also worked in a temporary role at an eating disorder clinic. My passion now is working with individual adults, couples, and parents navigating reproductive challenges, trauma, anxiety, and grief.
What do you enjoy doing in your free time?
I love to be outside, to go for long walks, to read, to spend time with loved ones, and to cook local, nourishing food. I also enjoy caring for and cultivating my spaces, both creatively and in a simple maintenance way. Tending to my environment is hugely restorative for my mind and body, be it through cleaning, decorating, or gardening.
Rachael's specialties and therapy philosophies
What clientele do you work with most frequently?
I specialize as a reproductive and trauma therapist. This means I work primarily with women and couples experiencing concerns related to infertility, perinatal depression or anxiety, pregnancy or infant loss, termination of pregnancies, and birth trauma. I also work with individuals who have experienced trauma, anxiety, and grief unrelated to reproduction. With both populations, I work from a place of deep understanding and empathy, with the purpose of guiding you through painful experiences to a more hopeful and joyful reality.
Can you tell us more about your specialty in reproductive mental health?
Reproductive mental health encompasses infertility, family planning, pregnancy or postpartum anxiety and/or depression, pregnancy or infant loss, traumatic birth experiences, and termination of pregnancies. I primarily work with women and couples, both mixed and same-sex, to identify current challenges, support decision making, and create an actionable plan toward reaching their practical and therapeutic goals.
We work to build resources that help with anxiety reduction, grief processing, and acceptance. Utilizing a mix of modalities, I provide you with skills for better emotional regulation, navigation of relationships, and reduction of distressing thoughts or behaviors. Working with a therapist through reproductive concerns is hugely beneficial, empowering, and hopeful.
Can you tell us about your work with parents?
Parent coaching and support is ideal for the parent who is working hard on parenting but feels like they just aren't getting the results they expected. Maybe you struggle with aggressive outbursts from your child or you feel like everything is a battle. You've read every book and tried every strategy but nothing seems to be working. Parenting is hard and every parent/child relationship is unique and therefore needs something very specific for harmony.
There is no one-size-fits all in parenting but I can help you to identify your own and your child's unique underlying needs and get you on a path that leads to less chaos and more calm. It's quite likely that a few small tweaks will significantly improve the dynamics you encounter as a parent. It is vulnerable but powerful to ask for help in asking for help in finding the right pieces for your particular parenting puzzle.
Can you tell us more about your other specialties in trauma, anxiety, & grief?
My work with trauma, anxiety, and grief is generally comprised of individual work with people who have experienced painful events in their past that have left a lasting impact. Whether this is a single event like an assault, a car accident, or the death of a loved one or more chronic stressors like being raised in an abusive home or having a chronic illness, trauma and grief unfortunately often leave a lasting impact on our brains and bodies.
My work is aimed at helping you to process these events so that you can discharge the impact from your body and learn newfound skills for addressing times of distress in your life.
What do you find most rewarding about your work?
I love working with women who are navigating challenging systems and seasons in their lives and are ultimately find their way to a more empowered, joyful, and hopeful existence. It is extraordinarily rewarding for me to be a part of a woman's journey in coming home to herself more fully and stepping into her power and agency, however that may look in her particular life. I believe that if I can elevate one woman, I am part of changing a whole community and that is a real privilege from my perspective.
Therapy sessions with Rachael
What will our first session together be like? What happens in ongoing sessions?
Sessions together are collaborative. We generally start by checking in about how your week has been and then explore whatever area of your life you decide you want to work on in that specific session. If you aren't sure, I can direct the topic of the session and keep us on track with meeting your goals. We explore your thoughts and feelings, resource you with skills, and close with a reflection of the session. Occasionally, I may assign homework.
How long do clients typically see you for?
This ranges considerably, depending on the type of therapy, presenting issue, and the person. I have done sessions as short as 6 weeks for parent support, to as long as 5 years. Ideally, we would work together for at least a full calendar year but it is really up to you and what your needs are. Most of my clients stay for quite a while once they begin to see the benefit that therapy adds to their life and relationships.
How do you help ensure I'm making progress in therapy?
Ensuring your progress in therapy is a huge priority to me. One practice that I have found to be hugely beneficial is creating a goals list with clients in our first session. Together, we craft a goal statements and ways we anticipate meeting those goals. Having this in writing gives us a framework to look back on as therapy progresses.
We check in occasionally and make sure we are making definite progress on the goals outlined in that first session. If we aren't making the progress desired, we pivot and create a different trajectory toward meeting your goals. If we have met your goals, we either create new ones or discuss the possibility of reducing frequency or ending therapy at that time. I check in with clients often regarding their goals, frequency of sessions, and progress being made.
How do I know that it's time to start seeking therapy?
In my opinion, everyone could benefit from therapy at pretty much any time in their life. So if you are considering seeking out a new therapist, chances are it's a good time to see one! There's no harm in learning and growing at any point in your life.
How can I prepare for our first session?
The best thing you can do is show up as much like yourself as possible. Giving an accurate reflection of who you are, what brings you into therapy, and what you are hoping to get our of therapy is the most important thing you can offer in a first session. Aside from that, I would encourage you to interview a number of therapists before committing to a first session with anyone. Research is clear that the single largest determinant in positive therapy outcomes is the quality of the relationship between the therapist and the client.
No one therapist is going to be a great fit for everyone, so "shop" around and don't be afraid to say so if you don't feel the fit is right. A good therapist should also let you know if the fit isn't right, not because you aren't fully deserving of therapy, but because it should be top priority to get you the best match as possible from the very start of therapy.
Why should I seek therapy, rather than turning to my partner, friends, or other loved ones?
Therapy offers a unique container for the contents of your story and a relationship with someone who isn't seeing you in the day-to-day of your reality and is therefore objective to your situation. This provides a space where you can more fully express yourself without fear of judgement, which allows you to grow through challenges in a more comprehensive and supported way than you can by simply processing with a friend or loved one. You are getting professional guidance from a trained and caring therapist whose job it is to prioritize you and your needs and growth.
What advice would you share with therapy seekers?

Visit Rachael's profile to watch her introductory video, read more about her, and contact her for an initial call!