Melissa Divaris Thompson is a Licensed Marriage and Family therapist specializing in working with individuals and couples navigating relationship challenges, communication issues, life transitions, and new parenthood. While Melissa's office is in Midtown Manhattan, she welcomes therapy clients throughout New York, Virginia, and California to her remote therapy practice. Melissa is a holistic and depth-oriented therapist who uses her background in yoga and Buddhist meditation to help clients better connect to their mind, body, and spirit.
We asked Melissa more about her work with clients and her guiding philosophies on therapy.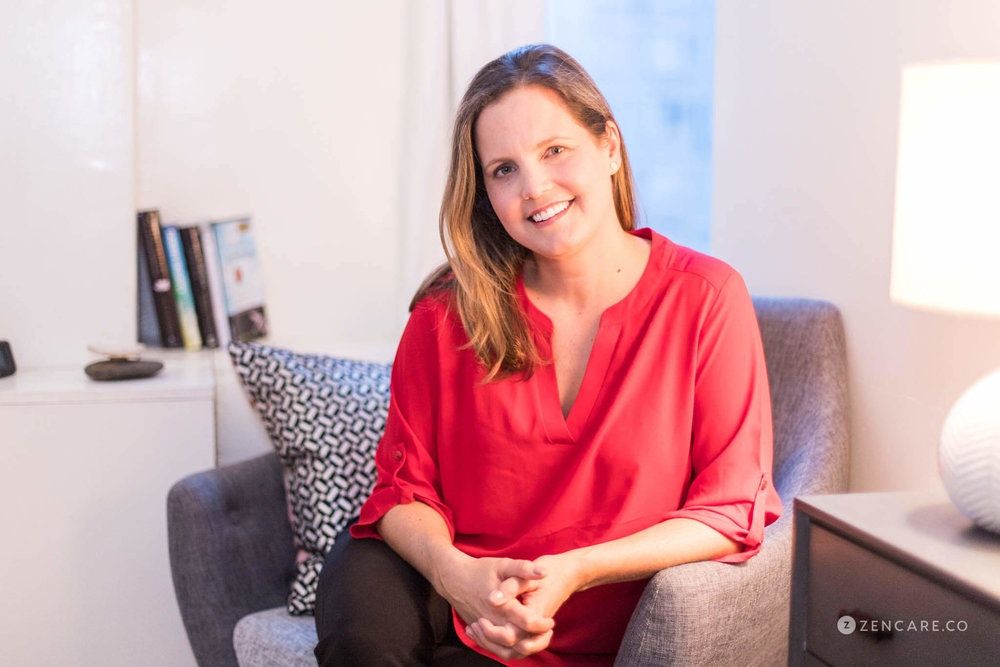 Melissa's background and personal life
What was your previous work before going into private practice?
I worked in theater and real estate.
What do you enjoy doing in your free time?
I love to work out, read, swim, and go to the beach.
Melissa's specialties and therapy philosophies
What guiding principles inform your work?
I help my clients reconnect to their authentic voice and their power. I often ask: what is it that you want? I believe we are ultimately the expert of ourselves, and we often just get in our own way or lose our path. My work with clients involves helping them connect back to themselves.
What clientele do you work with most frequently?
I specialize in working with adults and couples in their 20s and 30s. I love to work with people who on the surface look as if they have it all together. They have a job, maybe a relationship, hobbies, etc but underneath they may feel anxious, held back, or alone. I love helping clients who struggle with these issues find who they really are and feel empowered to change.
Can you tell us more about your work with couples?
I love to help  couples create more intimacy, connection, and authenticity. I see couples who are newly paired up as well as those who have been together for years. There is always more understanding that can occur no matter how long couples have been together.
What do you find most rewarding about your work?
I love that each client is so unique and different. Every session I have is an opportunity to help a client heal.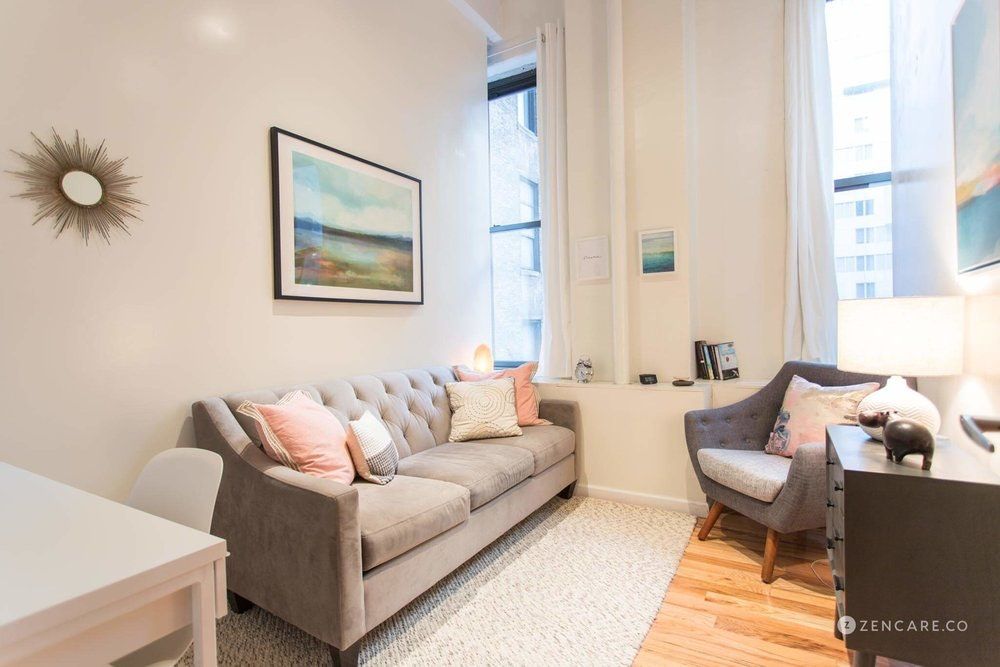 Therapy sessions with Melissa
What will our first session together be like? What happens in ongoing sessions?
The first session is for us to evaluate if we are the right fit. I always want my clients to feel comfortable and at-ease talking and sharing with me. This can take time and a few sessions, but usually people get a pretty good sense after the first session. I try to create safety and comfort. I try to make the first session the least intimidating as possible. I also get some of your background and we discuss goals.
Are there any books you often recommend to clients?
I often recommend anything written by Tara Brach or Brene Brown.
How do I know that it's time to start seeking therapy?
When you try things on your own but you are unable to make changes that are you happy with, it may be time to see therapy. Also, when you feel stuck and don't want to bother or burden your friends or family, a therapist may be able to help.
How can I prepare for our first session?
Clients do not need to bring anything for their first session–just themselves and a quiet, private space where they can speak and share.
How will I know it's time to end my time in therapy with you or reduce session frequency?
I speak to my clients and check-in with them around their progress and how things are going. My goal is not to have clients in therapy forever. We discuss openly how you're feeling and if we are at a point to cut-back or end.
Why should I seek therapy, rather than turning to my partner, friends, or other loved ones?
Having a therapist is like having a confidant who can't share any of your details with anyone else and who wants the best for you. Therapists can help you find your own voice.
What advice would you share with therapy seekers?
The number one piece of advice I give to those looking for a therapist is to find the right fit. Find the person you feel comfortable sharing with.
Visit Melissa's profile to watch her introductory video, read more about her, and book an initial call!