Melanie Ryerson is a Registered Counselor Intern in Orlando, FL specializing in anxiety, grief, and trauma. We asked Melanie more about her work with clients and her guiding philosophies on therapy.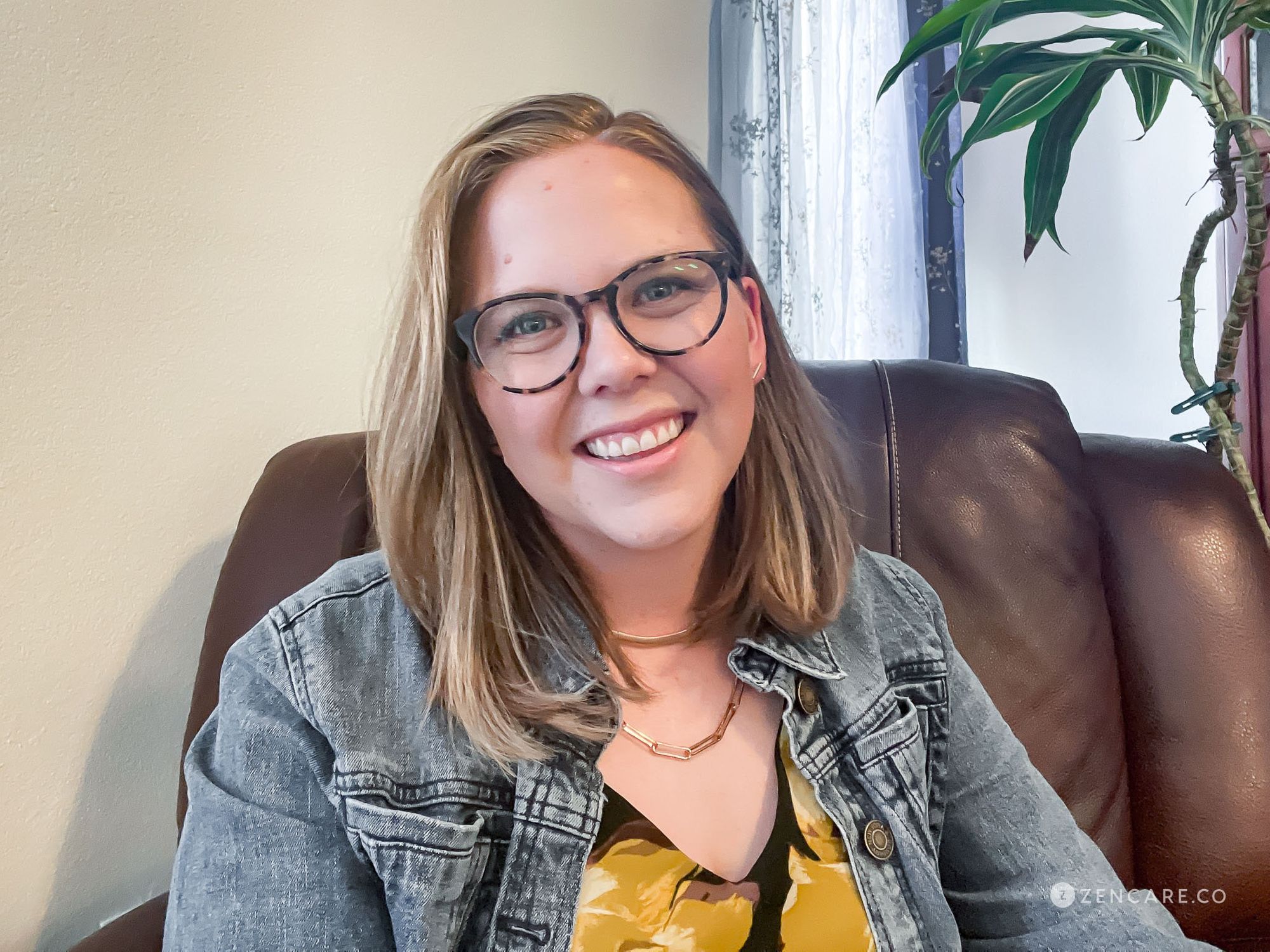 Melanie's background and personal life
How did you decide to become a therapist?
Becoming a therapist was a pretty natural step in my journey. I was a highly sensitive and compassionate kiddo who wanted others to feel included and accepted. As an adult, I became a middle school teacher in neighborhoods with community violence, helping teens learn to cope with their emotions, trauma, and insecurities. After seven years of teaching, including two years through a global pandemic, the need for quality mental healthcare was undeniable. I became the neighborhood counselor and have loved every moment of it!
What was your previous work before going into private practice?
Shout out to my educators! I can't help but put on my teacher hat in session from time to time. I love being able to help clients make sense of complex feelings and concepts, nothing beats a good lightbulb moment.
What do you enjoy doing in your free time?
Just another Florida girl: I feel refreshed by my dog, the sun, music, and time with loved ones.
Melanie's specialties and therapy philosophies
What guiding principles inform your work?
There are a few principles that guide me personally and professionally: 1) All people are innately deserving of respect, dignity, and wholeness. 2) Our bodies carry our stress and trauma, therefore healing is holistic and relational. 3) Being curious about your own story will bless you in more ways than you know.
What clientele do you work with most frequently?
I work with a mix of teens and adults who are typically anxious, people pleasers seeking to reduce anxiety, improve relationships, and find balance in this busy world. It is an honor to help clients figure out the memories or beliefs that are the source to their insecurities and not-so-great habits. I also have a special place in my heart for those who are grieving, grew up in alcoholic homes, or have a history of sexual trauma.
Can you tell us more about your specialty in anxiety?
For those with anxiety, the over-thinking, muscle tension, and insecurities can be too much. Anxious folx are often perfectionists who pick up the slack at home, work, and in relationships. I help people with anxiety learn healthy habits to reduce anxiety and improve their relationships and lifestyle.
Can you tell us more about your work with clients on grief and/or loss?
Grief may be the loss of a loved one, job, or a divorce. The hard part about grief is that it looks different for each person and each loss, especially when there are so many myths about how long grief should last or how to move on. I help grievers release the pain of loss and learn to live with their new normal.
Can you tell us about your specialty in trauma?
Trauma happens when experiences exceed our ability to cope on our own and cause a disruption in our emotional functioning. After trauma, you may have flashbacks, jumpiness, sleep problems, irritability, and sensitivity. Those who have experienced trauma may struggle to remember or even blame themselves for what happened to them. I help survivors of trauma learn to feel safe again and process those hard experiences to find freedom and peace on the other side.
What do you find most rewarding about your work?
I am a sucker for redemption stories. More often than not, you choose to go to therapy when you are feeling discouraged, frustrated, and even hopeless. So to play a role in helping you move through challenging feelings and experiences into a healthier, more authentic version of you - nothing beats it!
Therapy sessions with Melanie
What will our first session together be like? What happens in ongoing sessions?
Our first session is an opportunity for us to get to know each and to identify your hopes for counseling. I am a big believer that we move at your pace, so in on-going sessions you will learn how to cope with challenging emotion, process challenges and sticking points, to live a more balanced and self-compassionate life.
Are there any books you often recommend to clients?
This varies based on the need of the client, but oftentimes I recommend Attached, The Body Keeps Score, and work by Dan Allender or John Gottman.
Do you assign "homework" between sessions?
I was never the teacher to give homework. That being said, the most meaningful growth happens between sessions and is usually a natural overflow of counseling. For my anxious overachievers, I am happy to provide more structured tasks as beneficial.
How do you help ensure I'm making progress in therapy?
Before our first session, you will complete a couple of quick screening questions to determine you baseline for anxiety and depression. We will periodically revisit those screening as data to measure your progress. More importantly, we will have more organic conversations around what is working, what can change, and how your needs are being met in therapy.
Visit Melanie's profile to watch her introductory video, read more, and book an initial call!