Marian Cooper is a Licensed Clinical Social Worker in Houston, TX offering in-person and remote therapy sessions to clients throughout the state of Texas. She most commonly works with high-achieving individuals to manage anxiety, relationship challenges, self-doubt, and/or dissatisfaction in their professional life. Marian's approach to therapy is a unique blend of CBT and creative therapy, which offers clients a safe space to focus on identifying and reframing negative thought patterns both in the creative process and in one's everyday life.
We asked Marian more about her work with clients and her guiding philosophies on therapy.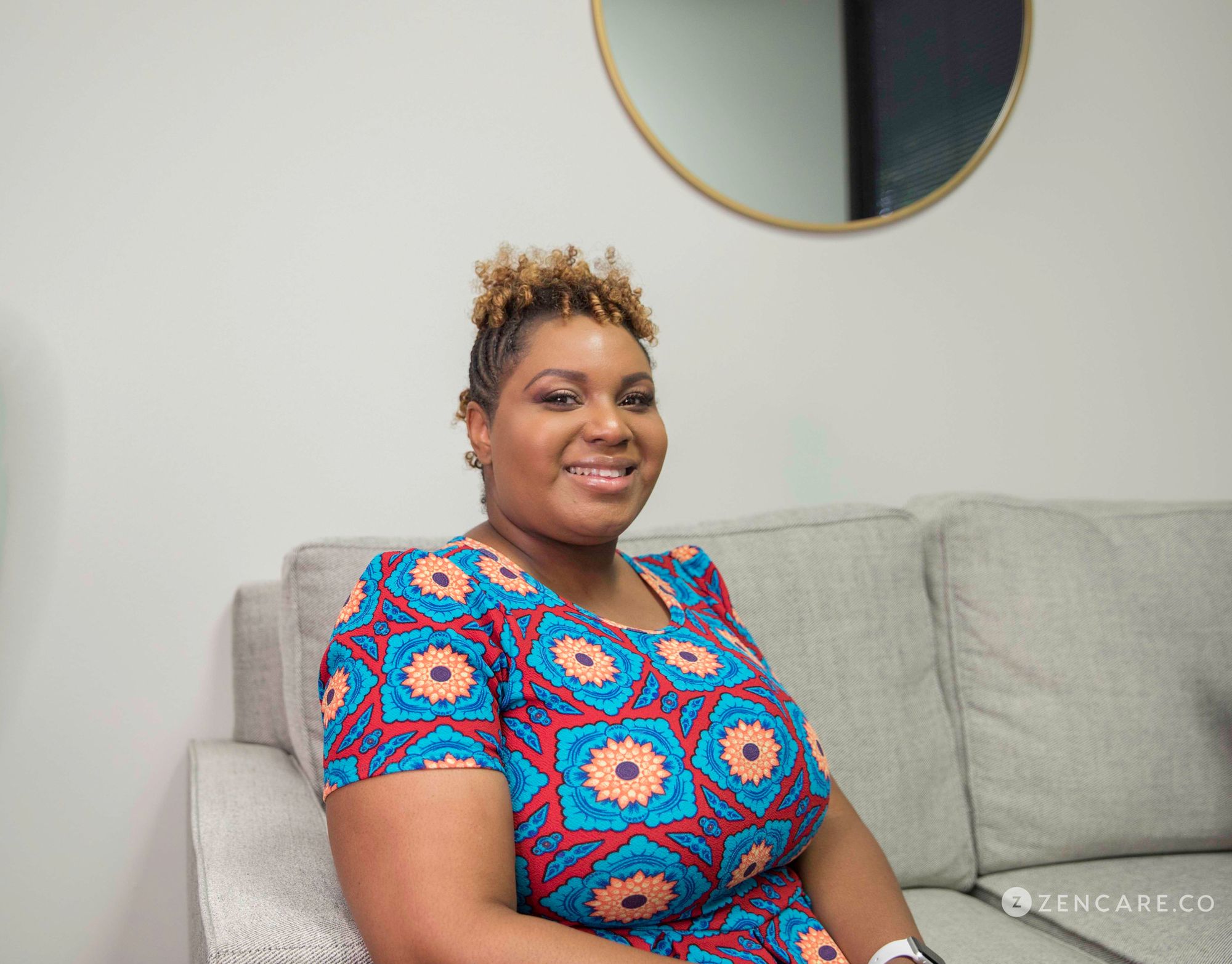 Marian's background and personal life
What was your previous work before going into private practice?
Prior to going into private practice, I worked in many different systems, including foster care centers, hospitals, domestic violence centers, schools, child advocacy groups, and community mental health organizations. In all of those settings, I received specialized training to be able to effectively work with the populations we served. I feel lucky that I am able to take that training and apply it to my individual practice. Not only do I get to provide resources to my clients as needed, but I can also make sure I am using evidenced-based training to guide my practice.
What do you enjoy doing in your free time?
In my free time, I love to make art, especially collages and paintings. I also enjoy going to museums and reading. I love to travel but have not been able to do it as much as I used to. I am hopeful I will be able to travel again soon once it is safe! I am also a big believer in self care and tell my clients all the time of its benefits, so I try really hard to make time for it in my own life.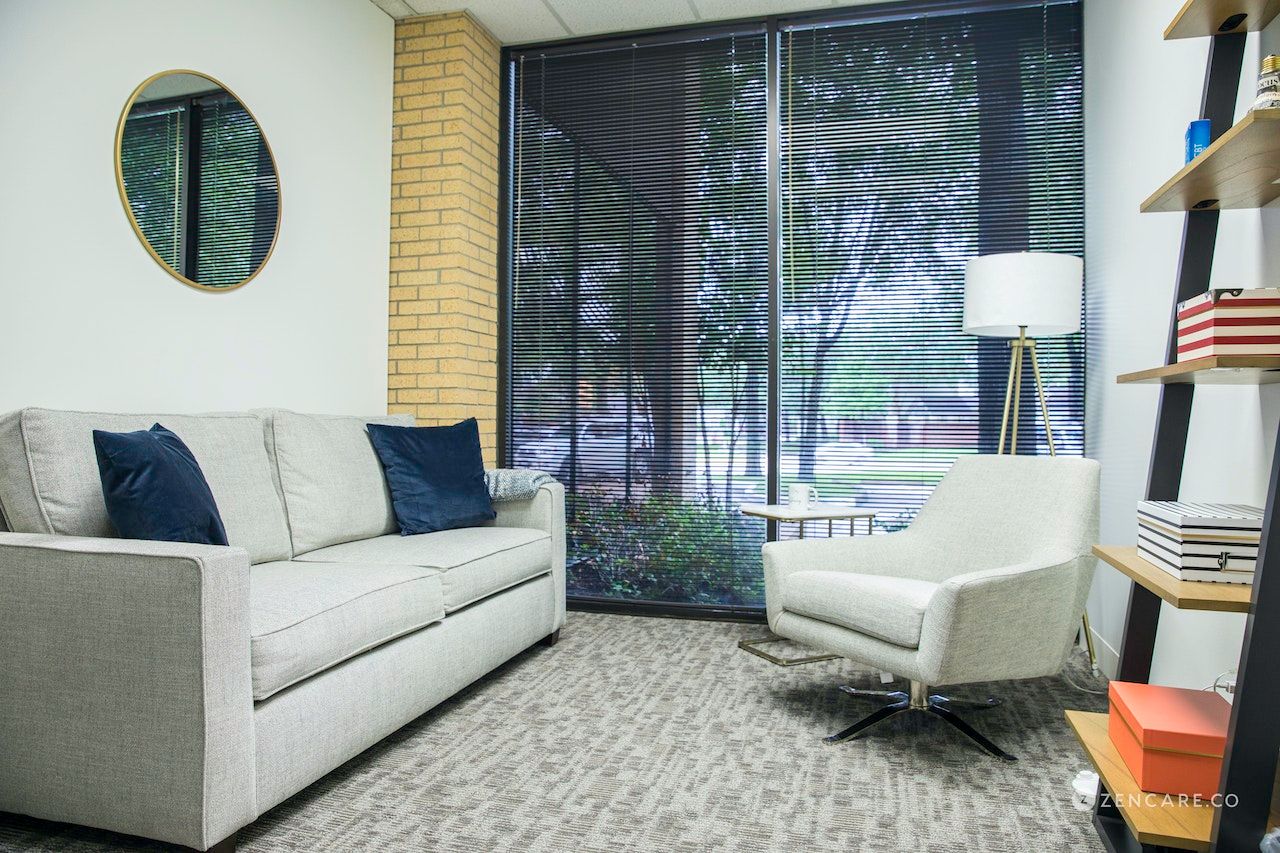 Marian's specialties and therapy philosophies
What clientele do you work with most frequently?
I work a lot with high-achieving professionals who struggle internally with feelings of self-doubt, low-self-esteem, and anxiety. My clients are often doing well in their career but find themselves lacking in relationships or having poor self-confidence in their personal lives. They are also often highly anxious, self-critical, and frequently struggle to give themselves credit where it counts. I am drawn to working with this population because it allows me to help them reframe current unrealistic expectations and form more helpful ways of interacting with themselves and the world around them.
Can you tell us more about your specialty in working with clients with anxiety?
In my work with clients, we talk about anxiety being future-based. I help ground them and bring them back to the present by paying attention to clues right in front of them. We work on separating from the "what ifs" and normalizing anxiety. My clients learn to trust their new updated instincts and not all of their irrational thoughts.
Can you tell us more about your specialty in working with women?
Although I see men as well, the majority of my clients are high-achieving women. My clients are often boss ladies who give the impression of having it all together on the outside but on the inside they are suffering in silence. My clients are strong, creative, and motivated women who know what they want and are ready, willing, and able to acknowledge current barriers and take action via problem solving. Many of my clients are anxious and struggle with perfectionistic behaviors and thinking traps.
Can you tell us about your work with clients struggling with self-doubt and/or low self-esteem?
Feelings of self doubt and low self-esteem and be immobilizing. When we're so afraid of failing at something, we either don't try at all or we subconsciously undermine our own efforts to avoid an even bigger failure. Making failure personal can take a toll on your self-esteem and confidence. I work with clients to get to the root of these unhelpful messages, using CBT and art making to identify more realistic and healthy alternatives.
Therapy sessions with Marian
What will our first session together be like? What happens in ongoing sessions?
Our first session is about getting to know each other. You will learn about my counseling style, practice policies, and my assessment of your concerns. My objective is to gather information about you, help you identify goals, and collaborate on a plan of action. I will provide a supportive, encouraging, and listening ear to help you work through conflicts. I like to inform my clients that therapy is a shared journey between the two of us, and although I will be with you on this journey, you will be responsible for making your own decisions.
Do you assign "homework" between sessions?
I often assign "homework" in between sessions but my clients know there is no pressure to complete it. However, we may explore barriers to following through with homework assignments, as it is a way for you to think about, review, and/or practice concepts we discussed in session. Homework can also be a way of helping clients warm-up to completing something in session. Homework assignments I give often contain a mixture of creative writing and journaling.
How do I know that it's time to start seeking therapy?
The decision to go to therapy is a personal one. You probably go to the doctor and get check ups when you are not feeling well. If you are getting feedback from important people in your life and/or are noticing changes in your mood and behaviors that concern you, it may be time to talk to a professional about your concerns.
How will I know it's time to end my time in therapy with you or reduce session frequency?
I am a firm believer that therapy is not supposed to be forever. In the first session with clients, I discuss goals and expectations for therapy as we move through the change process. My clients and I often have discussions around where they are, where they have been, and where they are going. When I pick up on changes in our sessions, I will always bring it to your attention and we can discuss your concerns and feelings. I work with clients to gradually decrease frequency of sessions first and we eventually then have a conversation around termination and endings.
Why should I seek therapy, rather than turning to my partner, friends, or other loved ones?
If you have a supportive network, you should use them to the level that you feel comfortable with. People often use therapy in conjunction with a support system. Therapy is a non-judgmental space where you can talk about the people in your life uncensored. It can also provide an unbiased perspective on your problem.
Visit Marian's profile to watch her introductory video, read more about her, and book an initial call!