Laura Hoge is a Licensed Clinical Social Worker (LCSW) and Licensed Clinical Alcohol and Drug Counselor (LCADC) in Montclair, New Jersey specializing in complex trauma, addiction, anxiety, depression, and LGBTQ topics. As an educator and activist (as well as a therapist!), Laura believes the therapeutic process is one of self-discovery and liberation. Acknowledging the impact of life experiences and generational trauma, Laura utilizes a combination of education and mind-body techniques—such as somatic therapy—in sessions to help clients feel more at peace with both their mind and their body.
We asked Laura more about her work with clients and her guiding philosophies on therapy.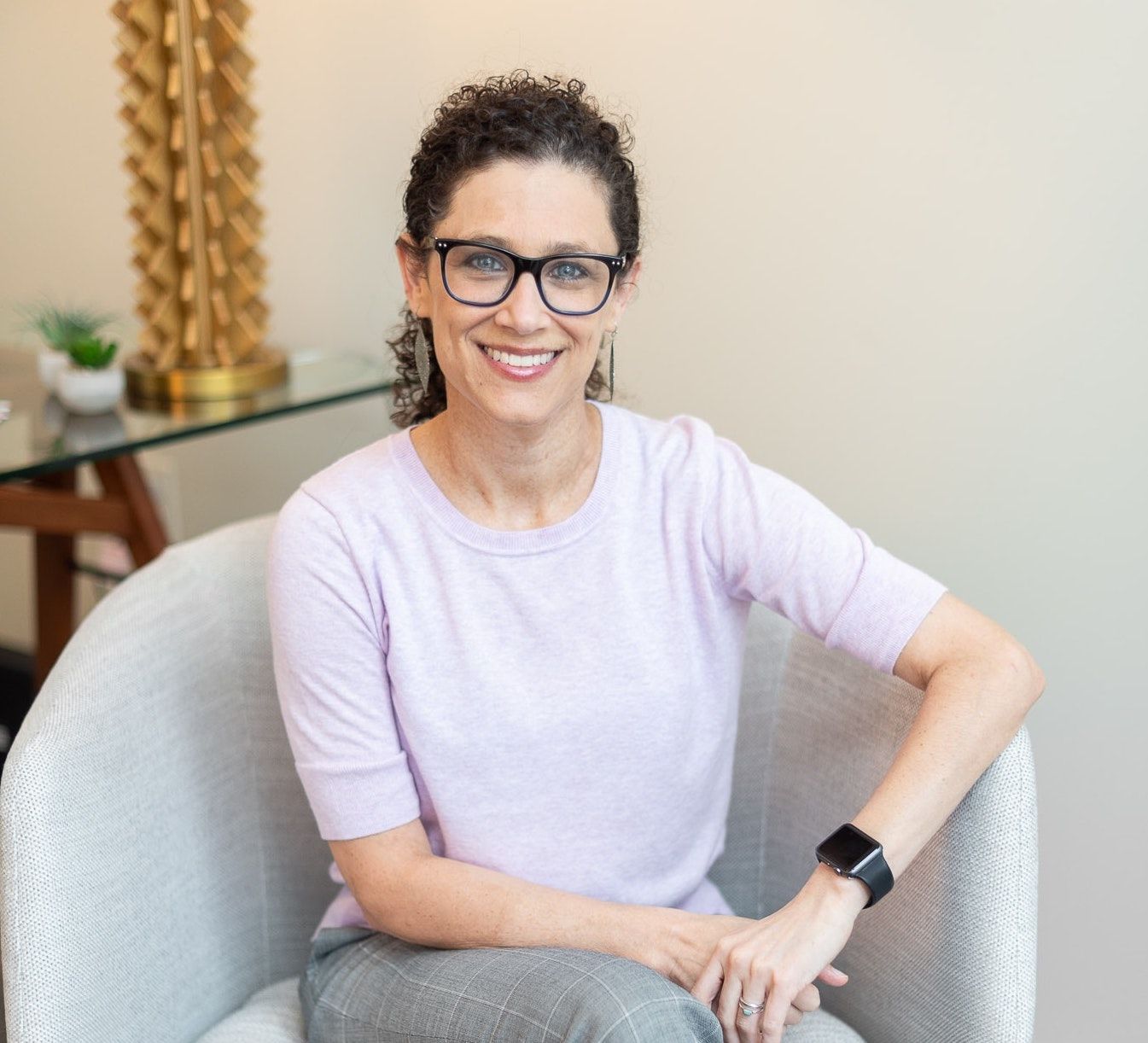 Laura's background and personal life
How did you decide to become a therapist?
I had no idea I was going to become a therapist. So much of my experience in social work was related to community organizing and activism. I was encouraged to get my clinical license by friends and family because of how often I would become the emotional harbor in communities I served. It was a natural role that I embodied, and one that I felt most like myself in. I continue to feel this way and am grateful that I'm able to see myself in my work so completely. I don't think a lot professionals can say that these days.
What was your previous work before going into private practice?
Before going into private practice, I worked at Rutgers Center of Alcohol Studies. I was a therapist in their faculty practice, and also a Senior Program Coordinator for a research lab studying heart rate variability. During this time, I was contemplating a PhD but found that my favorite parts of the day involved supporting other graduate students. I learned a lot when I was there and was able to become trained to proficiency in motivational interviewing. That said, I quickly found that academia was not where I wanted to be.
What do you enjoy doing in your free time?
I love to read, though I don't get as much free time these days. I have an 11yo son who keeps me very busy. I love being his Mom. My partner and I do a lot of crosswords together. I play a lot of music—guitar and piano. In a previous life, I was a songwriter, so music is a big part of how I relax.
It's strange to say that I'm profoundly introverted, but it's the truth. Every few weeks, I take a trip on my own to Upstate NY. I usually stay somewhere by myself where there is no internet. Those trips are sacred to me, and I read and write a lot. I don't think I'd have the stamina that I have if I didn't take care of myself like I do when I'm away.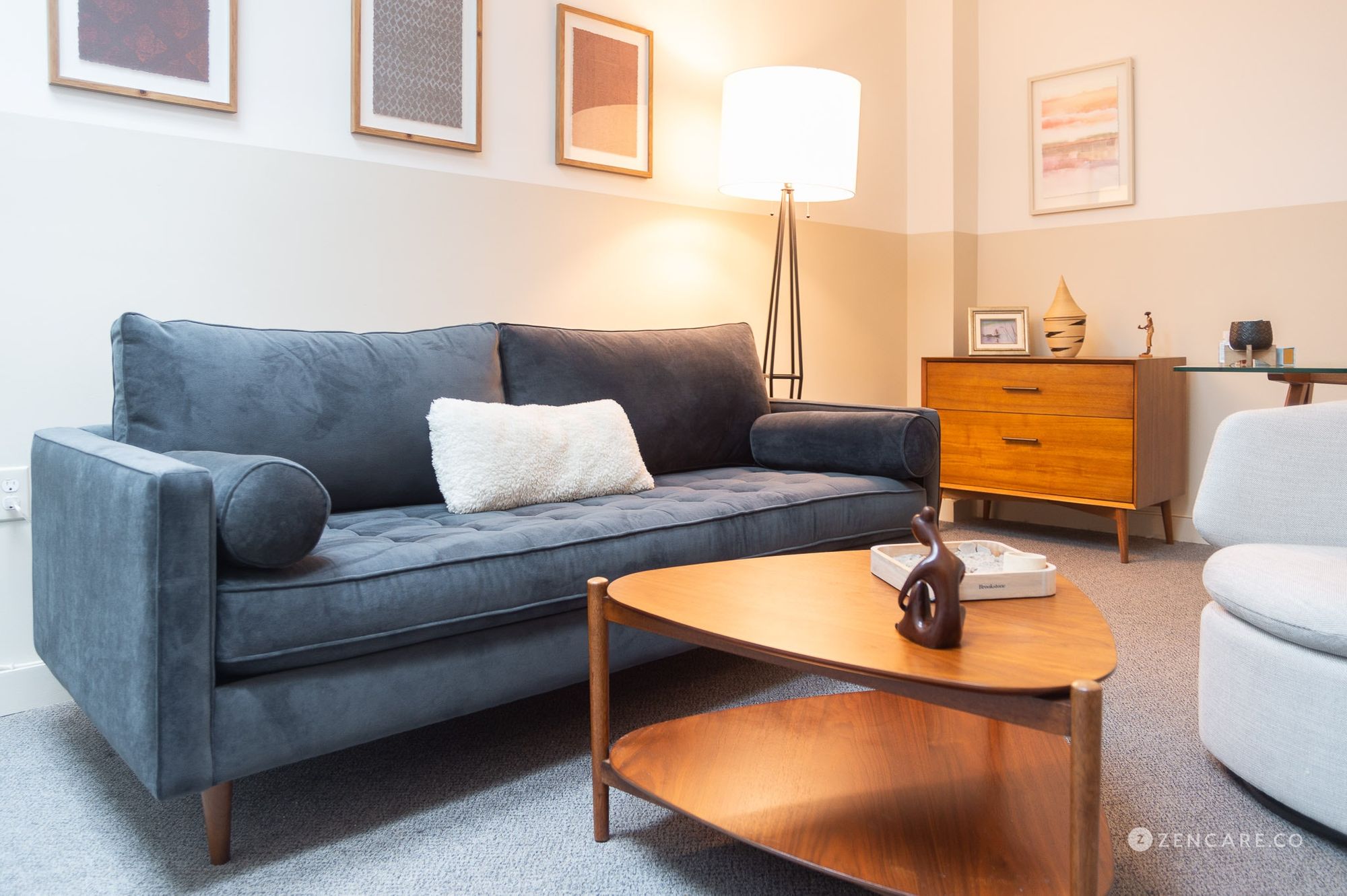 Laura's specialties and therapy philosophies
What guiding principles inform your work?
My north star has always been social justice. This is both professionally and personally. My clients are often marginalized by dominant culture, and so a large part of my work is showing up as an activist outside of the therapeutic relationship.
I am also humanistic, relational, and will *reluctantly* say that I'm spiritual. The reason I say reluctantly is because I know that so many of us have been hurt by spiritual practices. At the same time, there is a magic that happens in the therapeutic relationship that is ineffable. The process of therapy is nonlinear at times, a bit messy, but always profoundly transformative if the therapeutic relationship can hold space for discomfort, doubt, and painful emotional processing.
As far as the modalities that I use, it depends upon the presenting issue. Some of these are listed on my Zencare profile, as well as on my website.
What clientele do you work with most frequently?
I work with adults, ages 20 and older. My specialties are complex trauma and addiction, and I also frequently work with transgender individuals and their families. I have a specific interest in working with parents of transgender and nonbinary children. For some of my clients, they are looking for help processing the emotional experience that is unique to raising a young transgender or nonbinary child. For others, therapy involves psychoeducation, emotional processing, and case management. Parenting a child who is transgender involves a lot of learning and unlearning. My work is more than processing the emotions that are unique to this experience, but also teaching parents how to advocate for their children across contexts—school systems, health care institutions, recreational activities, family systems, etc. I am passionate about holding space for family members so that their process does not interfere with supporting their child's transition and overall wellbeing.
I also frequently work with individuals who are thinking more critically about the impact of their early childhood environment on their current personal and professional life. Most of my clients are looking to improve in their ability to connect with the people they love and to feel more at home in their own bodies. For some, this means re-examining their relationship with substances. For others, this is a process of re-examining their connections to personal or professional relationships.
Can you tell us more about your specialty in complex trauma?
Complex trauma is the result of repeated traumatic experiences and usually involves developmental injuries such as child abuse, neglect, community violence, cultural dislocation, etc. With classic PTSD therapy, I am often working with an individual toward restoring the nervous system to a pre-traumatic state of wellbeing. With complex trauma, there is rarely a pre-traumatic state of wellbeing, so therapy is about teaching the nervous system how to rest and creating a sense of internal trust with one's self and in relationship to others.
Challenges that I often face when working with individuals who live with complex trauma often have to do with the environment in which they are living. For some, it is difficult to restore a sense of safety when the world around them is oppressive. Individuals who are marginalized do have to maintain a sense of vigilance because there are very real threats to their lives. For individuals who are living in unsafe homes, this also becomes difficult. In these cases, it's important to find pockets of safety and calm to give the nervous system a necessary break. The clinical partnership is also profoundly important in these cases, as much of the harm done was in the context of intimate relationships. For this reason, healing in relationships with another person is necessary.
Can you tell us more about your specialty in addiction?
For individuals living with addiction, there is often a tremendous amount of shame to process. Many come to me with very little hope for themselves. My approach to addiction is humanistic, with a focus on reducing harm to self and others. For some of my clients, there is a desire for abstinence from substances. Others come to me looking to examine their relationships with food, sex, alcohol, etc. and reduce risks to themselves and their loved ones. My role is to assist clients in identifying the life that they want for themselves and the role that substances play in creating this life. We also explore personal values and work to align relationships with substances while living inside these values.
Can you tell us about your work supporting clients in gender transitions?
When working with transgender and nonbinary individuals and their families, being effective means maintaining a "parallel process" when it comes to emotional support.
Family members of transgender individuals often need to process the emotional impact of their loved one transitioning. However, this becomes problematic if it intersects with that transition. When working with transgender individuals, my role is to assist with exploring identity, advocating for safe spaces and resources (i.e. medical supports, surgical letters, etc.), and processing the emotional impact of all that goes with this. When working with families, my role is to assist them in navigating the complicated emotions that they might be experiencing as well, providing psychoeducation related to gender identity, advocating for trans-affirmative care across systems if their child is young, assisting with family dynamics, and finding safe and appropriate supports for themselves.
What do you find most rewarding about your work?
Sometimes, people assume that my work is impossibly difficult. And I won't lie, there are times when my heart is just so heavy for what my clients experience. I really do care about them, and while I bring a skill set to the work, I also bring myself into the room. And so, I do grieve and ache when my clients are holding so much pain. That said, there are also moments that are difficult to describe. They feel like a homecoming of sorts, where you can just tell that people are learning to either love themselves again or trust themselves again. I never tire of partnering with people who are committed to claiming or reclaiming their power.
Therapy sessions with Laura
What will our first session together be like? What happens in ongoing sessions?
First sessions are typically over an hour long and sometimes up to an hour and a half. I usually take extra time because of the amount of information that is covered. Clients often will give me a general understanding of some of the issues that are present in their lives currently, as well as any past history that they and/or their families have experienced. This is also a time for clients to get to know me a little bit and how it feels to work with me. The intake is set up to be a conversation. At the same time, it's a guided one so that I can get a feel of the landscape that my client has been walking on, both in the past and at present.
How long do clients typically see you for?
My relationships with clients are often lengthy, ranging from a year to several years. For most, this starts with weekly sessions. After time, biweekly and even monthly sessions are common. The length of the relationship is always at the discretion of the client.
Are there any books you often recommend to clients?
Oh my gosh, so many. Here are a few, but this list is far from exhaustive.
I have a huge list of books, podcasts, movies, etc. for transgender and nonbinary individuals on my website too.
Do you assign "homework" between sessions?
I don't assign homework, though I do often ask my clients to practice mindfulness between sessions. There are many different types of mindfulness practice, everything from intentional noticing of experiences to guided meditations to yoga. Many of my clients can feel hijacked by emotions and urges, so cultivating an awareness of what is happening in their bodies, emotions, and thoughts between sessions is helpful. For some clients, there is an aversion to this sort of practice, so other strategies are considered.
How do you help ensure I'm making progress in therapy?
I think it's important to identify goals for therapy and also acknowledge that these goals might shift as the clinical work deepens. I will check-in with clients periodically to see how they are experiencing therapy, and if they have noticed positive changes in their mood, relationships, or other goals that were established at the start.
How do I know that it's time to start seeking therapy?
There's not right or wrong time to seek therapy. Oftentimes, people come to see me after having been unhappy or in pain for a long time. There is no specific amount of distress a person needs to be in to start therapy. We all deserve help whatever the size and whenever the time of our struggles.
How can I prepare for our first session?
I usually ask that clients complete practice forms prior to the first session. I also help clients with insurance paperwork, and it's important to speak with insurance providers about out-of-network benefits. A guide for what to ask of insurance providers is on my website, as are practice forms.
How will I know it's time to end my time in therapy with you or reduce session frequency?
Changes in session frequency and ending therapy are decisions that require more than one conversation. I will often bring up decreasing session frequency when the time is ready, though sometimes clients do as well. There is often anxiety that comes with a change in the therapeutic relationship, so this process is intentional and collaborative.
Why should I seek therapy, rather than turning to my partner, friends, or other loved ones?
Therapy is unique in that it offers confidentiality and objectivity that cannot be guaranteed in relationships with partners, friends, or loved ones. Therapists also come to the relationship with a skill set and resources that usually surpass the capacity of personal relationships. That said, supports are often an important part of a person's mental health and wellness too, and ideally clients will be able to lean on loved ones if they are struggling.
What advice would you share with therapy seekers?
You don't have to be alone with whatever it is that you're carrying.
Visit Laura's profile to watch her introductory video, read more about her, and book an initial call!