Kimberly Dawn DeJong is a Licensed Professional Counselor Candidate in Colorado specializing in anxiety, depression, and career counseling. We asked Kimberly more about her work with clients and her guiding philosophies on therapy.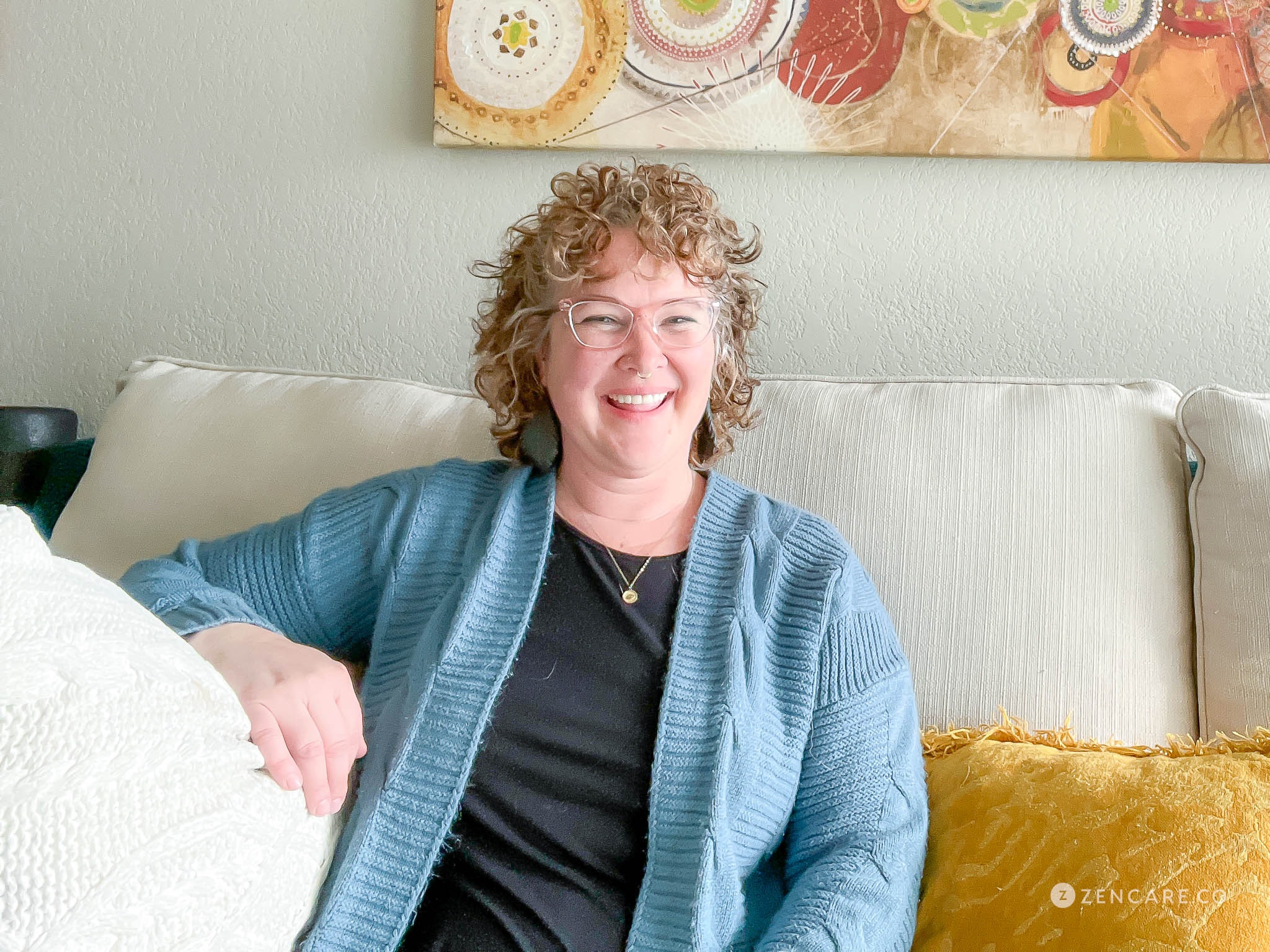 Kimberly's background and personal life
How did you decide to become a therapist?
I initially worked in the healing arts arena, starting out as a professional massage therapist in 1999. I experienced huge gains in my own mental, emotional and physical well-being with being on the receiving end of professional intentional and therapeutic touch. When working with clients, I was tuned into the stored emotions in the body. When people would talk about a source of stress or anxiety, certain parts of their body would tense, breathing became more shallow, and I quickly learned to guide them into deeper breathing, which I later learned in therapy is called somatic release.
A year into my career, I found craniosacral therapy which was a profound asset to my practice, I also began training in reiki and quickly began to incorporate this practice as well. I saw the difference with clients right away when adding these modalities. There was a huge shift in mental, emotional and physical wellbeing in just one hour. Creating the sacred and intentional space with these modalities, increased client's experience of feeling more space from internalized stress and trauma, allowing for deeper relaxation and life satisfaction. The effects would ripple out, just as they do when a loved on is getting therapy.
As I shared earlier, during these sessions, client's would share some of their deepest life experiences, traumas, grief, sadness and stressors with me. Simultaneously, stored emotions and traumas were naturally safely unwinding, being released on a cellular level. I was deeply honored to hold a deep and sacred space during these sessions.
I wanted to do more. I wanted to be able to help a wider spectrum of people who were suffering. My interest in mental and emotional health was peaked. I was able to access this through a physical and energetic aspect, but wanted to become a conscientious professional counselor and felt that there was a huge demand for that. My dream was to create a business where folx had access to counseling, reiki and craniosacral, providing essential holistic healing. I often dreamed of going back to school for counseling and finally grounded that dream and made it come true. This was not without the help and support of other therapists and alternative healing arts practitioners.
I have now been a counselor and coach since 2020 and am eager to provide care in combination with the somatic experiencing learned in my healing arts career. There has been so much crossover in how to provide personalized care.
What was your previous work before going into private practice?
Before going into private practice, I have more recently worked at Colorado State University as an instructor for a first year seminar, and an academic support coordinator and for students who are still exploring or are undecided about their career or major path. I had a huge heart and advocated for minority and/or first generation students, adult students, those experiencing academic difficulties as a result of neurodivergence, housing instability, death of loved ones, and those who were reeling from sexual assault.
Much of my research in both undergraduate and graduate school was focused on mindful parenting and mindful self-compassion. I pursued training in this area and love infiltrating this into counseling sessions.
I also worked for a wonderful counseling group in Fort Collins called Beyond The Mirror. Their focus and expertise is in disordered eating, couples and family therapy, addiction, trauma, LQBTQIA+ and more. They also offer DBT groups for teens and adults, mindfulness groups for woman and groups for men. This was a great experience and prompted me to move forward with my own business and focus in on my own offerings.
What do you enjoy doing in your free time?
In my free time, I love to learn! This was something that I was able to hone in on during the pandemic, and as time goes on, I look forward to re-establishing my connection to yoga, being out in nature, hanging with family and being anywhere near water.
Kimberly's specialties and therapy philosophies
What guiding principles inform your work?
Guiding principles that inform my work are founded in my experience working in the healing arts. My clear intention is to provide a consistent, sacred, safe and non-judgemental space for clients to truly be themselves.
I see every client with unconditional positive regard and encourage true authenticity in both myself and my client. I see and know that we are all human and we as therapists are no exception. I do not pretend to know the answers or the direction you "should" go, how you "should" be. Rather, I like to provide space for clients to excavate dive deeper, beyond the "shoulds" that have may have been internalized over time. Just beneath, lives clear intuition, innate wisdom and self-care. I truly believe that we are all well intentioned, truly good humans, and when we go deeper, we are able to access that foundational part of ourselves.
What clientele do you work with most frequently?
I enjoy working with populations ages 18 and above. Many of my clients are looking for a deeper connection to themselves and may be suffering though heightened feelings of anxiety, depression, relationship discord, recovering from narcissistic abuse, codependency, PTSD, including childhood trauma, folx navigating ADHD, financial disorganization, negative self-concept, career transitions, major life transitions, parenting teens, blending families, single parenting, divorce, empty nesters, reinventing self, exploring careers and or education, life meaning and purpose, gender dysmorphia, gender identity, sexual orientation & poly relationships.
Can you tell us more about your specialty in anxiety?
Anxiety has become a major epidemic in our culture. There are so many contributors to this and it is an experience that has no boundaries. I feel there are many approaches to anxiety depending on what the unique lived experienced is and I aim to learn more and go from there.
As a therapist, some might connect with how living in the information age, there is ample access to the best diets, divisive political messaging, popular opinions, other's travels around the world, beautiful and happy families, authentic and sometimes inauthentic expression of happiness or confidence, above average athletic, academic, artistic, and relationship performances. It can be hard not to compare ourselves, which in turn creates a space of outcome based thinking, which has been highly correlated with increased anxiety.
Some applications to decrease anxiety include mindful self-compassion, slower movement practices, including yoga or nature exposure, increasing nourishing foods and decreasing stimulants, exploring personal hypervigilance and finding space for being a normal human being. If a client prefers, we can connect to a psychiatric provider to further investigate depression and or anxiety if they feel they would like to try medication.
Can you tell us more about your specialty in depression?
As expressed above, depression has also been shown to be a major epidemic in our culture. My therapeutic approach to depression is heavily sprinkled with compassion, while honestly looking at what is working and what is not working in a client's life. Due to chronic stress, depression can become a habitual space for the body to go and with the help of therapy, some of that heaviness can lift. Depression can often stem from a place of self-blame, self-judgement or perceived tear in relationships due a client feeling helpless about how to navigate life, find and hold onto hope, while moving into action to make the brave changes necessary to create a life where a client can thrive.
Actions may include increasing nourishing foods, creating routines, weaving in body movement and exploring personal relationships.
If a client prefers, we can connect to a psychiatric provider to further investigate depression and or anxiety if they feel they would like to try medication.
Can you tell us about your work with highly sensitive people?
Working with highly sensitive people is very rewarding in that I too have learned many tools to navigate relationships, food, noise, language, and life in general as a great act of self-care. Highly sensitive people or those who experience high amounts of empathy might be prone to so deeply feel what others are going through that they lose track of how they feel themselves. It can be hard to differentiate between oneself and the experience of another.
While some in this population are eager to help others, others might want to hide as a coping mechanism. Exploring a client's own brand and experience of being highly sensitive is an important part of learning and practicing the tools and unique boundaries to keep a healthy balance and perception of self vs. other.
What do you find most rewarding about your work?
The most rewarding aspect of my work is to witness client's deepening into a mindful, grounded, positive and well developed self-concept. From there, I notice the freedom experienced with improved communication, brave vulnerability, and improved relationships and boundaries with self and others. I love seeing the breakthrough of a client who is in a space to re-establish a foundational trust and love of their own unique journey.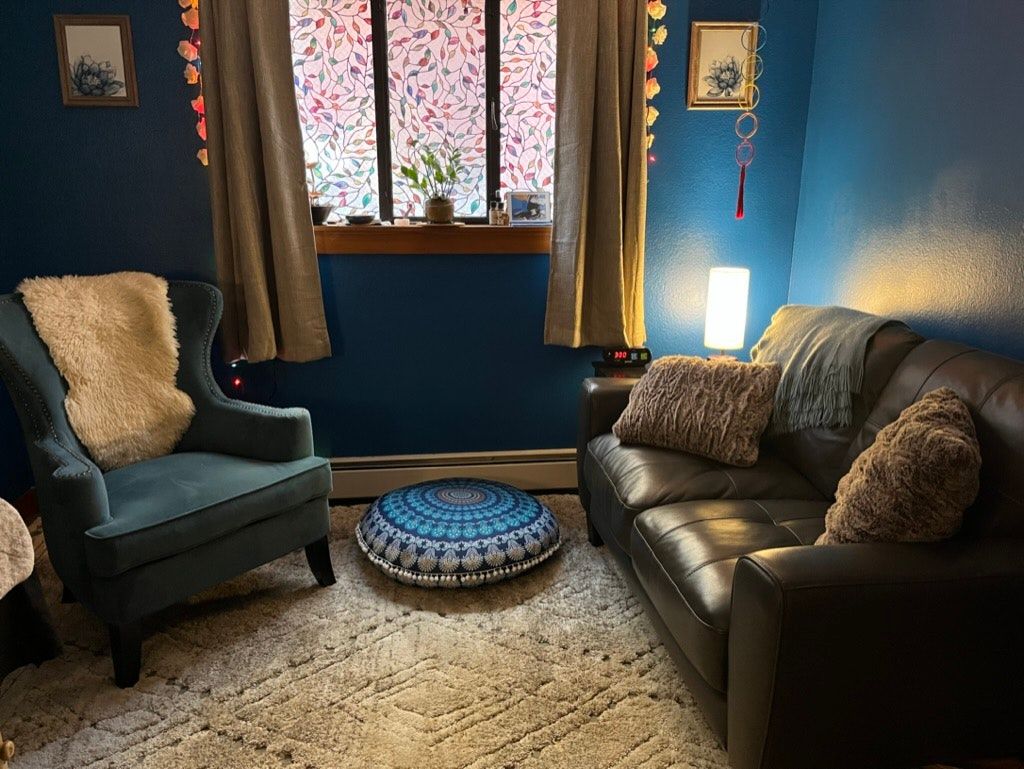 Therapy sessions with Kimberly
What will our first session together be like? What happens in ongoing sessions?
Our first session together will often times focus on connecting and exploring the needs, experiences, foundational beliefs and other significant influences that will contribute to the therapeutic relationship. Additionally, we will discuss the details of my practice, including appointment times, fees, preferred way of meeting - virtual or in-person, training, supervision and create a goal for working together. Sometimes this does not all happen in the first meeting, so there is room build on goals and needs of the client.
How long do clients typically see you for?
I started my personal practice in November 2021 and have worked primarily with long-standing clients. Clients are able to choose how often we meet, usually between 2x a week to 2x a month at the start, which has room for flexibility depending of client's needs. Some clients prefer to start in therapy and would like to keep meeting as they notice a difference between working together vs. taking a break. Others come in with an a life event and and once they work through it, they may decide to take a break, or terminate counseling. Others might reconvene when something comes up. If a client and counselor find that there is a lack of goodness of fit, we will work together, if desired, to find a fitting therapist that will allow a client to meet their goals.
Are there any books you often recommend to clients?
I tend to work with highly sensitive individuals and have loved the book The Empath's Survival Guide; Life Strategies for Sensitive People by Judith Orloff, MD. Additionally, I have personally grown from and love to share the recommendation Broken Open: How Difficult Times Can Help Us Grow by Elizabeth Lesser.
Do you assign "homework" between sessions?
Homework depends on the client's needs and interests. Some clients love to journal, while others may be interested in listening to a podcast or app, and others might spend time in meditation, reading tarot cards, exploring astrology, or going to NA or AA meetings. One consistent assignment is to begin noticing or reflecting on a concept of revelation discussed in therapy. Some clients dread homework and prefer to do the work in session.
How do you help ensure I'm making progress in therapy?
In therapy, we will discuss what brought you in and how it is affecting your life and your relationships. From here a goal may look like "client will experience noticeable increase in relationship satisfaction by increasing communications skills, exercising appropriate boundaries, practice assertiveness training (vs aggressive or passive). Client would see results when experiencing decrease in relationship highs and lows."
We will revisit this goal and notice where client is with it, potentially refine it, or if needed completely switch gears to a more pressing life event.
How do I know that it's time to start seeking therapy?
If you are considering seeking therapy, it might be a good time. Usually something initiates the curiosity or need for support and you can trust that if it is a big deal to you, it is worth trying therapy.
How can I prepare for our first session?
Come as you are! If you have something prepared to talk about when we meet, please bring it, but it is not necessary to prepare. We can message through the client portal with follow-up materials, and any questions can be answered in session or the portal as well. There will be some forms to fill out and we can do that together in session, or you can access them in your own time once they are sent.
How will I know it's time to end my time in therapy with you or reduce session frequency?
We can definitely check in, transparency on both parts is highly encouraged, and I support you in your needs. As a therapist, we know this is about you and what is in your best interest, no explanation necessary and a conversation about terms of therapy is always welcome and encouraged.
Why should I seek therapy, rather than turning to my partner, friends, or other loved ones?
When you feel as though you are alone or unable to turn to loved ones for something you may be processing internally, you might want to seek therapy.
Likewise, if you relationships are saturated with deeper issues and you feel the primary focus is on your life and stressors, which in turn is negatively affecting your mental health and the health of your relationships, it might feel nice to find someone who is there for just you and will not offer judgement, uninvited advice or react to what you are going through. Having someone who can deeply listen and strives to understand the deeper experiences you are navigating can often times improve well being.
What advice would you share with therapy seekers?
Shop around, interview therapists, sign up for the free consultations, make sure schedules, prices and personalities all line up for you. Know that you deserve help and support, nothing is too big or too small. If a therapist is not the best fit for you or not trained in what you are needing support for, keep looking. If you find a therapist you like, but may be unable to afford it, you can opt for fewer, more potent sessions, ask about a sliding scale, or ask them to refer someone who is in your price range or takes your insurance. A therapist may or may not be able to offer these things, but it is always worth a try :)
Visit Kimberly's profile to read more about her and book an initial call!