Kerry Green is a Licensed Clinical Social Worker offering remote sessions to clients in New York and Florida. She specializes in anxiety, depression, trauma, and women's issues. Kerry began her career working in the child welfare system, so she is also particularly passionate about working with children and families. Now, Kerry's work is geared towards helping women heal from anxiety, insecurity, and unresolved trauma to restore their confidence and emotional well-being.
We asked Kerry more about her work with clients and her guiding philosophies on therapy.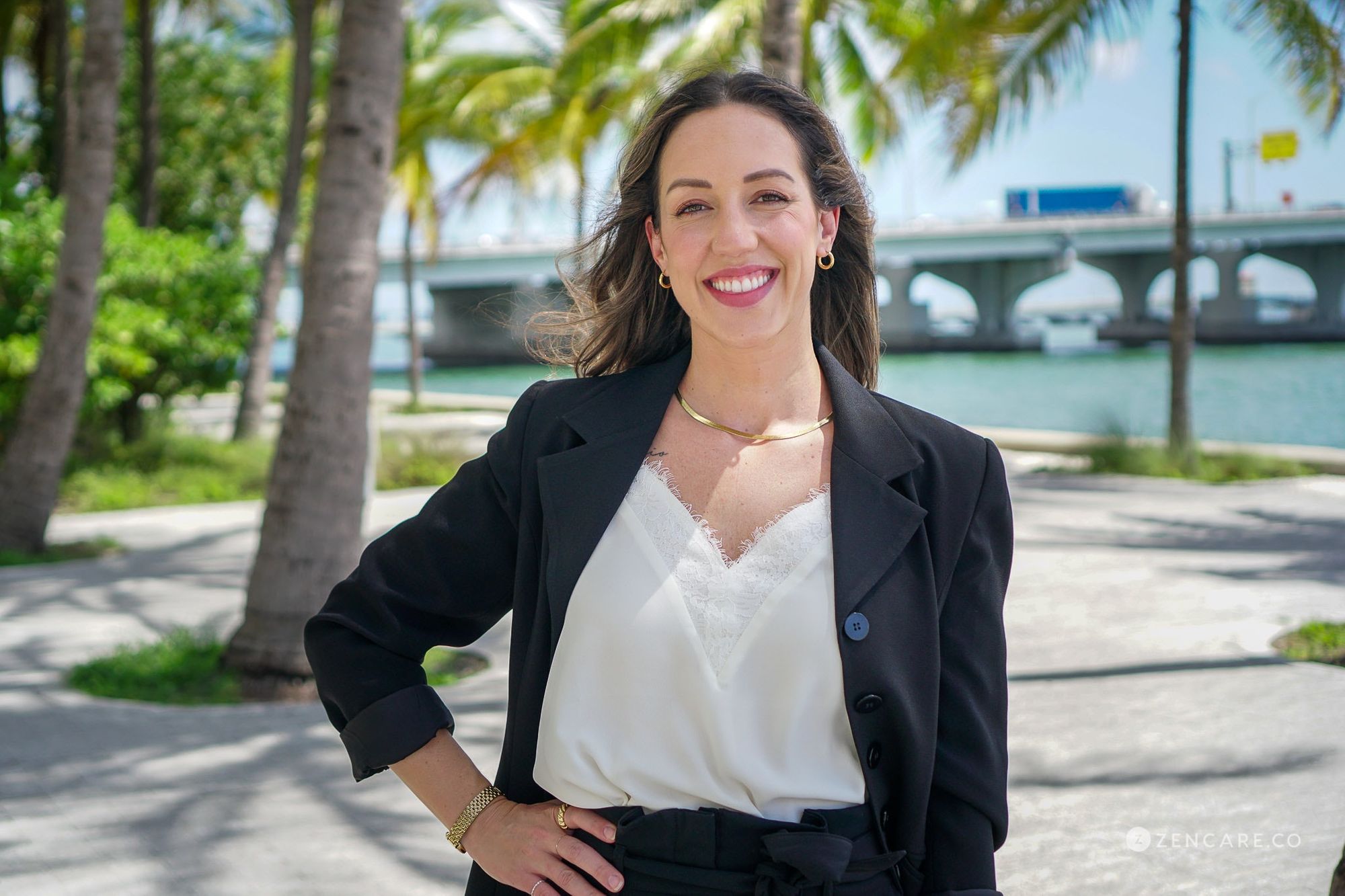 Kerry's background and personal life
How did you decide to become a therapist?
I had no idea what I wanted to do until I got to college and discovered Social Work as a career option. Growing up I experienced my own battles with depression and trauma, so helping other people cope with similar issues sounded like a dream to me. I instantly made a plan and haven't looked back since.
What was your previous work before going into private practice?
I started as a therapist working with foster children and families as well as adolescents involved in the Juvenile Justice system. I then became a Clinical Supervisor to other therapists working with these high risk populations, teaching interventions for how to cope with complex trauma and the ways that it manifests in all areas of life. I've worked with several different child welfare agencies in NYC and Miami over the last decade, until I launched my private practice in 2018.
What do you enjoy doing in your free time?
Oh gosh, so many things! I love all different types of exercise to keep my mind clear and body strong. I love running, dancing, yoga, pilates, barre and riding the Peloton. I have Scoliosis so all this stuff keeps my pain away. I am obsessed with music and go to concerts frequently.
I also love to travel and explore just about anything. I love nature and anything art related. I go back to NYC often to visit all my friends and get my dose of the city (I'm in Fort Lauderdale now). I also love listening to podcasts and reading.
Kerry's specialties and therapy philosophies
What guiding principles inform your work?
First and foremost, creating a strong therapeutic relationship that's real and authentic. I want my clients to know that I'm human, too. Therapy can be very painful and uncomfortable, so it's important to me that we can have some fun together in our sessions, as well as being serious. Since everyone's healing journey is different, I create a unique approach that is tailored to each individual. I create a safe, non-judgmental space that will provide a balance of comfort as well as gently challenging the things that are keeping you stuck.
What clientele do you work with most frequently?
I work mostly with women who are experiencing some form of anxiety, unresolved trauma, depression, relationship issues, low self-esteem, body image and parenting struggles.
Can you tell us more about your specialty in anxiety?
We all experience some form of anxiety, but due to the modern world we live in for many people it has now become excessive. We're constantly exposed to bad news which teaches us to worry that something terrible is around every corner. Also, because of social-media filled with perfectly curated content, many people have developed their own perfectionist fantasies and are filled with constant negative and self-critical thoughts because they think nothing they do is ever good enough.
I work with clients to first teach them what anxiety really is, the different ways it shows up in life and in relationships, and the reasons they may be experiencing it. Then we develop a roadmap that will allow them to learn how to create new, healthier thought patterns that will result in more positive emotions and behaviors.
Can you tell us more about your specialty in trauma?
I work with clients that have experienced all types of trauma; from childhood trauma including physical, sexual, emotional abuse and neglect, to intimate partner violence or emotional abuse, sexual assault and rape, physical assault, accidents, childbirth, natural disasters, medical related trauma...and that is just to name a few. We can experience trauma in all forms, and not every person experiences trauma in the same way. I help clients understand the effects of trauma, and normalize all of the ways it has impacted their lives. Then, we will create a toolbox that includes how to manage both the physical symptoms of trauma as well as the psychological.
Can you tell us more about your work with women?
There are common issues that impact women as a whole due to the overt and covert societal messages that we receive from the time we are young. These messages shape the way we see ourselves and the way we see the world, often times without even realizing it.
I help women navigate issues like self-esteem, body image, dating and relationships, parenting, making confident decisions, creating healthy boundaries, being assertive, meeting their professional goals, and figure out how to get their needs met in all areas of life. The bonus - I help women learn how to do these things without the guilt and shame that tends to come along with it.
What do you find most rewarding about your work?
If I can make even the slightest bit of difference in someone's life, that's all the reward I need to keep going. I love sharing the knowledge I've gained with others and seeing what interventions work the best for different individuals. I'm also obsessed with the human brain and understanding how it works. What I find the MOST rewarding out of all, is the relationships I get to form with all my clients along the way.
Therapy sessions with Kerry
What will our first session together be like? What happens in ongoing sessions?
In the first session we'll get to know each other, and I'll ask you about your goals for therapy. I'll also ask you questions about the problems you've been experiencing, what they look like, how long you've been experiencing them, and if there are any efforts you have tried before what's worked or not worked up until now.
How long do clients typically see you for?
It varies client to client. Therapy is typically weekly for 6 months to a year to accomplish the initial goals you came to work on. However, sometimes as life changes, goals change. I have clients that stay in therapy longer because they want the continued support or because they have a new goal they want to work on!
Are there any books you often recommend to clients?
The holy grail of trauma books:
Do you assign "homework" between sessions?
I do! My clients will usually leave the session with one thing to focus on for the week. That could look anything like tracking a negative thought pattern, tracking a certain trigger, or it can even be practicing a new thought or affirmation that we identified in the session. Sometimes the homework is physical, too (depending on what's going on). Some clients work on practicing certain breathing or grounding techniques, as well as certain physical activity or mindful eating.
How do you help ensure I'm making progress in therapy?
We will periodically check in about your treatment goals to discuss what progress has been made and if there is anything you would like to change/add. We may even talk about it more often! If you're doing something well, it's important for me to acknowledge that so you know it's not going unnoticed.
How do I know that it's time to start seeking therapy?
If there's something that doesn't feel right in your life, in your body, or in your mind, and you can't seem to shake it or cope with it despite your best efforts, then maybe it's time to seek therapy. We all need a little help sometimes! I know I do. Sometimes the moment we need help is glaringly obvious, and sometimes it's more discreet. If you're unsure, then I would encourage you to reach out.
How can I prepare for our first session?
Don't stress it! I'll have a list of questions I will ask you, but if there's anything important you want me to know you make a note of it so you don't forget. You'll also get my consent forms and intake questions sent to you in advance, so the first session won't be the first time we talk :)
How will I know it's time to end my time in therapy with you or reduce session frequency?
As we move along we'll have open discussions about progress, what's working or not working, and if the frequency makes sense! Sometimes clients stick to weekly and sometimes they reduce to biweekly when they feel there's less of a need, or if they have any life changes happening. We can always adjust as we're going along to make sure the process feels right.
Why should I seek therapy, rather than turning to my partner, friends, or other loved ones?
It's hard to say an exact moment, but most likely if you're starting to worry about how often you need to go to the people in your life for support, or if you do go to them and still feel unresolved, then maybe it's time to see someone. The people in our life are there to support us, but they can't be our everything all the time. And honestly, there's a limit on the type of support they can give, too, because they are not trained therapists. Also the truth is, you do deserve to have something for yourself! Something that belongs only to you.
What advice would you share with therapy seekers?
Invest in a therapist that you get excited to see each week. I would rather pay extra for someone that is the right fit for me than settle, because in that case I probably won't be consistent or I might even just forget it altogether (I know that about myself). Therapy is uncomfortable yes, but you should not dread the sessions. Make sure you feel heard, validated, and never judged. You should feel hopeful after the first session! If not, my advice is to keep trying until you find the right fit.
Visit Kerry's profile to watch her introductory video, read more about her, and book an initial call!