Katie Down is a Licensed Creative Arts Therapist and Board-Certified Music Therapist in Manhattan, NY. Katie helps clients who have suffered from past traumas restrengthen the mind-body connection and bring awareness back to one's inner strengths. As a musician herself, Katie  enjoys working with other artists, as well as with adults of all ages navigating anxiety or depression. In sessions, Katie often utilizes movement, free writing, music improvisation, song writing, and/or deep listening meditation to encourage a sense of play and creativity within her clients.
We asked Katie more about her work with clients and her guiding philosophies on therapy.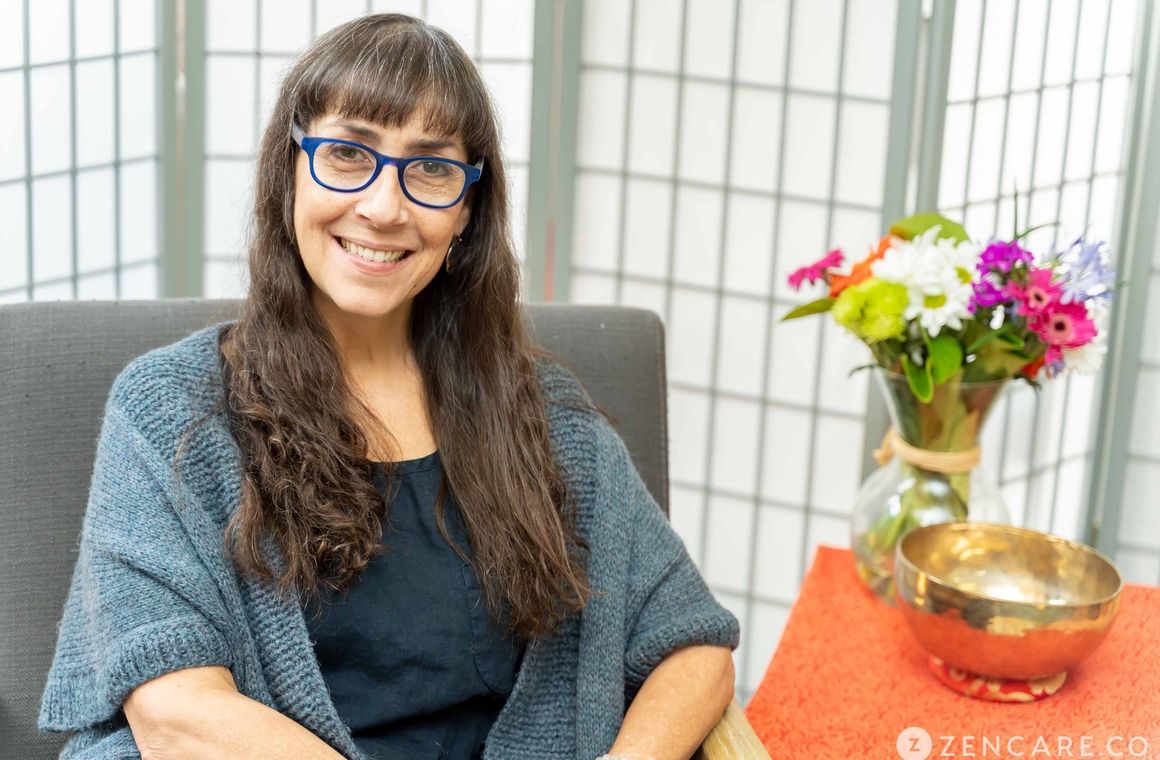 Katie's background and personal life
How did you decide to become a therapist?
I have always felt the desire to help people through music and have always been drawn to the healing powers of music in my performances when witnessing the transformation that occurs both in the audience and in the performers. After graduate school for composition, I decided to pursue a second degree in music therapy, knowing that the creative aspect of music and music-making was going to play a significant part in my journey as a therapist.
What was your previous work before going into private practice?
I worked as a freelance sound designer for theatre and film.
What do you enjoy doing in your free time?
I am a musician, so my "free time" is spent doing sound explorations, deep listening, and playing.
Katie's specialties and therapy philosophies
What guiding principles inform your work?
The guiding principles in my work are what I call the 3 "Cs" of therapy: Compassion, Creativity and Curiosity. These are elements and founding forces in my work not only as a music therapist, but in my trauma-informed psychotherapy practice as well.
What clientele do you work with most frequently?
My clientele varies, but I work most often with women, female-identified, and gender-fluid individuals who are survivors of trauma as a result of sexual assault.
Can you tell us more about your specialty in trauma?
Trauma is a disruption or shock to the system that can compromise our sense of safety as a result. The body's central nervous system is where we store trauma, so the body may respond with somatic symptoms as a result of the flight, fight, or freeze responses trauma triggers. I use EMDR and Mindfulness-Based Stress Reduction techniques to help clients find relief from these somatic symptoms.
Therapists used to describe trauma as being either "big T" trauma or "small T" trauma depending on the event. However, this is not sufficient because a "big T" trauma to one person might be a "small T" trauma to another and vice versa.
Can you tell us more about your specialty in helping clients with anxiety?
The root causes of anxiety can be manifold, from dietary and lifestyle choices to partnership difficulties, job-related stress, and/or money concerns. Mindfulness-Based Stress Reduction can help us gain an understanding of some of the root causes or our anxiety through a non-judgmental lens and help provide relief from symptoms.
Can you tell us about your work with survivors of sexual assault?
I work with mostly female survivors of sexual violence but am open to anyone who has been through a sexual assault. When our boundaries are crossed and the sense of safety in the world compromised, our nervous systems can become overloaded and the symptoms of trauma can overtake us. I work closely with my clients to help them come to terms with what happened, begin the process of healing through the processing of emotions, and manage physical symptoms in a way that enables strength and resilience.
What do you find most rewarding about your work?
The connections made between  clients and myself, as well as the connections made within clients to themselves in self-actualizing, self-loving, and vulnerable ways is the most rewarding part of the work.
Therapy sessions with Katie
What will our first session together be like? What happens in ongoing sessions?
Our first session is a "getting to know you" session for each of us in which the 3 C's come into play: Compassion, Curiosity, and Creativity. If it feels like a good fit, we can mutually agree to continue the work together. Sessions can be goal-oriented or more process-oriented; it's truly open to whatever your needs are in the moment. Some clients like to have a finite set of sessions scheduled towards specific goals, while others simply need a safe and healing landing post each week to discuss and unpack whatever is coming up for them in that session.
How long do clients typically see you for?
Some clients come for one or two sessions and some for years!
Are there any books you often recommend to clients?
I love the following books and have recommended them to my clients:
1. A Field Guide To Getting Lost by Rebecca Solnit.
2. Wherever You Go, There You Are by Jon Kabat-Zinn
3. Poems by the following writers: Audre Lorde, Gwendolyn Brooks, Wislawa Szymborska, Bell Hooks, Tracy K. Smith
Do you assign "homework" between sessions?
I do assign homework, as I feel it is a way for my clients to continue the work and thread our sessions together. However, sometimes homework is not the right thing for some clients and the boundary of our one session per week is enough.
How do you help ensure I'm making progress in therapy?
We do regular "check-ins" to see if progress is being made and how the sessions are helping.
How do I know that it's time to start seeking therapy?
I feel that if we are feeling overwhelmed, unable to shake certain emotional states, burdened down, or feeling hopeless, therapy can help us find the root causes of our distress and work through difficult emotions.
How can I prepare for our first session?
I provide an intake form with a lot of questions that cover a comprehensive overview of your health, including nutrition, vitamins, supplements, medication, hobbies, and interests. For my Reiki and Sound clients, I often ask you to come in comfortable/loose clothing.
How will I know it's time to end my time in therapy with you or reduce session frequency?
Most of my clients know when it's time to terminate sessions because they feel much better or their symptoms have reduced and they are able to navigate the world without the help of therapy. In the process, I will often move our sessions to bi-weekly and then to as-needed.
Why should I seek therapy, rather than turning to my partner, friends, or other loved ones?
If you are feeling overwhelmed and unable to navigate day-to-day tasks, a therapist can help you start to manage things, put things in perspective, reduce anxiety or depression, and make space for you to express difficult emotions. Friends and family might not be able to provide these things non-judgmentally.
What advice would you share with therapy seekers?
Meet and interview a few people so that you find the right match for your needs! Therapy is a process and takes time to develop rapport and trust. Go with your gut, ask questions, and know that therapists want the best for you and will do our best to guide you on your healing journey.
Visit Katie's profile to read more about her and book an initial call!