Katherine Mahan is a Licensed Professional Counselor in Virginia specializing in helping college students & young adults navigate life transitions, anxiety, relationship challenges, and other common challenges of young adulthood. We asked Katherine more about her work with clients and her guiding philosophies on therapy.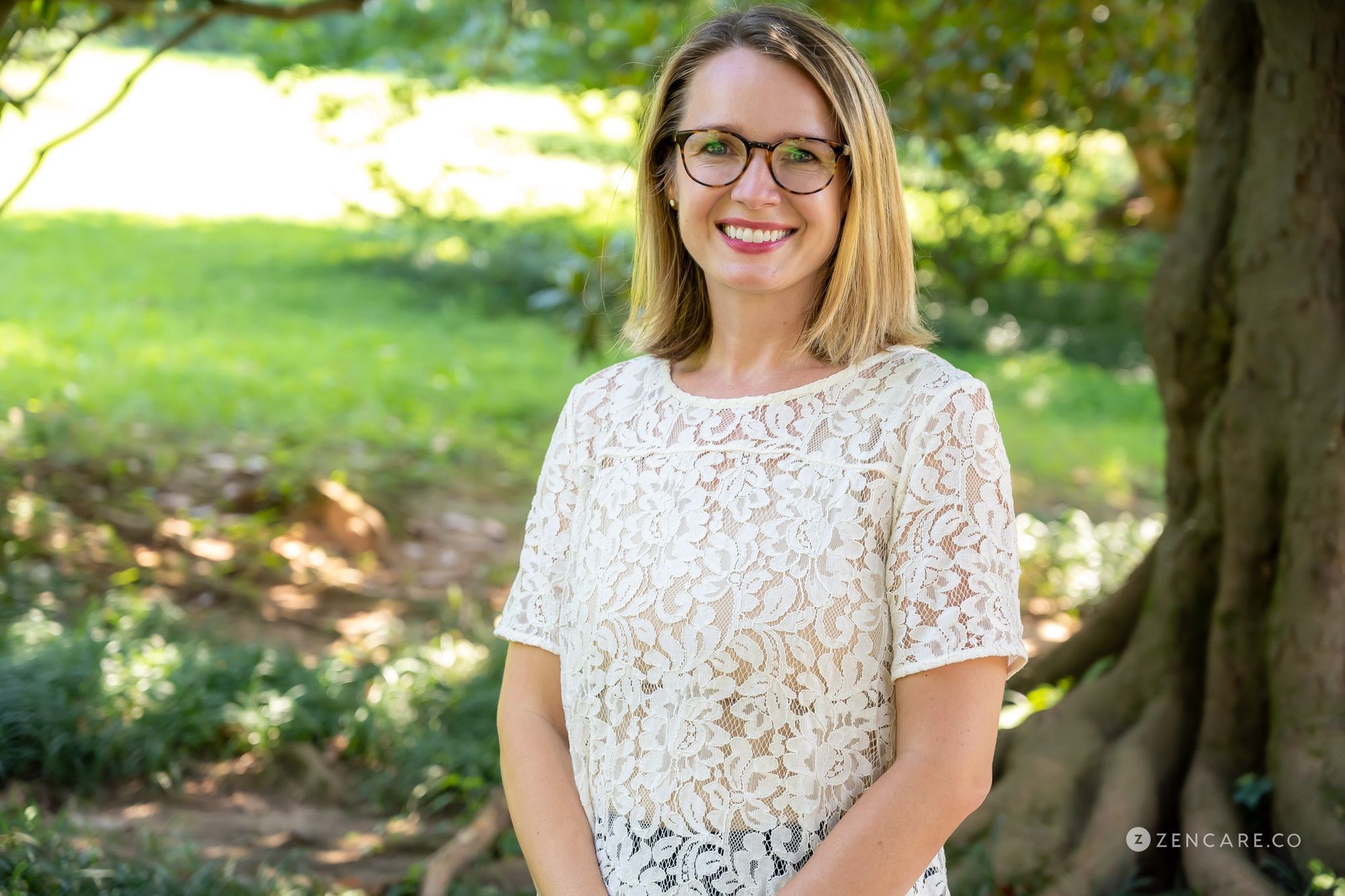 Katherine's specialties and therapy philosophies
What guiding principles inform your work?
I firmly believe that all of us are worthy of love and belonging (hat tip to Brené Brown). I also live in the same world you do and see the systemic injustices that hurt us all in different ways. I do my best to practice cultural humility and work with my clients to consider how their intersecting identities may impact their experiences in the world.
My goal is to create a space in which you feel safe, accepted, and empowered to sustain positive and fulfilling relationships with yourself and others. I also believe we need to keep it real with one another. There are benefits to seeing the bright side and practicing gratitude, but there are also benefits to acknowledging that sometimes things are downright hard. Sometimes, they might even stay that way. Regardless of where you are today, I'll meet you there.
What clientele do you work with most frequently?
My favorite clients are asking tough questions about themselves and their worlds, seeking to find meaning, joy, and growth. Maybe you're seeking support through a transitional phase, getting ready to finish college, learning to "adult," or preparing for marriage or parenthood. If you are looking for a warm and collaborative space to process your emotions and maybe get some podcast recommendations along the way, we might be a good fit. And if the phrase "highly sensitive person" means something to you (or feels like it should), I've got you.
Can you tell us more about your specialty in working with young adults?
With a decade of experience in university counseling centers, I specialize in work with young adults who want to build a fulfilling and meaningful life for themselves. This can mean letting go of old habits, building coping skills, improving communication and boundaries, and getting to know and love yourself as you are. In our work together, you'll better learn to know who you are, what you want, and where you want to go.
Can you tell us more about your specialty in working with highly-sensitive persons?
Many of the people I work with qualify as Highly Sensitive Persons (HSP)- and most of them don't even know it! Being an HSP is a trait that's evolutionarily advantageous, and it can create some unique challenges in our life and relationships. By better understanding how your sensitivity impacts you and your responses to stimuli, you can learn how to allow this trait to help you live whole-heartedly.
Can you tell us about your specialty in helping clients navigate major life transitions?
Transitions are a part of life, and they are typically filled with adjustments. Even highly anticipated transitions, such as attending college, moving to a new area, or entering marriage or parenthood, can be overwhelming and stressful at times. Having a space to process all the feelings and frustrations about these changes can help you feel best prepared to address (and even embrace!) them.
What do you find most rewarding about your work?
Life isn't easy, and it's not supposed to be. There's so much outside of our control, but we can choose to know and love ourselves, to do things that bring us meaning, and to surround ourselves with good people. Sometimes we're doing all the right things, and life is still hard! Talking about that can help. You're not alone.
Therapy sessions with Katherine
What will our first session together be like? What happens in ongoing sessions?
In our first session, I'm hoping to get to know more about you: What's important to you? Who are the important people in your life? How do you spend your time? What's working for you, and what isn't? As I learn about you, I'm also aiming to establish a positive and authentic relationship that can facilitate growth. Laughter is often involved; tears may be, too. We'll welcome it all.
Are there any books you often recommend to clients?
I'm a natural student; in elementary school, I wouldn't go out and play until I'd finished my homework. As an adult, I continue to try to soak up wisdom from various resources. Both personally and professionally, I strive to live up to Dr. Maya Angelou's directive: "Do the best you can until you know better. Then when you know better, do better."
In addition to professional training on issues such as diversity, grief, spirituality, and more, I am constantly reading or listening to podcasts. A couple of favorite recommendations include:
Do you assign "homework" between sessions?
Homework is rare, but you can expect to occasionally receive emails with various resources to support you on your journey. Wisdom is everywhere, so I may suggest podcasts, poems, books, articles, and more that I believe could be valuable to you. These are for you to review at your own pace, when time and interest allow. They'll be ready when you are.
How do you help ensure I'm making progress in therapy?
Progress isn't linear, but it often starts with feeling heard and validated. As our relationship develops and as you begin identifying and enacting desired changes in your life, I'm here to both cheer on your successes and gently challenge you on the times when you're getting in your own way. Regardless of your choices, I'm here to accept and encourage you to be your best self, whoever that may be.
How can I prepare for our first session?
Just bring yourself! It's normal to feel nervous or scared, especially if you don't have previous therapy experience. I'm a professional, but I'm also a human: my style is warm and casual, and I'll do my best to help you feel safe and at ease.
Why should I seek therapy, rather than turning to my partner, friends, or other loved ones?
It's wonderful to have trusted people in our life that we can turn to when we're struggling, but there are times when it's helpful to have a neutral third party. One of my earliest supervisors described being a therapist as being more than a friend, and also less than a friend: you might choose to share more deeply and honestly with your therapist than you would with your average friend, and you won't have to worry what I'll think about you later when we see each other at a party, or if I'll tell so-and-so about your struggles. If you want to be able to talk with someone who will treat you with warmth and respect, no matter what secrets you hold, a therapist may be a good fit for you.
What advice would you share with therapy seekers?
Therapy is hard work, but honestly, sometimes the hardest part is getting started: it can be hard to get the motivation to reach out to a therapist, or to know what to say. Once you reach out, it can be hard to get a response at times, or hard to find someone who can fit you into their calendar. Insurance can create headaches, and private pay can be expensive. Keep at it- you deserve this investment in yourself.
Visit Katherine's profile to watch her introductory video, read more about her, and book an initial call!