Karen Wall is a Licensed Marriage and Family Therapist in California specializing in post-traumatic stress disorder (PTSD), anger management, and dementia. We asked Karen more about her work with clients and her guiding philosophies on therapy.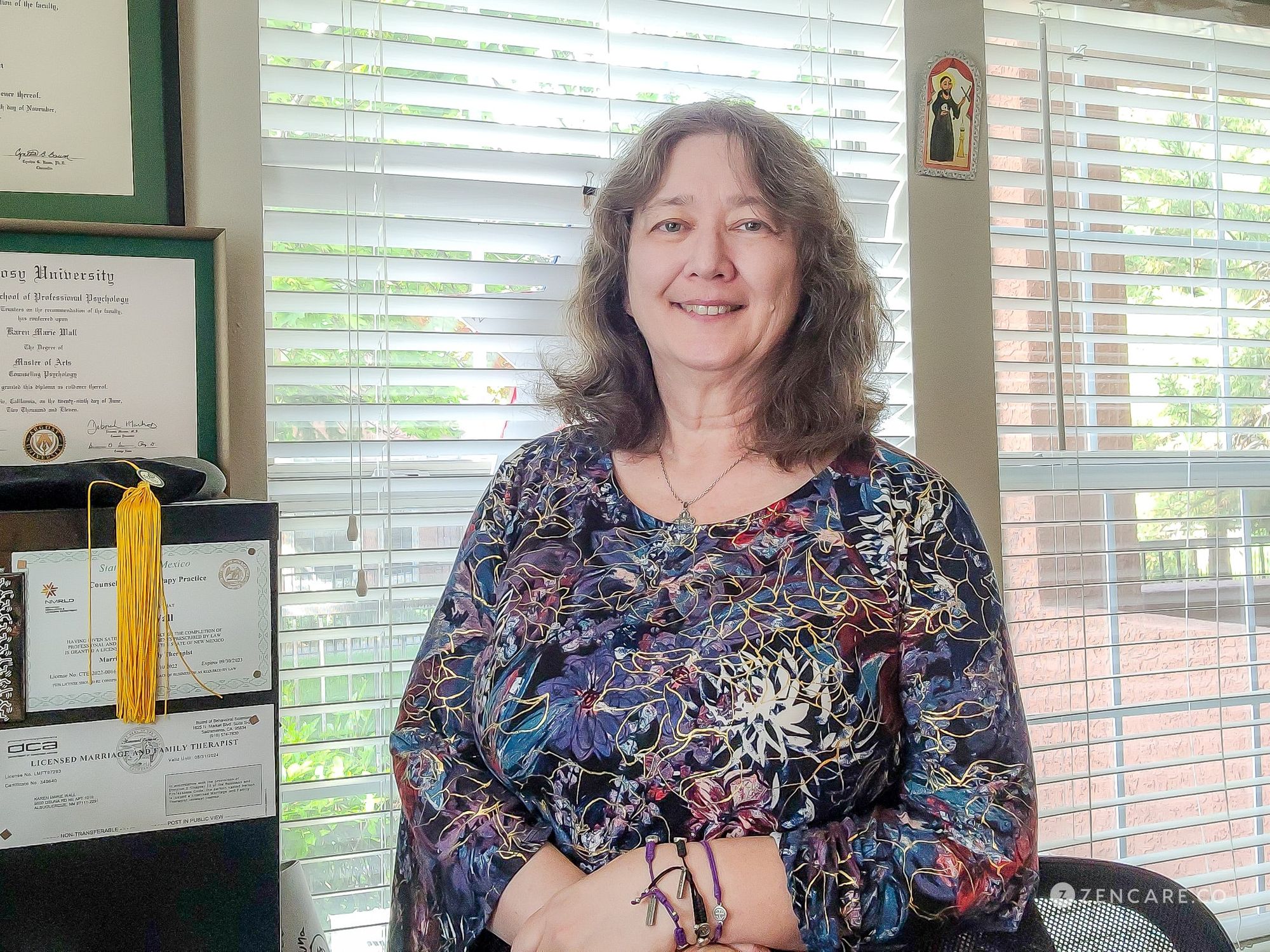 Karen's background and personal life
How did you decide to become a therapist?
I was always going to do something in medicine from childhood. After collecting degrees in the sciences, I became an RN and served in the US Army (23 years total). My specialty was Psychiatric-Mental Health Nursing. When I retired, I entered the VA system and saw that spending time with patients was very appealing. I was wanting to go for my MSN, then received a post card in the mail for a graduate LMFT program at Argosy University.
Knowing that as a therapist I would be able to spend time (more than 15 minutes) with my patients and really get to know them and work with them, which is somewhat what I did in my nursing jobs. It was the best decision I ever made for my career! Once I got the MA in Counseling Psychology, I decided I wanted to take the extra leap of faith and go for my doctorate. Now I teach future therapists how to practice the art of therapy, and I mentor them in learning to enjoy the opportunities to know people and help them.
What was your previous work before going into private practice?
I was an RN in the Army and then in the VA. I was a Mental Health Nurse Educator and then a Dementia Care Coordinator in a VA "nursing home." I started my private practice with telehealth soon after I got my LMFT license.
What do you enjoy doing in your free time?
Computers/tech, reading (more specifically Audible), anything with animals (I have a service dog), crafting (painting, crocheting, creating), vegging out on movies with my mom (mostly old movies)
Karen's specialties and therapy philosophies
What guiding principles inform your work?
My guiding principles include giving unconditional love and teaching unconditional self-love, sharing what I know and what I have experienced as part of connecting with my clients, understanding the importance of spirituality and even religion in the healing process, welcoming culture in any form.
What clientele do you work with most frequently?
I work with adults age 19 and up. I'm a Veteran, I mainly see Veterans and Active Duty and their family members. I also specialize in geriatric mental health, especially with dementia and caregiver support. I will work with anyone who needs help, yet these are the folks I do most of my work with.
Can you tell us more about your work with clients
While I do work with other types of PTSD, I specialize in combat PTSD because I am a combat veteran with PTSD and 23 years of service, which has allowed me to really bond with my clients who know that I know what they are experiencing and the culture of the military. Having the additional experience of 30 years of psych nursing, working inpatient and outpatient, I have seen first hand the challenges veterans face when trying to relay their story to civilian caregivers/providers who don't have an idea of what they are hearing. Even if these clinicians have done the homework about the military, they have not worn a uniform.
Can you tell us more about your specialty in anger management?
I have always been interested in teaching people how to manage their anger. It started back in the 90s when I was a psych nurse in the army, managing an inpatient unit. I came across a book, Letting Go of Anger by Potter & Efron, and the book's message really spoke to me about how people get angry. I put together a group for the patients to learn about Anger Styles and the importance of knowing why one is angry in order to be able to more accurately deal with it and manage it. I have continued this throughout these 30 years and have had patients suddenly have the light bulb turn on and the look of empowerment on their faces.
Can you tell us more about your specialty in working with patients with dementia?
AS a psych nurse with the VA, one of my jobs was as Dementia Care Coordinator in a Community Living Center (formerly nursing homes). I became fascinated with dementia and especially the neuroanatomy of the disease. I taught nursing staff ab out different types of dementia and different presentations of symptoms. I developed family education about the neuroanatomy and physiology of dementia and how it affects their loved one's brain, and in turn, their behavior. The family members and caregivers were able to take the information and improved their visits and stress levels. At one point, I was able to introduce robotic pets into the population with great results; unfortunately, I was not able to garner support from the organization to expand and study the specifics, and therefore when I retired the idea got lost in the dust.
What do you find most rewarding about your work?
Seeing the light go on in a client's eyes when they finally understand what it is they need to do to heal and return to a functioning life.
Therapy sessions with Karen
What will our first session together be like? What happens in ongoing sessions?
Our first session would be a "chat" of sorts- not formal, but not informal. This first session would be the intake, so I would ask for some personal demographics, and then for you to share with me what has been happening in your life that brought you in for help. If I know you are a Veteran, I will ask you about your service experience so I can have a better idea of the direction of our sessions. I have an intake form that I have you do prior to our first meeting, and I have that with me during our first session to guide my questions.
Ongoing sessions are similar to the initial session, just more in depth and focused. These sessions involve mostly talking about specifics of your condition, including past experiences (Adverse Childhood Experiences) that have come forward with you to adulthood and are affecting your mental and physical health. I will ask you how you have been since our last session, including new problems or progress with symptom management. I do a lot of asking you for your ideas about solutions or insights, as I find it a good way to make sure you are immersed in your own problem solving and are then more invested in your outcomes. I am very respectful and receptive to your words; however, I do not mince words. I have had my clients thank me for this way of talking with them.
How long do clients typically see you for?
If it's through insurance, it can be from 8-12 sessions. If it is a veteran through my pro bono work for Give An Hour, I don't put a limit.
Are there any books you often recommend to clients?
Do you assign "homework" between sessions?
Yes, I do assign homework between sessions that have to do with what we talked about that day or previously. I am able to focus the homework to have you focus on specific aspect of what is going on with you. I give homework in CBT, my favorite being the thought record, which teaches how to change automatic negative thoughts, and self-love. I have you do journaling (including gratitude journaling).
At times, depending on if I feel there is something I really want you to work on between sessions, I will customize homework. I also give homework through Mentegram, which is a HIPPA secure site where I am able to assign certain clinical tools to you to do regularly, after which I see them and can plan for our next session.
How do you help ensure I'm making progress in therapy?
I tell you what I am observing and what I have seen happening with you that shows me your progression. I also ask you how you feel about it, and what is telling you that you are making progress.
How do I know that it's time to start seeking therapy?
Most people know when they need therapy when they have hit their bottom and have exhausted everything they had in their own arsenal. IF it is something attached to a legal process, you don't have a choice.
How can I prepare for our first session?
Everything is done electronically, so I will send you specific forms to fill in and send back to me- intake questionnaire and the usual consents. You just have to bring yourself and maybe something to take notes with if you are so inclined. Don't be intimidated by my credentials either. I'm just me.
How will I know it's time to end my time in therapy with you or reduce session frequency?
I will ask along the way, when I am seeing progress and you are feeling progress, and make recommendations for frequency of future sessions, eventually leading to discharge.
Why should I seek therapy, rather than turning to my partner, friends, or other loved ones?
It can be very helpful to have a disinterested third party (me) to listen without bias or judgement. I do encourage you to share with these other people in your life and bring back their input for us to discuss; however, it will be more advantageous to have me to do the clinical pieces with you.
What advice would you share with therapy seekers?
Ask for help. Don't be swayed by fear or shame when deciding. Therapy is there for a reason, and you will find it was a good choice to make.
Visit Karen's profile to read more about her and contact her for an initial consultation!