Dr. Joe Atanasio ("Dr. Joe") is a Psychologist in Queens, NY who specializes in working with clients experiencing anxiety, grief/loss, work stress, depression, trauma, and/or life transitions. Dr. Joe has a particular focus on incorporating mindfulness into his sessions with clients, and he frequently works with clients to integrate breathing exercises, relaxation techniques, yoga, and/or other meditation practices into their daily lives. Dr. Joe also uses other evidence-based approaches, including acceptance and commitment therapy (ACT), cognitive behavioral therapy (CBT), existential therapy, and supportive therapy, to provide his clients with a treatment plan that best supports their needs and goals.
We asked Dr. Joe about his work with clients and his guiding philosophies on therapy.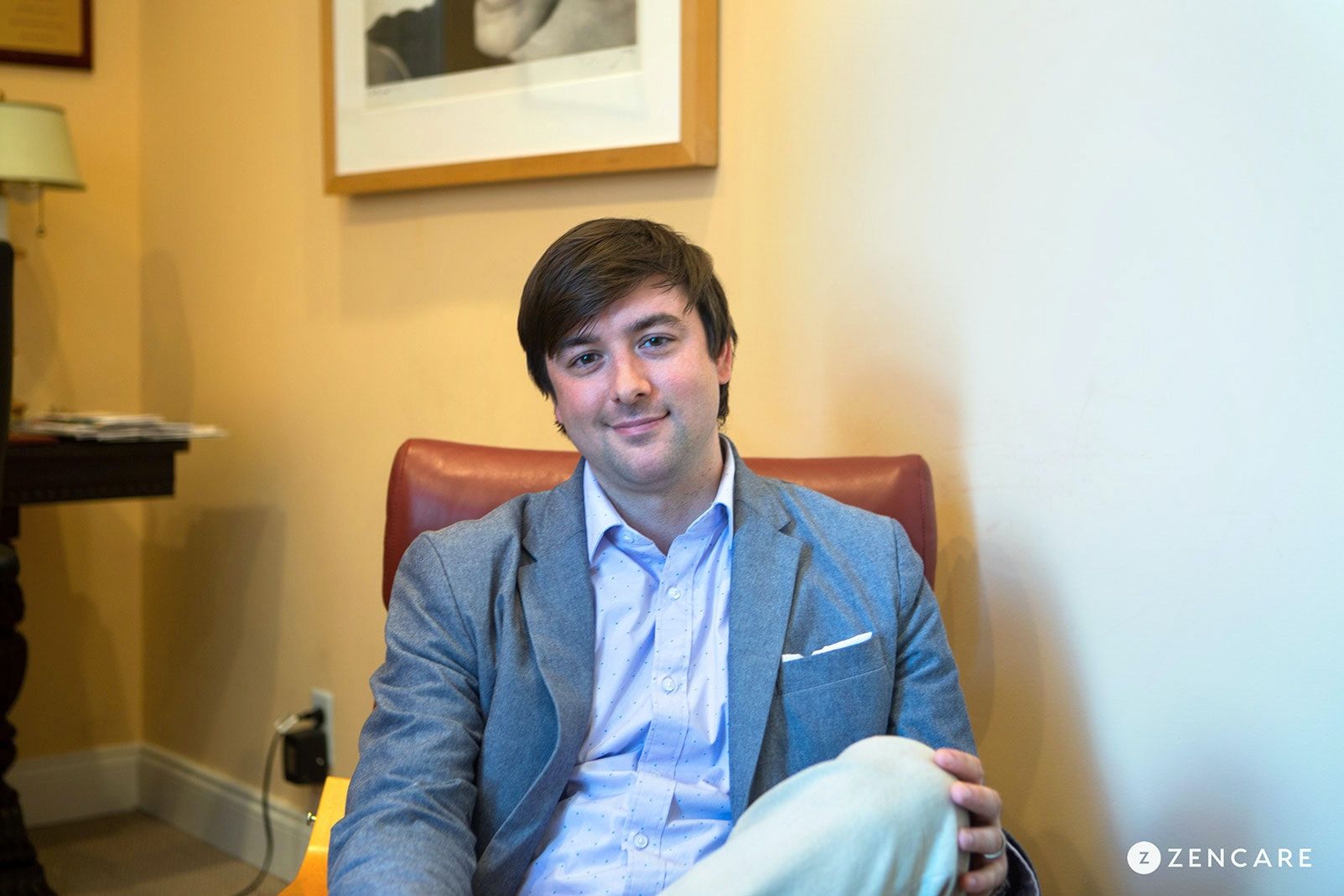 Dr. Joe's background and personal life
How did you decide to become a therapist?
I was working in a NYC emergency room as a medical scribe right after college. I saw such a huge need for mental health services in the emergency room for under-served populations, including those who had no home or who had no access to mental health. In addition, I saw many college-age students coming into the ER for various mental health reasons, following the overall trend of increasing depression, anxiety, and suicidal ideation in young adults. I decided to further my education in mental health so that I could help individuals find support before they end up in an emergency room or inpatient program.
What was your previous work before going into private practice?
After getting my doctorate, I specialized in working both in the school system and with older adults in nursing homes, finding my work with these populations incredibly rewarding. They challenged me to think outside of the box when it came to therapy, something that I greatly pride myself in when working with all clients.
What do you enjoy doing in your free time?
I am a huge tabletop game player (D&D, Call of Cthulu, Eldritch Horror). I also enjoy all sorts of video games, anime, and manga. On my weekends I am mostly spending time hiking and enjoying the outdoors with my wife and two kids. When I get a chance, I try to get this aging body to go fencing both casually and competitively, as I fenced throughout high school and college.
Dr. Joe specialties and therapy philosophies
What guiding principles inform your work?
I am primarily a "person-centered" therapist, following the tenants of empathy, non-judgement, authenticity, and unconditional positive regard toward my clients. Over the years I have been introduced to mindfulness and meditation in my personal life which has changed not only the way I view myself, but also human growth and potential. I find ways to challenge my clients to experience each moment as deeply as possible, so that their lives are not restricted by the unchangeable past or unpredictable future.
What clientele do you work with most frequently?
I work with a wide range of clients from age twelve up to older adults. One of my biggest continuous professional goals is to keep myself culturally competent and sensitive to my clients, who come from all different backgrounds and creeds. I am a LGBTQ+ advocate, and one of the greatest aspects of working and living out of Queens, NY is that I am living and practicing in a wonderful melting pot of humanity. I am also am a self-proclaimed Geek and love working with any clients who find themselves engaged in Geek culture. I incorporate many aspects of Geek culture into my therapeutic practice where appropriate including video-games, comics, anime, and tabletop games such as Dungeons and Dragons.
Can you tell us more about your work with clients dealing with social anxiety?
I suffered much of my teenage and college years with social anxiety and have found ways to increasingly accept myself as a whole valuable person, flaws and strengths. I have found that my passions are what make me unique and valuable as a human being, and assisting clients in asserting their values and passions becomes key to fighting social anxiety.
Can you tell us more about your specialty in grief/loss?
This is a subject that many clinicians stay away from in their practice because of the high emotional stress that comes with the territory. After working in nursing homes and hospice for 3 years, I found great amounts of insight into the experiences of death and dying, both from the perspective of my clients and their families. Grief and loss is essential to being human, and while it is in no doubt one of the scariest feelings and experiences we can encounter, it is also the most revealing and compassionate moments we can offer each other.
Can you tell us about your work with clients dealing with work stress and/or work transitions?
My practice of mindfulness and meditation has changed the way I perceive "work" and has helped me make positive choices in my career path. More than that, these skills can help individuals engage in solution focused behaviors and coping skills which will clarify your priorities when it comes to work and your profession.
What do you find most rewarding about your work?
The best moments of my work are when a client discovers something new about themselves and recognizes that so many doors and options have opened up to them after the hard work they have put into therapy. There is nothing much greater than being in the moment with my clients, in a tranquil room where we are the holder of secrets, pillars of trust, and mirrors of positive reflection.
Therapy sessions with Dr. Joe
What will our first session together be like? What happens in ongoing sessions?
I want to be able to hear not only what has brought you to therapy, but what has brought you to this critical moment in deciding that change is needed. We are often so resistant to change as humans, and taking a step into a therapy room is one of the biggest you can do. I would like to begin to know you as a human being, as a person, and as a valuable individual in this world. I will provide any psycho-education I can on what therapy is, and how it can help in a variety of ways.
How long do clients typically see you for?
I have had clients come in for 3 sessions for crisis management, and I have clients who have been seeing me for 3+ years. Therapy length is all up to you, and it is a discussion we visit every so often. I usually start my clients with weekly sessions, but clients also are able to go to every other week sessions or even monthly sessions for maintenance.
Are there any books you often recommend to clients?
I often recommend:
Do you assign "homework" between sessions?
No homework, just work. Therapy is work, and while I don't ask someone to fill out sheets or forms (unless that is particularly related to one of your goals in therapy), I will sometimes ask you to reflect on certain ideas that we discuss in our therapy sessions throughout the week.
How do you help ensure I'm making progress in therapy?
I like to check in with my clients about their own perceptions of therapeutic progress usually on a month-to-month basis. I also have screeners and psychological measures that I sometimes use for more objective progress. However, most progress from the client comes up during regular talks during sessions which I reflect and point out to my clients.
How do I know that it's time to start seeking therapy?
You should seek therapy whenever you ask yourself the question "should I go to therapy?" Remember, just because you come in doesn't mean you have to stay. And while one therapist may not fit, another may. And finally, there are so many ways to heal apart from traditional talk therapy or psychotherapy. Sometimes coming in to a therapy session can help you look at all the options you have.
How can I prepare for our first session?
I do have some simple paperwork that you can easily fill out online in my online portal so that during our first session we can get right into talking about your journey. Please know that you can always talk about anything and everything, or also hold back things you are not ready to talk about. Most importantly, if you have any questions about therapy, bringing them with you to first session is an absolute must! I believe it is a therapist's duty to include clients in the healing and therapy process, not hide it from them.
How will I know it's time to end my time in therapy with you or reduce session frequency?
I will definitely check in with you every so often, especially as I see progress that sometimes clients may overlook or not initially notice. Before we end therapy, I usually offer 2-3 termination sessions to end the therapeutic relationship and make sure my clients have a plan and idea of where they are going on their new journey.
Why should I seek therapy, rather than turning to my partner, friends, or other loved ones?
Therapy does have the benefit of having a neutral third party look at your experiences and emotions that are not clouded by previous attachments or knowledge of you. Furthermore, therapists have been specially trained to be understanding, empathic, and practical in their providing of resources and coping skills to manage many difficulties and problems. I would never suggest to my clients NOT to turn to supportive partners, friends, or loves ones; it is just that also having a therapist can boost your resources!
What advice would you share with therapy seekers?
Don't give up, when you find the right therapist you will know it.
Visit Dr. Joe's profile to watch his introductory video and read more about him!