Jessica Foley is a Licensed Mental Health Counselor in Waltham, MA who specializes in helping women navigate life transitions, anxiety, depression, eating disorders, and body image. Jessica also has extensive experience working with women throughout the perinatal period and helps new mothers balance newborn care with their own needs. She operates from a Health At Every Size model and aims to help her clients breakdown isolating barriers and build stronger connections with themselves and others.
We asked Jessica about her work with clients and her guiding philosophies on therapy.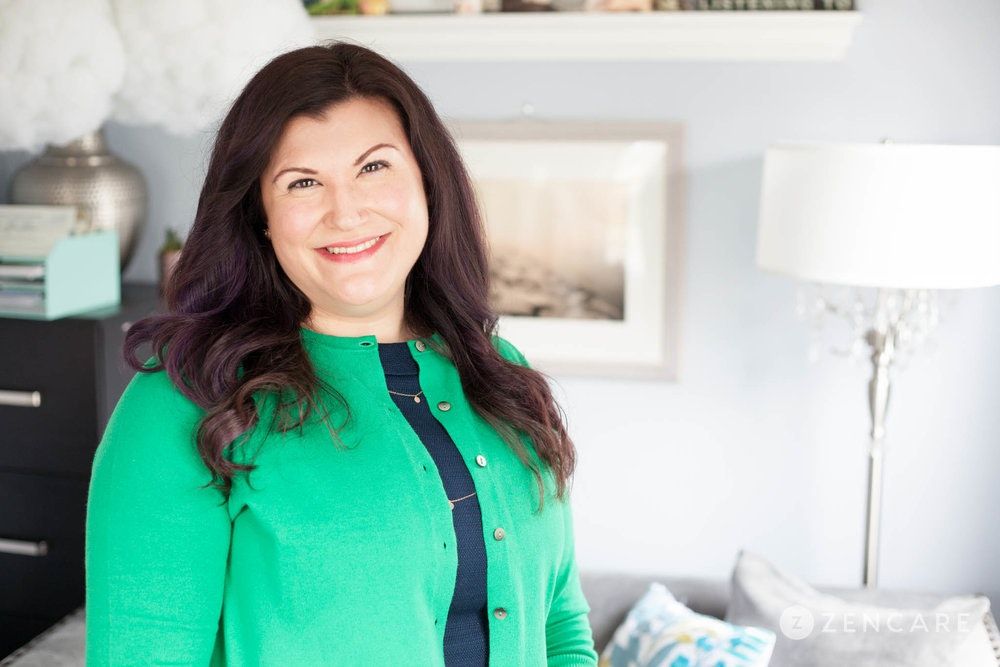 Jessica's background and personal life
1. How did you decide to become a therapist?
I always knew I wanted to be a therapist; I had very early experience with therapy personally and thought it was the best job ever. I love the aspects of helping others, learning  about women's mental health, and seeing how these topics also apply to myself. I focused my training on women in-particular because I knew that was the population I wanted to work with.
2. What was your previous work before going into private practice?
Before private practice, I did several different things. Clinically, I worked at Planned Parenthood in Boston and did work with adolescent girls in residential settings. I then took a year break from clinical work, where I spent time teaching doctors how to use their electronic medical records. It was actually a great time for me, I learned so much about women in STEM-related fields, which is another passion of mine.
3. What do you enjoy doing in your free time?
I love spending time with my cat & dog, Tiki and Figment. I am part of a book club and try to read regularly. I am often just hanging at home with my husband and watching Netflix. I also always need a trip to look forward to - I love to travel. For my own well being and self care, I meditate often and do spinning, yoga, or take my dog for a walk (and limit my time on social media!).
Jessica's specialties and therapy philosophies
4. What guiding principles inform your work?
I'm committed to creating a non-judgmental space for women to explore all aspects of their lives. I have trained extensively in mindfulness and the use of meditation in psychotherapy, and I infuse my work with these tools. Above all, I believe that you are the expert of you, and it's my job to shine the flashlight in some dark corners and help you listen to your own inner wisdom. I am social justice-oriented and aware; I welcome all those who identify as women into my practice.
5. What clientele do you work with most frequently?
Typically I'm working with women in their late 20's through 50's, but right now a majority of my practice is composed of pregnant women and new moms, as well as women working on making peace with their bodies and food with Intuitive Eating. I love working with moms because when they put themselves first, the results in their lives are often immediate. Intuitive Eating is another passion of mine, which is based in helping clients listen to their inner hunger and fullness, as well as learning to accept and trust their body. Women that I see are often high-achieving, well-educated individuals that are committed to self growth.
6. Can you tell us more about your specialty in women's reproductive health?
These are women that are experiencing anxiety or depression around infertility, reproductive challenges, depression, or anxiety during the pregnancy or postpartum period. There are very unique changes to this time in one's life, and I have had highly specialized training to help women cope. Pregnancy, and new motherhood in particular, are times that our society tells us are supposed to be exciting and fun, so it can be extra hard if we are not feeling that way. I help moms develop flexible thinking and realistic expectations of themselves and others, as well as learning to ask for help.
7. Can you tell us more about your specialties in anxiety and depression?
Anxiety and depression can sometimes present differently in women and manifest in ways that sabotage our growth. I help women understand how their thoughts and behaviors are connected and how these impact mind and body. Through these methods, we are often able to change our relationship to anxiety and depression, and increase our tolerance for discomfort - without interrupting our lives.
8. Can you tell us about your work with clients with disordered eating utilizing a Health at Every Size approach?
Intuitive Eating and Health At Every Size are methods that honor your own body's needs as an individual. It acknowledges that diets don't work, and that your relationship with food and your body has been shaped by many influences - not all of them good. In this work, I help women who binge understand both the physical and emotional reasons for these patterns and assist in developing new ones.
9. What do you find most rewarding about your work?
I love seeing women gain insight, understand why they behave the way do, and then feel empowered to change it. Bearing witness to someone's healing and resilience keeps me in awe, and I am always rewarded from the therapy relationship in some way; I am changed by every single client.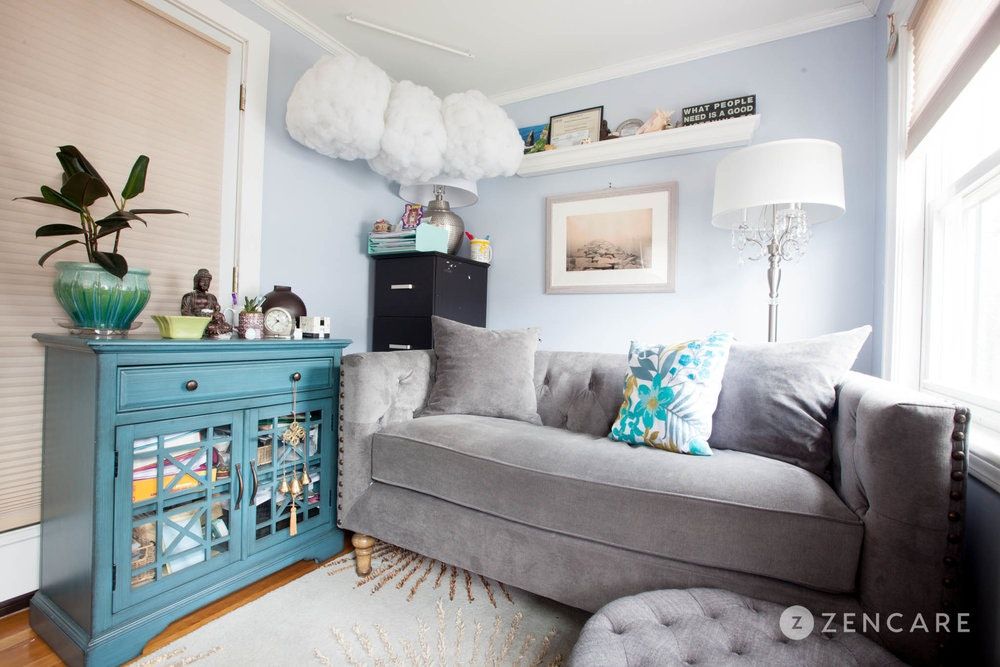 Therapy sessions with Jessica
10. What will our first session together be like? What happens in ongoing sessions?
During our first session, we are really getting to know each other as people. I usually spend the first few minutes filling out some paperwork, and then I start by asking you what prompted you to make an appointment. I am using this time to take down your history, and may ask specific questions about your family to better understand the world you lived in as a child. Then, we discuss your goals for our work together, what you want to get out of therapy, and how we'll know when we meet some of those goals. I usually end by explaining a bit of my process as a therapist and how I operate. I offer a time for questions as well.
Ongoing sessions are often client-directed, using the time to check-in about goals and discuss any issues that have come up since our last meeting. Some of my clients enjoy bringing a list of things they want to discuss that session, which can help keep us focused and on task. It's a highly collaborative and organic process, where you are empowered to voice what's working for you and what's not.
11. How long do clients typically see you for?
This varies greatly, but most clients come for at least 4-6 months to really get the most benefit out of the work together. We usually start out with once a week sessions, or more if a client is in crisis, and then work toward decreasing sessions until clients are ready to end work. We decide this together and both give input on what feels best.
12. Are there any books you often recommend to clients?
Most often I recommend Brené Brown's The Gifts of Imperfection, because it so brilliantly describes what it is to be human and how to cultivate compassion for ourselves, as well as how to cultivate resilience through difficult times.
For moms, I love Good Moms Have Scary Thoughts by Karen Kleiman. This book really normalizes the experience of new motherhood, and helps to address some of the anxieties that can feel out-of -control early on.
13. Do you assign "homework" between sessions?
Sometimes homework is assigned, like reading an article or book. Sometimes there's a very specific exercise I'd like you to try or practice, and then we can process and get feedback about this "experiment." I am not really into giving worksheets or workbooks, I instead like to understand your learning style and what would help you use what you learn in session in real life.
14. How do you help ensure I'm making progress in therapy?
We discuss together the benchmarks for progress, since they are so unique and individualized. Your goals for yourself are the most important thing, as well as the way your perceive the issue you're working through, and we'll keep both of those ideas at the forefront.
15. How will I know it's time to end my time in therapy with you or reduce session frequency?
Again, this is really collaborative with my clients, and we are looking for those benchmarks of progress. Oftentimes, my clients work on one issue for a while, may pause or end treatment, and then come back to target something specific or work on another area of their life. I really see therapy as a lifelong tool, and the relationship we develop is part of the healing that happens.
16. Why should I seek therapy, rather than turning to my partner, friends, or other loved ones?
Therapy is a special relationship, a nonjudgemental place to discuss whatever you like, and sometimes those topics might be difficult for family or friends who have a pre-existing relationship with you to understand.  
17. What advice would you share with therapy seekers?
It can be really hard to seek help, but most of the time I hear from clients that making the first appointment made them feel somewhat better already. Knowing you're moving in the right direction can allow you to tolerate the intense emotions you might be experiencing.  
Visit Jessica's profile to watch her introductory video, read more, and book an initial call!