Jasmonae Joyriel is a Psychologist in Texas specializing in trauma, sex & relationships, professional growth, and life transitions. We asked Dr. Joyriel more about her work with clients and her guiding philosophies on therapy.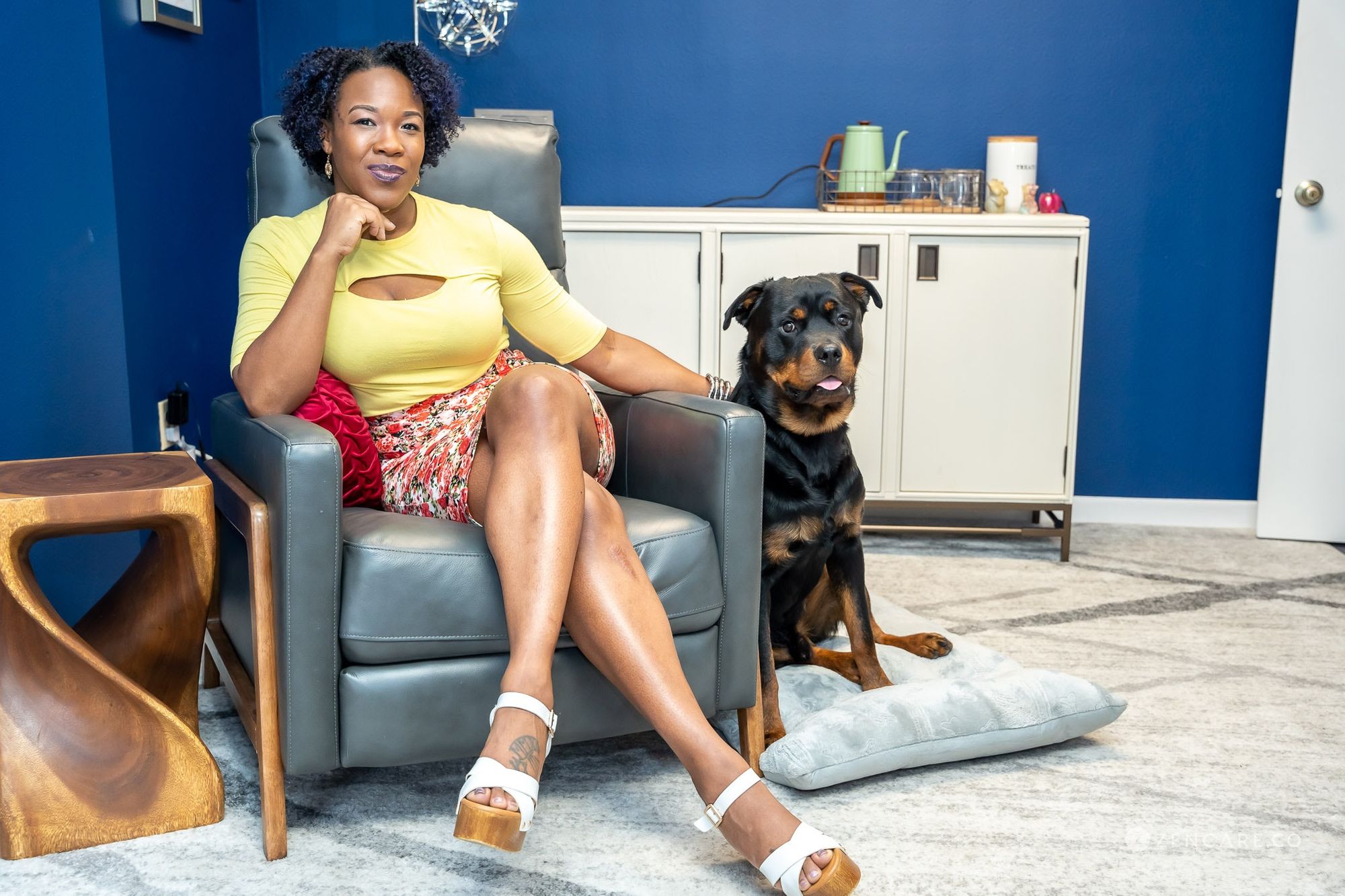 Dr. Joyriel's background and personal life
How did you decide to become a therapist?
I believe we each have threads in our life. These are things we excel at, are energized by, and feel empowered doing. When you discover your threads, you find that there are many paths that can find to be fulfilling. I found these threads as I worked in restaurants throughout college. I gained further clarity as a hairstylist.
These threads were: wanting a dynamic environment, contextualizing each experience to my customer so that they had the best experience, and building relationships and fully engaging in the experience that customers and I shared. Knowing these threads allowed me to evolve throughout my life and still find purpose and passion in what I do. Psychology became an obvious choice in that evolution.
What was your previous work before going into private practice?
I did my formal training with the VA health systems and community mental health. Prior to returning to grad school, I was a hair stylist.
What do you enjoy doing in your free time?
I love to laugh! A lot. I am also a collector of experiences, I often try to collect as many new and unique experiences as I can.
Dr. Joyriel specialties and therapy philosophies
What guiding principles inform your work?
I approach each client with first stating that it's okay if we aren't the right fit. I believe therapy is a place to feel empowered and find a therapist who allows you to do the work. From there, I believe that therapy is collaborative and that context matters. Our histories, identities, and values impact how we experience our life, our relationships, and the world. Finally, I think my particular style of therapy focuses creating change and learning how to thrive. There are many different functions for therapy, some for nurturing and holding, some for directing and be told what to do, and others to move beyond "Macgyvering" life and merely surviving it. I believe it's okay to find surviving intolerable and need to thrive.
What clientele do you work with most frequently?
I work with teens and older. I also work with couples. I work with a wide range of identities and relationship structures. I am drawn mostly to those who ready to do the work, who feel that deep need to do the work. I am drawn to these clients because I have sat on both sides of the couch. I know just how difficult the work is and feel excited to roll up my sleeves and get down in the trenches with them.
Can you tell us more about your specialty in sexual health & dysfunction?
Sex impacts everyone including those who identify as asexual. The most common challenge is poor education and the resulting feelings of shame, ignorance, discomfort, and insecurities. I find this topic often highlights so much more than sex. It uncovers how we communicate, how we navigate conflict/differences, how we take up space, how we connect to ourself and how we feel empowered in our limits and boundaries.
I focus on helping individuals and couples confront their shame, insecurities, and ignorances; discover their interests, limits, boundaries; feel empowered in giving and receiving enthusiastic consent; communicate with themselves/others and navigate conflict when necessary.
Can you tell us more about your work with clients recovering from trauma?
Most clients are unaware of how trauma lives in the body and how deeply it may impact their life. They often dissociate and lose key pieces of their experiences. It's important to empower them to set the limits for safety and demonstrate the significance of cadence when confronting complex and many times multiple traumas.
Trauma therapy focuses on reconnecting your mind and your body and teaching the two how to communicate and trust each other again. It also focuses on learning how triggers work and how to navigate when they appear unexpectedly in your life. Ultimately, I help clients integrate trauma as a scar that may never fully fade but diminishes in its ability to derail your relationships and your life.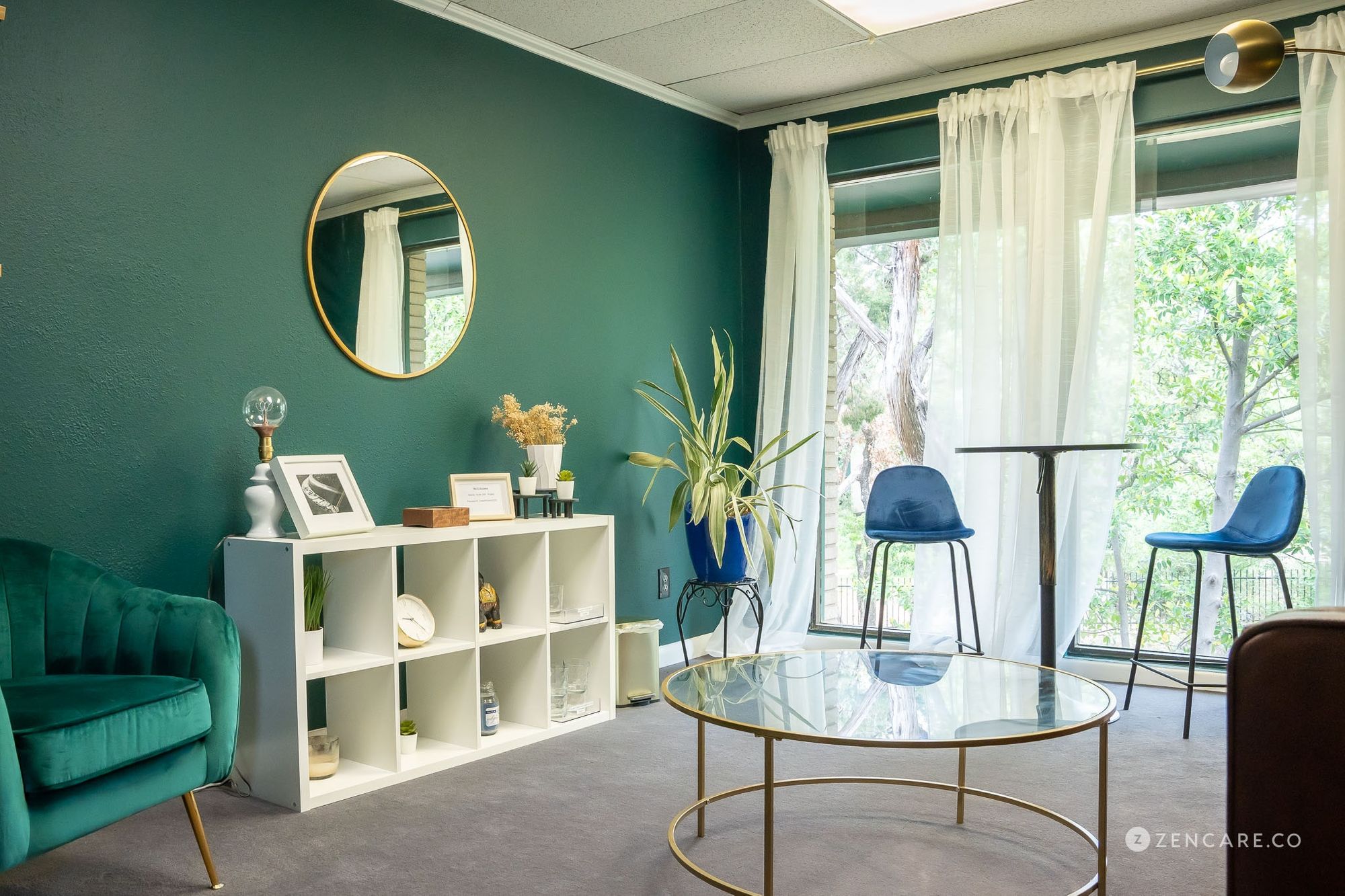 Can you tell us about your work with entrepreneurs?
I find that so much of the entrepreneurship journey depends on your ability to be fully integrated with yourself. For these clients, they are opting out of the "one size fits all" lifestyle for a more tailored and customized approach to life. The success of this choice is highly dependent on knowing insecurities, fears, strengths, superpowers, and one's moral compass, knowing it looks different for each person. These clients are making the choice to see where they thrive and where they struggle, which can be vulnerable and paralyzing at times.
I guide clients on getting away from traditional approach to life and career and teach them how to really steer their own ship. They learn that their values, experiences, identities, their "self" is the affecting element, and in knowing the "self," they can create the life and career best tailored for them.
What do you find most rewarding about your work?
I love that my clients learn to connect with their true north and learn to own their "No" and discover their "Yes." I love watching clients experience more integration between their body and mind and finally move beyond trauma, shame, and emotional paralysis.
Therapy sessions with Dr. Joyriel
What will our first session together be like? What happens in ongoing sessions?
The first session isn't technically a session. I meet with you to first figure out if we are a good therapeutic fit. Depending on your needs in discovering that, it may look like an interview or it may be more or less like a therapy session. Once it's determined that this feels like a match, therapy is very contextualized to each client. I spend the first few sessions learning how you communicate, how best to give homework/interim reflections, and building trust.
From there, therapy is collaborative process to move towards your therapeutic goals. Feedback is encouraged so that we create the most tailored and effective approach that best meets your needs.
How long do clients typically see you for?
Most of my clients choose to adjust to a lower frequency but continue to have sessions for multiple years. Those who meet their goals or need a different fit typically end after a year.
Are there any books you often recommend to clients?
Do you assign "homework" between sessions?
I do. Homework is tailored to both the current session and larger goals. I do not have pre-planned worksheets or assignments. Homework may be reflective or action oriented.
How do you help ensure I'm making progress in therapy?
I check in often and highly encourage clients to provide feedback regularly if they are dissatisfied, feel I got something wrong, or realize I am not the right fit. In any of these cases, I first learn whether it is something I can adjust or improve upon. If not, we use it to clarify your needs further, and I assist in any way I can in finding a better fit.
How do I know that it's time to start seeking therapy?
Therapy is good for when you determine there isn't someone around that you feel you want or need to process things with. It's also a place for when you just feel stuck.
How can I prepare for our first session?
Reflect on your therapeutic needs. What do you want out of therapy? What do you need in a therapist?
How will I know it's time to end my time in therapy with you or reduce session frequency?
My clients know that every session they attend there is work to be done because they are wanting to thrive in different areas of their life and we can always grow and evolve. Sessions are never a "coffee and chat" session. However, my clients typically reduce their frequency when they are able to do much of the reflective work on their own and can often ask the questions I might ask. They find that they don't feel stuck as often and feel more integration between their body and mind. They start to take more authority in guiding the session on what they need and where they are finding stuck points.
Why should I seek therapy, rather than turning to my partner, friends, or other loved ones?
That is a very nuanced answer. Do you want to turn to them? Can you turn to them? What is the result of turning to them? Are your needs met and questions answered after turning to them? Your answer to all of these tells you 1) whether you should or should not seek therapy and 2) Why, for you, that's the answer.
What advice would you share with therapy seekers?
Don't be afraid to fire your therapist. Find the one that best fits you and allows you to do the work you came to therapy to do!
Visit Dr. Joyriel's profile to read more about her and contact her for an initial consultation!