Irina Simidchieva is a Licensed Clinical Social Worker ​who sees adult individuals, couples, and families in her New York-based practice. Irina has experience working with clients of all backgrounds and mental health challenges but most frequently works with clients on topics related to relationships, anxiety, depression, trauma, psychosis, or eating disorders. Irina takes an integrative and individualized approach to sessions and regularly draws on her advanced training in psychoanalysis to help clients meet their therapeutic goals.
We asked Irina more about her work with clients and her guiding philosophies on therapy.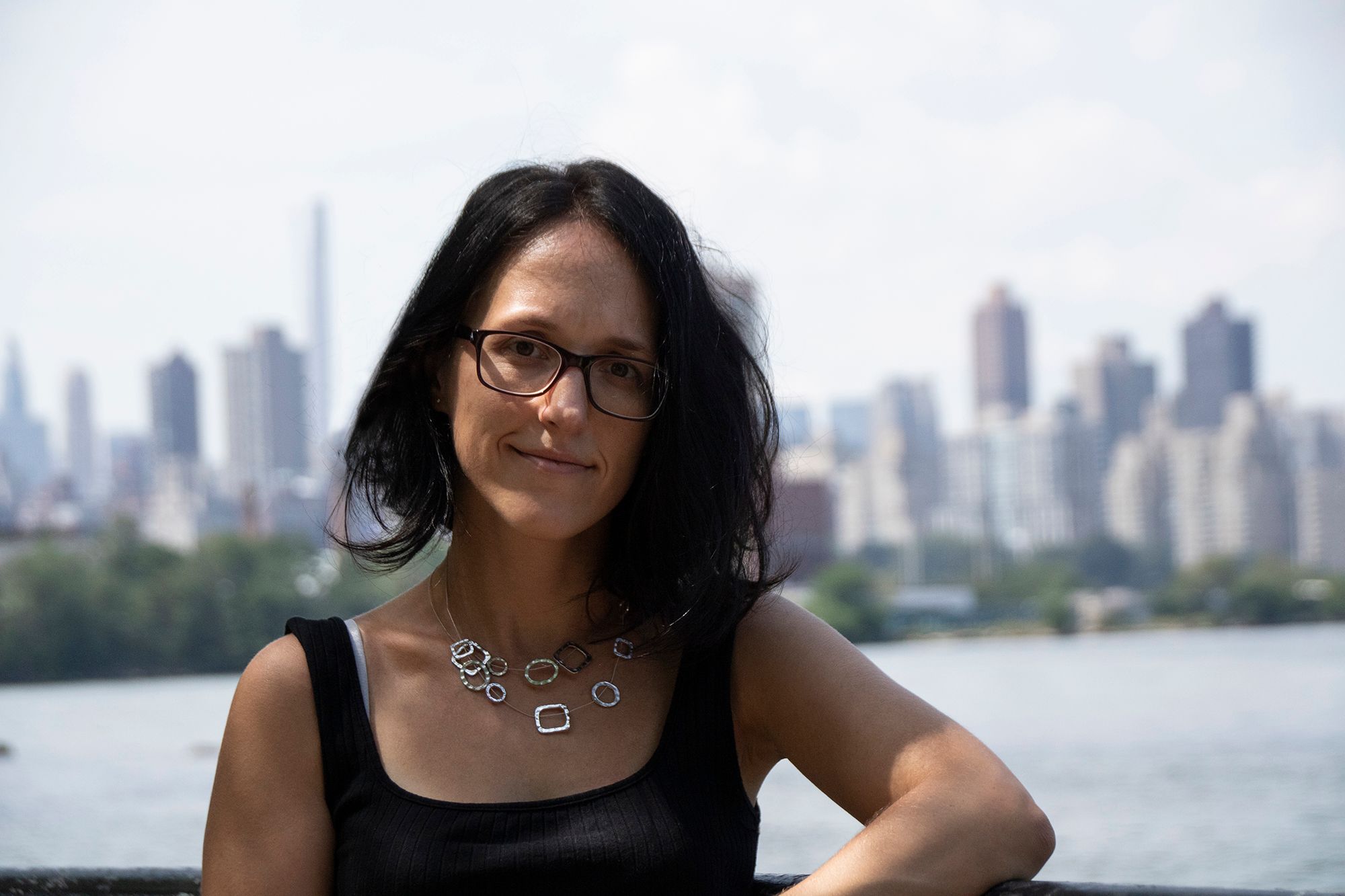 Irina's background and personal life
How did you decide to become a therapist?
I went to a graduate school for social work in Europe in a unique 3-year-long program that gathered professionals from different humanitarian backgrounds, mainly from the fields of social work, psychology, and art. Coming from an artistic background, I was attracted to that program because of the strong emphasis it placed on creative approaches in therapy, mainly in group therapy.
The program offered a combined knowledge of psychodrama and different "action methods" together with psychoanalysis, which made it a unique choice for future social workers. Action methods in therapy are different from talk therapy. Psychodrama, for example, is an action method used particularly in group therapy where instead of talking about the problem, the problem is played on a scene by the group members.
After graduation, I was sure that I wanted to practice as a therapist. I also entered this profession with the initial intention to help myself. My own individual and group psychotherapy, together with my analytical training (post-graduate training in psychoanalysis), have helped me become more myself, both in my personal and in my professional life.
Irina's specialties and therapy philosophies
What guiding principles inform your work?
When I started practicing as a therapist, I had many leading principles in mind: "Do not disclose personal information" or "Do not give advice to the patient or tell them what to do." However, when I started actually working with people, I gradually learned to disobey these "rules." I learned that human nature is much more complex to fit into such schemas and requires a creative approach.
Currently my work is informed by other guiding principles:
I work with the person, not with the diagnosis.
Therapy is a process created by two-people, not by just one person.
Never have a preconceived idea of what a specific therapy will look like because therapy is a creative process that is being collaboratively created between two unique personalities: a therapist and a patient.
Pay strong attention to the therapeutic relationship, as this has been determined to be the tool that actually helps and cures in psychotherapy.
What clientele do you work with most frequently?
I work mainly with adults, men and women. I see clients individually or as a couple. I also run an interpersonal process group. I attract people from different artistic spheres, like artists, musicians, producers, publishers, writers, actors and dancers. I also work with professionals in other fields, such as doctors, nurses, social workers, project managers, and others.
People often come to me when they are going through a major life change, coping with anxiety or depression, are about to become new parents, or currently are new parents with small children. Many patients come to therapy seeking to understand more about themselves, to process how their interpersonal relationships shape the way they are, or to receive support in facing obstacle stopping them from becoming who they are or who they want to be.
Often, patients will also come to therapy in order to deal with symptoms that make their life very difficult or to process significant pain/trauma stemming from their past. Recently, more and more people are coming to therapy in order to deal with emotional alienation from others, or inability to relate to others.
Can you tell us more about your specialty in relational issues?
Many of my patients come to therapy with issues pertaining to relationships with family, peers, or intimate partners. Many of my patients are lonely or unable to relate on a deeper level with people. Other patients are the opposite and have too many close relationships that are dysfunctional.
Relationships are the basis of each and every clinical problem, behavioral or mental. We were all hurt in a relationship, but the relationship is also the healing tool in therapy. Relational issues might occur as early as infancy or even before birth. We often carry inside us our relationships with our caretakers and important people. Very often this is what patients want to explore, improve, resolve, get rid of, make friends with, or get to know better.
Can you tell us more about your specialty in helping clients navigate anxiety?
Anxiety affects so many people, and all of us have some form of anxiety at one point in our lives. The main strategy to treat anxiety is considered to be learning coping skills in order to manage it. It is very important that, together with the coping skills, attention is paid to the whole person, not only to the symptom. Very often the symptom is just a manifestation of the problem that is hiding somewhere else. Coping skills should be discovered individually between a therapist and a patient, and it is very important that they become intrinsic.
Can you tell us about your work with clients in eating disorder recovery?
I work with patients struggling with eating disorders or disordered eating. Disordered eating itself is just a symptom, the real reason hides elsewhere. The symptom occurs in order to alert us that something is wrong and that something needs to be addressed. The disease can affect women, as well as men. Usually it manifests itself during the pre-teen or teen years, but very often the underlying reasons have been there long before we see the symptoms. Eating disorders can affect individuals as early as infants and can go through the adult years, often having different stages and degrees.
The psychological explanation behind the symptom that can be identified as the reason for it, is a disturbed relationship between the patient and the caretaker, very often this is the mother, and very often the problem occurs very early on in infancy. Treatment might involve an inpatient stay or collaborative work between different medical and mental health professionals. An eating disorder is a very archaic way of expression. Very often people who suffer from eating disorders have a condition called alexithymia: an inability to identify and describe emotions. They do not know what they feel, so the body uses preverbal language to express emotional pain that words are not able to. Therapy usually provides a safe space for this pain to unfold, to be named, and to be processed.
What do you find most rewarding about your work?
I find it so rewarding that I get to meet so many different people and hear so many different stories. Also, I have the opportunity to learn a lot about myself from each encounter with my patients.
Therapy sessions with Irina
What will our first session together be like? What happens in ongoing sessions?
The first session will be determined by individual needs. Usually the first session or two is when I will be asking questions about what brings you to therapy. We will discuss what we will be working on and talk about your family and history. However, sometimes I might meet you where you are at a particular moment. If you are struggling with something that needs to be talked about, we might start with that imminent problem, feeling, state of mind, and then explore further.
How long do clients typically see you for?
Clients usually stay in therapy long-term. This is determined by the individual situation and between the therapist and the patient.
Are there any books you often recommend to clients?
There is no generalized approach that I use with clients. I go by the principle that each client is a unique individual. One book might be beneficial for one client but not for another. If I do make a book recommendation, I make sure it fits the unique needs of the client. Books and movies are often part of therapy, though, as sometimes a patient uses a character from a certain book or movie they identify with in order to elaborate on feelings and experiences.
How do I know that it's time to start seeking therapy?
People seek therapy for different reasons. Sometimes that can be an imminent problem that needs to be addressed. Other times, life or a relationship could be at stake. Sometimes people seek therapy because they want to find out more about themselves or get in touch with a new part of themselves. "When" is something individual, but what is important is that the person has to be willing to do it. Therapy is a deep personal, intimate journey.
Why should I seek therapy, rather than turning to my partner, friends, or other loved ones?
The therapeutic relationship is different from any other relationship. On one hand, it is a real relationship with real feelings involved in it. On the other hand, it is a professional relationship with strict boundaries. The therapist is not your friend. This might be confusing at first but there is a deep meaning attached to it that is important for therapy to be effective. It is no coincidence that most therapists will not accept to treat a person whom they know or are related to outside of therapy.
Visit Irina's profile to read more about her and book an initial call!