Ginny Paige is a Licensed Clinical Social Worker in New York specializing in burnout, anxiety, life transitions, trauma, and grief/loss. In addition to her work with adult clients, Ginny also works with young children ages 4-9 and holds a Registered Play Therapist Credential. She is passionate about creating an empowering environment for all clients and deeply values the therapist-client relationship. To best meet the needs of her clients, she utilizes a variety of therapeutic approaches—including talk therapy, EMDR, and Internal Family Systems (IFS)—in sessions. We asked Ginny more about her work with clients and her guiding philosophies on therapy.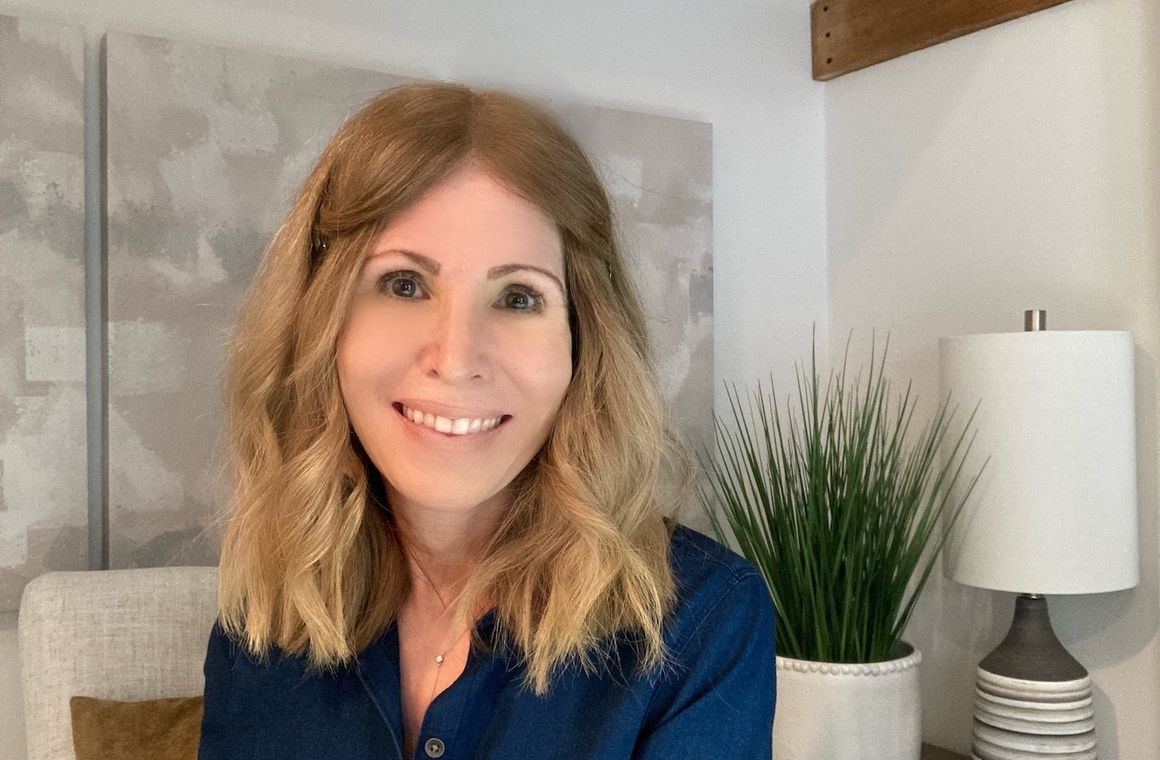 Ginny's background and personal life
How did you decide to become a therapist?
Since I was a child, I enjoyed supporting friends and family. I knew I was a good listener and that there was a need for others to feel heard and accepted.
My work as a therapist is both my first and second career; after graduate school, I worked at a community mental health counseling center and as a school social worker, but I then left the field to move overseas to be with family. When I returned to New York in 2010, I started a consulting practice that provided support for nonprofits. Working on both the clinical and operational sides of nonprofits provided me with a vast amount of knowledge on how to provide the highest level of care to clients.
I returned to clinical work while continuing to consult. I also completed NYU's post-master's advanced clinical practice program, was a therapist at the Jewish Board in New York City for close to four years, and opened a private practice—where I specialize in working with adults and children dealing with loss. I understand that there isn't one roadmap to move through loss; it is an individual journey and is my honor to witness and support this journey.
What do you enjoy doing in your free time?
I enjoy being outdoors, moving my body (with occasional bouts of stillness), appreciating all creatures, eating tacos or Phở, reading books, and exploring the mountains.
Ginny's specialties and therapy philosophies
What guiding principles inform your work?
During my own therapy journey, I had my share of positive and not so positive experiences. These experiences empower me to be with my clients in a different way. I keep in mind how sessions might feel from your perspective. At any given time, sessions may feel comforting, encouraging, empowering, transformative, uncomfortable, discouraging, or tiring—to name just a few emotions!
Some feelings will be hard for you to sit with, but, in my experience, these feelings decrease and pass as grieving happens. In other words, sometimes it gets worse before it gets better, and that's okay. It's the motion that's important.
During our sessions, I'm listening to you, as opposed to just hearing you. This is a subtle, yet deeply important piece of our work together and integral to our relationship. My hope is that you'll move at a pace that feels right for you, knowing that you are in control and have my support and acceptance throughout.
What do you find most rewarding about your work?
I appreciate the humanness, the authentic connection that forms between myself and my clients, and the unspoken feeling of alignment of moving towards the client's therapy goals together.
Therapy sessions with Ginny
What will our first session together be like? What happens in ongoing sessions?
I provide a safe and accepting space to explore and process grief and loss. Pre-session involves completing paperwork through a HIPAA-compliant client portal. I deeply value privacy and this is apparent in my practice's policies and procedures.
During the first session, we'll talk about what has brought you to therapy at this time and identify therapy goals. While helpful, I don't focus too heavily on history at this time. If you're feeling stuck in one or more areas of life and experiencing grief or loss due to the passing of someone in your life, a strained relationship (past or present), difficulty managing upsetting life experiences, trauma, or you'd like to better understand your thoughts and interactions, these are some reasons to consider scheduling a session. Once a client and I decide to work together, I recommend that we simply start in the moment in the first session and allow the session to unfold.
How long do clients typically see you for?
Each client has a unique history, so the length of time in therapy will vary. Although I see many clients for talk therapy, I'm also an EMDR therapist. I find that the length of time that EMDR therapy clients see me is generally shorter, meaning that therapy goals are generally met in less time. But, each client is an individual.
Are there any books you often recommend to clients?
Between Therapist And Client by Michael Kahn.
Do you assign "homework" between sessions?
At times I might, if I think it would be helpful. However, I honor each client's decision either way whether to take part. I often help my clients prepare for sessions with grounding and mindfulness practices, so homework could involve practicing these skills between sessions.
How do you help ensure I'm making progress in therapy?
I can usually sense if something has shifted during our interactions. I'll invite a conversation with you and share what I'm noticing. An open dialogue can confirm progress and be an opportunity for a reset, which can be empowering and deepen the therapeutic relationship.
I encourage my clients to share their feelings throughout therapy, especially if they are aware that something feels off. It can be helpful to keep in mind that healing isn't linear; at times, it may feel like one step forward, two steps back. But it is this ongoing motion that will help guide you to your goals.
How can I prepare for our first session?
Come as you are! This is a space where you can check the roles you have in life at the door and just be.
How will I know it's time to end my time in therapy with you or reduce session frequency?
Trust your intuition. Always feel free to bring this up in session for us to process. It's my intention to support you in meeting your therapy goals so that you can discharge when you feel ready to live your best life.
Visit Ginny's profile to read more about her and book an initial call!