Erma Kyriakos is an Associate Marriage and Family Therapist in California specializing in couples counseling, trauma, and anxiety. We asked Erma more about her work with clients and her guiding philosophies on therapy.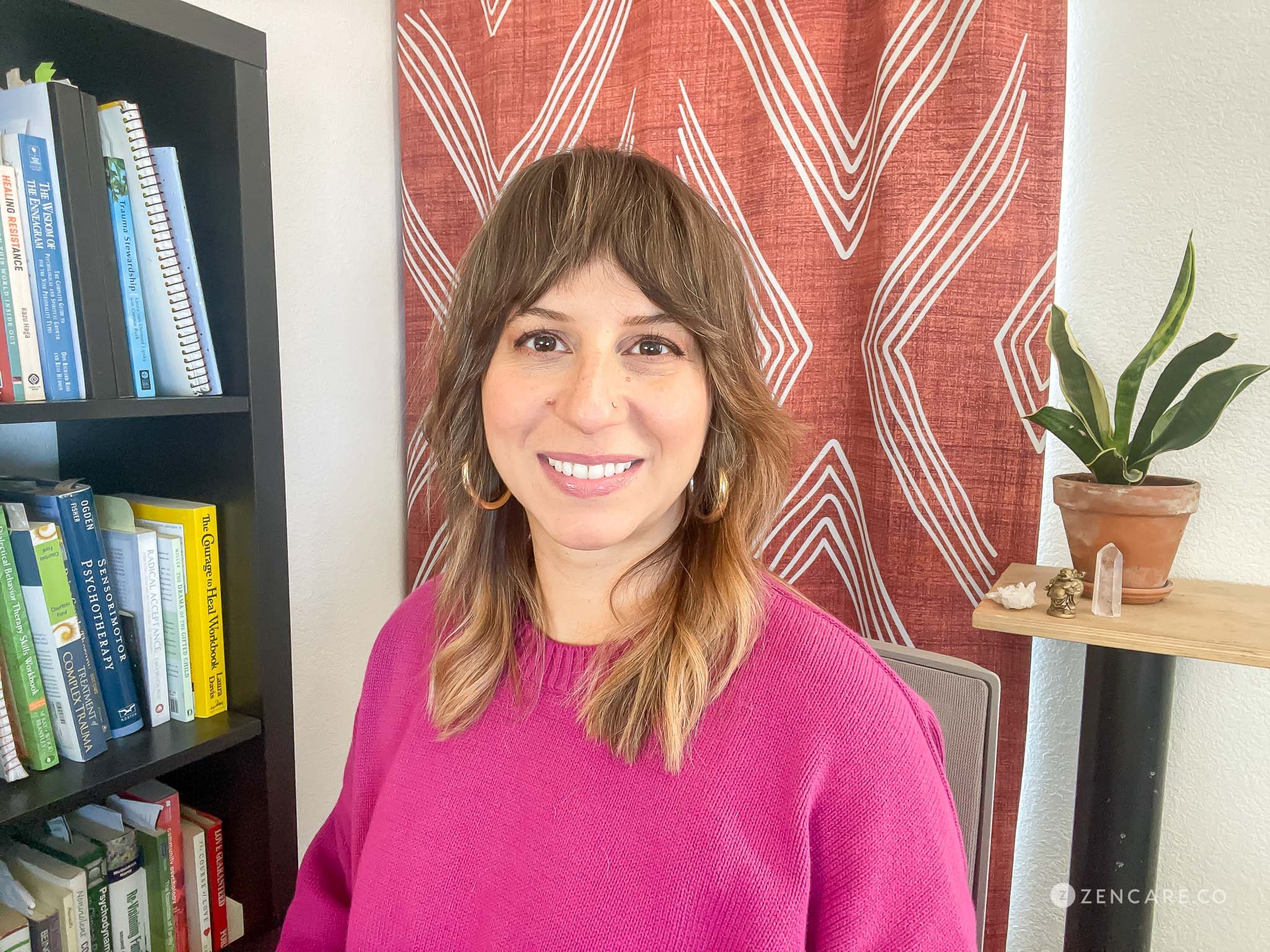 Erma's background and personal life
How did you decide to become a therapist?
I decided to become a therapist through my own process with therapy. I felt how much the therapeutic process could actually produce change and wanted to be of support in this way to others. Couple this with a desire to change careers and a ferocious appetite for psychology books, and it was the perfect swirl of events to find my new passion.
What was your previous work before going into private practice?
I was a full time musician and music teacher! I see the connection between being a musician and therapist in many ways. Playing music requires presence, feels therapeutic to the performer and listener, and for me, serves as means of connection.
What do you enjoy doing in your free time?
I love taking my dog to the beach and watching her run around like a wild beast! I also like to go see music and comedy shows. My community is important to me, so seeing friends for a meal or a hike or just to hang out takes up my free time too.
Erma's specialties and therapy philosophies
What guiding principles inform your work?
The guiding principles of my practice are being with rather than doing. I believe that simply being with what is present creates the space necessary for curiosity. The goal in my practice isn't necessarily change - it is more so awareness. The thought being that with more awareness of ourselves, comes choice in how we'd like to proceed. It may be change in behavior, or change in our perception, but the choice of either is yours.
Another pillar related to awareness is the use of the mind-body connection. I use somatics as another avenue of awareness, and work with the nervous system to help us conceptualize how our body reacts to different settings and stimuli. With this awareness of the body, it can better inform us of how we might up-regulate or down-regulate our systems.
Additionally, an important principle I use is a framework that takes into account our environment and systemic oppressions that have a real impact on marginalized communities and those that have been 'othered' by society. Using this framework allows an opening to see that we are not inherently 'bad', but rather, we have adaptive responses to environments that have been oppressive, traumatizing, or rigid.
Can you tell us more about your specialty in couples counseling?
Couples often ask for help with communication, especially through conflict. Communicating non-violently is a skill I can definitely help with, but it is not everything when it comes to couples. One of the challenges I often see with couples is their ambivalence in accepting the partner they have and becoming clear with themselves about what they need and want.
Another challenge I see is when members of the couple are operating individually rather than as a team. I use an attachment-based, emotionally focused approach that also takes the nervous system into account when treating couples. Depending on the issue and the goal of the couple, understanding our own history and the history of our partner gives much insight into how we show up in the relationship, and what each needs to regulate when out of their window of tolerance. Understanding then serves as a foundation to build connection and compassion which then fosters the environment for a truly fulfilling relationship.
When it comes to infidelity, this foundation of understanding is still important, but now there is another layer of trauma experienced by the betrayed. I use a trauma-informed approach to work through the infidelity - whether that means coming back together, or conscious uncoupling.
What do you find most rewarding about your work?
The most rewarding part of my work is seeing clients step into their agency and resiliency in a way that serves them and the way they move through the world. I am consistently in awe of my clients' ability to navigate such difficult circumstances and it is truly inspiring.
Therapy sessions with Erma
What will our first session together be like? What happens in ongoing sessions?
First sessions are when you get to tell me your story. I will be taking in, so maybe a little more silent than usual - sometimes checking in to make sure I understand what you're saying. As sessions go on, my hope is that we build reciprocity and trust. I am by no means a silent observer, but the sessions are centered around you and what you'd like to bring in. As the therapy process is non-linear, I will follow your lead and most likely slow us down to spend time in areas that feels important.
How long do clients typically see you for?
My clients tend to see me weekly. For couples, it may naturally feel like we should lessen the amount of sessions per month as progress is made.
How can I prepare for our first session?
You can prepare for your first session by taking a few minutes before the session to be present with what is up for you in the moment and what feels important for me to know as your therapist. Have compassion with yourself in every step of the way, but especially the first session... It is a new scenario and I understand that trust is something that is built rather than expected.
Why should I seek therapy, rather than turning to my partner, friends, or other loved ones?
Loved ones and friends are so important in the healing process. Community helps with isolation and loneliness. However, sometimes it's important to seek out a professional as loved ones and friends don't always know how to help. It can also be beneficial to talk with a therapist so those other relationships have room for more ease, joy, and fun and less problem solving or one-sided conversations.
What advice would you share with therapy seekers?
Don't settle on a therapist you don't feel a connection with or don't click with. It is perfectly acceptable to move on from a therapist you don't feel you can open up with. Taking the time to find the right fit can make all the difference in your therapy journey.
Visit Erma's profile to watch her introductory video, read more about her, and contact her for an initial consultation.