Eric Lebowitz is a Licensed Creative Arts Therapist and Board-Certified Music Therapist in White Plains, NY. Eric utilizes his passion for music and his belief in the healing power of creativity to help clients manage stress, process grief, or navigate anxiety and depression. Eric also draws on Buddhist philosophy and regularly incorporates mindfulness meditation into sessions to help clients increase self-awareness and strengthen the mind-body connection.
We asked Eric more about his work with clients and his guiding philosophies on therapy.
Eric's background and personal life
How did you decide to become a therapist?
When I was in college, I was depressed. Music and creativity relieved me from much of my suffering. Through my experiences, I also found secular buddhism. That helped me to understand and frame the suffering I experienced and currently experience. I am in no way free from suffering, nor do I claim that I can rid you of yours. However, I came to learn that mindfulness, music, and creativity have neurological explanations behind their healing abilities.
Living with one's suffering is manageable, and I believe joy, peace, and love can be integrated into one's life with practice. This belief has led me to create Buddhaful Music, which is music therapy and education, in harmony with neuroscience and Buddhist philosophy.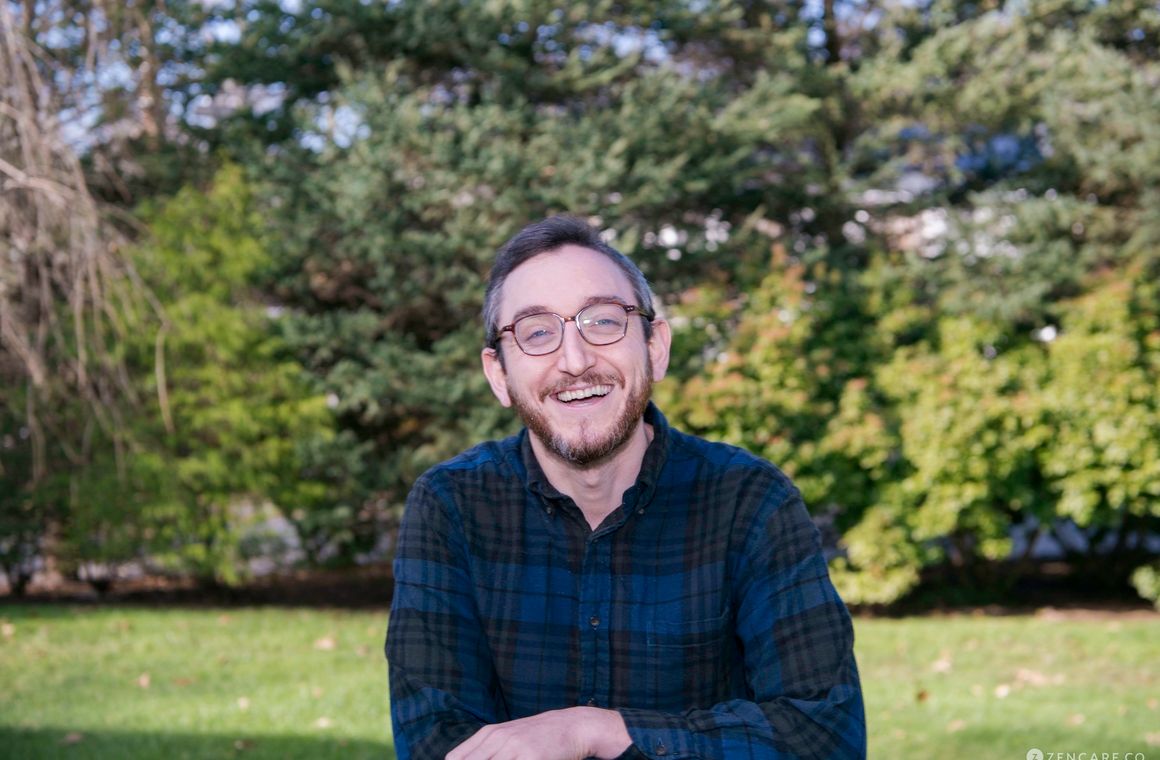 What was your previous work before going into private practice?
I worked in an assisted living home as the Director of the Music Therapy Program.
What do you enjoy doing in your free time?
I enjoy practicing guitar, writing songs, indoor rock climbing, and being outdoors.
Eric's specialties and therapy philosophies
What guiding principles inform your work?
Mindfulness, creativity, and self-compassion inform an individualized approach to education and therapy that can assist in managing life's troubles while integrating positive and joyous experiences too.
What clientele do you work with most frequently?
I often work with adults with dementia. I find it so powerful how much music has the ability to engage this population.
I am also expanding my practice with the intent to work with more students and families — students because I needed the most support when I was a student and families because music has a way to bring families together, off of screens.
Can you tell us more about your specialty in stress management?
Stress is a part of life, but it has the ability to have long-term health consequences if not managed. Understanding ourselves, our stresses, and what works for us as individuals to manage that stress can lead to powerful joyous experiences.
Can you tell us more about your work as a mindfulness teacher?
As a mindfulness practitioner, I have experienced first hand that difficulties that it presents. I look back on when I first started and how helpful it would be to have had a mindfulness coach/teacher, and now I provide just that! Whether it be teaching you how to be mindful, assisting you in learning how to meditate, or being a support in accountability, I'm there.
Can you tell us about your work in helping clients develop their creative spark?
We improvise when we speak. We solve problems daily. Creativity exists in all we do. One's well-being requires creativity as well. Practicing creativity through music, art, dance, writing, etc. can benefit us in many other facets of life.
What do you find most rewarding about your work?
Seeing people learn, grow, laugh, and experience life in new and different ways.
Therapy sessions with Eric
Are there any books you often recommend to clients?
I often recommend:
Do you assign "homework" between sessions?
All homework is optional, but I do make suggestions of things to practice. One of my main tools is custom meditations. I create a meditation that is individualized to whatever the client may need. With each meditation, I also provide the optional self-assessment which allows clients to track their progress. In doing so, clients build healthy mindfulness and meditation routines and have an environment to discuss their experience and gain insight.
How do you help ensure I'm making progress in therapy?
We set mutually agreed upon goals. Over the course of our work together, we keep these goals in mind. I do my best to recognize progress and ask for your honesty in letting me know if you feel you are making progress. I do believe that healing is a dynamic force that looks different for different people in different contexts, so I view progress as subjective and look to the client to have the final say.
How do I know that it's time to start seeking therapy?
I believe that therapy can always have benefits. If you are new to therapy and you're thinking you may benefit from it, then it's definitely worth giving it a try.
How can I prepare for our first session?
It depends on what we discussed in our consultation. To those who are new to the idea of music therapy, I like to suggest bringing a song that you have been listening to recently or that you feel represents your current state. If we are focusing on creativity, I suggest bringing your choice of creative instrument: a guitar, a paintbrush, a pen, etc. If we are focusing on mindfulness, I suggest bringing as little as you can.
Why should I seek therapy, rather than turning to my partner, friends, or other loved ones?
Having a dedicated therapeutic relationship allows the focus to be on your well-being with no other potential agendas.
What advice would you share with therapy seekers?
Hope is an action word.
Visit Eric's profile to read more about him and book an initial call!