Elizabeth Piazza-Bonin is a Psychologist licensed in Colorado and Louisiana specializing in trauma, spirituality, and self-esteem. In sessions, Dr. Piazza-Bonin utilizes a combination of Cognitive Behavioral Therapy, Internal Family Systems, and mindfulness-based practices to help her clients in their path to healing. We asked Dr. Piazza-Bonin more about her work with clients and her guiding philosophies on therapy.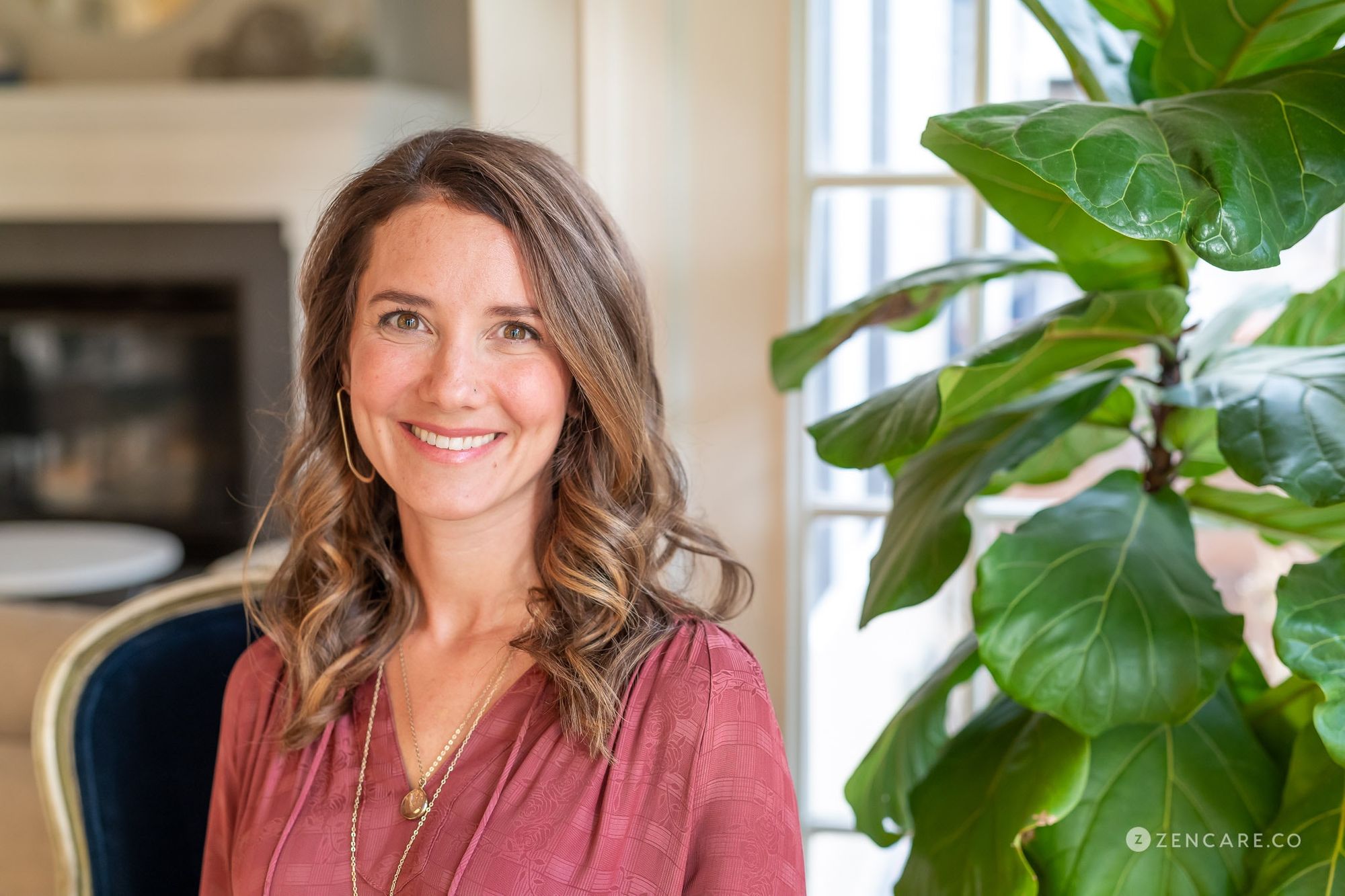 Dr. Piazza-Bonin's background and personal life
How did you decide to become a therapist?
I felt called to become a psychologist as a teenager. I had gone through a tremendous amount of trauma and was inspired to help others who had been through similar experiences. I have also always been extremely analytical and intuitive, and psychology seemed to allow me to bridge those aspects of myself. I have an insatiable thirst for knowledge, especially when it comes to the human condition.
What was your previous work before going into private practice?
I worked with Veterans at the VA hospital in Denver treating complex and severe PTSD.
What do you enjoy doing in your free time?
Meditation is maybe more important to me than food--so I consume it whenever possible! I also love to read anything I can about spirituality, healing, and near-death experiences. I also love to travel anywhere and everywhere.
Dr. Piazza-Bonin's specialties and therapy philosophies
What guiding principles inform your work?
I believe that healing can be an incredible journey back home into Love--which is essentially the underlying fabric that comprises our True Nature. While we are born whole most of us lose touch with that essence because it gets hidden by many layers of false conditioning and beliefs. We then often create a life built to avoid the pain attached to those beliefs and programs, which inevitably leads to suffering. This discomfort often reaches a breaking point where we are forced to choose a new way. In doing so, we are invited into the greatest journey back home into our True Selves as we learn to live in the present moment and become our own healers. Here, we experience life from a place of compassion, authenticity, wholeness, creativity and joy.
What clientele do you work with most frequently?
I really enjoy working with highly perceptive/sensitive individuals. In our culture, sensitivity is usually seen as a negative trait, but I believe it is a super-power. I want to empower sensitive individuals to embrace their sensitive natures and create ripples in our community where sensitivity is most needed in leadership. I also love working with those individuals who want to deepen spiritually, and heal the wounds that have prevented them from doing so. I believe that healing needs to attend to the spirit in addition to the mind and body.
Can you tell us more about your specialty in working with clients who have experienced trauma?
I completed a postdoctoral fellowship in working with those affected by trauma. Trauma can lead to many negative outcomes, including PTSD, depression, anxiety (to name a few). But, when we are able to work with trauma effectively, it can also lead to a many positive outcomes, such as a greater connection with meaning and purpose in life, greater spirituality, and increased awareness and connection with the True Self. I have used CBT evidence-based interventions for years, but now gravitate more to process-based work such as Internal Family Systems where ultimately you become your own healer.
Can you tell us more about your specialty in spirituality?
I believe we are spiritual beings having a human experience. But, when I went through a life-changing chronic illness I learned through my own quest that many therapists are not equipped to work with issues related to spirituality. I have therefore become the kind of therapists I sought out in my own darkest moments, offering a safe space to turn toward both the scary parts of spirituality (which often comes from religious trauma) and the life-enhancing parts of spirituality.
I implement a therapy called Internal Family Systems that allows for us to work with your own spiritual beliefs (and blocks) in a way that is specifically tailored to you. I respect each person's unique spiritual path and support any belief system that is anchored in compassion.
Can you tell us about your interest in psychedelic-assisted psychotherapy?
I have engaged in post-graduate training with cutting-edge leaders of the field of psychedelic-assisted psychotherapy (e.g, MAPS, CIIS, Fluence 8, PRATI) to learn how to offer services to those who are planning to use or who have already use psychedelics (e.g., "magic mushrooms"/psilocybin, MDMA, ketamine, LSD, ayahuasca). I use an approach called harm reduction which helps you maximize gains and minimize risks of use. Once approved by the FDA, I plan to offer psychedelic-assisted psychotherapy.
What do you find most rewarding about your work?
I love watching my clients discover that they have all the answers inside of themselves, and are powerful beyond their imagination. My job is simply to help them learn to work with their innate healer.
Therapy sessions with Dr. Piazza-Bonin
What will our first session together be like? What happens in ongoing sessions?
Our first session is a chance for you to tell me everything you'd like me to know about you spanning from your childhood to the present. But, we generally jump right into our therapy together by the 2nd session. I often like to remind my clients that I am the guide, but you are ultimately the healer. There is nothing quite as empowering as that!
Our work would involve a lot of inner work in which I teach you to be guided by your intuition to locate the parts of self that need our attention. Over time, you learn to offer love, compassion, and presence to the most wounded parts of you, which transforms these parts into ones that can then share their capacity for creativity and joy. Every session is unique and engaging. We create a sacred space with heart-centered meditation to start us off, and then we dive into the inner work where we move beyond just talking into deep experiencing and transformation.
How long do clients typically see you for?
I believe that every client has their own inner healer. My role is to teach each person how to connect with that healer deep inside so that ultimately I am no longer needed. For many people this happens in "chapters" of therapy where they do work with me for a period of time and then take time off to integrate and practice in their own life. Most people need to work with me for 3-6 months before they feel ready to do that. On occasion, I will work with someone for a year or longer.
Are there any books you often recommend to clients?
I often recommend No Bad Parts by Richard Swartz.
Do you assign "homework" between sessions?
I like to think of it more as "integration" where you are taking what you've learned in the session and connecting with that in real life in tangible ways.
How do you help ensure I'm making progress in therapy?
I check in with clients about how they think their progress is going, as we keep the conversation going throughout our time together. I also use my own clinical judgement to assess clients' progress. Most of my clients find that this therapy is both efficient and effective. And, in the case that it is not, I want the best for my clients and will help them connect with a provider who might be a better fit.
How do I know that it's time to start seeking therapy?
If you are tired of suffering and ready to bring an open mind and open heart to all of your internal world so that you can live with more joy and creativity.
How can I prepare for our first session?
I send out a questionnaire and several measures to help guide our information gathering session. But, after that, the best way to prepare is to come with curiosity, honesty, and openness.
How will I know it's time to end my time in therapy with you or reduce session frequency?
If you work with me, you will learn how to become deeply connected with your own internal compass and healer. From that place, you will know when you are needing a shift in terms of frequency. I also provide feedback to clients about my clinical judgement so that this too can inform the decision.
Why should I seek therapy, rather than turning to my partner, friends, or other loved ones?
Therapy can be utterly transformative. But, that requires a therapist who is very well trained and who offers a therapy approach based in theory. I encourage you to research a prospective therapist's training, credentials and ask lots of questions about their approach (including techniques they use, how they track progress, and how long they typically work with clients). If therapy feels just like talking to a friend, you are likely not going to get much more benefit than had you called your bestie.
Therapy that yields results is active, engaging and should generate significant results in your wellbeing. Talking to friends or a partner can also be a wonderful source of support, but often our loved ones are not equipped to do what a therapist can do to help your mental health. As a therapist, I often work with my own therapists during times of need. So, even those who "know" how to do therapy sometimes need that expert assistance to deepen the healing process.
What advice would you share with therapy seekers?
Believe in your healing. Interview multiple therapists and trust your intuition about fit. Expect results.
Visit Dr. Piazza-Bonin's profile to watch her introductory video, read more, and book an initial call!