Drew Rabidoux is a Licensed Clinical Social Worker providing online therapy to clients throughout New York and Texas. Drew works with adults across the lifespan navigating anxiety, depression, life transitions, and relationship issues. She also particularly enjoys working with high-achieving women facing various life and career challenges. Trained in Gestalt therapy, mindfulness, and CBT, Drew helps clients increase awareness of their thoughts and behaviors to improve self-confidence and strengthen their relationships with others.
We asked Drew more about her work with clients and her guiding philosophies on therapy.
Drew's background and personal life
How did you decide to become a therapist?
As a kid I was always drawn to supporting others, whether it be befriending kids on the playground that didn't have anyone to play with or being a peer helper in college. When I found out that this could be my job, it was a natural fit.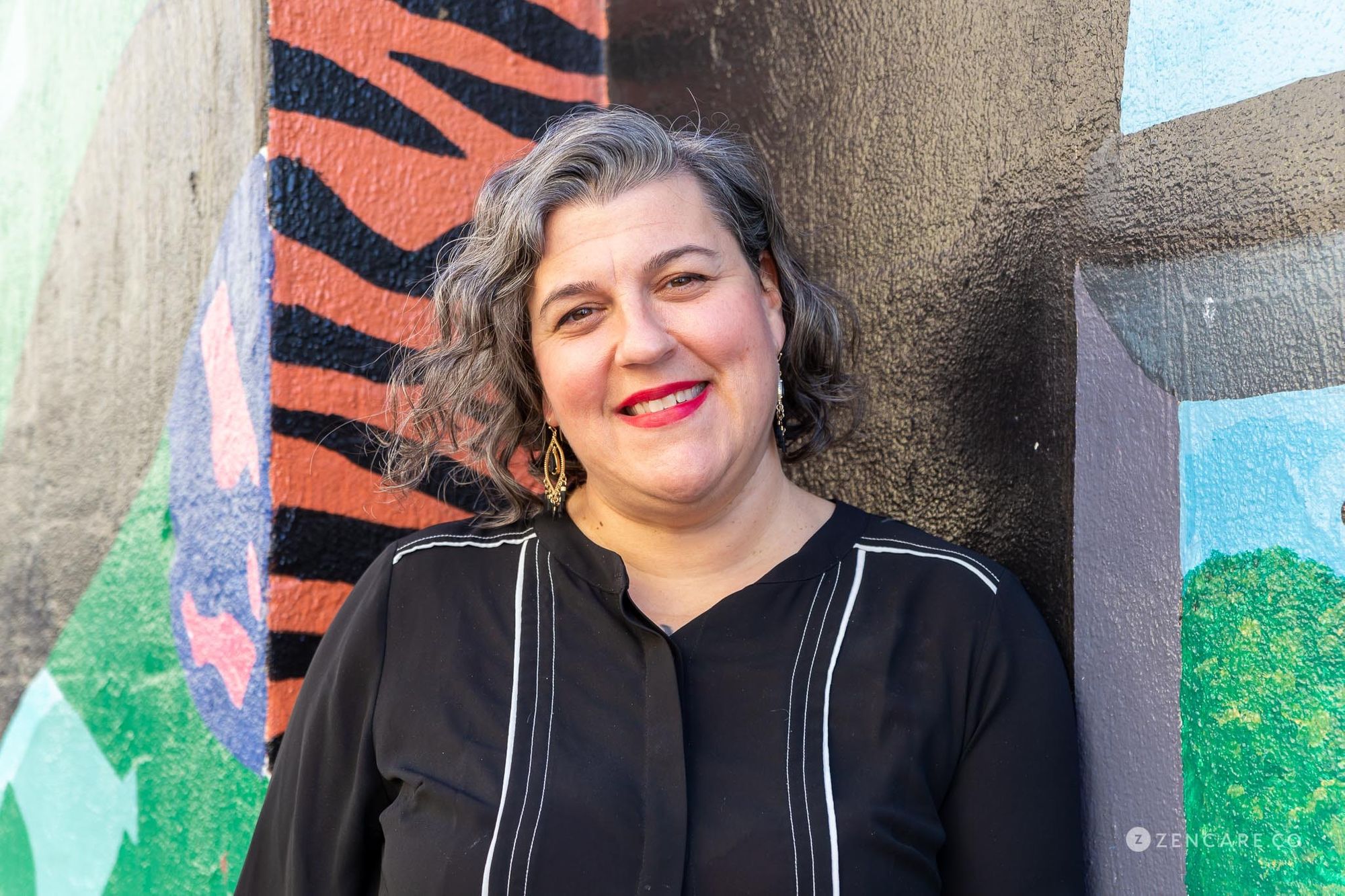 What was your previous work before going into private practice?
I have been in the social service field more than half of my life. I have worked with homeless teens, in HIV/AIDS education and direct service, as an AmeriCorps Volunteer, as a Peace Corps Volunteer, as a hospital Social Worker, and as a therapist with immigrants struggling with anxiety and depression.
What do you enjoy doing in your free time?
I enjoy dancing, spending time with my family, geeking out about my business, and karaoke with friends.
Drew's specialties and therapy philosophies
What guiding principles inform your work?
Allowing space for all feelings and experiences is important to me. You are made up of so many experiences and events that have shaped you, and I want to look at how they led to who you are today. I try to create a safe space for you to be curious about your experience.
Can you tell us more about your specialty in working with high-achieving women?
High achieving women are powerhouses in their careers and probably even have an active social life. However, they may feel out of touch because, despite as successful as they are in their career, they are unsuccessful in relationships. I help women look at patterns that are unconscious that may be standing in the way to them having meaningful relationships. Just by having an awareness, there is a quick shift. If you know better you do better, so I help figure out the knowing part.
Can you tell us more about your specialty in treating anxiety?
NYC is anxiety capital of the world. If you didn't come here with anxiety, you will likely have anxiety by the time you leave (if you leave!). My clients with anxiety often feel overwhelmed, out of control, and sometimes even struggle with panic attacks on the regular. The goal with anxiety is to tap into what the anxiety is about, which includes some curiosity and exploration.
Can you tell us about your work with clients navigating various relationship challenges?
NYC is a tough place to find and keep relationships, but it is not impossible. Online dating can also be frustrating, as you may want a committed relationship but seem to meet people who don't want to commit.
Who we pick as partners is typically a result of what we think we need, what has happened in the past, and how we feel about ourselves. I work with people to bring some light on those contributing factors and figure out areas for growth.
What do you find most rewarding about your work?
I get to have a front seat to you making lasting changes and realizations about your life. I get to see the trajectory of someone coming in with a problem and leaving having gained insight into who they are and knowing how to move forward with ease.
Therapy sessions with Drew
What will our first session together be like? What happens in ongoing sessions?
Our first session is getting to know each other. It's important that we are a good fit. The first session includes some questions like: Why start therapy now? What symptoms are you experiencing? What do you hope to accomplish in therapy?
How long do clients typically see you for?
Typically, my clients see me for long periods of time. I have some clients that have been working with me for 2 years and some that saw me for a 6 months or less than a year. It depends on what you are working on, how motivated you are for change, and your openness to the therapeutic process.
Are there any books you often recommend to clients?
Untamed by Glennon Doyle - it's a life changer!
Do you assign "homework" between sessions?
I do assign homework between sessions. Typically homework is to develop awareness around a certain theme or struggle that was discovered in our session. Whether you do the homework or not, it can still give us a lot of information about whether you are curious about something or would rather avoid it. We will be curious about both.
How do you help ensure I'm making progress in therapy?
We review goals of therapy every couple of months or as needed. I also administer tests that track your symptoms, so you can see what symptoms have alleviated and which have stayed the same.
How do I know that it's time to start seeking therapy?
It's time to seek therapy if the presenting problem is interfering with you feeling happy and fulfilled in your life. You may feel detached from living your life the way you want to. You may want to start looking at why you approach things in a certain way. You may begin to notice that there are patterns in your life, such as failed relationships or problems at work.
How will I know it's time to end my time in therapy with you or reduce session frequency?
This is an open conversation between us. Typically, signals that you are ready to end are improved symptoms, management of the presenting problem, and feeling able to go several weeks without going to therapy.
Why should I seek therapy, rather than turning to my partner, friends, or other loved ones?
A therapist is trained to be able to make sense of what is going on for you and to then make that translatable to you. Your friends, partner, loved ones are not objective; they are partial to you. You also have to maintain a harmonious relationship with them and they might not always tell the truth. A therapist will tell you the truth and provide support at the same time.
What advice would you share with therapy seekers?
Try out several therapists! A good therapist will always understand that is part of the process. If you feel comfortable with the therapist and feel open to sharing intimate parts of your life with them, that is a good match. Pay attention to how you feel in the room.
Visit Drew's profile to watch her introductory video, read more, and contact her for an initial consultation!