Denise Lucas is a Licensed Professional Counselor in Oregon specializing in trauma, PTSD, and anxiety. We asked Denise more about her work with clients and her guiding philosophies on therapy.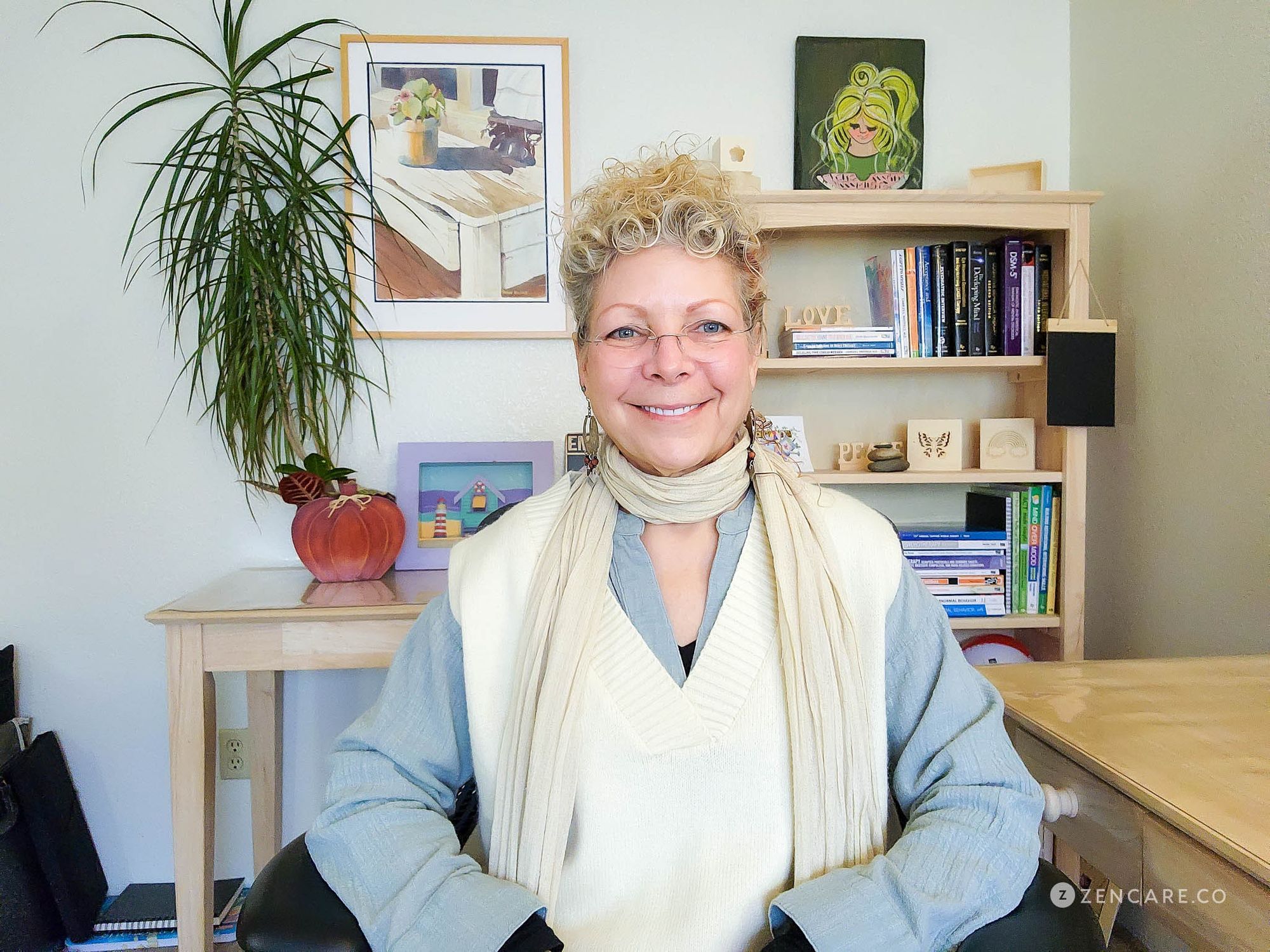 Denise's background and personal life
How did you decide to become a therapist?
My journey began when I was working at the county jail and eventually at the Department of Veteran Affairs (VA). I spent time listening to people's stories and began to realize how much I loved hearing those stories. Our stories are so important to how we view ourselves, others, and the world around us. Most of the stories were of struggles and hardships which impacted their quality of life. It was then that I realized I wanted to dive deeper into learning more about how to help people who are suffering.
What was your previous work before going into private practice?
After my time at the jail and VA, I worked at an elementary school as a counselor, I worked at a residential home for clients who have been diagnosed with Severe and Persistent Mental Illness (SPMI), mostly Schizophrenia. I also worked for several years in a Community Center for Behavioral Health Care as an Adult Outpatient Therapist. I also currently teach at Multnomah University.
What do you enjoy doing in your free time?
I enjoy cooking with and for my family. I love to spend time on the Oregon coast and in the forest hiking and discovering new places. I am an artist and enjoy painting in watercolors and playing the drums and piano.
Denise's specialties and therapy philosophies
What guiding principles inform your work?
I began to work with people who have experienced trauma from complex childhood trauma to war atrocities. As I studied, I began to learn about neuroscience and the physiological effects of trauma. Today My approach is based on neuropsychology and integrating the mind-body connection as well as integrating wholeness and wellness.
What clientele do you work with most frequently?
I work with a wide variety of clientele (ages 18 years and up) who are experiencing a wide range of issues
Can you tell us more about your specialty in working with clients recovering from trauma?
Trauma, PTSD, and other stress-related disorders can be big "T" trauma or little "t" trauma. Trauma in this sense means any time when people have not felt safe, connected, or empowered. The biggest challenge is the common self-protective behavior of dissociating after being traumatized. Trauma reprocessing needs to be done in the present moment. We overcome this challenge by properly preparing the client for reprocessing and practicing resources to help the client ground in the present moment throughout the reprocessing protocol. I implement a Somatic and Attachment focused EMDR (SAFE EMDR) as a primary tool in treating trauma as well as may other issues
Can you tell us more about your specialties in anxiety and depression?
Anxiety and depression often go hand in hand. Some of the challenges are when people get stuck in their anxiety and depression and feel that there is no way out. While some prefer to talk as a way of healing, I work with a somatic approach integrating the mind-body connection working with the physiological as well as the emotional and cognitive aspects of symptoms. This approach helps to provide a holistic approach to healing
Can you tell us about your work with clients on attachment-related concerns?
A lot of trauma and distress stems from those early attachments we had with our caregivers. Caregivers who were responsible for meeting the needs of infants and children in the early years. When these needs are not getting met for whatever reason, insecure attachments develop which impacts what we do, think, and behave as adults. Exploring and addressing attachment helps to improve relationships with ourselves and others.
What do you find most rewarding about your work?
I love to watch people begin to thrive in life instead of just surviving. Helping people reach their goals and living the life they want and deserve. I also love learning new ways and modalities to help others by attending seminars and connecting with other clinicians, being in the community sharing my knowledge and skills with others.
Therapy sessions with Denise
What will our first session together be like? What happens in ongoing sessions?
Typically, I start with a 15-minute free consultation to see if we are a good fit for each other and provide you space to ask questions. If you decide to schedule an appointment, I will send you forms to sign and a few brief assessments (electronically). At your first appointment, I like to discuss your goals for treatment and types of therapy to create a treatment plan which will guide our future sessions and track progress. However, I'm flexible as to what sessions look like and like to meet the client where they are at the time of the appointment.
How long do clients typically see you for?
Everybody is unique and the number of sessions depends on the individual.
Do you assign "homework" between sessions?
Homework depends on the type of therapy we are implementing. If we are working on developing skills, then you will be assigned to practice the skill. Other times it just may be tracking emotions and or memories if we are engaging in EMDR. I often encourage some type of self-care to practice between sessions, I feel self-care is integral to mental health. I often let you dictate what you are willing to practice between sessions, how often, and what's doable for you to set up for success.
How do you help ensure I'm making progress in therapy?
I create treatment plans with specific goals to help track progress.
How can I prepare for our first session?
I provide the client with forms to sign and brief assessments to complete at least 24 hours before the appointment. At the first appointment just make sure you are in a place where you can focus on therapy at the time of the session.
How will I know it's time to end my time in therapy with you or reduce session frequency?
You will know it is time to end or reduce sessions when you feel you have reached your therapy goals and living the life you want.
Visit Denise's profile to watch her introductory video, read more about her, and contact her for an initial consultation!