Damon Dodge is a Licensed Marriage and Family Therapist providing remote therapy sessions to clients throughout the states of California and Colorado, as well as in-person sessions at his office in Hollywood, CA. Damon most frequently works with adult men on issues related to work stress, anxiety, and/or depression. However, he also has many clients who seek his support on issues relating to LGBTQ+ topics, major life transitions, and/or social anxiety challenges. Damon's approach is existential, post-modern, and behavioral in nature, and he regularly utilizes client-centered and solution-focused approaches to help clients bring their own unique goals to life.
We asked Damon more about his work with clients and his guiding philosophies on therapy.
Damon's background and personal life
How did you decide to become a therapist?
In some ways, I've been a therapist my whole life. I've always been available to others as a peace-keeper, sense-maker, and secret-holder. It landed me in a job doing 1-on-1 coaching in a high-pressure corporate environment, which I enjoyed for quite a while. And then it occurred to me—I cared a lot more about the people I worked with than the companies I worked for. Having worked years with start-up organizations, I felt confident about going out on my own and creating something I believed could help people. And I'm so glad I did—this feels more right than anything else I've ever done.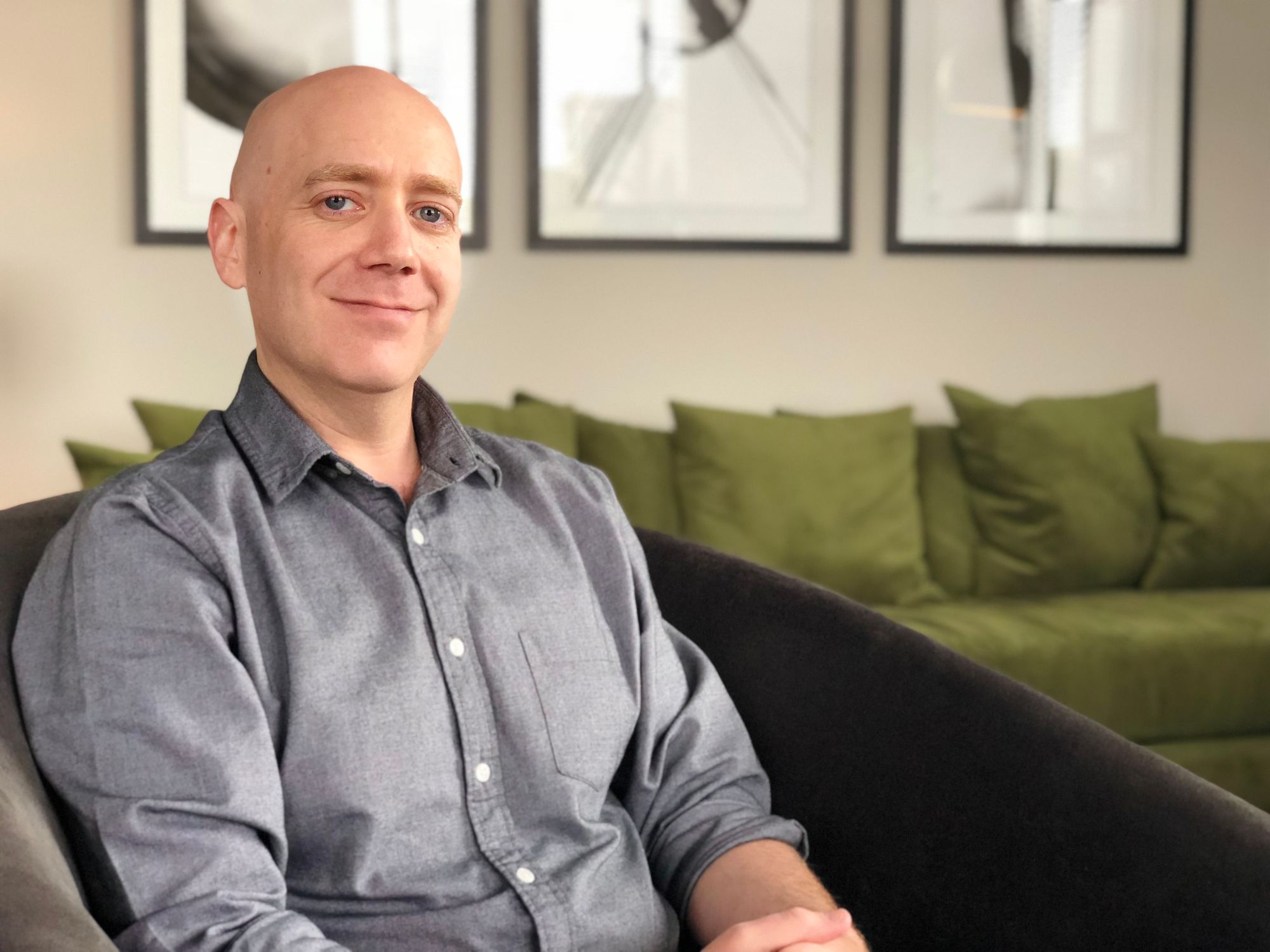 Damon's specialties and therapy philosophies
What guiding principles inform your work?
I suppose I'm guided by my own personal values:
Authenticity - Only by being our truest selves can we discover who we are and what we want.
Purpose - It drives us to step outside our comfort zone and experience more of life.
Safety - We need the right environment to be vulnerable with ourselves and others.
Logic - I'm a big believer in figuring out what makes sense and doing more of it.
Vitality - Life is for living!
What clientele do you work with most frequently?
Hmm...I'd say there are a few patterns I notice in people who choose me as a therapist and really get into the work.
Adults from 28-38 - This is an interesting time in our lives that many of us don't feel prepared for. We're building real competence, and yet we're still learning how to move onward and upward.
Driven professionals - I've done the growth-organization thing, constantly working and traveling. For those of us who ask a lot of ourselves, it can be difficult to find that elusive work/life balance.
Men - We have precious few safe places to open up, look directly at the things that scare us, and find better choices to make.
Introverts and the socially anxious - I am definitely in this category! Letting go of the extroverted ideal opened up my life, and I enjoy helping others embrace themselves as they are and learn to leverage their strengths instead of trying to be someone they're not.
LGBTQ+ individuals - Working with this population takes additional training that most therapists don't invest in. We all deserve quality care!
Can you tell us more about your specialty in anxiety?
Anxiety is something that impacts all of us. For many, there's a general sense of dread or feeling of being unsafe that holds us back from life. For some, social anxiety is a significant barrier to creating connection with others. Anxiety can show up in our thoughts as well as our bodies, and it can prevent us from living the life we want. The most important thing to remember when it comes to anxiety is that most of our fearful thoughts are false. Your brain sends a compelling signal that you're in mortal danger, but most times the stakes just aren't that high.

I help clients manage anxiety learning a 3-step process:
1.) Notice anxiety when it appears.
2.) Identify and challenge inaccurate thoughts to reorient you to reality.
3.) Proceed mindfully based on what is happening and not all the random things that might happen.
Can you tell us more about your work with clients struggling with depression?
We all have ups and downs; for some of us, those downs go lower and last longer. And frankly, depression can be a real jerk. It tells us not to hope, it blinds us to the good in our life, and it makes us feel like we're moving underwater. Depression is a slowing and a stopping; it limits us and convinces us that trying isn't worth it. In my experience, the way to challenge depression is to take action, literally. Moving around goes against that slowing/stopping. And when we engage in activities that brought pleasure before the depression, feelings of enjoyment emerge and give us hope again. With the tiniest speck of optimism, we can start engaging in our lives again and accumulate positive emotions and experiences.
Can you tell us about your work with clients on topics related career/work stress?
This one hits close to home for me. Before becoming a therapist, I myself was a driven professional in a high-pressure environment. Traveling constantly and 60+ hour weeks were the norm. No matter how hard I worked, it never felt like enough, which led to burnout and a lot of self-doubt. That's when I went to see a therapist—when I knew the way I was handling work just wasn't working. In that process, I learned a lot about the things I was doing that made a tough situation even harder on myself. I learned how to take responsibility for my part in my struggles, while setting limits with work and eventually finding a career that was more congruent with my values.
What do you find most rewarding about your work?
So many things! First and foremost, I love being part of the experience when people discover they're capable of so much more than they'd ever imagined. I'm passionate about helping people understand that they're not alone and that whatever they're going through in their unique lives is part of the overall shared experience of being human. I'm also purposeful about helping people adjust their perspective and find strengths where before they saw flaws.
Therapy sessions with Damon
What will our first session together be like? What happens in ongoing sessions?
You talk, I listen. I find that people have been holding in so much by the time they get to their first session. I gladly provide space for you to release that pressure. After that, we start creating a picture of how you would like things to be different so we have goals to work toward.
How long do clients typically see you for?
The range is pretty wide. Some people come in with a particular challenge to work through. More often than not, people discover there's more they want to discuss and work on. Some engage in therapy for a few months; others continue working for years as they set new goals for themselves over time. This is a personal decision, one which I empower people to make for themselves.
Are there any books you often recommend to clients?
Do you assign "homework" between sessions?
I don't particularly like the term homework; it brings up memories of boring worksheets in school. I do believe in work between sessions, though. We only get an hour week together, so the work done in-between sessions is where the most growth happens. I encourage people to practice skills, like noticing when they don't like how they feel or engaging in little experiments focused on incremental progress. A slow and steady pace leads to more lasting results.
How do you help ensure I'm making progress in therapy?
Before you can ask for directions or get help getting to your destination, you have to have some sense of where you want to go. With clear goals in mind, we can gauge whether or not you're making progress toward them. And if your actions aren't moving you closer to your desired results, we know it's time to change things up.
How do I know that it's time to start seeking therapy?
Feel stuck? That's the #1 word I hear from people seeking therapy. They've tried doing something on their own, and they just can't make it happen. Seeking support is a sign of strength, not weakness. It's a commitment to be vulnerable and make change happen regardless of the situation.
How can I prepare for our first session?
Take a deep breath. You've likely got a lot on your mind and are ready to let it all out. Pace yourself, and don't be surprised if feelings you've been holding in come to the surface as you share your story. People often tell me they sleep like a rock the night after the first session, so prepare yourself for some well-earned relief.
How will I know it's time to end my time in therapy with you or reduce session frequency?
I often ask people in the first session how they would know when it was time to bring therapy to a close. With this vision in mind, we can periodically check on our progress toward that vision and discuss what we're doing and how it is/isn't moving us closer to that desired state.
I'm open to reducing frequency over time, as long as we're making a logical, informed decision to do so. I believe one goal of therapy is to no longer need therapy, and I am committed to helping you feel capable of leaving the nest when it's time.
Why should I seek therapy, rather than turning to my partner, friends, or other loved ones?
People in our lives mean well and often want to help. That said, they have unavoidable biases and often agendas of their own. Having an objective person to talk with provides a unique perspective, focused on you and what's truly best for you.
What advice would you share with therapy seekers?
Don't knock it 'til you try it! We all picture something different about what therapy will look and feel like. I encourage people to check it out and even to speak with a few different therapists before committing to one. Research emphasizes that the relationship with the therapist is the most healing factor, so be selective and give yourself time to find the right fit.
Visit Damon's profile to watch his introductory video, read more about him, and book an initial call!