Dakia Davis is a Licensed Clinical Social Worker in Raleigh, NC specializing in sexuality and gender identity topics, trauma, PTSD, and life transitions. Dakia takes a holistic and multifaceted approach to therapy and often incorporates aspects of psychodynamic, existential, and mindfulness-based therapies into her work. Dakia also understands that starting therapy can be a daunting process and strives to make all clients who enter her office feel welcome and understood; to this end, she is Queer-competent and an ally to all sexualities, genders, and races. Dakia is also licensed to provide teletherapy to clients in Washington DC, in addition to clients throughout her home state of North Carolina.
We asked Dakia more about her work with clients and her guiding philosophies on therapy.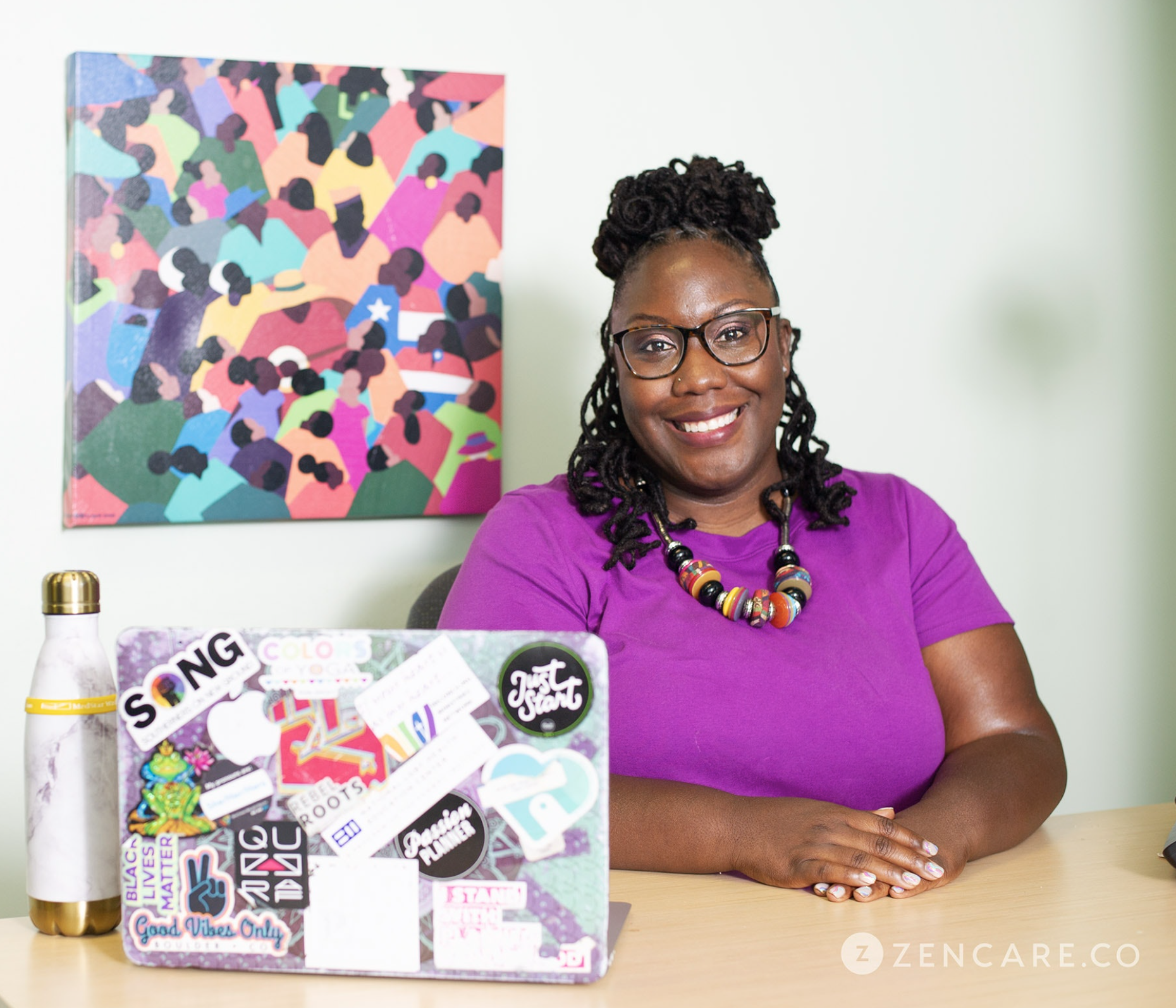 Dakia's background and personal life
How did you decide to become a therapist?
My job out of grad school was at a community health center and mostly administrative. While I enjoyed the role, I often found myself wanting to interact with patients more, especially as they dealt with new diagnoses, managing their illnesses, and navigating different health systems.
What was your previous work before going into private practice?
Before going into private practice, I worked at the MedStar Washington Hospital Outpatient Behavioral Health Clinic as a Program Therapist and as a Clinical Social Worker for the Community Violence Intervention Program (CVIP), where I supported patients experiencing traumatic injury from violent crime. I also worked part time at the RAINN DoD Safe Helpline for survivors of sexual assault.
What do you enjoy doing in your free time?
In my free time, I enjoy reading and watching TV. During the 2020 quarantine, my family started a garden, and experimenting with plants and being outside are now some of my favorite pastimes!
Dakia's specialties and therapy philosophies
What guiding principles inform your work?
I have 5 practice values/principles that guide my work: well-being, justice, relationships, safety, and self determination.
Well-being - I am committed to supporting your health and wellness goals.
Justice - I seek to provide affirming care and build resilience for individuals and communities impacted by violence and trauma.
Relationships - You will receive caring, focused attention. We will work together to build a therapeutic relationship that allows for you to be your authentic self.
Safety - Clients can trust that they can explore feelings and experiences confidentially and without judgement. Clients are supported in developing safety goals and setting boundaries.
Self-Determination - Treatment is client-centered. Your beliefs, personal experiences and goals are honored.
Can you tell us more about your specialty in helping clients navigate major life transitions and/or life challenges?
I provide life transition counseling for clients experiencing uncomfortable emotions like overwhelm, fear, and depression brought on by positive and negative changes—such as the death of a loved one, the start of college, or a change in careers.
Can you tell us more about your specialty in working with clients with a history of trauma/violence?
I use a trauma-informed approach to help clients understand, cope with, and alleviate stress from various traumatic experiences, including childhood abuse, medical emergencies/injury, and assault.
Can you tell us more about your work with clients on sexual and gender identity?
I practice affirmative psychotherapy to validate and advocate for the needs of LGBTQ+ clients. I envision a health and wellness practice that moves beyond the medical (pathological) model to provide compassionate, skilled care that responds to the social, cultural, and emotional needs of clients.
What do you find most rewarding about your work?
There are countless rewards to being a therapist! If I had to rank them, I'd say that helping clients find hope and move toward their purpose is at the top of the list. Some of the most powerful moments in therapy happen when a client is able to express who they are and pursue what they want with confidence and pride.
Therapy sessions with Dakia
What will our first session together be like? What happens in ongoing sessions?
The initial visit is a clinical assessment that will give the client and therapist a chance to get to know each other. Clients can expect questions about their background and goals. I also use this session to review important paperwork and policies with clients. Information gathered during this session will be used to develop a care/treatment plan.
How long do clients typically see you for?
Clients typically see me for 6 months to a year.
Are there any books you often recommend to clients?
The Complex PTSD Workbook by Arielle Schwartz is a book I use often with clients seeking to understand more about adverse childhood experiences and trauma symptoms. It offers lots of helpful exercises and tips. It's a great companion to Schwartz's A Practical Guide to Complex PTSD: Compassionate Strategies to Begin Healing from Childhood Trauma, which I also recommend to clients and fellow therapists.
Do you assign "homework" between sessions?
Typically, clients are asked to practice the skills or exercises introduced in-session. Some assignments are based on a specific intervention, like exposure therapy. For clients wanting to learn more mindfulness skills, they may be encouraged to journal or listen to a guided meditation about a particular topic or emotion. I also find it helpful to ask clients to track their emotions and behaviors between sessions to help monitor progress.
How can I prepare for our first session?
Clients are welcome to bring any questions and information that they think would be helpful to the first session. I send an email ahead of the first session about what to expect. After the first session, I follow-up with post-therapy self-care tips.
How will I know it's time to end my time in therapy with you or reduce session frequency?
Most clients attend 60-minute sessions once a week. Some may switch to meeting every two weeks or monthly depending on their progress. I check-in frequently after the first few sessions to confirm the treatment plan. We then review the treatment plan and the client's progression every 3-6 months. Clients can talk with me about their progress and session frequency at any time.
What advice would you share with therapy seekers?
Therapy is for YOU on YOUR time. It's okay to ask questions and give feedback.
Visit Dakia's profile to watch her introductory video, read more about her, and contact her for an initial consultation!