Christy Merriner is a Licensed Marriage and Family Therapist (LMFT) in Los Angeles, CA specializing in working with creative and artistic individuals. Christy utilizes her own background in the art and entertainment industry to better understand and help her clients struggling with a variety of challenges, including anxiety, ADHD, career changes, and stress. In addition to her LA practice, Christy also offers remote therapy sessions to clients in New York.
We asked Christy about her work with clients and her guiding philosophies on therapy.
Christy's background and personal life
How did you decide to become a therapist?
A series of unfortunate events occurred in my 20s as I was working in the music industry in New York City. They included a break up with a toxic work environment, a near-death experience, and an epiphany that I needed to explore my inner world, which led me to seek my own psychotherapy. While working with a therapist, I realized I had been ignoring much of my artistic and analytical mind and that I may need to shift my career to one that allowed more room to embrace these strengths.
This call to change revealed itself even further as I was working with a GRAMMY award-winning duo in Los Angeles. I became acutely aware that much of what I did in my work as a personal manager was transferrable (and needed) in the mental health field. I also felt compelled to utilize my interpersonal and intuitive skills in a deeper, more impactful way that could treat the whole individual, not just their career persona.
What was your previous work before going into private practice?
My dad bought me a used Fender Telecaster when I was 13 and that was the beginning of my music career. I discovered Nirvana, The Pixies, Sonic Youth, punk rock and more as a pre-teen, which inspired me to learn how to play guitar. I landed my first music job when I got the coveted gig of independent record store clerk (think Hi Fidelity meets Empire Records). I loved slinging records so much that I decided to pursue a record label job and at 19, Sony Music hired me as their Washington, D.C., College Marketing Rep.
After holding marketing and Artists & Repertoire (A&R) roles at Sony Music, Sire Records, and Warner Bros. Records, I shifted my focus to artist management. My first management job was selling T-shirts on the road aka "the merch girl" for Robert Randolph and The Family Band. When the tour ended, I was hired by his manager, Gary Waldman, and together we managed musicians, producers, recording mixers, engineers, and bands from our Manhattan office. I also occasionally tour managed (lived on a tour bus) for select artists on international and US tours.
In 2009, at the height of the recession, Studios 301, Australia's premiere recording studio in Sydney, recruited me. I enjoyed the beautiful scenery and more stable economy, but eventually moved back to NYC and accepted a job at Central Park SummerStage, as the festival's Arts Marketing Coordinator, helping to program music for the main stage. I continued to manage musicians on my own until being recruited by Lou Reed's manager to join his firm. I worked with many established artists there and also managed a smaller roster of up-and-coming indie acts.
In 2013, I moved to Los Angeles where I began music supervision for film and TV while continuing artist management. Not much time passed before I decided to pursue my new calling and go back to school to complete my Master's degree in Clinical Psychology.  I began my training at a non-profit community mental health clinic in North Hollywood. Training there was primarily in the psychoanalytic and psychodynamic practice of therapy, with an emphasis on Object Relations and Attachment Theory. I went on to work as an Associate Psychotherapist at another non-profit, Insight Psychotherapy Group, where I treated individuals at their Manhattan Beach and Beverly Hills offices before opening my own private practice in Los Angeles.
What do you enjoy doing in your free time?
I love listening to music, going to live shows, visiting art galleries, and watching great comedy, TV shows, and films. To relax, I enjoy reading, yoga, and swimming. I also love nature and animals, and I have three feline friends at home, Snake, Franco and Margeaux. During the pandemic, I've upped my meditation practice and partake in occasional masked happy hours with friends on my fire escape.
Christy's specialties and therapy philosophies
What guiding principles inform your work?
I believe that all humans have a unique voice and calling that is sometimes stifled by society, our parents, or our own projections and expectations of who we think we should be. Therapy with me is a collaborative process of self-exploration and discovery.
What clientele do you work with most frequently?
I work with clients from 15 years old and up, but I find that most of my clients are in their 20s and 30s.
I work with all cultural backgrounds, and I specialize in working with creatives who make a living off their craft. This includes musicians, producers, writers, actors, animators, painters, dancers, and others. I also work with entrepreneurs, professionals, and executives in the entertainment industry.
Can you tell us more about your specialty in working with clients with anxiety and/or ADHD?
I find that many creatives face the challenges of anxiety and/or ADHD at some point in their lives, which can cause productivity and self-esteem issues. Common concerns from clients include procrastination, perfectionism, an inability to finish projects, and a lack of focus. Relationships often suffer as a result.
I work with my clients to uncover unhelpful behaviors and thought patterns. Together, we will develop manageable, healthy habits that increase feelings of calm, focus, and self-worth. To do this, we'll explore things like your negative automatic thought patterns, rejection sensitivity, black-and-white thinking, and other cognitive distortions that can be reframed into more positive and productive thoughts.
Can you tell us more about your specialty in helping clients navigate life transitions?
Many clients come to me as they are going through or about to go through a major life transition or adjustment. This could include a breakup, a loss of a job or loved one, a change in career, or a new phase of the aging process.
Feelings of fear, depression, anxiety, "over-analysis paralysis," guilt, and shame are all common emotions when adjusting to a new phase in life. All of these circumstances and associated feelings require a large dose of self-compassion and the courage to embrace the unknown.
To help ease transitions, we may develop a mindfulness practice as well as actionable steps to alleviate stress. We will discuss your future dreams and goals while allowing you to celebrate (and grieve) the people and things you have lost.
Can you tell us about your career counseling specialty?
My former career as an artist manager gives me a leg up in this department. A majority of clients seek therapy with me because they feel stuck or stagnant in their lives or careers. Some are looking to advance or pivot in their roles or their art, while others want a complete career shift.
Regardless of where you are, we will work together to explore conscious and unconscious patterns that may be aiding or delaying your life satisfaction. Our physical environments, the people we surround ourselves with, and our own emotional triggers all contribute to our well-being. By examining your unique set of circumstances, we can develop new coping skills to lead you toward the life you desire.
What do you find most rewarding about your work?
I enjoy the energy, ideas exchange, and inspiration that comes from working one-on-one with passionate creatives who care deeply about their work and their fellow humans.
I love watching people grow and transform and eventually leave therapy. Yes, that's right, I want people to get better and move on! I learn from my clients just as much as they learn from me.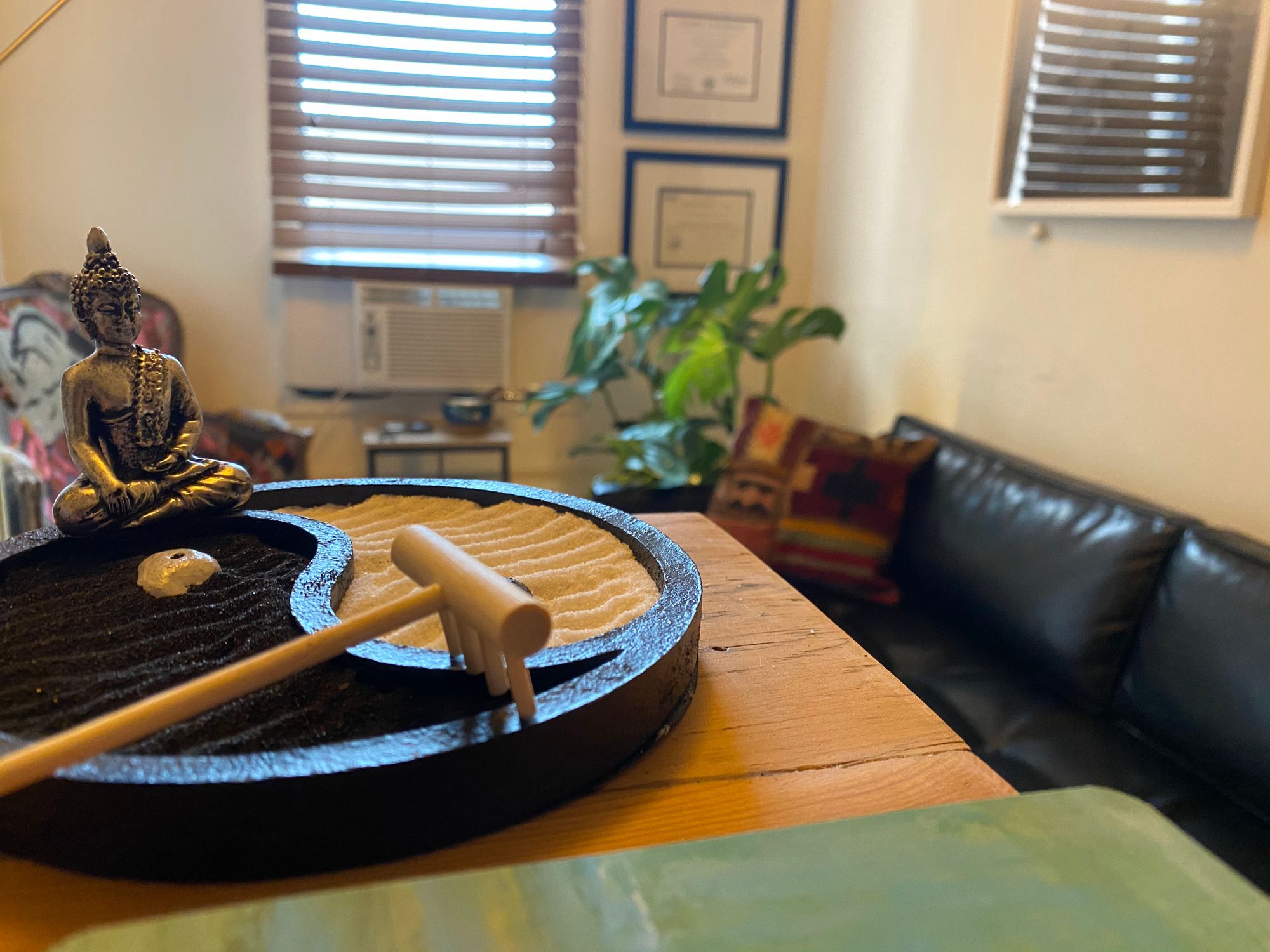 Therapy sessions with Christy
What will our first session together be like? What happens in ongoing sessions?
Our first session will be 75 minutes to ensure we have time to cover your background, history, and any other important things you'd like to discuss, such as symptoms, current challenges, or treatment goals.
How long do clients typically see you for?
Everyone is different, but most clients benefit from at least six months to a year of therapy. I've had certain clients for longer, but the determining factor for treatment length really depends on whether you have been able to accomplish or address what you sought out to do in treatment.
Are there any books you often recommend to clients?
Do you assign "homework" between sessions?
I sometimes will assign homework when appropriate and agreed upon with the client. Homework could include thought journaling, schedule planning, mindfulness practices, helping others, and/or relational homework if issues with a partner or colleague arise.
How do you help ensure I'm making progress in therapy?
We will track and discuss your progress together. I will keep a professional record of our sessions and check in with you throughout treatment to see how you are feeling. Progress usually shows up in the therapy room as the ability to discuss more diverse topics, the ability to express a wider range of emotions, and an alleviation of symptoms as experienced and self-reported by the client.
How do I know that it's time to start seeking therapy?
Some clients proactively seek counseling support and guidance in order to cope with tough decisions, circumstances, or life situations because they feel they could benefit from an unbiased, objective viewpoint.
If you're feeling increasingly frustrated, alone, burnt out, depressed, anxious, overwhelmed, or at a loss for solutions and can't seem to find relief, it may be time to start therapy with a professional.
How can I prepare for our first session?
You can prepare for our first session by filling out your intake paperwork and emailing it to me in advance so that we have our full session time to talk. Bring yourself and an open mind.
No mental preparation is needed, unless you want to bring in thoughts or material you'd like to discuss in the first session.
How will I know it's time to end my time in therapy with you or reduce session frequency?
Therapy may end when you've learned the skills necessary to accomplish your therapy goals on an ongoing basis.
Some clients meet their goals in a few months, while others spend years in therapy, formulating new goals as their lives improve and evolve. As long as you're benefiting from therapy and we have something specific to focus on, we can continue working together.
Why should I seek therapy, rather than turning to my partner, friends, or other loved ones?
Some issues are deeply personal and our friends and loved ones do not always have the tools, training, or time necessary to help us confront difficult issues and emotions. Having a safe, confidential, and dedicated hour just for you each week allows you to share and receive constructive support from a caring clinician who has your best interests and mental health in mind.
What advice would you share with therapy seekers?
Don't be afraid to speak up and advocate for your needs in therapy. And don't give up your search if you're having trouble finding the right therapist. Move on if you haven't found a good fit. Finding a therapist who you feel connected with and who you feel you can trust is essential.
Visit Christy's profile to watch her introductory video, read more, and book an initial call!