Caitlin Vinter is a Licensed Independent Clinical Social Worker in Massachusetts specializing in perinatal mental health challenges, anxiety, and life transitions. We asked Caitlin more about her work with clients and her guiding philosophies on therapy.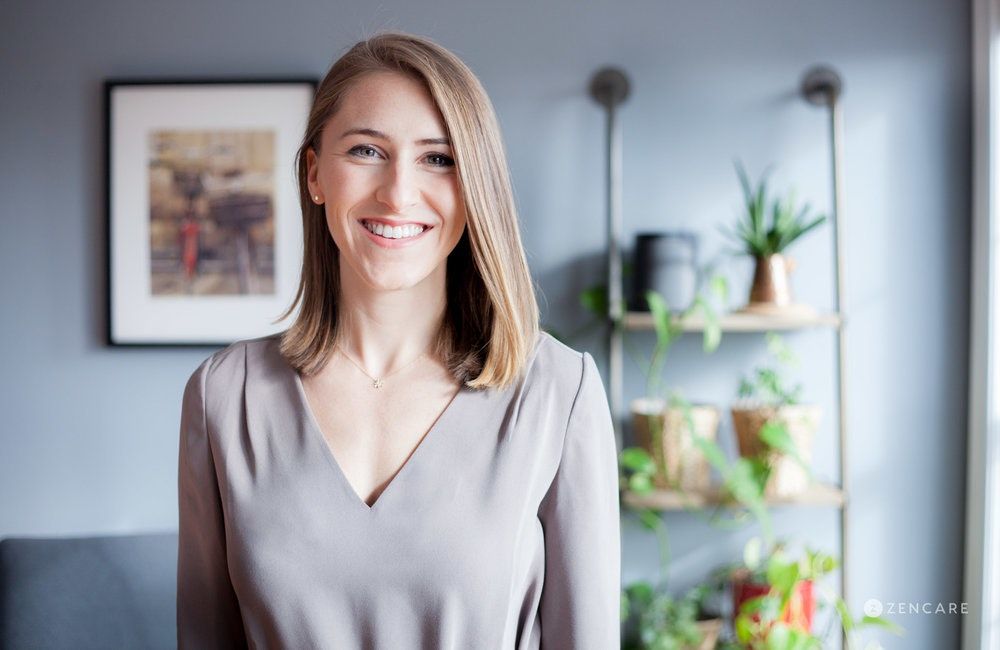 Caitlin's specialties and therapy philosophies
What guiding principles inform your work?
I have so many things that I'd like to say about this, but to keep it short, here are some of the principles that come to mind first:
In my practice, fit is essential. Research shows us that regardless of the kind of therapy being done, the biggest predictor of progress in therapy is the strength of the therapeutic relationship - if the fit is right, the work can flow.
I believe that therapy should be a collaborative process in that it requires work and dedication from both parties.
To be human is to experience hardship at times. We could spend our time and energy trying to avoid it, or we can learn how to get more comfortable being uncomfortable, how to make space for difficult emotions, and how to become more psychologically flexible to handle whatever life throws at us.
Therapy should be individualized, so I work hard to create a non-judgmental, supportive space in session and meet my clients where they are.
For most things in life, two seemingly opposing things can be true at the same time and if we can let ourselves accept that, life can get a little easier. You love your kids and get so frustrated by them? Welcome to being human!
What clientele do you work with most frequently?
I most frequently work with pregnant or postpartum clients as they navigate the incredible transition of becoming a parent. I really enjoy this population because becoming a parent is such an inflection point in life that asks so much of us and so few people really tell the whole truth about it - that it is both wonderful and hands down the hardest thing someone can do in their life!
Can you tell us more about your specialty in perinatal mood disorders?
I really enjoy working with women struggling with perinatal anxiety and mood disorders, this includes women trying to conceive, who are pregnant, and who may be many years postpartum. This is such a delicate and complicated time filled with so many contradictions and changes in relationships. Up to 1 in 7 women will experience postpartum depression or anxiety, and for many women these symptoms actually begin during pregnancy.
These incredibly common experiences are still not talked about as openly as they should be and many women only come to know about them when they find themselves suffering. In my work with women in the perinatal period, we focus on alleviating symptoms, setting realistic expectations for yourself and your experiences, addressing conflicts that can arise in relationships during this time, addressing role transitions that are occurring, addressing losses that come naturally with this time, such pregnancy loss, difficulty becoming pregnant, and loss of parts of what life looked like before pregnancy and parenting.
My goal in working with women through their pregnancy and postpartum phases is to help them move through these complex periods of life with support, compassion, and skills and tools to promote well being.
What do you find most rewarding about your work?
I learn from my clients every day. I feel so honored and privileged to bear witness to their grief, pain, resilience, grit, and perseverance. I find it so rewarding when I witness my clients make space for difficult things in their lives, feel uncomfortable emotions, and make the choices that move them in the direction they want to be going.
Therapy sessions with Caitlin
What will our first session together be like? What happens in ongoing sessions?
We always start out with an intake assessment that usually lasts 2-4 sessions. During this time I ask you a lot of questions to get a big picture of your life and what has been going on for you recently that led you to therapy. This is a chance for you to see if I am a good fit for you and for me to see if you are a good fit for my practice, meaning that I have the training and expertise necessary to provide you with effective treatment.
From there, we set goals together that will serve as our roadmap for our work, and then we dive into the work, meeting usually weekly or sometimes every other week. I think my clients would say that ongoing sessions tend to feel pretty conversational.
Are there any books you often recommend to clients?
I really like Things May Go Terribly, Horribly Wrong (Kelly G. Wilson and Troy DuFrene) and A Mindful Way Through Anxiety (Lizabeth Roemer and Susan M. Orsillo).
For parents, I am really drawn to Emily Oster's books Expecting Better and Cribsheet (I am a data person)!
The next two on my reading list are Hunt, Gather, Parent by Michaeleen Doucleff and Work Parent Thrive by Yael Schonbrun. These were recommended to me by clients actually! Again, I learn from them every day.
How do you help ensure I'm making progress in therapy?
This is why we set treatment goals together. Our goals will be a benchmark for us to consider when we want to pause and evaluate how we are doing. I also like to check-in in conversation with my clients to see how you feel things have been going recently and am always open to feedback.
Sometimes we find ourselves in a place where we aren't making progress and haven't in a while. If this is the case, we will talk about changes that we can make, different approaches we can try, or potentially referring you out to another clinician who might be a better fit.
How do I know that it's time to start seeking therapy?
The timing for starting therapy can look different depending on the person and what you might be struggling with. Here are a few things I think about that might indicate therapy could be helpful now:
When you feel like you've tried things on your own and still aren't seeing the improvement that  you're looking for
When you find that you're itching to finally make some changes but don't know how or where to start
When you are struggling with not feeling like yourself and want to feel better
When you are going through big life transitions and not handling them quite as well as you expected to
When you are noticing patterns in your relationships that have not gotten you the kind of connections that you want and you're curious about how to go about things differently
When you've tried it all and are open to trying anything
What advice would you share with therapy seekers?
Make sure that you feel comfortable with the therapist you choose. Listen to your gut when you are meeting with them. If you don't feel like you can be honest with them or feel emotionally safe, then it's not the right relationship for you. Also, stick with the search! I know that it can be so hard to find therapists right now so muster up your perseverance and keep at it. Eventually you will find someone.
Visit Caitlin's profile to watch her introductory video, read more about her, and contact her for an initial consultation!