Aja Evans is a Licensed Mental Health Counselor (LMHC) in Midtown Manhattan specializing in life transitions, work stress, anxiety, self-esteem challenges, and depression. Aja works with both young adults and adults and has a particular passion for working with members of the BIPOC and LGBTQ+ communities. Aja also has an interest in understanding the impact of finances on mental health and has advanced training in financial therapy. In sessions, Aja's therapeutic style is warm, non-judgemental, and client-centered.
We asked Aja more about her work with clients and her guiding philosophies on therapy.
Aja's background and personal life
How did you decide to become a therapist?
When I was very young, I think about 12, I remember a friend's mom telling me that I would be a good psychologist. At the time, I thought that meant that I would sit and listen to people's problems; while there is some truth to that, being a therapist is so much more. As I learned more and more about the field, I found that it really connected to my natural empathetic and optimistic ways of being.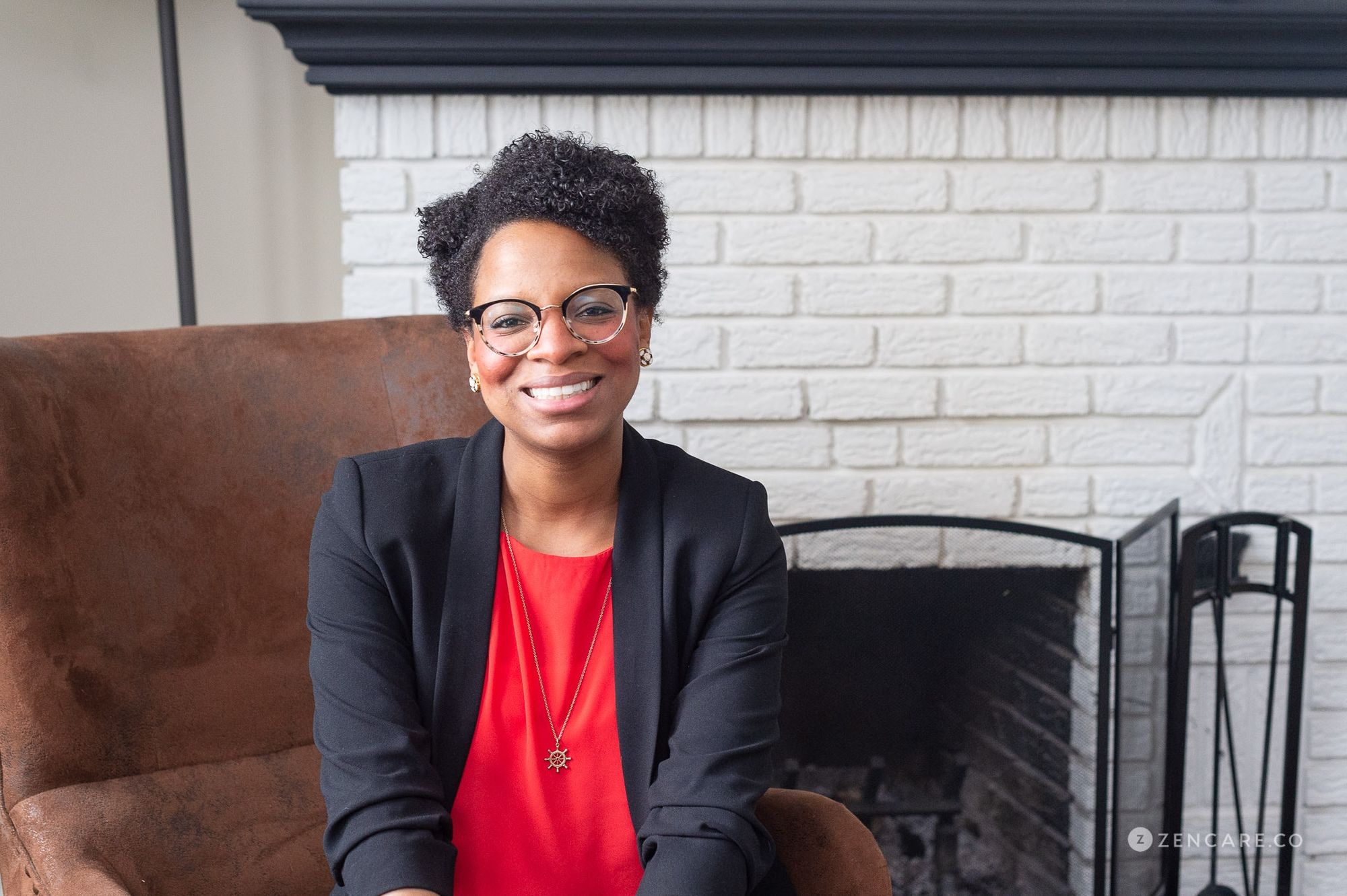 What was your previous work before going into private practice?
I have worked in several settings: day rehab, in-home therapy across the ages. Most recently I was a Director at the Pathway Home (a program designed to assist people coming out of long-term psychiatric hospital stays integrate back into the community).
What do you enjoy doing in your free time?
In my free time, I enjoy keeping up with all things food—chefs, restaurants, experiencing different cultures through food. Food is also a big aspect of my love for travel.
This past year has also made me realize just how important it is to who I am to spend time with the people I love, whether that be around the dinner table, chatting, or watching kids & dogs play.
Aja's specialties and therapy philosophies
What guiding principles inform your work?
During my graduate work at Lesley University they were constantly telling us "Self as instrument." I have to admit that I didn't completely understand what that meant at the time. Now, it truly permeates exactly how I work. The therapeutic alliance is extremely important to me in creating a non-judgmental, comfortable environment for my clients. I can't be my authentic, genuine self unless I bring that self, exactly as I am with thoughts, feelings, and experiences, into the space.
What clientele do you work with most frequently?
I work with adults—the majority of whom identify as black or people of color and some who belong to the queer community. I really enjoy working with people who are navigating work and life transitions, and I have found that who I am attracted to people in or around similar life stages. A lot of my clients express a desire to work with a therapist of color, so it is a natural coming together of who I am with what they were looking for in a therapist. I also think being approachable in the space has allowed people to feel comfortable.
Can you tell us more about your specialty in helping clients with their self-esteem?
I think there are a lot of times when we don't take the time to check in about how we feel about ourselves. We don't realized how frequently we are talking negatively to ourselves or how often our inner voice is being mean. How you interact with the world is greatly impacted by how you see yourself, it effects everything: relationships, work, behaviors, etc. I am here to help you address these blocks, so you can live your most authentic life.
Can you tell us more about your work with clients navigating living in NYC and other major life transitions?
Living in NYC is beautiful, but is also very competitive and can be isolating. There is almost this shame in admitting that it is hard. There is also a vulnerability that comes with admitting that, and most often people don't want to. Dealing with work, friends, relationships, moving, and finances are all part of the puzzle, and I strive to allow clients the space to exist without judgement.
Can you tell us more about your expertise in financial therapy?
It is almost a follow up to the above questions, but financial stress is a huge component of how we feel about ourselves and our lives, and I strive to make sure the ways you deal with finances aren't detrimental to your life. Especially after this past year, there has been a lot of concern about finances, but I don't think enough people are talking about what financial stress can do to a person's self-esteem and life.
What do you find most rewarding about your work?
Aside from watching and being a part of my clients' growth, I get an up close view at watching someone shift their life for the better. Being able to mirror back progress is amazing and brings me joy. Secondly, I am so frequently inspired and pumped up by my clients. I often find myself ending my work day in a better place than when I began it.
Therapy sessions with Aja
What will our first session together be like? What happens in ongoing sessions?
Typically, our first session is a more in-depth follow up to our phone consultation and is a continued step towards getting to know one another. We review any unanswered questions and start wherever feels comfortable. For some this involves diving into something that they are dealing with now; for others, it feels more comfortable for me to lead the way with questions to get us started. It truly depends on the client.
How long do clients typically see you for?
Thats a great question and it varies so much. Sometimes a client is coming in to work on something specific, and we are able to take action steps towards implementing change in 6 months to a year. However, I have several people I have been seeing for years because they are building a foundation of lasting change in multiple aspects of their lives—navigating employment, marriage, children, anxiety, self esteem. It all takes time.
Are there any books you often recommend to clients?
Currently, I am just finishing up a certificate in financial social work and plan to cross train in financial therapy. It has been a beautiful coming together of a personal hobby with my therapeutic work. I frequently find myself recommending personal finance books to my clients who are beginning or enhancing their financial literacy.
Do you assign "homework" between sessions?
Not really. My type of "homework" is taking the time to ask yourself a question or pay attention to a feeling that may be coming up. It is very loose and dictated by each client. Some clients really want to do things "right," so I will purposely not assign any "homework" outside of session because we are specifically working on how to exist without pressure.
How do you help ensure I'm making progress in therapy?
Challenging an unhealthy perspective is one of my favorite ways to help support a needed change. Not only am I there for support, but I am also there as a mirror of progress. If there are barriers or challenges a client is experiencing, I think it's important to bring this to their attention. It helps both of us see what is happening, what we want to happen, and why it may be difficult to move forward.
How can I prepare for our first session?
Try, and I emphasize try, not to be nervous. I am here to help and support—I am but a walking partner on your journey. If bringing a list of things feels right, do it! It is all about your comfort and ability to open up.
How will I know it's time to end my time in therapy with you or reduce session frequency?
It may be time to look at our goals for working together going forward when you find yourself having a harder time knowing what you want to bring up during session because you feel like you have been able to handle life in a way that feels good. I will definitely bringing it up as well to periodically see how you are feeling and where we are in meeting your goals.
What advice would you share with therapy seekers?
Be patient with the process of finding a therapist. There are a lot of variables that go into finding a good fit. It is better that the person meets your needs and you feel as comfortable as possible to share the inner workings of your life experience.
Visit Aja's profile to watch her introductory video, read more about her, and contact her for an initial consultation!