Dr. Yesel Yoon is a clinical psychologist in Midtown Manhattan who works with adults. In sessions, she incorporates skills-based techniques from cognitive behavioral therapy and dialectical behavioral therapy to help her clients regulate their emotions and learn how to be present in their lives.
She also specializes in anxiety, including both how it affects the body and how clients can learn to manage theirs in the present moment.
Below, you can read about Yesel's background and approach to therapy. You can also visit her profile to book an initial call today!
An introduction to Yesel and her practice
How did you decide to become a therapist?
I knew I wanted to become a therapist when I was in high school around 10th grade. I distinctly remember one particular instance when a friend confided in me through e-mail about some difficult personal issues. I took her words to heart and I literally spent a weekend reflecting on her struggles, thinking about how to best respond, and then working hard to articulate my feedback to her.
I felt more invested in this whole process than I felt was "typical" and I thoroughly enjoyed it too. I told myself "whatever it is I just did right there – I want to keep doing that."
It naturally led me to explore psychology, and I took an A.P. Psychology course in 11th grade which, practically speaking, began my course towards becoming a therapist.
What clientele do you work with most frequently?
I work most with people who are in their 20s to early 40s. Typically that age group encompasses people who are navigating a lot of life transitions including education, careers, relationships, identity development, and geographical/financial changes to name a few common ones.
With those transitions come high levels of anxiety, stress and burn out, and fears of not being good enough or doing the "right" or perfect thing. I enjoy helping people build adaptive ways of navigating these transitions and coping with those challenging feelings.  
Also, as an Asian American female therapist myself, I work closely with members of the Asian American and Pacific Islander community (although not exclusively). I find the similar cultural background helps individuals who are Asian American feel more understood and safe to share their experiences. The dearth of available Asian American (and other POC) therapists can make finding a therapist for AAPI individuals and other POC daunting, so it is a pleasure for me to be one possible resource.
What guiding principles inform your work?
I hold myself accountable to being as real and as authentically "me" as I can be while maintaining professionalism.
This means I'm not afraid to be flexible in my approach "in my room" with a given person.
At the end of the day, the safety you feel in the room, and the sense of connection and feeling heard by me will play a huge role in how the work will move forward and how deeply we can explore the issues at hand.
Additionally, I believe that it's not about "getting rid of" our feelings, no matter how difficult, but instead therapy is about building a different, more adaptive relationship with our feelings.
What advice would you share with therapy seekers?
You've probably spent a lot of time and energy trying your best to "be the best" and "do your best." This can be exhausting and you don't need to go at it alone.
Sometimes it takes additional support, like a therapist, to help you get unstuck and to learn how to give yourself permission to do what is best for you. Take a risk, invest in yourself, and reach out to begin therapy so you can learn more about yourself and learn how to live with more ease and confidence.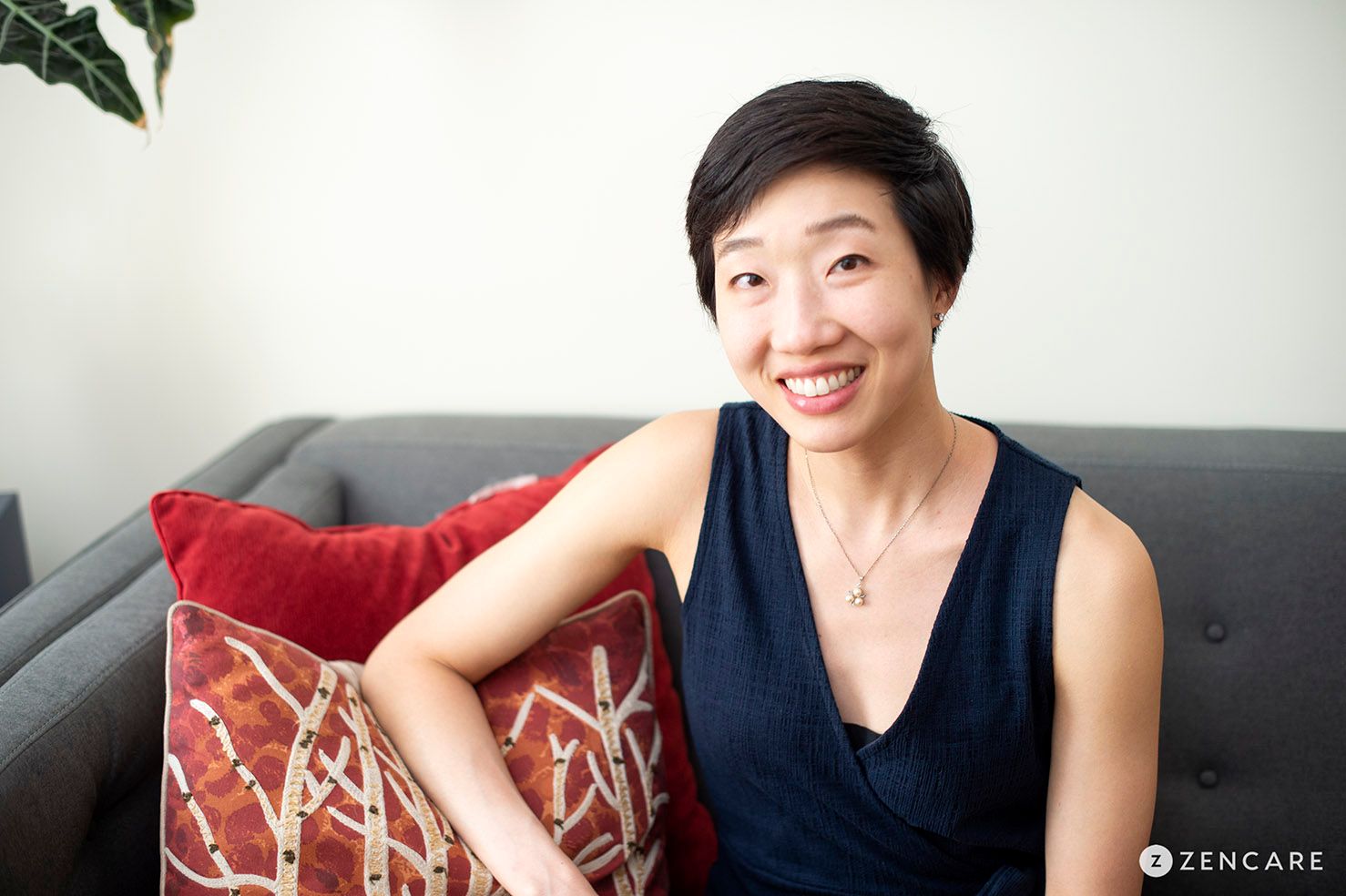 What to know about therapy with Yesel
What would our first session together be like?
I don't structure the first session that much differently than ongoing sessions. The only exception is that it's 60 minutes long (versus 45 minutes) and I start and end with some reminders about informed consent (confidentiality being really important), I ask for us to go a little more in depth about the concerns you initially brought to me over the phone during the brief phone consult.
I will weave in question as a way to get to know you more and begin the process of thinking more deeply about the issues at hand. I make it a point to check in about how things have gone during our first session so you can make a decision about whether or not to continue working with me. I don't assume that you will want to continue after our first appointment because I want you to make the decision based on your fit with me.  
Ongoing session are 45 minutes long and typically, they're led by whatever salient concerns are on your mind at that given time. If I remember something you said from our first or previous sessions, then I'll try to integrate those questions or concerns, and make it a point to weave a common thread throughout our work together.
Do you assign "homework" between sessions?
No formal homework, but typically there are things I'll probably ask you to think about and/or "try out" before the next time we meet.
That could be a mindfulness-based practice or to start investigating and making mental notes of certain patterned behaviors you have.
I often encourage you to be curious... and most importantly, not to judge yourself for whatever you notice.
How will I know whether I'm making progress in therapy?
One warning is that your mood shouldn't be the indicator of your progress. I say this because sometimes when you begin therapy, it's not uncommon for certain ways you felt before to seem "worse" or more palpable.
Trust that with continued support and exploration, you will move forward and through those spots. Progress can be seen in taking a different approach to your life and trying something new. You may also notice that you're thinking twice before you say, think, or do something. That's a sign of movement or progress.
Also, your relationships can be a good reflection of how you're doing internally. As cliche as this may sound - change, growth or progress: none of these are linear. So don't be discouraged if there are changes in a certain direction and then things move in another direction. I believe there's always a bigger picture to the trajectory of your progress.
Do I need to bring anything to our first session? How can I prepare?
No need to bring anything. Just be as ready as you can be to share what's on your mind and expect to feel a little nervous and excited at the same time.  
In terms of preparation - It helps if you can try and reflect on your "goals" (I use quotes because I'm using that term loosely) and where you'd like to be in relationship to your issues.
But it's not uncommon for therapy to be where you've come to even figure that out.
So, short answer: Don't overthink it. Just come with the intention to "do the work" and know that I am there to do it with you. Showing up can be the hardest part.
Yesel's advice on starting therapy
How do I know that it's time to start seeking therapy?
First of all, anytime you're starting to ask yourself "should I start seeking therapy?" then you're probably ready to start seeking therapy.  
Second of all, if you and/or others notice that you're not yourself, that you're not living in a way that is aligned with your values and goals, or you're starting to do/think/say things that are hurting yourself or others, then I'd encourage you to get support.
Why should I seek therapy, rather than turning to friends and family?
Partners, friends, or other loved ones have your interest in mind. They have their own interests in mind. They also have your relationship's interest in mind. There's nothing wrong with any of that but that can muddy the waters in terms of the kind of advice or support they're able to provide for you.
A therapist is a "third party" member of your life who is invested, but in a different way, in helping you learn more about yourself, and can provide different perspective than those who are involved in your life on a more personal level.
There's a certain level of freedom, my clients say, of knowing they can speak freely and openly to me about things that they wouldn't be able to say to their loved ones.
Yesel's background and present as a therapist
What was your previous work before going into private practice?
I worked in University and College Counseling Centers since my graduate training began. This is where my love of working with the emerging adult or young adult population began.
I provided individual therapy, group therapy, and outreach programs to students. I also provided training and supervision for doctoral trainees. Outreach is something I found unique to the college setting and something I hope to integrate in private practice.
What do you find most rewarding about your work?
Bearing witness to people's courage and vulnerability. Seeing people move along the process of trusting me, trusting themselves, and trying new ways of relating to their thoughts, feelings, choices.
What inspired you to start your private practice?
After almost a decade of working in university counseling settings and getting licensed to practice independently in New York, I decided I wanted to take my training and skills to the next level.
I loved the prospects of being able to be increasingly creative and autonomous and to expand my idea of what a therapist can do in their own independent practice.
Private practice also meant an increased level of flexibility so I could integrate more aspects of my personal life that I felt needed more attention, like my relationships, mental health and wellness, and hobbies.
What do you enjoy doing in your free time?
I love being outdoors and integrating the limited forms of nature in this NYC area. I attend meditation and mindfulness-based retreats and talks as often as I can. I meditate daily.
I love to read for pleasure which is finally re-entering my life after years of graduate training that made reading feel more like a chore. I love cooking and finding new and cool recipes to make, especially if I can do it with my partner. I practice vinyasa yoga and like moving my body as much as I can because it helps me feel more connected and centered.
Visit Yesel's profile to watch her introductory video and book a free initial call!