Clint Zavakos is a Licensed Clinical Professional Counselor in the Loop district of Chicago. Clint takes an integrative approach to therapy, tailoring it to fit the needs of the client. He is trained in Eye Movement Desensitization and Reprocessing Therapy (EMDR) for trauma treatment, and is Gottman level-two certified for couples work.
Read about Clint's background, and approach to therapy below, and visit Clint's profile to book an initial call today!
Clint's background, and present, as a therapist
What guiding principles or philosophies inform your work?
I believe that you bring a lot to the table. When it comes to therapy, I have spent years studying and working with clients, but you have spent a lifetime being you.
You are the expert on your thoughts, feelings and dreams. I see therapy as us working together towards a goal you set. I can provide an outside perspective and support you with working through difficult or confusing issues.
Ultimately, I believe that every individual has the power inside them to accomplish the change they want.  Helping my clients see that in themselves is incredibly rewarding.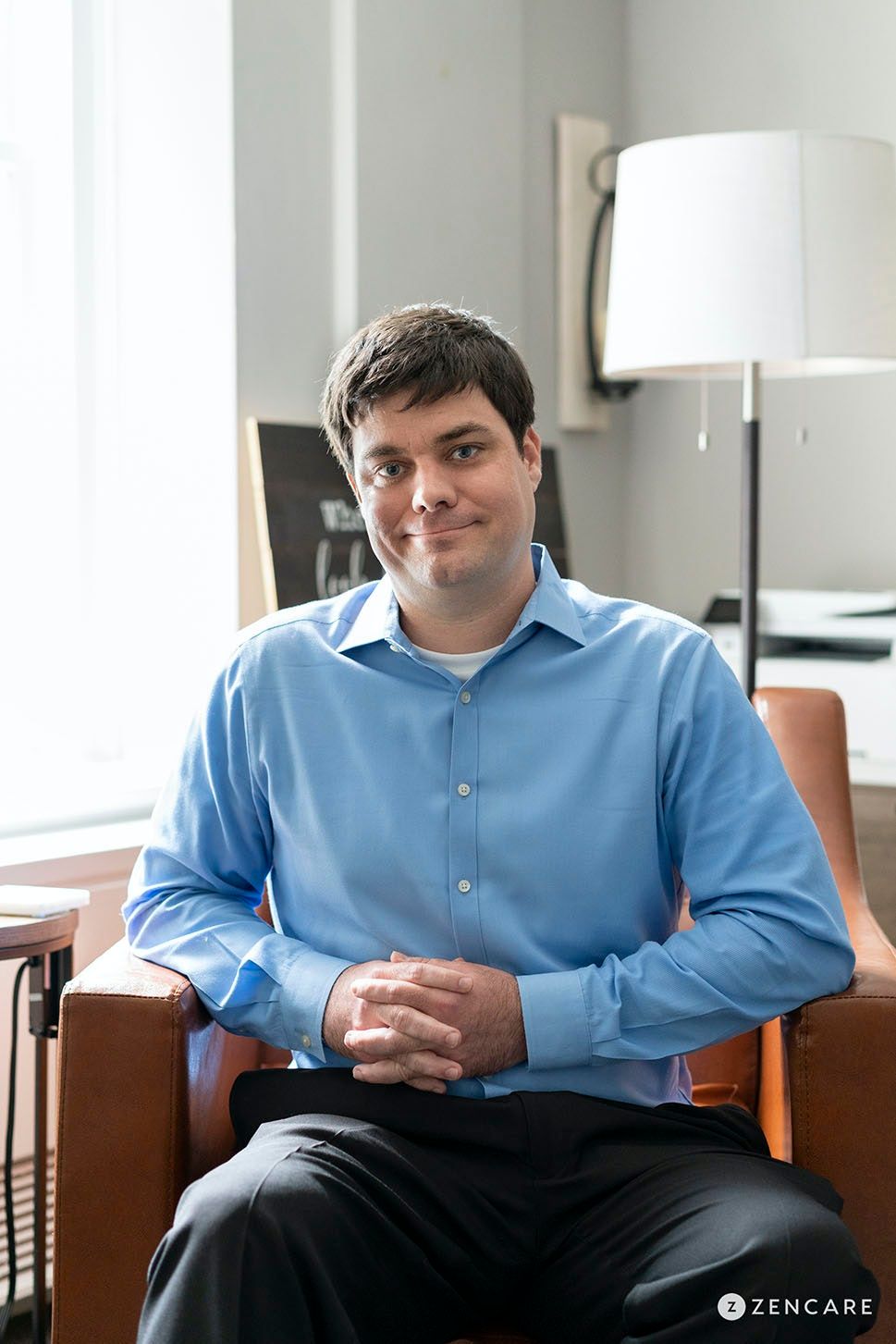 What was your previous work before going into private practice?
My first job after college was at a social service agency that served individuals with disabilities, where I taught groups that supported the clients with developing skills that ranged from managing symptoms to learning to grocery shop on their own.
After that, I began working at the Community Counseling Centers of Chicago on an intensive mental health team, while also attending graduate school. I worked with clients who were living with mental health and substance use issues. I supported them with finding stable housing, attending needed medical appointments, developing coping skills to manage their symptoms and provided emergency services during psychiatric crises. At this time I began providing individual and group therapy for individuals with substance use issues and those who were affected by trauma.
Before starting at the Center for Psychological Wellness, I was a staff therapist at a large group practice working with teens, adults and couples who were dealing with a broad range of issues, everything from PTSD to relationship issues to anxiety preventing them from taking the next step in their career.  
I also work at Gilda's Club, providing group therapy for clients living with cancer and those dealing with issues related to grief and loss.  
What to know about therapy with Clint
What would our first session together be like? What happens in ongoing sessions?
Our first session is a chance to get to know each other and set goals for what you want to work on in therapy. I want to give you a chance to get any issues you want to discuss off you chest and understand that I am here for you. I also like to use this time to obtain some background information about you and any relevant issues.
I then aim to provide you with information about areas that I believe I could help you with and we determine what we want to work on. You have the final say on any goals and I see my role as helping to empower you to make the the change you want.
How will I know whether I'm making progress during my time with you?
While every case is unique, there are several areas that we generally look at when evaluating progress:  
Insight and Understanding: Helping you understand what is happening to you, why and how we are addressing it. Identify patterns of past behavior, and determining if you want to change them.  
Physiological Symptoms: Improving your sleep, helping you learn to break out of anxiety attacks and reduce the feeling of being on edge all the time.  
Response to stressful situations: Developing skills to handle stressful situation well and understanding that you can't always control the outcome but you can control your response.
If I need additional support outside of weekly sessions, how would you help me connect with those resources?
Our office is conveniently colocated with a psychiatrist who can provide medication or TMS (Transcranial magnetic stimulation) if that is something you wish to pursue.
I see therapy as part of a whole body treatment, and am happy to support clients with locating complementary treatment such as support groups, yoga, etc.
Are there any books you often recommend to clients?
I often recommend "The Body Keeps The Score" by Bessel van der Kolk and "Trauma and Recovery" by Judith Herman for clients that want to understand the effect trauma has on a person.
"Beautiful Boy" by David Sheff (now a movie starring Steve Carell) is a good book to understand how substance use and mental health issues impact the whole family.
Visit Clint's profile to watch his introductory video, read more about his approach, and book an initial call!