Yisrael Zev Schwartz is a Licensed Professional Counselor in Baltimore, MD specializing in anxiety, OCD, and adolescent mental health. We asked Yisrael more about his work with clients and his guiding philosophies on therapy.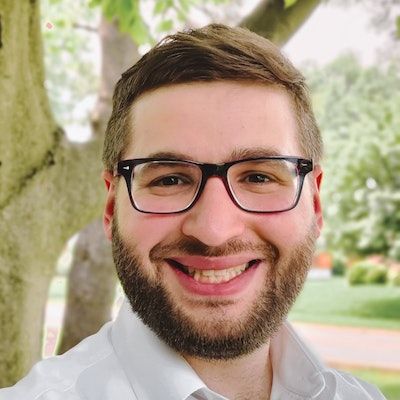 Yisrael's background and personal life
How did you decide to become a therapist?
My decision to become a therapist was influenced by several factors. First, my own personal spiritual journey of self discovery and knowledge. Additionally, I discovered a passion for connecting with and supporting people while in my role as a mentor, counselor, and educator. I learned of the tremendous need for mental health support and found the topic of psychology fascinating and intellectually stimulating.
What was your previous work before going into private practice?
Before going into private practice I worked in a community behavioral health setting where I saw a wide variety of issues and supported an underserved population. Additionally, I worked in schools and institutions as an educator and special educator.
What do you enjoy doing in your free time?
I enjoy spending time with my family and friends. I'm blessed with a wonderful wife and daughter. I like to read, follow the financial markets, play video games, cook, learn new things, and have a good time.
Yisrael's specialties and therapy philosophies
What guiding principles inform your work?
I have the utmost respect for my clients and all people. Mental health problems are common, addressable, and shared human experiences, not a flaw. They don't define people. Furthermore, I see my role as an educator and collaborator and my ultimate goal is to foster independence and empower my clients to become their own therapists.
What clientele do you work with most frequently?
I welcome clients from all backgrounds. My clients are often intelligent, well educated, and motivated professionals, high achievers, and hard workers. I also enjoy working with good natured and bright adolescents and young adults.
Can you tell us more about your specialty in anxiety?
People are often preoccupied with their thoughts. Worry about the future, what they may have said or done, what others think about them, etc. And people tend to take their thoughts and worries very seriously. But this frequently leads to a diminished quality of life. People start avoiding situations, people, or places that make them feel anxious and trigger their worries. Meanwhile their lives become smaller and their anxiety grows. Human beings are excellent problem solvers, but applying those tools to internal experiences does not always work the way we hope.
I help people recognize their anxiety as an exaggerated fear response and learn to change the way they experience and process frightening or intrusive thoughts. At the same time, I help people engage in what makes their lives meaningful and special despite their worries and anxiety and reduce the impact anxiety has on their lives and overall happiness.
Can you tell us about your specialty in working with adolescents?
As children grow older they are in a unique situation. On the one hand they are dependent on their parents, teachers, and many other adults in their lives. However, they are also learning more and more about themselves, their individuality, and their place in the world. This can lead to internal and external conflict, and many young people feel misunderstood or unheard.
Additionally, adolescents may have worries, fears, or other mental health concerns that they are embarrassed of or feel uncomfortable addressing with their parents, close family or friends. Creating and having a relationship with a therapist who appreciates children, understands them, can speak their language, and can create a safe space for them can have an enormous impact on their mental health and development.
What do you find most rewarding about your work?
I love how my job is constantly focused on growth and development, and I'm constantly growing, developing, and changing as a result. I enjoy being a part of other's journeys and watching them find hope.
Therapy sessions with Yisrael
What will our first session together be like? What happens in ongoing sessions?
I have two main goals for our first session. Number one, I want to understand what's going on clinically with you and why you decided to seek counseling. We'll do a deep dive into many different factors, including details about your current life, your past, and what kinds of symptoms you're experiencing. Secondly, the first session is an opportunity for us to get to know each other. Therapy is a significant investment and I want to make sure we're a "good fit," that you're comfortable working with me and I feel like I can help you with your problem.
Follow up sessions are different in that we won't often talk about your past, unless it's relevant and currently impacting you, and it's less of an "interview" and "info dump." I'll usually check in with you to see how things are going, and we'll decide what you'd like to address that day. This makes sure we stay focused and that you're able to talk about the things that are important to you.
How long do clients typically see you for?
It depends. Many clients work with me for shorter periods of time while others choose to engage in therapy longer. Most clients see significant progress within a few sessions. Ultimately, therapy is your choice. I help provide direction and focus to specific goals, but as long as you feel you are receiving something of value from me you're welcome to continue.
Are there any books you often recommend to clients?
There are so many great and helpful books. I often recommend Get Out of Your Mind and Into Your Life by Steven Hayes and The Happiness Trap by Russ Harris.
Do you assign "homework" between sessions?
Yes. I often tell people, there are 167 other hours in your week. My goal is to empower you to not need my help. The best way to do that is to practice what we talk about during our sessions on your own. You'll also feel a sense of mastery and accomplishment by challenging yourself and succeeding through homework assignments. This can help you feel more confident and in control of your symptoms. Don't worry, homework is rarely painful or too difficult and I'll always check in with you to make sure it's what you want, or ask you to assign your own homework.
How do you help ensure I'm making progress in therapy?
Towards the beginning of therapy we'll set some goals for where you would like to be, what you'd like to get out of therapy, what's going to look different in your life, and how we'll know when you get there. I'll regularly check in with you to see how you feel about your progress, whether we need to focus on a different goal, and ask you for feedback regarding my role in providing you with a valuable service.
How do I know that it's time to start seeking therapy?
It may be time to start seeking therapy when you notice yourself feeling overwhelmed, stressed, and not living according to the way you'd like to be living.
How can I prepare for our first session?
Dream big. The only limits you have come from within. If you want something, it's my job to help you figure out how to make it happen. Think about what your ideal life would look like. What kinds of things would you be doing or doing differently? When do you feel happiest, most connected, most accomplished?
How will I know it's time to end my time in therapy with you or reduce session frequency?
I'll regularly check in with you to see how you feel about your progress. And when you feel ready to reduce the amount of sessions or stop therapy, we'll talk about that together and create a plan for your success.
Why should I seek therapy, rather than turning to my partner, friends, or other loved ones?
Friends and family can be wonderful sources of support. On the other hand, it can sometimes be helpful to get a different perspective from someone who doesn't know you from familiar settings. Additionally, there might be thoughts and feelings that you feel embarrassed of and are hesitant to share with someone you're close wit
What advice would you share with therapy seekers?
Number one, dream big. Don't assume anything is out of your reach. Number two, take the time to connect with the right therapist for you. Number three, it can take some time. Try to notice the small steps you take, even just going to an appointment, and give yourself constant credit, recognition, and encouragement. What ever you believe about yourself, you're trying to change things.
Visit Yisrael's profile to read more about him and book an initial call!