Tracy Vadakumchery is a Licensed Mental Health Counselor in New York. She specializes in helping clients with trauma, anxiety, eating disorders, and depression. We asked Tracy more about her work with clients and her guiding philosophies on therapy.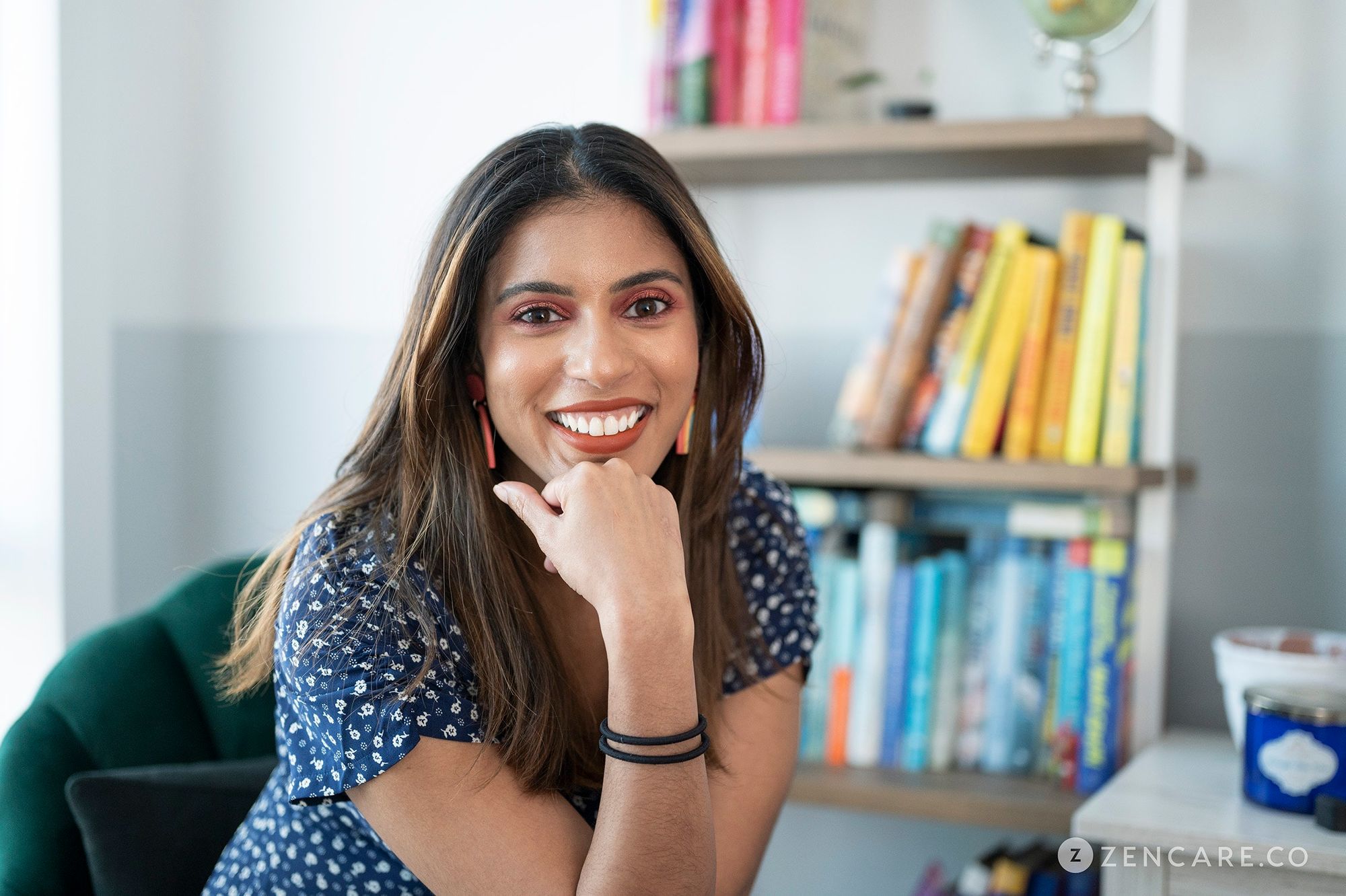 Tracy's background and personal life
What was your previous work before going into private practice?
You would never guess, but my last job was actually at Riker's Island jail! I actually worked for a group practice very briefly before working there, and I swore that I would never do private practice again. I didn't think the private practice was for me, and subconsciously, I loved the feeling of being needed. I thrived on emergencies and Riker's filled that need at the time, but at some point, I realized it wasn't healthy for me to continue to be there.
Since the pandemic, many places like Zencare have made it possible for therapists like me to make private practice a feasible living! It's important for clients to know where their therapist worked before private practice. Contrary to popular belief, therapy careers are not glamorous, but it teaches us resilience, and therapists are in a unique position to teach our clients about resilience from experience.
What do you enjoy doing in your free time?
I hate to disappoint, but I love trash TV and beach reads! I think people expect therapists to give a very "Therapy" answer, like "Oh I meditate/do yoga", or something that they would stereotypically associate with a therapist. We forget therapists are also humans with guilty pleasures. Currently, I'm catching up on true crime documentaries on Netflix, The Bachelorette, and Real Housewives. I also typically finish one fiction book a week. I love reading for pleasure!
Tracy's specialties and therapy philosophies
What guiding principles inform your work?
Firstly, I believe that authenticity and being human with my clients is important. Secondly, everyone has different needs, but we won't know what they are until we start making connections between personal life, work life, and family life to identify themes. The therapeutic relationship is a microcosm of one's relationship with the world outside the therapy office. Once we identify the overlapping themes, then we can roll up our sleeves and get to work on coping skills and tools.
What clientele do you work with most frequently?
Most of my clients are adult children of immigrants who are balancing their cultural belonging with individuality. This internal conflict can affect anxiety, body image, and self-esteem. Most of the time, my clients identify as members of the South Asian diaspora. As a South Asian American therapist, I felt alone and isolated for most of my childhood and young adulthood because I kept receiving messages from my community that I'm not "Brown enough", or that I was a "Bad Indian."
I was the runt of the group pretty early in my life. It wasn't until I started a private practice that I realized most South Asian Americans relate to my experience. I love being able to affirm those who were told for so long that were not "enough" to belong. Now, I call myself the "Bad Indian" Therapist!
Can you tell us more about your specialty in trauma?
I specialize in trauma, from big "T" trauma (sexual assault, abuse) to little "t" trauma (discrimination, childhood neglect). In my opinion, trauma can include adversity, such as racism, sexism, homophobia, and classism. A lot of people think that trauma is just the big "T" trauma. I take a trauma-informed care approach to treatment because I believe that trauma is at the root of a lot of learned behavior and messaging.
Can you tell us more about your specialty in anxiety?
Sometimes trauma and anxiety are related because some aspect of hyper-vigilance and tension falls under the anxiety umbrella. Under this anxiety umbrella are also obsessive-compulsive disorders and eating disorders
Can you tell us about your work with clients on body image-related issues?
I work with body image because I believe that everyone struggles with it. Even therapists struggle with it! Messages about our bodies are so pervasive and our relationships with food and body are related to our relationships with other people in our lives. I don't aim for body positivity, but rather neutrality and tolerance.
What do you find most rewarding about your work?
It just struck me that most people really don't know what goes on in other people's lives (HA)! But think about it--it's so easy to judge when you're not a therapist who has to hear people's stories every day. My work is rewarding because I get to learn from my clients and their diversity of experiences.
When I hear someone's story, I develop a deeper level of understanding, and I'm trusted to keep that person safe and protect their privacy. Therapists hear stories most people don't get to, and will likely never, hear. Sometimes I wish people knew, but we have to preserve confidentiality. That I'm trusted with this is an honor!
Therapy sessions with Tracy
What will our first session together be like? What happens in ongoing sessions?
Our first session is always the initial assessment, and this is just to start getting to know each other and expand a little bit more on what you discussed during your initial consultation. The initial consultation is free and mandatory--I want to make sure that I'm a good fit for what you're looking for before we officially start working together. You can expect a warm, empathic, and authentic space, and we can start slow.
I say expect the first 4-5 sessions to go at a slow pace, as I'll help you connect the dots between certain themes in your life. Then, we can discuss your goals, or if your goals have changed as a result of our first few sessions, and start discussing the approach.
Are there any books you often recommend to clients?
Yes, but honestly, any book that gives you pleasure and joy is a therapeutic skill in and of itself. When you read anything, you're making the time for meaningful rest. Here are some:
Do you assign "homework" between sessions?
Sometimes! It depends on the kind of approach we're taking. If you're looking for something more structured and you don't mind writing, I may give you some worksheets you can use to help organize and deconstruct your negative thoughts related to certain topics in your life. I may ask you to keep a journal of any thoughts, insights, memories, physical sensations, or emotions that come up for you in between our meetings, and we can talk about what came up the next time we meet!
How do you help ensure I'm making progress in therapy?
I hate feeling stagnant and not knowing what you're thinking about the process. Every once a while, I'll ask you: "Hey, we've been working together for a while. How are you feeling about therapy?" I like to take the time to ask what's been helpful and what hasn't every few months to reassess your goals. After we make some headway, I like to ask, "Knowing what you know now, what would you say to your older, wiser self when they're stuck in a rut again?".
Visit Tracy's profile to watch her introductory video, read more about her, and book an initial call!