Teena Evert is a Licensed Marriage and Family Therapist in Colorado specializing in helping early and mid-career professionals make career transitions, navigate new career paths, or advance in their current career. Teena also helps clients manage work stress, anxiety, self-doubt, and other symptoms that can emerge throughout the career counseling process. Rooted in solution-focused counseling, Teena's approach is goal-oriented, collaborative, and designed to help clients use their existing strengths to build momentum towards a more positive future.
We asked Teena more about her work with clients and her guiding philosophies on therapy.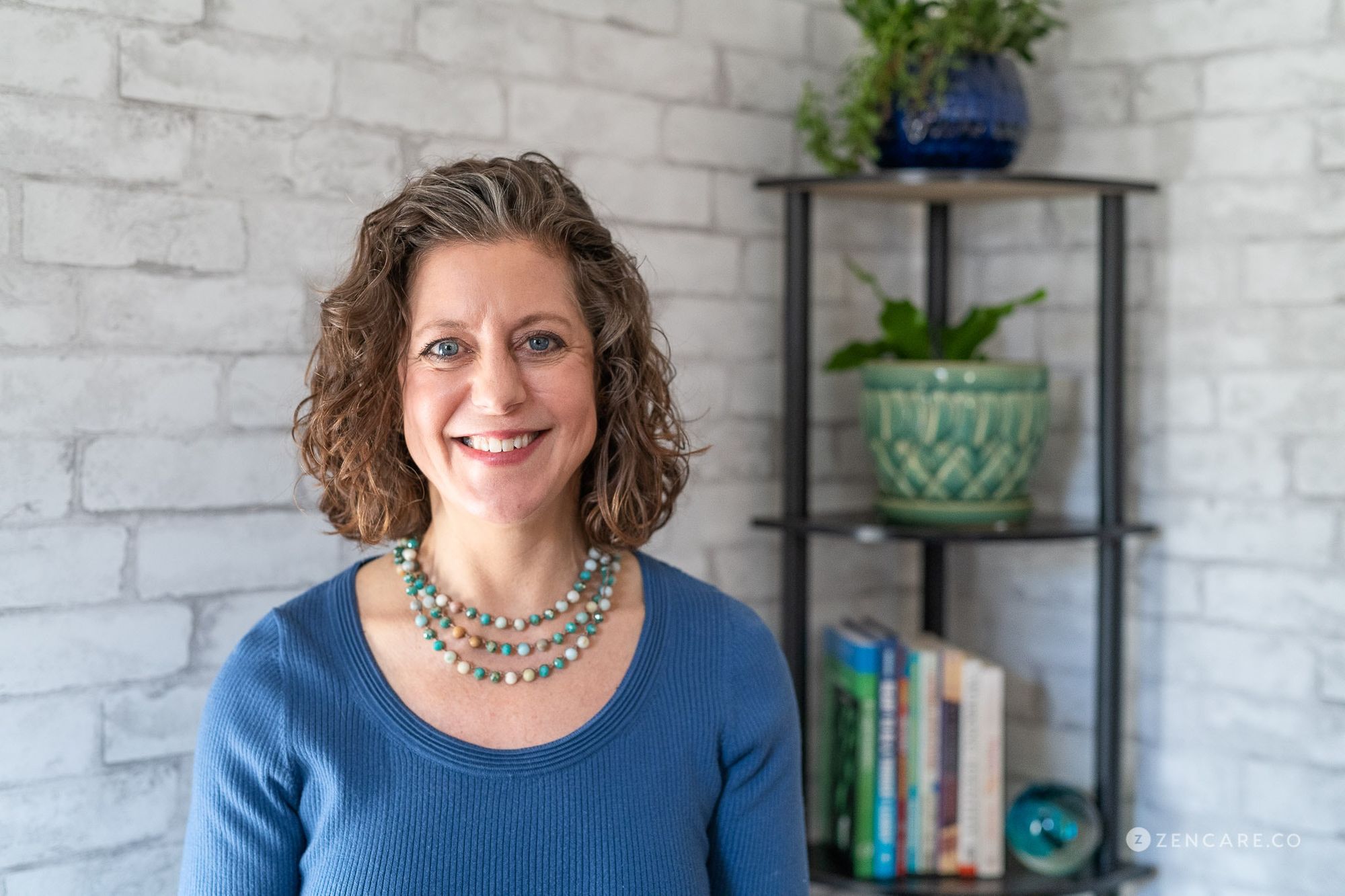 Teena's background and personal life
How did you decide to become a therapist?
I decided to become a therapist because I thrive in roles that directly help people. I like to promote people's learning and personal development. I can remember being of help to others starting in pre-school as I was always interested in helping others who appeared to be struggling.
What was your previous work before going into private practice?
I'm an expired fish biologist, yoga teacher, bodyworker, couple's therapist, addictions counselor, and more. Forever curious, always learning, and love losing track of time engaging in creative projects. I'm an expert at living skillfully.
I value time to regularly reflect on whether I'm living aligned with my values and strive to let go of what doesn't feel authentic to be sure to embrace what does.
I'm an entrepreneur, trailblazer, and a healthy, active lifestyle enthusiast. I own and operate 'Claim the Lead,' where I specialize in transformation. I provide comprehensive career services to empower budding careerists and ambitious trailblazers to break free from their limitations and step into a life of more personal power, positivity, and prosperity.
What do you enjoy doing in your free time?
I love to get outdoors, ride my bike, or go hiking in the mountains in my free time. I also enjoy writing, reading, and cooking delicious plant-based meals.
Teena's specialties and therapy philosophies
What guiding principles inform your work?
I hold a non-judgmental, safe space for my clients in order to assist them in self-discovery and growth. I think it's essential to identify and support what is working in one's life as most people come to therapy, counseling, or coaching to address what is not working. I help my clients find clarity in what makes them unique, gain confidence in their natural strengths, and cultivate the courage to explore what needs to change to improve their life and overall well-being.
Can you tell us a little more about your specialty in helping clients navigate career developments or changes?
I provide career development coaching, job search coaching, career counseling, resume, and profile writing to help professionals who want to significantly improve their work-life satisfaction or advance in their career.
Whether you're just launching your career or want to make a career change, I think knowing WHO you are is essential to match WHAT it is you want to do, particularly if you'd like to experience a meaningful and fulfilling career long-term.
As a career coach and counselor, I help you explore answers to questions like "Who am I?" and "How do I matter?"
When you know WHO you are and the VALUE you bring to a company, you gain clarity to explore what's possible in your life and career. You also increase your confidence in your ability to make informed decisions, which can help you claim the lead in your industry.
Holistic career development is all about understanding and connecting what sparks your interests, aligns with your values, and motivates you to grow and manage your skill development and performance. I help people learn effective job search strategies, improve their self-presentation, maintain their motivation, boost their job search confidence, and how to become strong job applicants.
Can you tell us about your work in helping clients live their life with more purpose?
A purpose is your intention to accomplish something that matters deeply to you and benefits the world. Many people describe an overarching sense of purpose in life and then more specific goals within particular life roles (e.g. career, family, marriage, volunteer, citizen, leisure). In general, when those more specific purposes align with one's broader sense of purpose in life, well-being results.
People who experience a sense of purpose in their careers are often more confident and comfortable in their career choice and are happier at work. Many are more committed to their jobs and their organizations, put more effort into their work, and feel that life as a whole is more meaningful and satisfying.
What do you find most rewarding about your work?
As a career coach, I have the honor of guiding my clients towards living a life that they want to live and having a career that lights them up, even on a Monday morning. This is very rewarding and gives me the energy to leap out of bed during the workweek.
Therapy sessions with Teena
What will our first session together be like? What happens in ongoing sessions?
Before meeting for our first session, you will have completed the pre-work to prepare you for our work together. During this session, I will review this with you, and we will further explore what you would like to accomplish in our work together and begin to establish some clear short-term and long-term goals.
How long do clients typically see you for?
Clients typically work with me for 4-6 months.
Are there any books you often recommend to clients?
I often recommend:
Do you assign "homework" between sessions?
Yes, I will often provide you with specific exercises, assessments, activities, etc., that are relevant to what we are working on together and that will support you in reaching your goals.
How do you help ensure I'm making progress in therapy?
Each week you are provided a session prep form designed to help you be accountable and track your progress. It is also a great way to communicate with me about your wins, your current challenges, and what kind of support you'd like to receive in your next session.
How do I know that it's time to start seeking therapy?
First, ask yourself if are you ready, willing, and able to turn challenges into victories by learning new skills and tools to build a more satisfying, prosperous future.
If your answer is "yes," then it's an excellent time to work with a professional!
Second, Identify the one thing you want to change in your life and find a coach or counselor that you resonate with to help you make that change.
Why should I seek therapy, rather than turning to my partner, friends, or other loved ones?
Many of us would benefit from a trusted guide and someone to walk alongside us as we navigate rough spots in our personal and professional lives. You can enlist support from essential others; however, they lack the training and expertise to help you reduce your suffering and flourish.
What advice would you share with therapy seekers?
You don't have to have everything in your life and career all figured out to take action towards accomplishing your dreams. The most important thing is to develop your own authentic confidence and have a desire to grow. I am here to guide you every step of the way along your unique path that leads you towards a positive and prosperous future.
Visit Teena's profile to watch her introductory video, read more, and book an initial call!