Tamara Williams is a Licensed Professional Counselor and Certified Substance Abuse Counselor in Newport News, VA specializing in addiction, anxiety, depression, and topics related to racism/discrimination. Tamara's approach to therapy is holistic in nature—often including mindfulness, yoga, and meditation practices, as well as cognitive behavioral and interpersonal therapy-based approaches. In addition to individual sessions, Tamara offers support groups for those navigating recovery from substance use disorders.
We asked Tamara more about her work with clients and her guiding philosophies on therapy.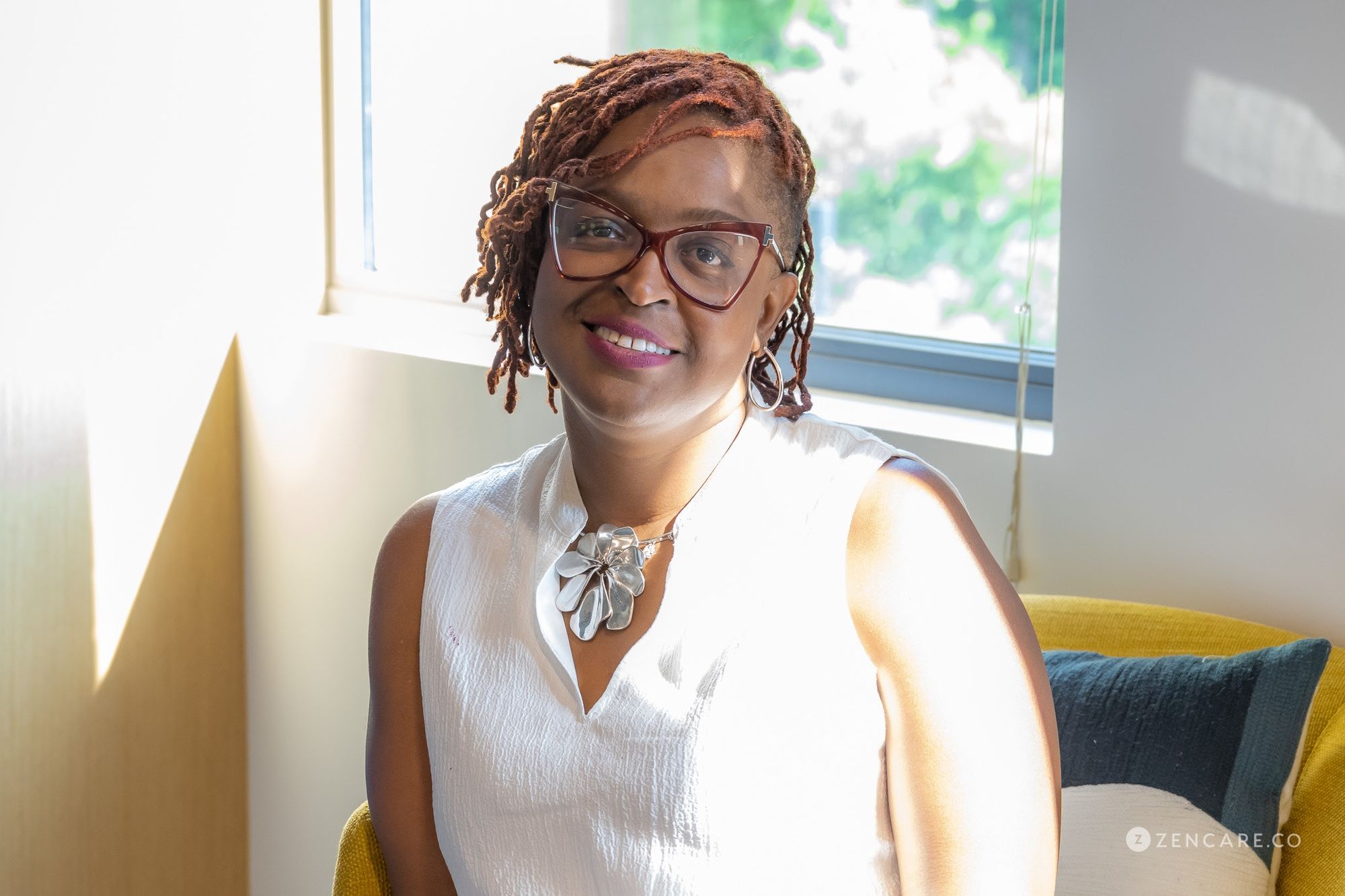 Tamara's background and personal life
How did you decide to become a therapist?
It's a long story! I was in the Army, and I sought a mental health group for support. The facilitator of the group intrigued me. I wondered: what did he do to be able to do this? The way he conducted the group was effortless. The power of the group moved me, so that was the planting of the mental health provider seed.
Funny enough, Dr. Phil is also one of the reasons why I am currently a therapist. My mother, sister, and I were on his 1st season on a show called Adult Bullies. That experience opened up my world. Dr. Phil handled us with care, and we got 3 hours of therapy in our hotel room after the show. He also arranged for 1 year of treatment afterwards. That help got me out of a stuck point and caused me to go to graduate school to be a Licensed Professional Counselor.
What was your previous work before going into private practice?
I worked at the Hampton VA Medical Center's Inpatient Drug Abuse Program as an addiction therapist for 7 years. While working there, however, I was diagnosed with multiple sclerosis and after several years I was made to medically retire.
What do you enjoy doing in your free time?
I enjoy traveling and finding ways to manage my own mental health while enduring being a therapist during a pandemic.
Tamara's specialties and therapy philosophies
What guiding principles inform your work?
The environment of practice is of the utmost importance when working in mental health. The client should feel calm, relaxed, and nurtured. There is no judgment whatsoever, and I am not punitive in any way. My role is to advocate for the identified client and what is best for that individual's mental health.
What clientele do you work with most frequently?
I work with individuals who look like you and me. It's your neighbor's son who won't speak to his father, a husband who may have just lost his job and is pulling away from his family, the teenage girl who wants to take her life because she is cyber-bullied. I can usually work with anyone. However, if you and I decide your issue may be out of my scope, I am more than willing to admit it and refer you to someone else who can help.
Can you tell us more about your specialty in addiction?
I've noticed in the treatment of addiction that there continues to be use of outdated methods of treatment. There is a need to modernize addiction treatment methods that match today's lifestyle—which is often very different from that put forth by the founders of Alcoholics Anonymous. I'm not saying these methods are ineffective, but I do think they have to evolve. This is my challenge: How do I make sure I don't lose a client because they can't relate to the way treatment information is given?
Can you tell us more about your specialty in anxiety?
I believe that everyone is in information overload from having too much access to information all of the time. This keeps our minds moving at 100 miles an hour without a "off" switch. I try to help individuals find a way to develop their "off" switch to help reduce anxiety.
Can you tell us about your speciality in working with Black women?
Black women have achieved major milestones in recent history, and I help many explore the feelings behind their perceptions and help determine the source of any anxieties.
What do you find most rewarding about your work?
I find it most rewarding when people have those "Ah Ha" moments about something they have been ruminating about in their life. That moment is when all of the pieces start to come together.
Therapy sessions with Tamara
What will our first session together be like? What happens in ongoing sessions?
In the first session, I start off by telling you your rights and my responsibilities—including information regarding HIPPA, suicide, and homicide ideations. I then spend time getting to know you—where were you born, your educational history, your simple life story. I usually don't dig too deep on the 1st session, but I have if opportunity presents itself.
How long do clients typically see you for?
This varies. In the beginning, clients usually see me weekly for an hour. This happens until therapy gets stale, and it's obvious we need more time between sessions. Then, we agree to move to bi-weekly sessions, then monthly or as-needed. I believe therapy is a lifelong support system that is there for you when you need it.
Do you assign "homework" between sessions?
Occasionally I do assign homework, but it depends on the person. Some people absolutely hate assignments and others thrive on them. I tailor things like this to the needs of the individual.
How do you help ensure I'm making progress in therapy?
We usually do an evidence-based assessment before and throughout therapy to see if symptoms have increased or decreased. Sometimes clients also determine the success of therapy based off their feelings.
How do I know that it's time to start seeking therapy?
You know it's time to start therapy when:
your life becomes unmanageable
you are experiencing a major transition in your life: college, marriage, divorce, a move
you want to study why you are the person that you are
There are a plethora of reasons to start therapy, but I encourage you to just start.
How will I know it's time to end my time in therapy with you or reduce session frequency?
It is a feeling that both therapist and client will usually get it. If you have a good relationship with your therapist, you can both agree that its time to move on with no ill will.
Why should I seek therapy, rather than turning to my partner, friends, or other loved ones?
Going to therapy is like going to an expert that has no vested interest in the fate of your decisions in life, who will guide you through your day-to-day life experiences. Therapy is like a warm place to land during a hard day and release all of your worries and possibly leave with your own solutions. Unfortunately, family, friends, and co-workers often have a side to support when you turn to them with your problems.
What advice would you share with therapy seekers?
Don't overthink getting started, just get started. Try a therapist for 4 sessions and see if therapy works for you. Take your time, read the therapist's bio, and see if you vibe with them before you make that choice. You must consider if you have a rapport with the therapist, whether they culturally understood you or if you had to explain everything, and if the sessions were monopolized by the therapist and you didn't get to talk.
Visit Tamara's profile to watch her introductory video, read more about her, and book an initial call!