Sumathy Desarae Applewhite is a Licensed Master Social Worker providing remote therapy sessions to clients throughout the state of New York. Sumathy's extensive work with disenfranchised communities in various settings—including the welfare system, the prison system, and charter school systems—has greatly informed her current practice, where she now primary works with Black, Indigenous, and/or People of Color (BIPOC) who identify as part of the LGBTQIA+ community. Seeing both couples and individuals in her practice, Sumathy's approach is rooted in psychodynamic psychotherapy, as well as an emphasis on seeing every individual holistically as a human being and not simply a "client."
We asked Sumathy about her work with clients and her guiding philosophies on therapy.
Sumathy's background and personal life
How did you decide to become a therapist?
I've known that I've wanted to be a therapist since high school. I wanted to be what I didn't have as a multiracial, only child growing up with parents who abused drugs and alcohol on a daily basis and would often get violent with each other. I have always wanted to be someone that could support others in their journey and struggles with racial and sexual identity. I see who people are without the labels, which would have been priceless for me during my journey and struggles with the same.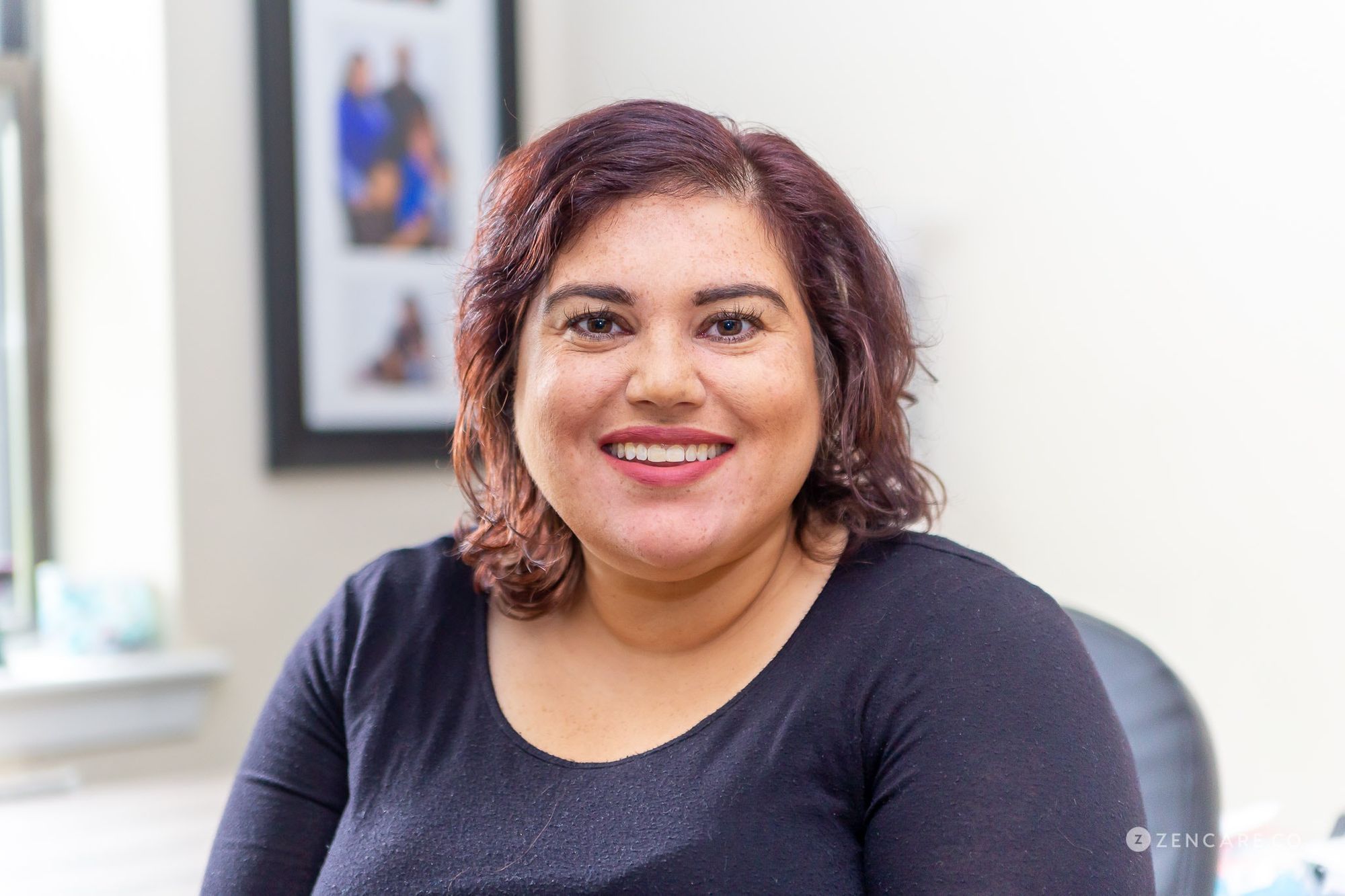 What was your previous work before going into private practice?
I've worked with disenfranchised communities my entire professional career. I have worked in the welfare system, the prison system (Rikers Island), charter school systems (Achievement First Charter School Network, Great Oaks Charter School Network, and Uncommon Charter School Network) as part of administration and as a school social worker. I also ran a College Access Program for over 600 students at William Cullen Bryant High School called GEAR UP.
I have most recently worked exclusively with the LGBTQIA+ community as a care manager and counselor to individuals 50 years of age and older through an organization called SAGE, dedicated solely to LGBTQIA+ justice, care, and advocacy.
Sumathy's specialties and therapy philosophies
What guiding principles inform your work?
There is not a one-size-fits-all approach to any facet of life—including work, relationships, and personal goal achievement. Labels are often an incomplete representation of what they are meant to characterize due to the complexity of each person's unique situation. My clients have expressed that their sessions with me leave them feeling cathartic and like they made a real human connection with someone who cares about their wellbeing.
I take a genuine interest in every individual that I work with as a human being and not just as a "client." I work very hard to ensure that therapy feels authentic with a natural and productive flow.
What clientele do you work with most frequently?
I work with individuals who identify as multiracial, biracial, and/or people of color. I also do couples therapy with the LGBTQIA+ community and can provide couples therapy to heterosexual couples as well.
Can you tell us more about your work with BIPOC people who are part of the LGBTQIA+ community.?
I am multiracial. I am never recognized as Indian, German, or Irish. In childhood, this created confusion with my own racial and ethnic identity, and I struggled to find an ethnic group that considered me part of them and vice versa. In my formative years, this often left me confused and hurt. This phenomena I have found common among the clients I serve. We look at how labels have created our views of our self via the lens of society, family, and other influences in our lives. In therapy, we unpack how this has affected the way that we feel about ourselves, and I help clients understand fallacies regarding what these labels mean for our expected behavior and self-esteem.
Can you tell us more about your specialty in couples counseling?
I often find that healthy, intentional communication is the most important tool in a relationship and that it can be cultivated during therapy. I work with couples on speaking in a way that their partner can hear and empathize.
What do you find most rewarding about your work?
The greatest joy for me in my professional career is watching someone become more insightful, confident, and competent in effectively managing their emotions without guilt or blame.
Therapy sessions with Sumathy
How long do clients typically see you for?
It varies! I have some clients who see me for a few sessions and others who have stayed with me for several months.
Do you assign "homework" between sessions?
Most of the time, I ask clients to observe their own behaviors in relation to something else during the week, or I ask them to test out different strategies for emotional coping and report back for our next session.
How do you help ensure I'm making progress in therapy?
I am constantly checking in with my clients to ensure that they feel they are receiving support that enhances their experiences in life. It happens organically, not on a schedule.
How do I know that it's time to start seeking therapy?
It's time to start therapy when you feel there are barriers to your own happiness and success that you do not know how to address, manage, or overcome alone.
How can I prepare for our first session?
Relax. Remember you are in a space of non-judgement and with someone who is rooting for you to live your best life.
How will I know it's time to end my time in therapy with you or reduce session frequency?
That will be up to you. If you are no longer feeling like you are getting insight or support from our sessions, that would be the main indication.
Why should I seek therapy, rather than turning to my partner, friends, or other loved ones?
What is said in therapy stays in therapy (barring personal safety issues). You can say anything you want about anything in your life, and it's received by an individual trained to support and guide you. You can leave it in the therapeutic space, and it will not affect any of your other relationships because your therapist is an objective and outside element of your life.
What advice would you share with therapy seekers?
Relax and know, like with many things in life, the more vulnerable you are in the experience, the more you progress and rewards you will obtain.
Visit Sumathy's profile to watch her introductory video, read more about her, and book an initial call!