Sara Nevius is a Marriage and Family Therapist in Oakland, CA who sees adolescents and adults across the lifespan navigating anxiety, depression, relationship challenges, substance use disorders, or grief. Sara greatly values the power of the therapeutic relationship in the healing process and utilizes a humanistic lens to create a collaborative and open therapy space. She also utilizes psychodynamic and cognitive behavioral therapeutic modalities to help clients both recognize how the past has affected their present and equip them with strategies to better manage their future.
We asked Sara more about her work with clients and her guiding philosophies on therapy.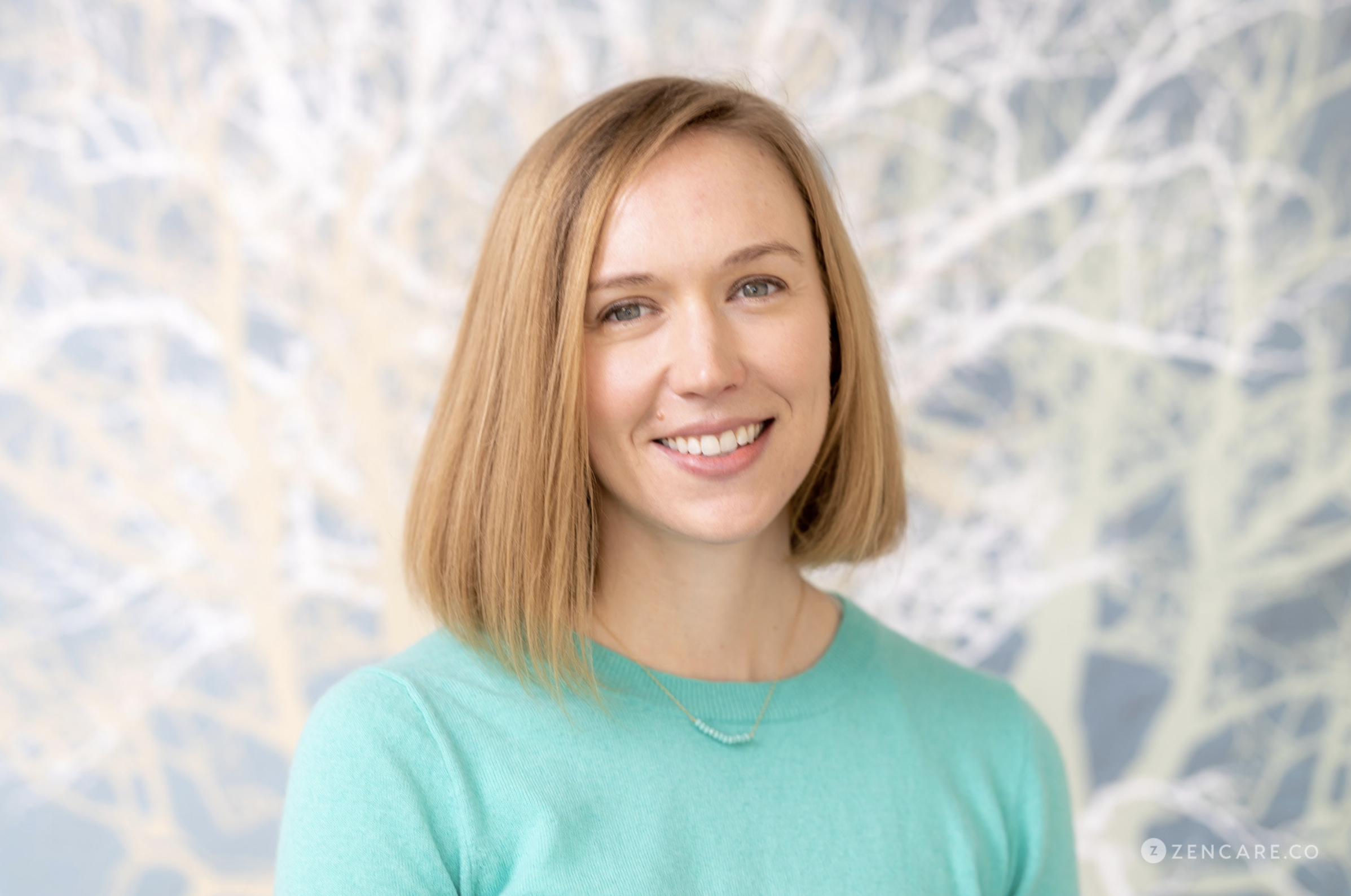 Sara's background and therapy philosophies
What was your previous work before going into private practice?
Prior to private practice, I worked with adolescents in a high school setting. Before entering clinical work, I worked in student services at universities and had a brief stint in marketing and public relations. I spent two years in the Peace Corps, which broadened my understanding of the importance of cultural competency and international relations.
What guiding principles inform your work?
I am fascinated by human beings and our potential to grow and change across the lifespan. There is much value in integrating the mind and the body, and they have too often been split in our current society. The quote by Gandhi: "Be the change you wish to see in the world," has inspired me from a young age, and I apply this to my work as a therapist. I believe that we should all have access to quality mental health services, and I continue to practice this through my work at a community mental health clinic.
What do you find most rewarding about your work?
I find it so rewarding to develop relationships with clients and support them in their journey towards better self-understanding. I sincerely believe that self-exploration is brave and courageous work! I am humbled to witness a client's growth and be a part of their change process. Through our relationship, I am changed as well—clients teach me, and I grow through our process. It's all very collaborative, and I find this extremely meaningful.
Sara's therapeutic specialties
What clientele do you work with most frequently?
I enjoy working with adolescents and adults of all genders—any individual who wants to grow with introspection and support to a more collective whole. I find that I am particularly adept at collaborating with male-identified clients who tend to veer towards intellectualization. Many of these clients present with anxiety, depression, and/or substance use. Together we deepen their emotional awareness, reconnect them to their bodies, and aim to foster more intimacy in their relationships. I notice a significant shift in male clientele who want to deepen their reflection process, and I'm honored to be a part of this process.
Can you tell us more about your specialties in anxiety and depression?
Anxiety and depression indicate that something is not supporting a person to function at their optimal level. On a deeper level, I believe complicated feelings have messages for us, and—if we can generate enough safety and space—we can engage with them. To get through our days, we tend to turn away from these uncomfortable feelings, so we miss out on the messages they have for us.
In therapy, we first focus on creating a safe place to look deeper and integrate the mind and body as one cohesive whole. We uncover unhelpful narratives and beliefs about the self, which often got miscoded many years ago. Then we find new ways of understanding the client's self-narrative and discover new ways of engaging with feelings.
Can you tell us more about your specialties in self-esteem and interpersonal relationships?
My approach with clients is interpersonal: I focus on our relationship as a small lens into what might be happening in their relationships outside of therapy. I believe that all humans are growth-oriented and can foster positive changes in themselves. However, many of us don't grow up with this belief for various reasons. When the relationship with the self is stable and supportive, other relationships are more likely to flourish in ways that support our best selves.
Once a person finds self-connection through fostering their self-esteem, relationships that don't align with this view will likely require a readjustment or fall away entirely. It all starts at home—with how people relate to and feel about themselves. How we think about ourselves affects how we interact in our relationships, and the quality of our relationships directly affects the quality of our lives.
Can you tell us about your work with clients navigating substance use challenges?
Substance use and addiction is a way of coping with emotional or physiological dysregulation. Familial dynamics and many levels of social disparities often play a significant role in developing this way of coping. Shame about substance use is one of the most common factors that inhibit change and recovery. I take a harm-reduction and curious approach, supporting my clients in deepening their understanding about use patterns and behaviors that harm or prevent them from meeting their life goals.
When appropriate, it can be helpful to include family members in therapy to learn about common patterns of blame and codependency—which can slow progress and hinder recovery. Whether it's a longstanding issue or a recent way of coping, curious reflection towards how the substance affects a person can aid in recovering the deeper self.
Therapy sessions with Sara
What will our first session together be like? What happens in ongoing sessions?
In our first session, I take a relaxed approach to creating a collaborative relationship. I like to gather a general history of my clients: I find it useful to learn about their early years, major life events that impacted them, and their general life goals. The most important factor is how clients feel working with me. I seek and welcome feedback about how we can best make use of our time together and how I can adjust my approach to meet their needs.
Ongoing sessions are focused on whatever the client wants to talk about or process. The client always leads, and I follow along while supporting the client's stated goals using my various interventions.
Do you assign "homework" between sessions?
I only assign homework if clients find that it is helpful to bridge our sessions. Generally, the most beneficial way to expand on the work from sessions is to increase self-reflection. This can look like journaling, meditation, or practicing a skill we've identified the client wants to grow (i.e., asserting oneself, increasing exercise, etc.).
How do I know that it's time to start seeking therapy?
It's a good time to seek therapy when you are: ready to better understand yourself, feel ready to look inwards, are looking for new ways of coping, and/or are wanting to improve the relationships in your life.
How will I know it's time to end my time in therapy with you or reduce session frequency?
Clients know it's time to end therapy when they have met their goals, have developed more self-insight, and no longer benefit from our work together.
Why should I seek therapy, rather than turning to my partner, friends, or other loved ones?
Family and friends are wonderful support systems that we all need, but they are biased and the history of the relationship can often get in the way. Therapy is an unbiased relationship with someone who is focused solely on you and your growth. It also offers a private, confidential space to explore the deeper feelings that you might not feel ready to share with family and friends.
What advice would you share with therapy seekers?
Psychotherapy is a courageous journey, and—at times—you may feel painful emotions. However, once you find a compatible therapist, therapy can provide you with tools and deeper self-insight that will last a lifetime.
Visit Sara's profile to read more about her and book an initial call!