Ryan Kopyar is a mental health counselor in Seattle, WA specializing in anxiety, trauma, men's mental health, and life transitions. We asked Ryan more about his work with clients and his guiding philosophies on therapy.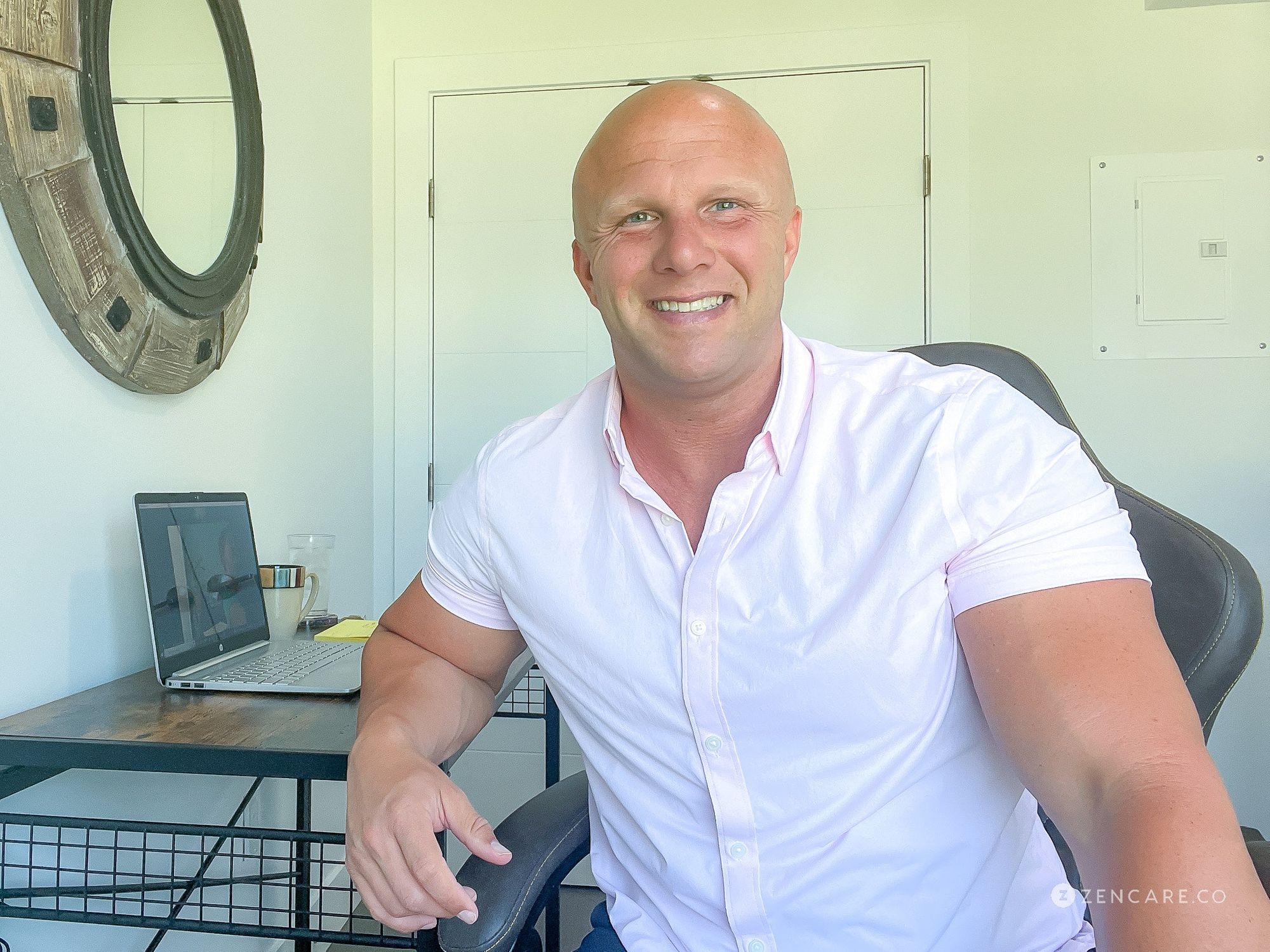 Ryan's background and personal life
How did you decide to become a therapist?
Several years ago I was in very serious car accident. I was diagnosed with PTSD, along with multiple tears in my rotator cuff and several herniated discs in my back. I felt depressed, anxious, overwhelmed and on the brink of feeling hopeless. Desperate for help and with no where else to go for support, I booked a session with a counselor. She really helped me understand my PTSD and how it was contributing to my feelings of anxiety and overwhelm. After some time, and the help of 2 great counselors, I finally was able to find relief from my PTSD symptoms.
Somewhere along my own healing journey, I made a promise to myself. I said "if I can come out of this and be free of the PTSD diagnosis, which was controlling my life, I would spend the rest of my life dedicated to helping others with their mental health." I am now humbled and grateful to be living out that promise I made to myself, by helping others with the work I do as a counselor.
The car accident led to some of the most difficult times of my life, but healing from the car accident led me to some of the most beautiful moments of growth in my life. I feel humbled and honored to help facilitate healing in other people's lives in the same way it was done for me.
What was your previous work before going into private practice?
I worked for over a decade in the health and wellness industry. What I realized is that just changing the body isn't enough to create last changing. The change in our mind is equally important for creating sustainable positive changes in our life. This also includes the internal view we have of ourselves, or our 'self-image.'
What do you enjoy doing in your free time?
I enjoy meditating and exercising.
Ryan's specialties and therapy philosophies
What guiding principles inform your work?
As human beings, I believe we all share common, fundamental needs. We have a desire to be seen, heard, and cared about. It is my humble honor to hold space for the individuals that I work with, free of judgement, so that they can feel seen, heard, and know that they are cared about.
What are identified as 'symptoms' or our 'faults' are merely learned behaviors or emotional patterns that we have adopted, in order to have our needs met. These adaptations may not be healthy, but they are usually all we know.
I believe that when we can grasp this at a fundamental level, the way we act with each other as human beings changes in a dynamically beautiful way. This is the perspective I bring to counseling.
What clientele do you work with most frequently?
I have found that Individuals who have suffered trauma are most often drawn to connecting and working with me. These individuals are usually adults, and are both male and female. I have profound empathy for individuals that have experienced trauma, as I have gone through my own healing journey surround childhood and adult trauma. They may feel helpless or hopeless, and appreciate my ability to understand a bit about the effects trauma has on our mind and body.
Can you tell us more about your specialty in anxiety?
The root cause of anxiety is fear. This can be fear of many different things depending on the context, but it usually boils down to the fear of not being seen, heard, or loved. As I work with individuals on releasing this fear, it starts by realizing that everyone is fundamentally deserving of love, and that the most important love is self-love.
Can you tell us more about your specialty in trauma?
There is a difference between traumatic events and trauma. Traumatic events are what happen externally. Trauma, is what happens internally. This is why multiple people can experience the same traumatic even, but each one may experience the trauma from the event differently. I work with individuals to identify the root cause of their trauma. From there we look at how it has and is impacting them. The next step is to begin to release the trauma energy that they have been carrying around with them in a safe and healing way.
Can you tell us more about your work with clients navigating major life transitions?
Life can be hard. Life also has seasons or cycles. As difficult as some seasons or cycles can be, these are all part of the human experience. I have not met one person who has been able to escape these cycles of life. Just as a plant goes through different seasons and is able to continue to grow and develop, I help individuals transition through different seasons or cycles in their life.
What do you find most rewarding about your work?
When the individual I am working with realizes that greatness exists inside of them and they reconnect to that greatness through their own healing and inner work.
Therapy sessions with Ryan
What will our first session together be like? What happens in ongoing sessions?
Our first session together is about honoring and respecting the courage, vulnerability and humility it takes to reach out for help. I hold space for you to explain why you are seeking help and we set goals on what you are looking to accomplish. From the first session to the last there are two common themes I integrate into counseling. First, you are the expert on you. No one knows what its like to be you, so I trust you and empower you to make decisions on what we do or don't talk about and I honor your autonomy to set these guidelines. Second, healing is about real people, connecting with real people. I am a human being just like you. I don't have it all figured out. and if you find a counselor who does, please let me know because I'd love to hire them!
Are there any books you often recommend to clients?
Do you assign "homework" between sessions?
I am not here to tell anyone what to do. I extend invitations to others on areas that they can explore, or pass along useful resources, but it is up to the individual whether or not they wish to utilize these resources.
How do you help ensure I'm making progress in therapy?
Healing is not linear. I sure wish that it was, because it would make 'progress' and the 'process' much easier to track. When the going gets tough, I encourage you to stay connected to the goals that we set in our first session, while also acknowledging that goals and vision for our life can change over time as we change. It's also helpful to reflect back every 3-6 months on previous sessions or tests that you have taken, to reflect on the reductions of symptoms related to anxiety or depression.
How do I know that it's time to start seeking therapy?
I think we can all benefit from therapy. I also think it's important for people to realize that reaching out for help doesn't mean we're weak. It takes a lot of courage to reach out for help. I wish this was a more commonly understood and appreciated. I think since the pandemic, we have realized the importance of mental health resources and the stigma around mental health has really shifted quite a bit.
How can I prepare for our first session?
You only need to bring YOU. You are free to be you, and all of what that means to you.
How will I know it's time to end my time in therapy with you or reduce session frequency?
When I hear individuals say "I did what we spoke about, and it really helped, I never thought I'd be able to do that, but I did" or "in the past that would have really bothered me, but I am in a much better place now" these are all statements or levels of awareness of growth that point towards reducing session frequency or even wrapping up counseling. I empower every individual I work with to trust their intuition on when they feel ready to reduce or end counseling with me. Often times their intuition and my professional recommendation are aligned.
Why should I seek therapy, rather than turning to my partner, friends, or other loved ones?
Having a strong support network is very important, and I encourage the individuals I work with to embrace this network of family and friends. Having a professional counselor or therapist, who is solely dedicated to holding a safe space for you to release your thoughts, feelings, and emotions, free of judgement or bias is incredibly beneficial. Family and friends have a level of emotional connection to you which can make holding this space free of bias much more challenging, if not impossible.
What advice would you share with therapy seekers?
Yes, healing is possible. Yes, you deserve the life you want. Participating in therapy and doing the inner-work, is a large component of the healing journey. The best investment we will ever make is the investment in ourselves. You are worth it. Release the Fear, Rewire Your Mind, and Be Ready for the Life You Want!
Visit Ryan's profile to watch his introductory video, read more about him, and book an initial call!